The doors of Morocco tell their own stories.
Some are old. Some are new. But each one is unique and special. You can even visit markets to discover doors for sale that are hundreds of years old. The creation of and the framing of doorways is an art in and of itself.
I asked fellow travelers to share some of their favorite door shots to inspire your next visit.
Amezi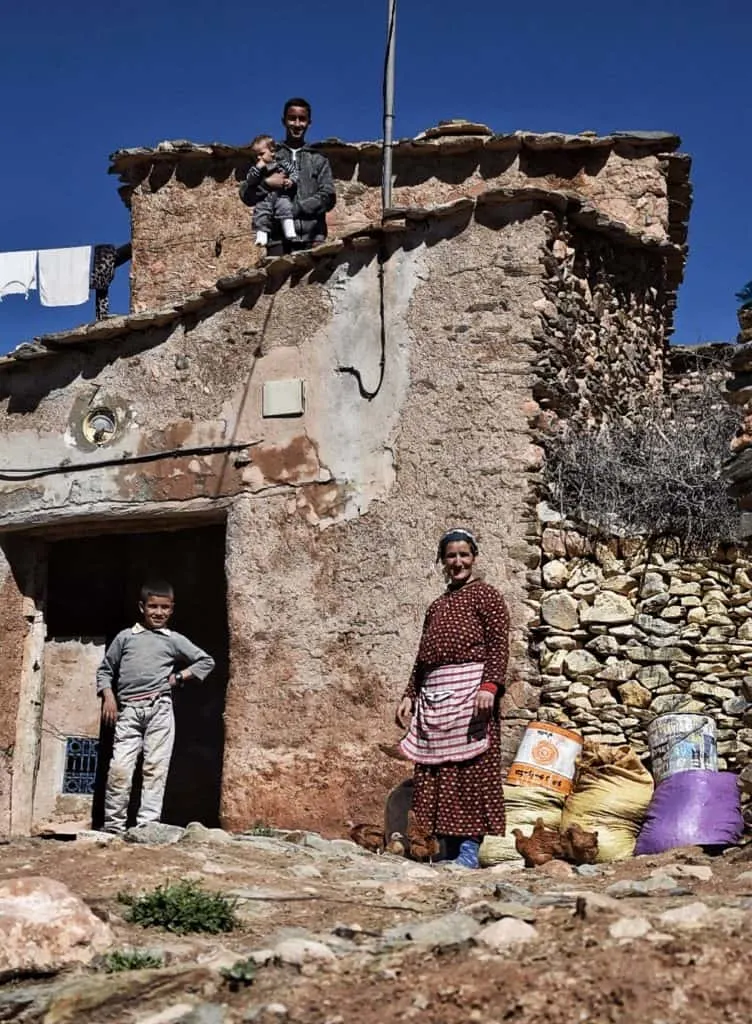 This photo was taken in Amezi, a Berber (Amazigh) village at about 2 hours walk from Amizmiz. The house is incredibly modest and with little to no comforts but the family that lives there is friendly and welcoming.
The mother is the one taking care of the children, the house and the cooking while her husband is with the animals on the pastures. She tries to make ends meet by offering traditional lunches to the very few visitors that pass by the village. — from My Adventures Across the World
Casablanca
Of all the doors we encountered during our trip to Morocco, the most impressive by far were the ones at the Hassan II Mosque in Casablanca. It is the largest mosque in Africa and the 3rd largest in the world so perhaps it's no surprise that the doors are so enormous. It's also the only mosque in Morocco that allows non-muslims to enter.
Even if you're not interested in touring the interior, you can easily spend an afternoon wandering around the grounds of the Hassan II Mosque; people watching and admiring the intricate Islamic architecture. — from Wandering Wheatleys
Chefchaouan
Located in northwestern Morocco, the quaint city of Chefchaouen has become an Instagram sensation. Known as "the Blue City" for its blue-washed buildings, travelers from around the world trek to Chefchaouen to pose in its many doors, capturing the perfect Instagrammable image. While we love a good selfie and yes, we took a number of our own Instagrammable photos, it's Chefchaouen's furry four-legged inhabitants that caught our eye.
All throughout the city, cats of all sizes and colors race through Chefchaouen's narrow alleys, up and down staircases and nap in its blue doorways. Every turn around a corner, more adorable cats and kittens waited quietly to have their photo captured. — from Food And Drink Destinations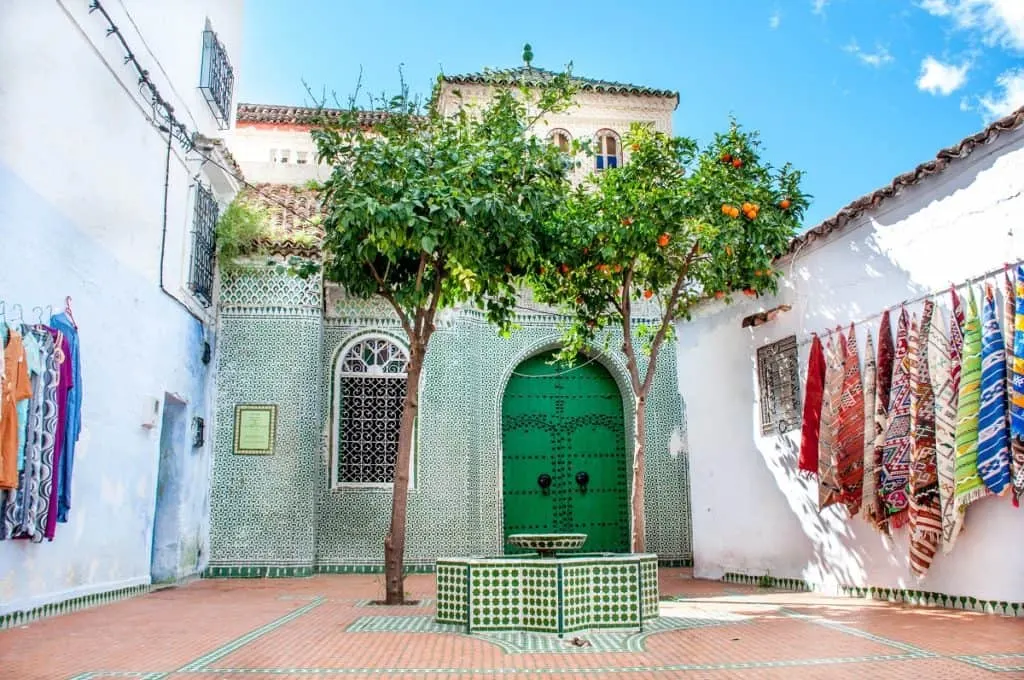 In our trip to Morocco, we knew we had to visit the Blue City: Chefchaouen. We'd wondered if it had been Photoshopped. As we discovered, no, it really was just that blue. On our first day wandering the city, we got hopelessly lost – which really is the perfect way to explore the city's back alleys.
After several hours, we'd stumbled on the restaurant Bab Ssour, which we'd heard about from our driver. It was an amazing lunch spot packed with locals and was incredibly cheap. It was as we were leaving Bab Ssour that we happened on this small courtyard of green and white tile. In a city that is painted almost exclusively blue, this was a different dash of color. — from Travel Addicts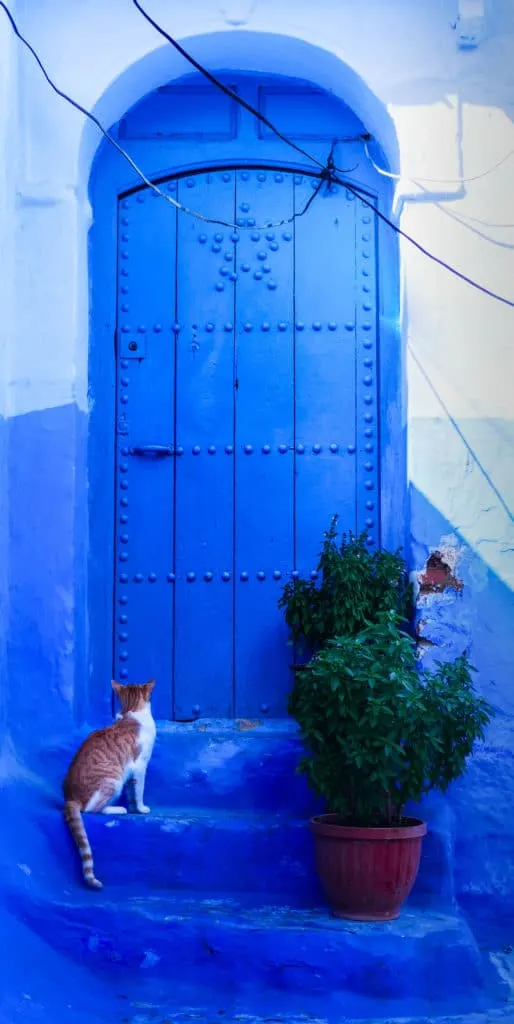 A cat in Chefchaouen, the Blue City of Morocco, waits to be let into this medina door on a chilly late-autumn morning.
Typical. Cats always want to be on the other side of the door, don't they?
Chefchaouen is as beautiful as promised and wandering around the blue medina is both fun and intriguing. There's always the chance that you'll get lost, but never the feeling that you'll stay that way for very long – and who knows what wonderful treasure you might discover around the next corner.
One of the nicest things here is that the vendors are very low key and of gentle, good humor. There are no hard sells and I felt very comfortable browsing in the shops. They have a wonderful understanding of how to treat visitors that made me feel quite welcome. — from Team Hazard Rides Again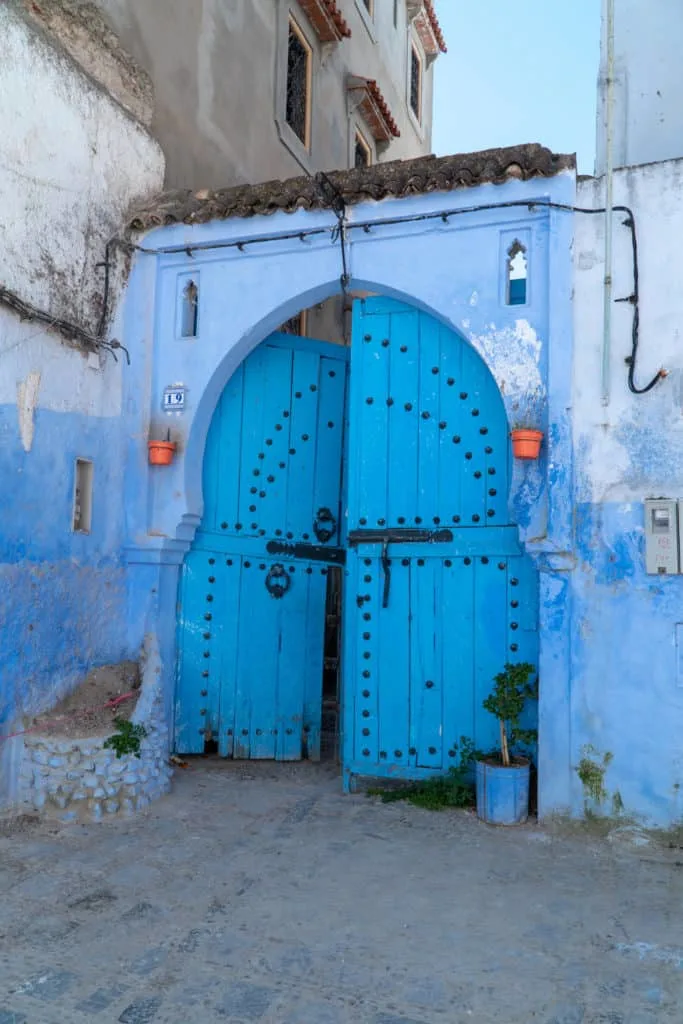 These doors in Chefchaouen opened to caravans to welcome travelers and their animals into the courtyard for overnight stays. — from We3Travel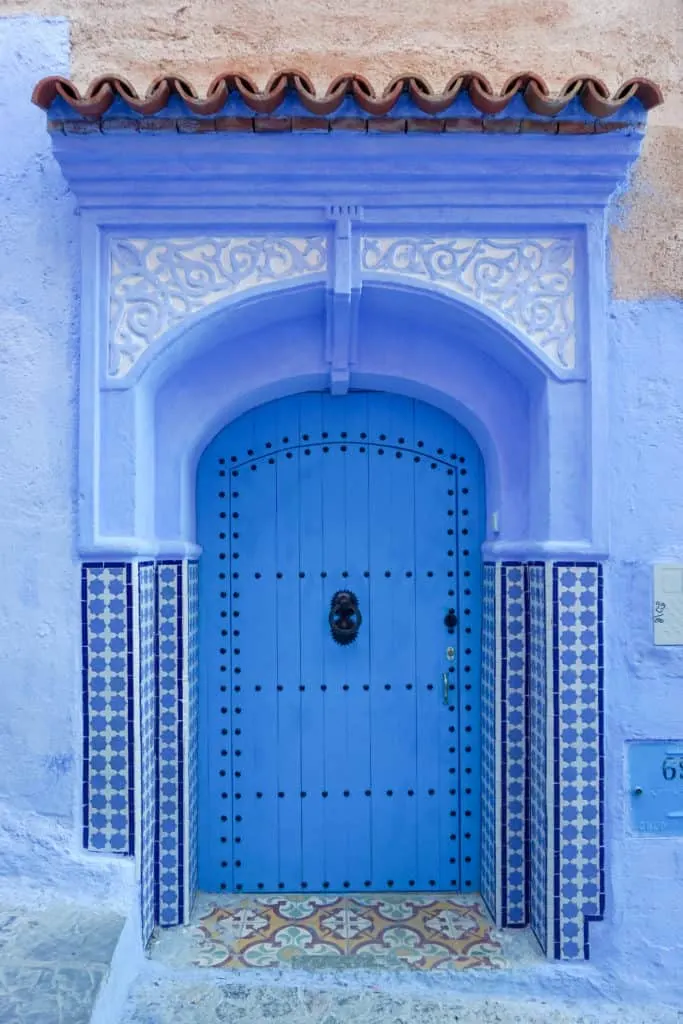 Chefchaouan is as dreamy in person as it is in photos. I planned my entire trip around this blue city, and I assure you it cannot be missed. I'd recommend flying into Tangier so you can start your Moroccan trip off in Chefchaouan. You'll be glad you did! — from This Darling World
Fez
Fez is full of old doors – and doors that look like they should be old. The Nejjarine Museum has one of the most famous sets in the city!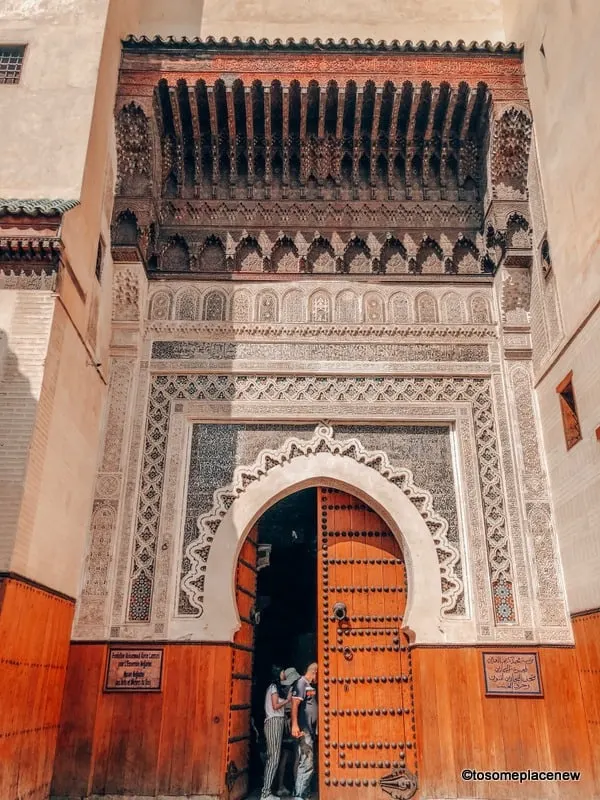 Fes el Bali is the oldest medina in Morocco. Founded in the 9th century, walking through the lanes of Fes medina you will experience the history and cultural nuances of this unique city.
This door at the Funduq al-Najjariyyin – is super stunning. Funduq means inn or a rest place – and this trader's hotel was designed and built to house merchants on the go. They would bring their carriage and horses and camels – with enough room for animals and their owners to rest, eat and get entertained.
Today Funduq al-Najjariyyin is a handicrafts museum and their roof top offers stunning views of Fes. This building is located near the Najjariyyin fountains and square, which is one of the best things to see in Fes. — from To Someplace New
Hidden in the labyrinth of the Fez Medina on Al-Najjariyyin square is the Musee Nejjarine, a magnificent building dating back to 1711 when it was built by Sultan Moulay as a trading centre, traditional Inn and warehouse. Comprised of a three level fondouk or square and fifty-one rooms, the city commenced restoration in 1990 and it was finished in 1996.
It is now home to a Museum of Art and Woodwork and managed by the Mohammed Karim Lamrani Foundation for the Nejjarine Ensemble. Like so many buildings in Morocco the entrance door is quite grand with a huge decorative arched canopy and zellige (mosaic) as well as a few obligatory cats! — from Greece Travel Secrets
This door, found in the medina in Fes, is one of the many wonderful examples of colorfully painted doors in Morocco. My architect/ interior designer husband took several photos of the details to be inspired on his own work. We haven't painted any of the doors in our own house yet – but I haven't ruled it out either! — from Travel Collecting
Marrakech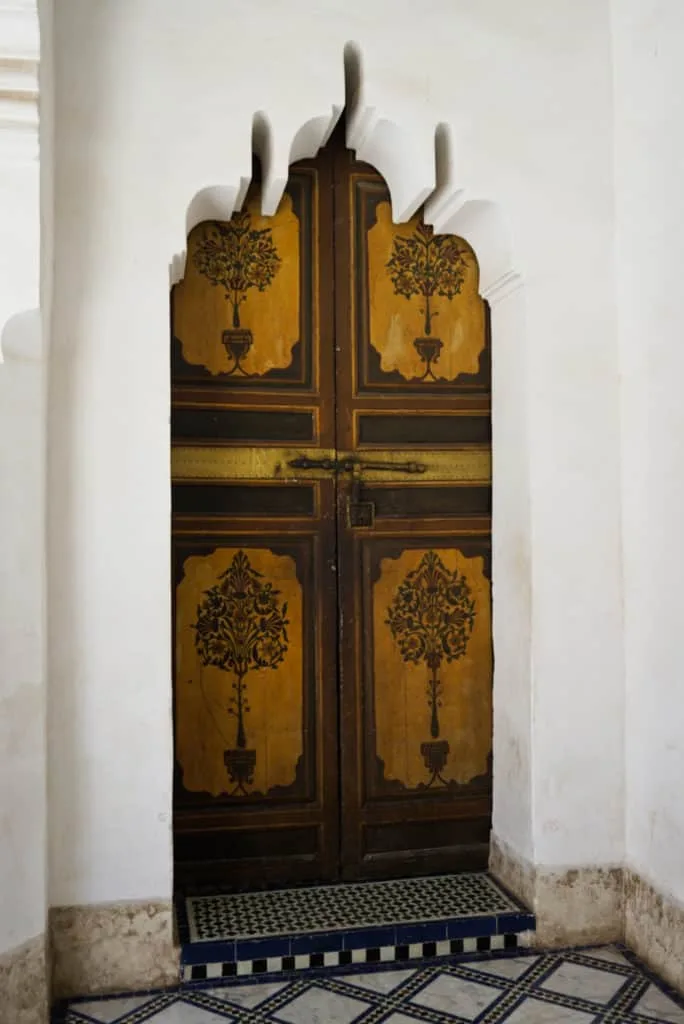 I landed in Marrakesh with a world of expectations. It was the first time I set a foot on African soil, and I have been dreaming about it since I can remember. After dropping my backpack in the riad, I headed straight to Palais Bahia. I was so mesmerized by the details that I thought "if the doors and windows look this impressive, I'm in for a treat". I was absolutely right –Morocco surpassed all my expectations. — from Experiencing the Globe
This door was spotted during a caleche ride around the city, near the Medina. I remember being in complete awe of its beauty and intricate details. I also thought that if it were at home (New Zealand for me), we'd have guards around it and be charging people to view such it up close. Here in Morocco, amongst so much beauty, it was simply a practical parking space for local workers and residents. — from Our Spanish Life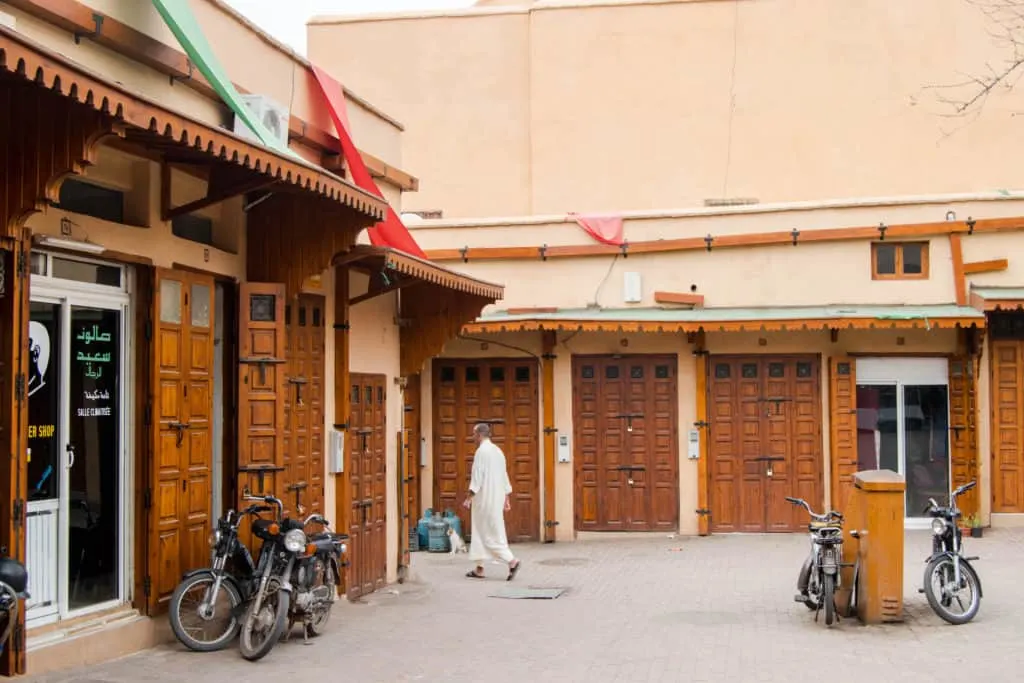 Hidden away from the crowds of the Medina en route to the stunning Royal Palace, you'll find the quiet and charming Jewish quarter of Marrakech (Mellah) where endless carved wooden doors greet you as you wander the narrow streets.
There's quite some history behind these doors, including a small synagogue that dates back to the Spanish Inquisition and picturesque courtyards where you can enjoy lunch in exquisite restored riads. I ended up here by mistake after making a wrong turn and I spent at least an hour getting lost in the best way possible. — from Local Holland
This door is off Derb Moulay Abdel Kader. It belongs to Chambres d'Amis, my home away from home in Marrakech (but is their private home). I love it for the mint color and they have also flower pots down the road painted in the same color. It always makes me happy when I see it. — from Midnight Blue Elephant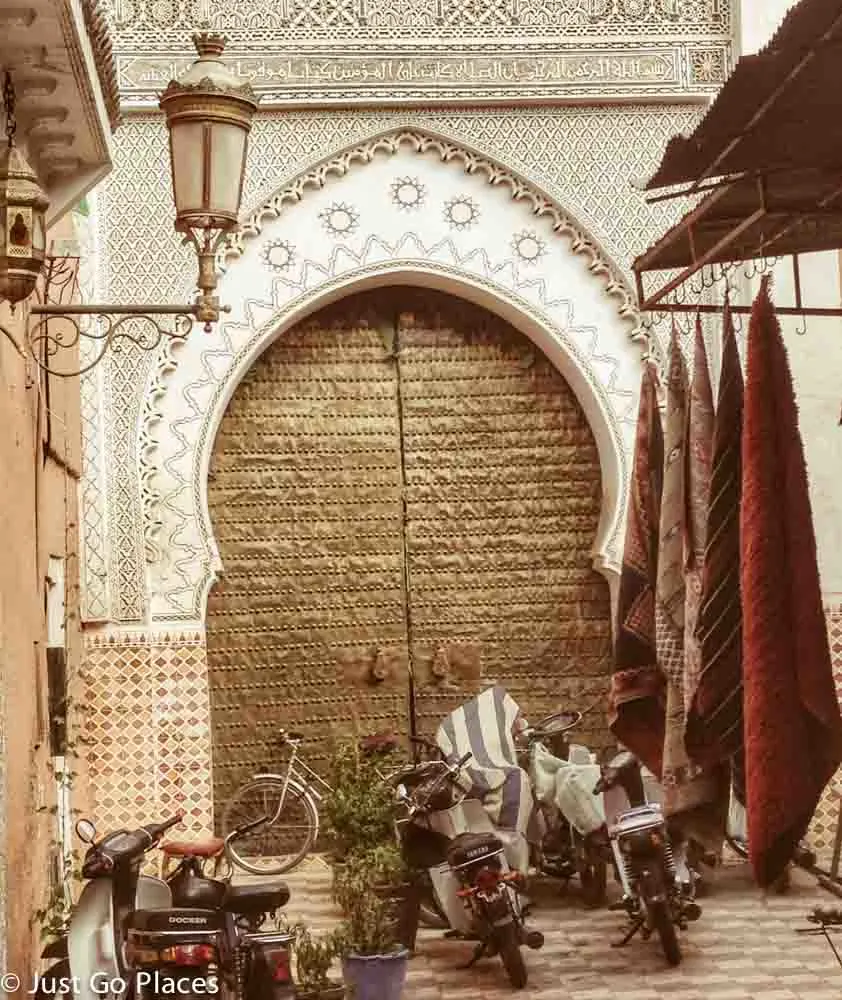 I loved this door we found in a random corner of the Marrakech Medina because of its detail – the hammered metal doors, the stone archway and even more intricate stonework beyond that. You could hear people praying inside behind the mosque door which really added to the atmosphere of this little nook. Amidst the hustle and bustle of the souks, this little oasis of peace made you realise that the medina was more than tourists and fast-talking vendors, but a way of life to the people who lived and worked there. — from Just Go Places
If you are looking for the best Instagram spot in Marrakech, then you have to head to the Amanjena luxury hotel. This place is seriously out of the world. It was modeled after the famous El Badi palace in the old town and has some of the most beautiful traditional doors in Morocco. You can easily give them a call to book a nice table for lunch in case you don't want to stay a night. — from Annees de Perlerinage
Like many first-time visitors to Marrakesh, I was a little overwhelmed the first time I set foot in the bustling Medina. I gravitated towards the quiet laneways to try and escape the crowds, and found myself absorbed in the little details of the shops and houses there. These two painted doors caught my eye – to me, they have so much character and look like a pair of old friends! — from Wander-lush
Rabat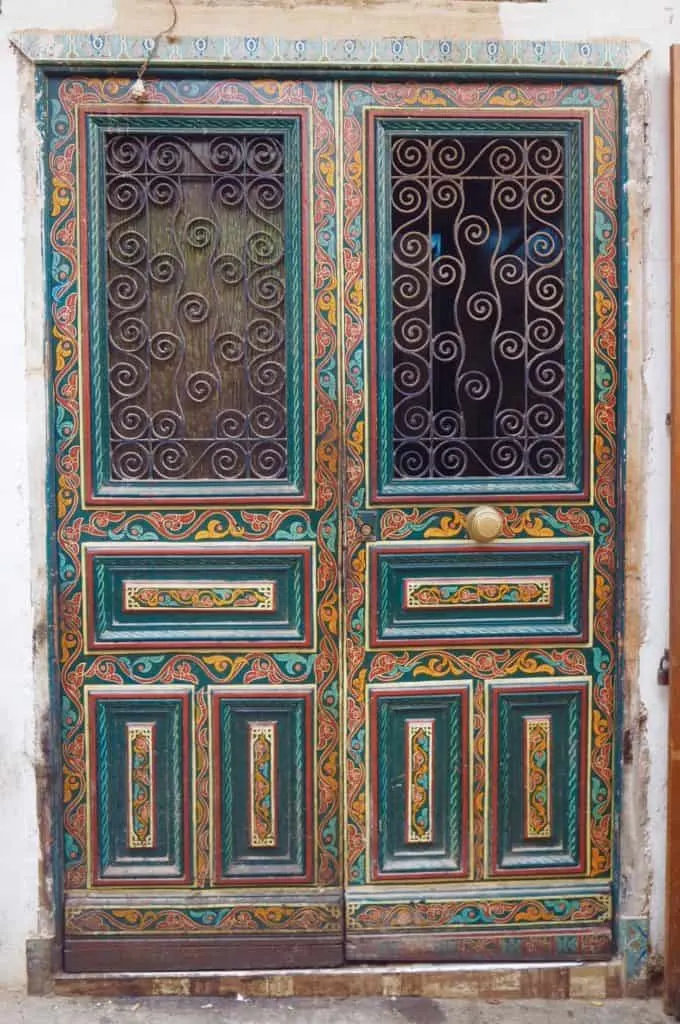 I know I am not the only one who is fascinated by the beautiful doors of Morocco. And I am not ashamed to admit I took quite a lot of pictures of doorways during my two weeks in Morocco.
One of the nicest doors I came across in Rabat, in the old Medina.
The Medina of Rabat is not as impressive as the ones in Fes or Chefchaouen but I had a local guide with me who had lived inside the Medina for a couple of years and she showed me the interesting parts of the Rabat Medina.
The colorful door I captured with my camera is a representation of my memory exploring the lesser-known parts of Rabat with my friend. — from Nagoya Foodie
Tangier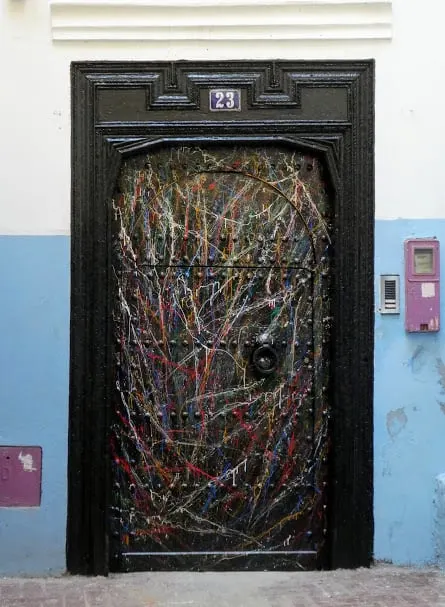 This door was tucked away down a little street in the medina not far from the riad we stayed in. There are so many amazing doors in the medina but I loved the fact that this one was fairly ordinary until someone decided to add the Jackson Pollock paint effect to it. — from Alison in Andalucia
I went through Tangier years ago, driving from Portugal to Morocco. Back then, Tangier still had its dodgy reputation… and it felt a little neglected… Nowadays, Tangier is much more welcoming and attractive. The city fully lives its status as the gateway to Africa and is a great transition from Europe to the Kingdom of Morocco. On the edge of the medina, overlooking the harbour, I was intrigued by the city walls and Bab El-Bahr. This opening into the city walls felt very symbolic… as I looked out towards the coast of Spain, I thought of turning around and looking into Morocco.
The North of Morocco is known as "Spanish Morocco" and wasn't actually part of the French colonial empire and people here still speak Spanish. For years, Tangier was an "international city" belonging to no-one. Bab El-Bahr illustrates very well what Tangier is today: a clever cultural transition between Europe and North Africa. It was a great place to relax and take in the views upon beginning my journey through Morocco. — from Lester Lost
Tetouan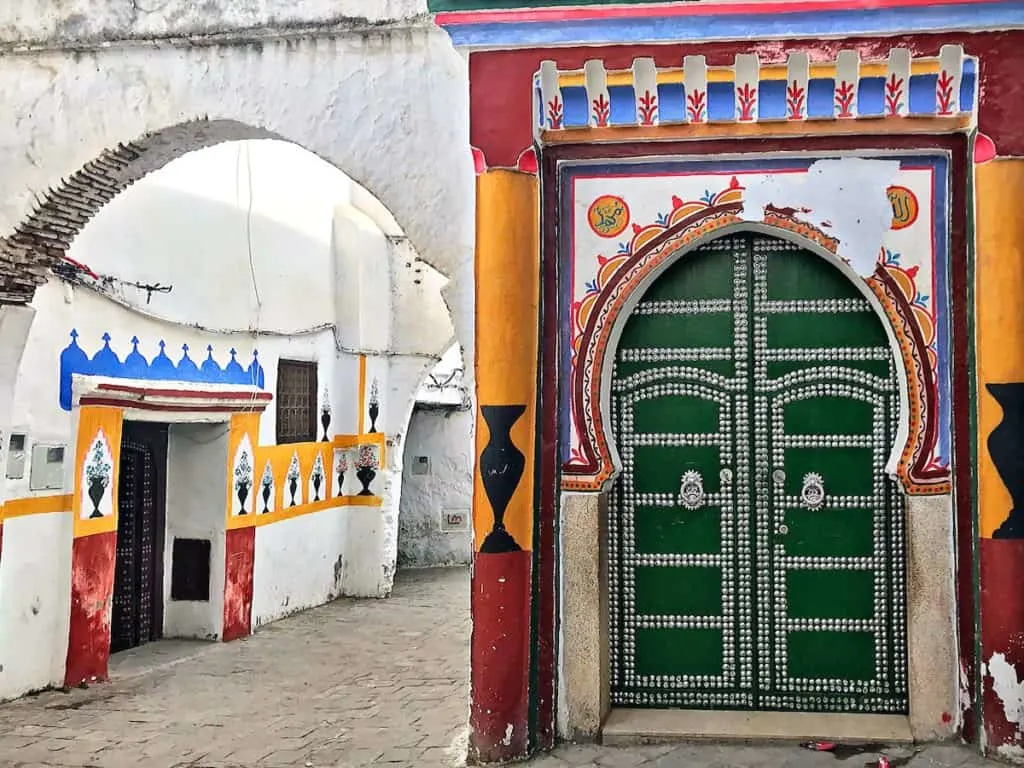 Tetouan was something more than I had expected. We visited it on our quest to see all the cities in Morocco, and I was charmed to discover Tetouan's fascinating medina, almost empty of other tourists.
After a while of wandering we were approached by an older Moroccan guy, just as we were feeling a bit lost and hungry. He seemed different from most of the locals who approach us and spoke very good English. Wary of scams, I didn't want his help, but at the same time I needed to find my way and feed my daughters.
We accepted help, and soon we found ourselves in a local eatery where the food was unlike other food we had anywhere. It was delicious. Our saviour disappeared to reappear just as we finished the meal.
He offered us a tour around the Medina. This time I accepted it without hesitation. Our private tourguide took us to places we could not possibly have found without his guidance. At the end I gave him a good tip, which he accepted gracefully and we parted.
Tetouan had just become our favourite city in Morocco. — from Traveling Twins