In one of my "falling down a rabbit hole while scrolling Pinterest" adventures I came across a recipe for an Arabian taco.
So you can imagine the idea of an Arabian taco had me expecting a shawarma as a taco-imposter. But, I was wrong – sort of. Being the good student I always was I started digging to find out what this was all about.
Tacos arabes come from Puebla in Mexico. But, like all good food origin stories, it's a grab bag of answers when it comes to how they actually came to be.
Lebanese immigrants began to settle in Mexico in large numbers at the end of the 19th century. A second wave of immigration happened in the late 1940's as they were leaving during the Lebanon-Israel War and 6 Day War. Interestingly the vast majority of Lebanese immigrants to Mexico were Maronite Christians who practiced their own version of Christianity alongside Mexican Catholics.
Of course they also brought their food traditions with them – and this is where Arabian tacos were born.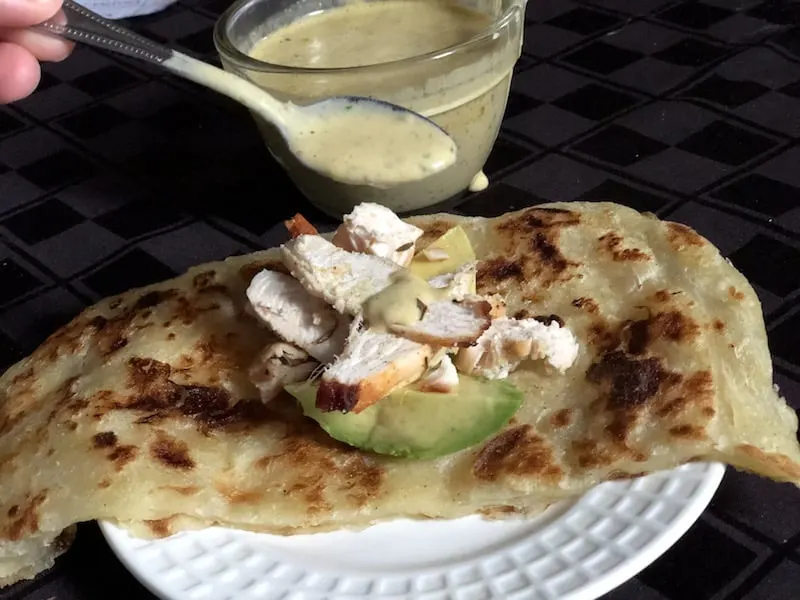 Sometimes these are called Mexican shawarma but they're much more than that. It started with the "meat on a spit" tradition shawarma is known for but with the introduction of Mexican ingredients merged into something new. Lamb (shawarma's typical meat) was expensive so pork became the meat of choice. Cumin and oregano make up much of the flavor profile of the original version and the pita wrap has been replaced with tortillas in some cases.
When I finally came up from this rabbit hole expedition my mouth was watering. I HAD to make these! But having neither tortillas or pita on hand I decided to use a Moroccan msemmen which while a little thicker than I might have liked was delicious! You can wrap the meat up in whatever you want. I also changed the recipe to use chicken but I think it would work with any meat.
Make sure you marinade the meat though – that's what really makes the flavors come through!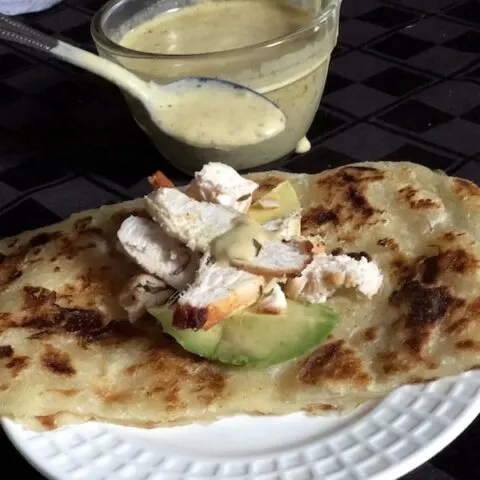 Yield:

6-8 small tacos
Chicken Tacos Arabes Recipe
Total Time:
2 hours
45 minutes
Tacos arabes from Puebla were created by Lebanese immigrants and are a delicious mix of Middle Eastern and Mexican flavors.
Ingredients
Chicken
3-4 chicken breasts
1/2 cup lime juice
1/2 cup olive oil
4 garlic cloves crushed
1 Tbsp oregano
1 Tbsp cumin
Chipotle Sauce
2 garlic cloves
2 tsp white vinegar
1/2 tsp cumin
1/2 cup sour cream (or plain, thick yogurt)
juice of a lime
1 tsp smoked paprika
water
Yogurt Sauce
1 cup plain, thick yogurt
1 Tbsp lime juice
1 Tbsp olive oil
2 Tbsp parsley
2 garlic cloves
salt and pepper to taste
sliced avocados
raw onions
cilantro
lime wedges
tortillas or pita bread
Instructions
Slice or cube the chicken into pieces of a similar size, it doesn't matter which way you do it you just need them to be uniform so they cook at the same time.
Mix all of the marinade ingredients with the meat and put into the refrigerator to marinade at least 30 minutes up to overnight.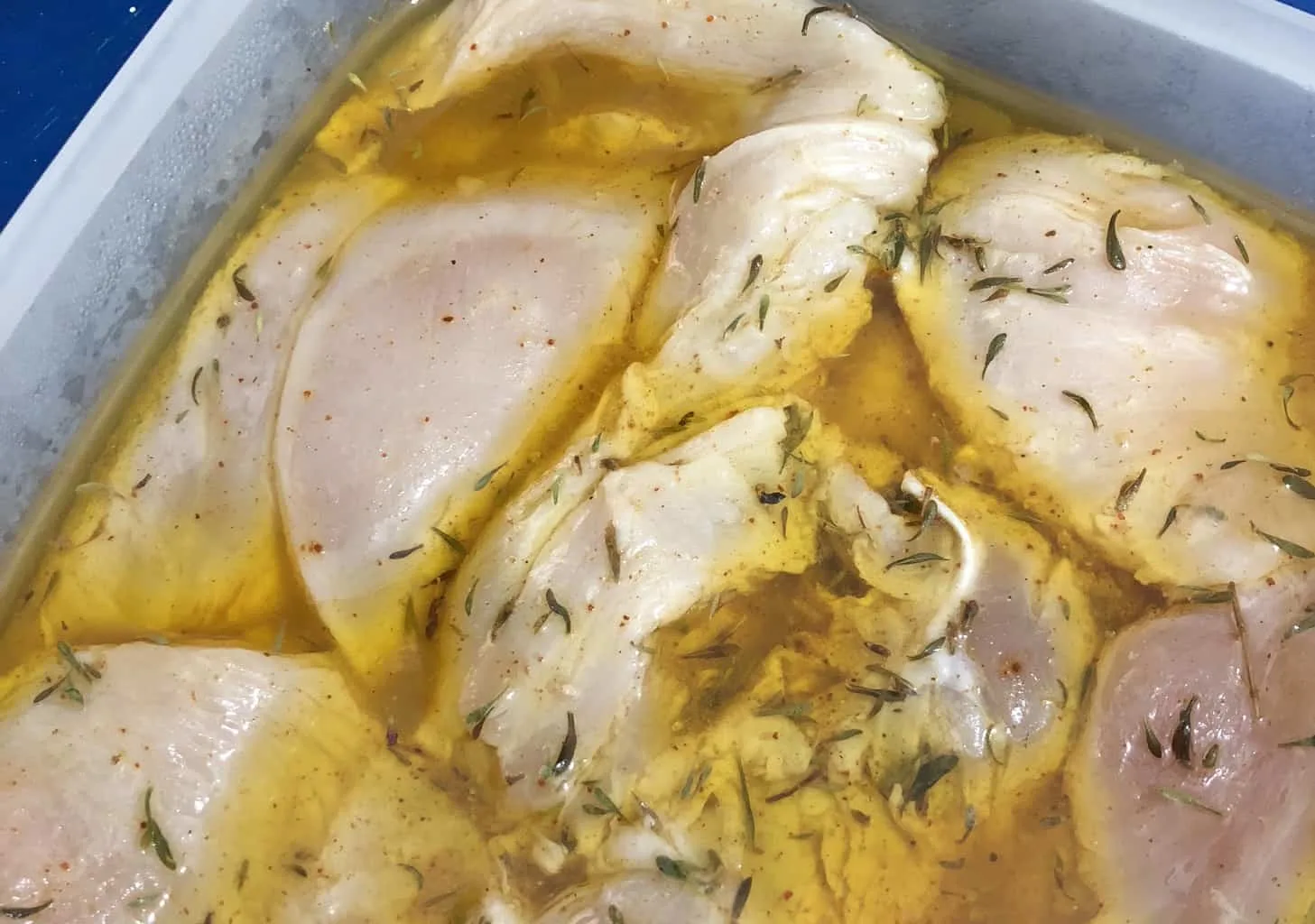 Heat oven to 475F, you want the meat to cook fast and hopefully get some char too. The chicken can also be grilled if you have access.
Skewer the chicken so that it is not bunched up, you want to cook it through as quickly as possible. If you don't have skewers you can lay the pieces flat in a baking pan.
Place into the oven and rotate regularly, until meat is cooked.
Set meat aside until you're ready to eat.
Chipotle Sauce
Place everything into a blender or food processor and mix. Add more or less water to adjust the thickness you'd like. The flavors will get stronger the longer it sits.
Yogurt Sauce
Combine the ingredients in a bowl and mix well. Refrigerate. I think it tastes better when it's sat for a few hours.
Assemble your tacos with your bread base, meat, and toppings. You could also make this into a grain/rice bowl really easily!
Notes
I knew I would be making this in the oven so that is why I included liquid smoke. It gives a taste of a the grill without actually grilling the meat.
I also substituted harissa sauce for the chipotle peppers in the sauce recipe and it worked great!
For my final tacos I wrapped them up with Moroccan msemmen instead of tortillas or pita and it was DELICIOUS!
Recommended Products
As an Amazon Associate and member of other affiliate programs, I earn from qualifying purchases.