Why visit northern Italy?
When most people think of visiting Italy, the big cities are the first that pop into their minds. Cities like Rome, Florence, and Venice, and while each of these places has their own merits, there is so much more to Italy to experience.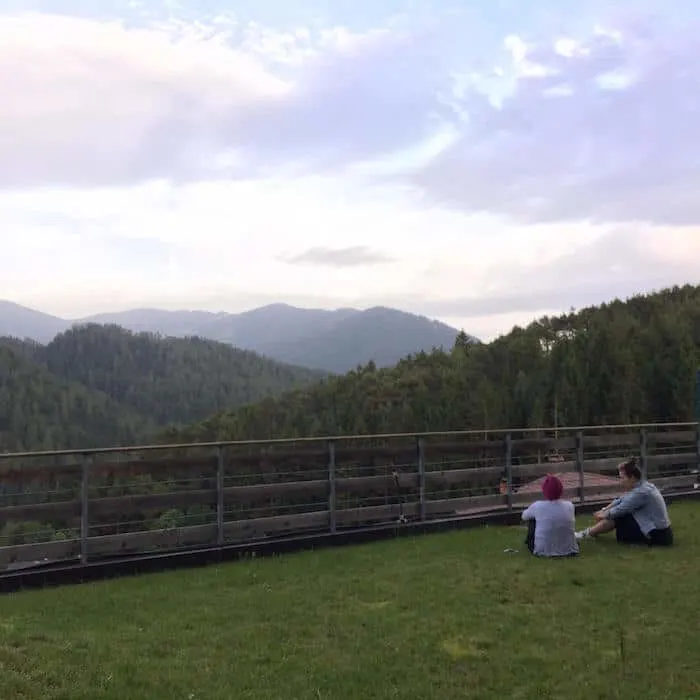 Northern Italy is completely different from the south. So different it could be two separate countries (and it has a lot of history that supports this!) After spending nearly two weeks in the Tentino-Alto Adige region I'm convinced this part of Italy certainly deserves much more attention than it gets.
Trentino is one of the semi autonomous regions of Italy. This means that they are allowed some legislative, administrative and financial power that is separate from the laws of Italy proper. They were given this status to account for their cultural differences and to protect the minority language speakers of the area. The government post World War II was also worried about secession and wanted to give the region(s) more of a reason to remain unified.
One of the most interesting facts about Trentino is that it is home to three indigenous minority languages. Ladino, Mócheno and Cimbrian are separate languages spoken by very small portions of the population. Only a few thousand people speak these languages and they are at risk of dying out. People in the region are working to keep these languages alive.
Before WWI Trentino was part of the Austro-Hungarian Empire and it was the sandwich region during WWII when German and fascist troops were retreating as the allied forces fought their way north from Sicily.
There's a lot more to the history of the region and if you're someone who likes your travel with a heavy dose of history than that's another reason Trentino is somewhere you should consider.
Where is Trentino?
Trentino is located in the far north of Italy. It is bordered by the provinces of South Tyrol, Veneto and Lombardy. Most of the population is rural living in farming and mountain villages and approximately half a million people call this region home.
The Dolomite mountains make a stunning backdrop to this region and are just one of the reasons this is one of the best places to visit in northern Italy. Rivers, forests and other natural wonders are also part of the experience. If you're more a nature lover than interested in pounding the pavement of a big city, Trentino is for you.
Getting to Trentino
The capital of Trentino is Trento and the closest international airport is in Verona. However thanks to Italy's vast rail network, roadways and bus options reaching anywhere in the region is not too difficult.
I flew into Milan because it was the cheapest and most direct option. From here I was able to take a train to Verona, change trains and continue to Trento. It really was very easy. There is also the option of Flixbus, a low cost bus option which had routes from Milan to Trento.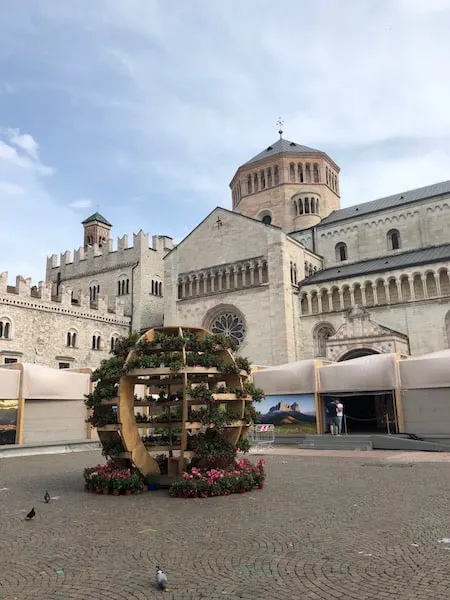 If you plan to travel around the region instead of staying in a single location, it is worth considering renting a vehicle. This will give you the space and ability to travel where and when you'd like. During winter months you'll want to make sure you have proper tires and are prepared to drive in a mountain area that receives snowfall and ice.
Getting around Trentino can easily be done with the Trentino Guest Card. Not only does it give you access to public transportation around the region but free entry to dozens of museums and castles as well as even more activities and experiences at a discounted rate.
5 Things to see in northern Italy
Trento, Italy
Trento is the capital of Trentino and makes for a great base for your adventures. The city itself has a lot to explore and experience. Unlike many Italian cities this one isn't overrun with tourists.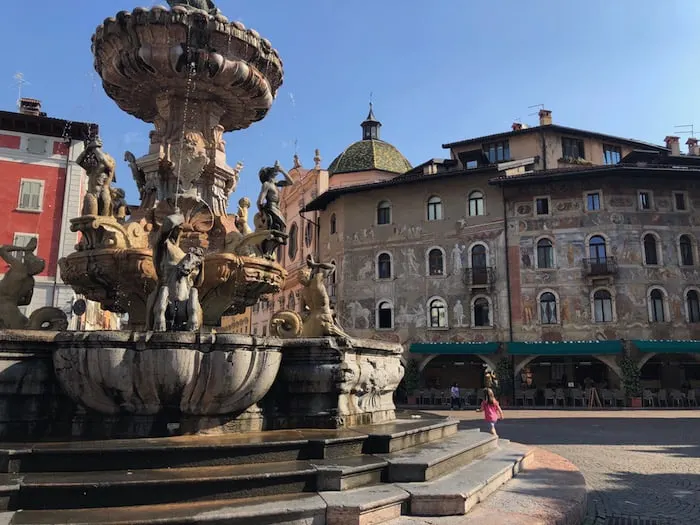 If you're looking for a hotel in Trento, I stayed at the Hotel America and found it to be a great location. It was easy to walk just about anywhere in town and is also very close to the train station and central bus stop if you need or want to go further afield. They also have a really nice breakfast buffet with options for all dietary needs. I really appreciated this.
Several other friends that were in Trento with me had good luck using AirBnB to book accommodation. It's certainly worth a look if you want something other than a hotel.
The top three sites I would make sure to visit are; the MUSE museum, Funivia Trento Sardagna cable car, and a walk through Piazza del Duomo. I loved how so many of the buildings in Trento had paintings covering the exterior walls. It's a beautiful, charming city!
If you're needing something to eat than there are quite a few places serving quality local food. My favorite meal was at Osteria Il Capello (reservations highly recommended), the food was fantastic and the staff very nice.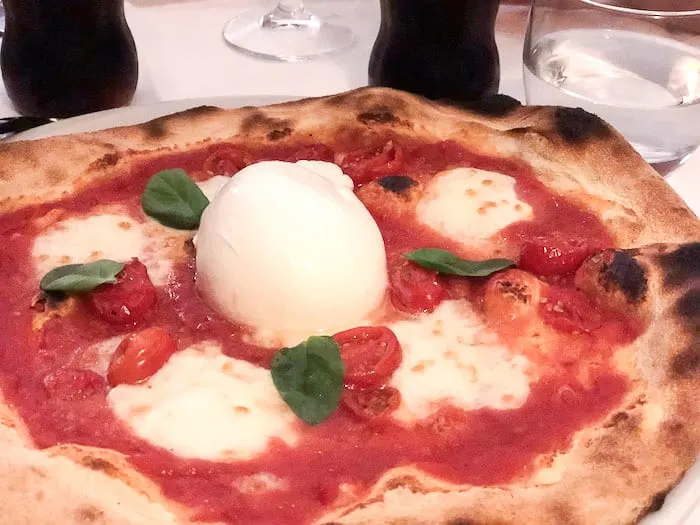 I also liked the pizza at Green Tower Ristorante Pizzeria where I suggest the Mediterranean that comes with an entire ball of burrata cheese on top. Of course there's no shortage of gelato either. I ate at least one a day. While none were bad, my favorite was from GROM (which is a chain gelateria) and is right off Piazza del Duomo.
The Pyramids of Segonzano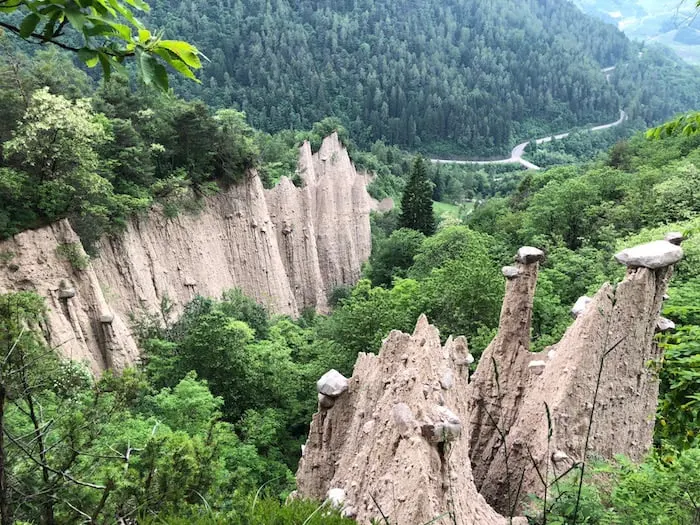 Before you start to think of Mayan or Egyptian pyramids, these are not that. The Pyramids of Segonzano were formed naturally – nearly 50,000 years ago! These pyramids are cone shaped and each one looks like it's wearing a hat. The hat serves an important function. Without the top, the structure below crumbles. So each of the elements that remains only does so because it has a topper.
You can view the pyramids from below but there are also several easy to moderate trails you can hike that will bring you closer. They truly are an amazing geological phenomenon worth getting an up close view. There is a small entry fee of €3 per person.
Experience Slow Food Italy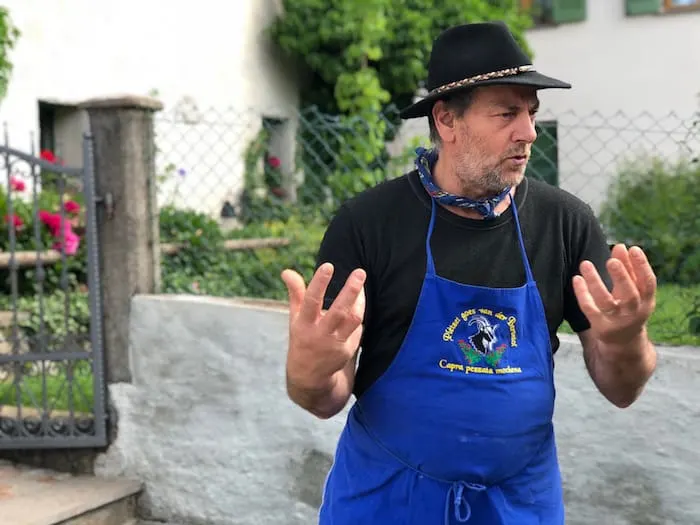 This isn't a new concept but is gaining popularity not only in Italy but the world. In Trentino I fell in love with the idea and the people and producers making it happen. Slow food is a movement that works to prevent the disappearance of local food cultures and traditions.
Three of my top dining experiences in Trentino that adhere to slow food principles were;
Fattoria Le Mandre farm felt just like home to me. I loved the origin story; that the father who had the idea to start the dairy and make and sell his own cheese instead of selling the milk to the cooperative like others did was told it wouldn't work but he kept on anyway. Not only will you be promised one of the most amazing views, their products are exceptional. The ice cream? It's some of the best I've eaten in my entire life.
Agritur Klopfhof – overlooks the town of Pergine and is truly a family affair. Their meals are made using as much organic and local produce as possible and the menus are adjusted based on what's available. If you want to stay longer, you can. They have a few rooms for rent and it would be a treat to spend time in this beautiful mountain hideaway.
Mas del Saro – Their name says it all, "farm to table sustainable mountain agriculture." The menu is 100% vegetarian and they have locally produced wine and beverages available to compliment your meal. It's not an easy location to reach but the meal and hospitality is certainly worth it. They're open on the weekends for reservations and during the week for small group bookings. I loved this place so much I'm considering going back and volunteering to work in their kitchen!
Visit the Valle dei Mocheni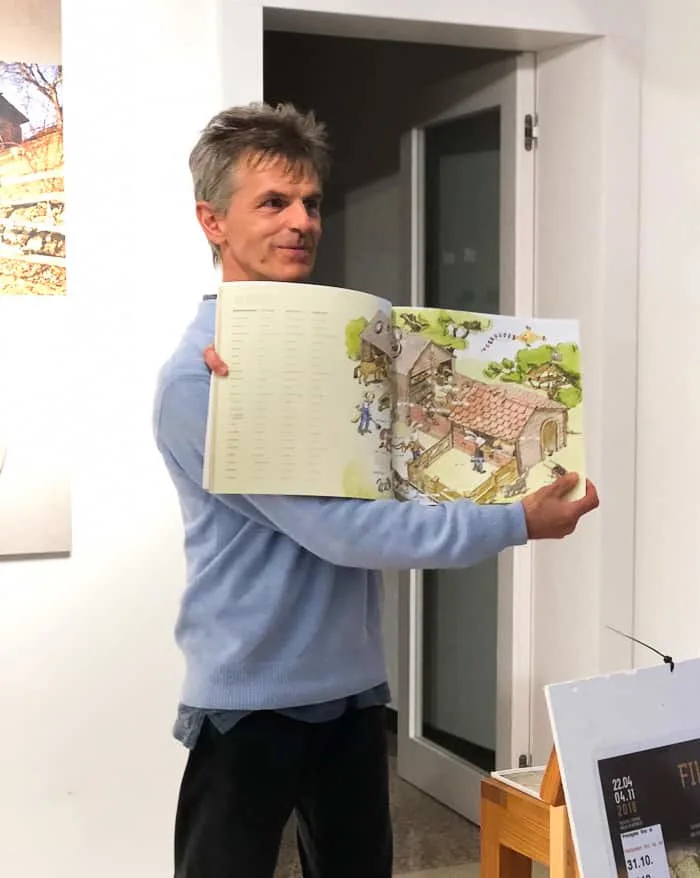 Languages, their evolution, existence and usage fascinates me. So visiting the village of Bernstal (as it's known in the local language) was really interesting. The language itself is a type of old German and sounds nothing like Italian. The original people who came here were miners extracting copper and silver from the mountains.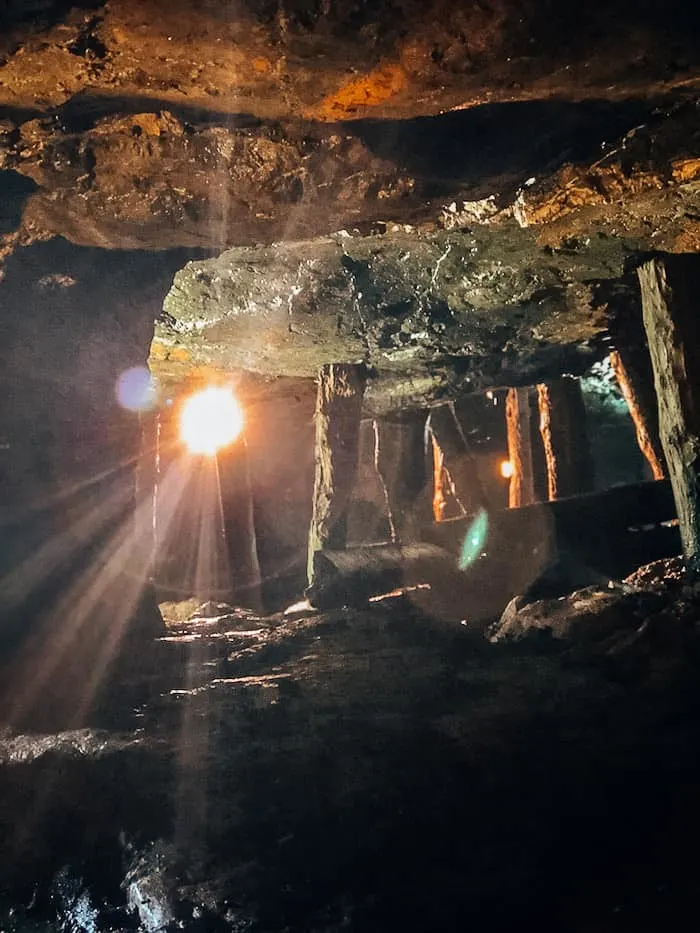 You can visit the mine on guided tours from May through September on Saturdays and Sundays at 10am, 11:30am 1:30pm, 3pm, 4:30pm. During the week there are also tours for groups of people but by reservation only. There are limited spaces available so it's always best to call ahead and make your reservation (+39 0461 550053)
Price of admission is €10 adults, €6 reduced admission for kids or Seniors over 60 years and €20 for family ticket. Find out more on their website (German/Italian/Mocheno only)
You can reach Palù del Fersina with public transportation from Trento. But as with many of the small areas in the region having access to your own vehicle will make things easier.
Go Hiking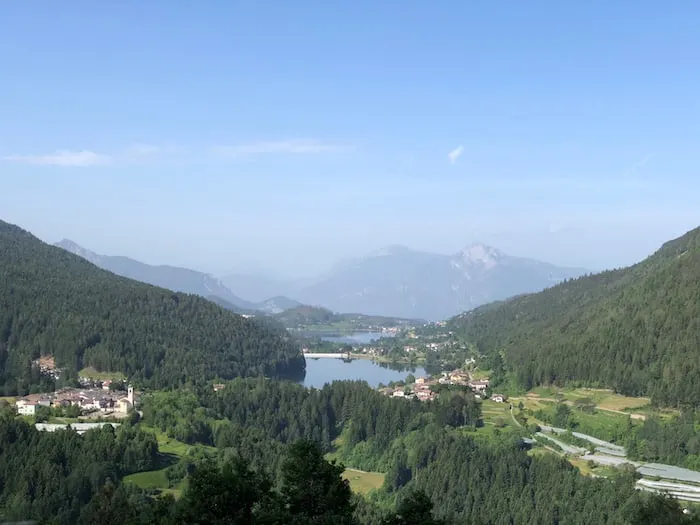 I will be the first to admit that before this trip I was not much of a hiker. I never go out of my way to arrange outdoor hiking activities. But, by the end of my time and having taken several hikes in different areas my opinion really changed. I don't think I'm going to become a serious hiker but I did discover I do like it.
Trentino has trails that are really easy to navigate and criss cross not only natural but historical landmarks. Just about anywhere you choose to stay here you will have nearby access to some sort of hiking path.
There are over 5000 km of hiking paths in the Trentino region including the "Path of Peace" which is a 520km path that winds through the war theatres, military roads and trenches, museums and more. It's a commemorative and moving walk for anyone who connects to a place through it's history.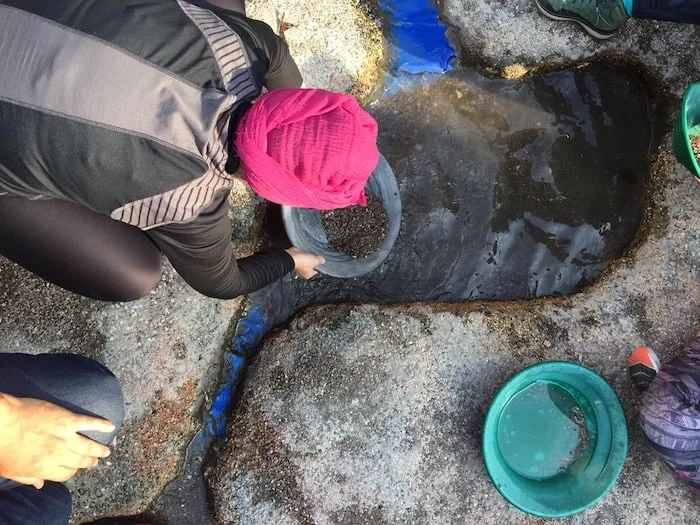 Some of the walks we enjoyed;
The paths at the Segonzano Pyramids (highly suggest starting at the top and hiking downhill vs. hiking uphill).
In the small village of Saint'Orsola we were met by the exhuberant Mr. Mario Pallaoro guardian of the Museo Pietro Viva. The museum (and gold panning area for kids young and old) keeps the areas' history alive. From the museum you can walk the Fairy Path that descends to a labyrinth perfect for little ones.
In Prati Imperiali not only are you treated to an amazing vista overlooking the Dolomites but you can hike the path to the waterfall of Rio Molini. Then treat yourself with something delicious from Restaurant Van Spitz. (I'm still thinking of the "snack" we were given after our hike!)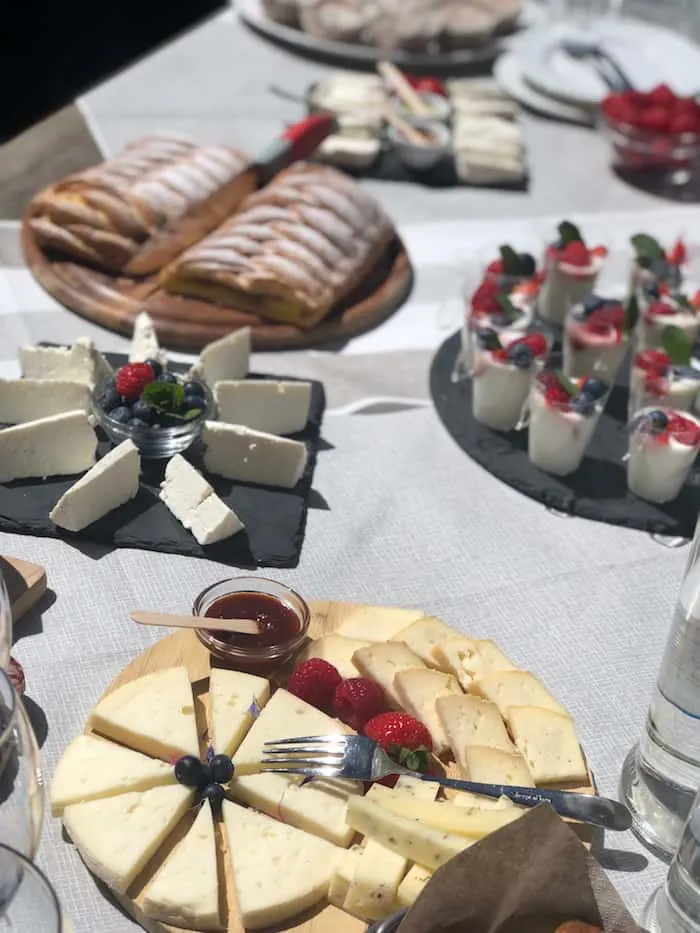 These are just a few of the amazing experiences I had in Trentino. I had no idea this area of Italy even existed before my visit. Not only is it beautiful but the people who call the area home were so warm and welcoming. It felt like going home, not like a foreign country.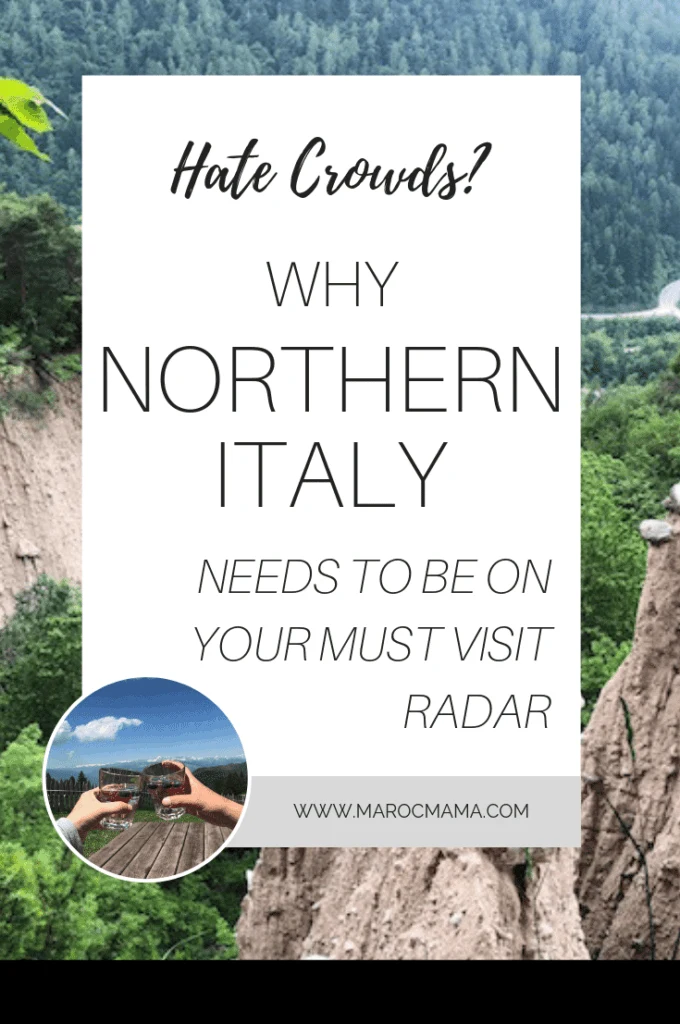 Thank you to Visit Trentino and Traverse 19 for making this trip possible.