In search or an easy Arabic recipe that is also vegetarian and can be used in a variety of ways? This dish is it! I love it because it can be served warm or at room temperature making it a great option for lunchboxes.
There are two posts on my website that are consistently really popular. The first is my slow cooker chicken shawarma. The second post is for batbout, a Moroccan stove top bread. Both are super delicious.
This recipe is a bit of a combination of both – but in vegetarian form! I really like it for a few reasons. One they're great warm or room temperature – making them a great picnic food. Second, my kids LOVE bread, it's a Moroccan thing, but with the lentils added to the stuffing it adds some protein.
One of my kids is primarily vegetarian now so this is also a great thing to make and freeze. He can pop them out of the freezer when he wants lunch or a snack (who am I kidding he's a 16 year old eating machine) and they're ready to go.
If working with bread and yeast intimidates you this is a pretty simple recipe that doesn't require a lot of proofing and kneading for it to work well. You can play with the spices too. Add some chiliis if you like things a little spicier.
Wondering how to do the folding to make the stuffed breads? Follow the steps below starting from the top left to the right and down.
Yield:

6
Stuffed Pita with Lentil Shawarma
An easy to make stuffed bread that invokes the flavors of shawarma while offering vegetarians or vegans a great meal. Serve hot or room temperature - it's also great for picnics!
Ingredients
For the Filling
1 cup / 150 g cooked or canned lentils
1 tablespoon lemon juice
2 tablespoons soy sauce
1 tablespoon tomato purée
2 tablespoons olive oil
2 teaspoon ground cumin
1 teaspoon cayenne pepper
1/4 teaspoon ground cloves
1/4 teaspoon black pepper
1 small onion, diced
2 garlic cloves, minced
For the pita
3 cups self raising flour
1 1/2 cups hot water
1/3 cup vegetable oil
2 teaspoon salt
Instructions
Prepare the dough for the pita. In a big bowl, combine flour, hot water, oil and salt. Knead for a few minutes until the ingredients come together. Then cover with a kitchen towel and leave on the side to rise while you prepare the lentil shawarma filling.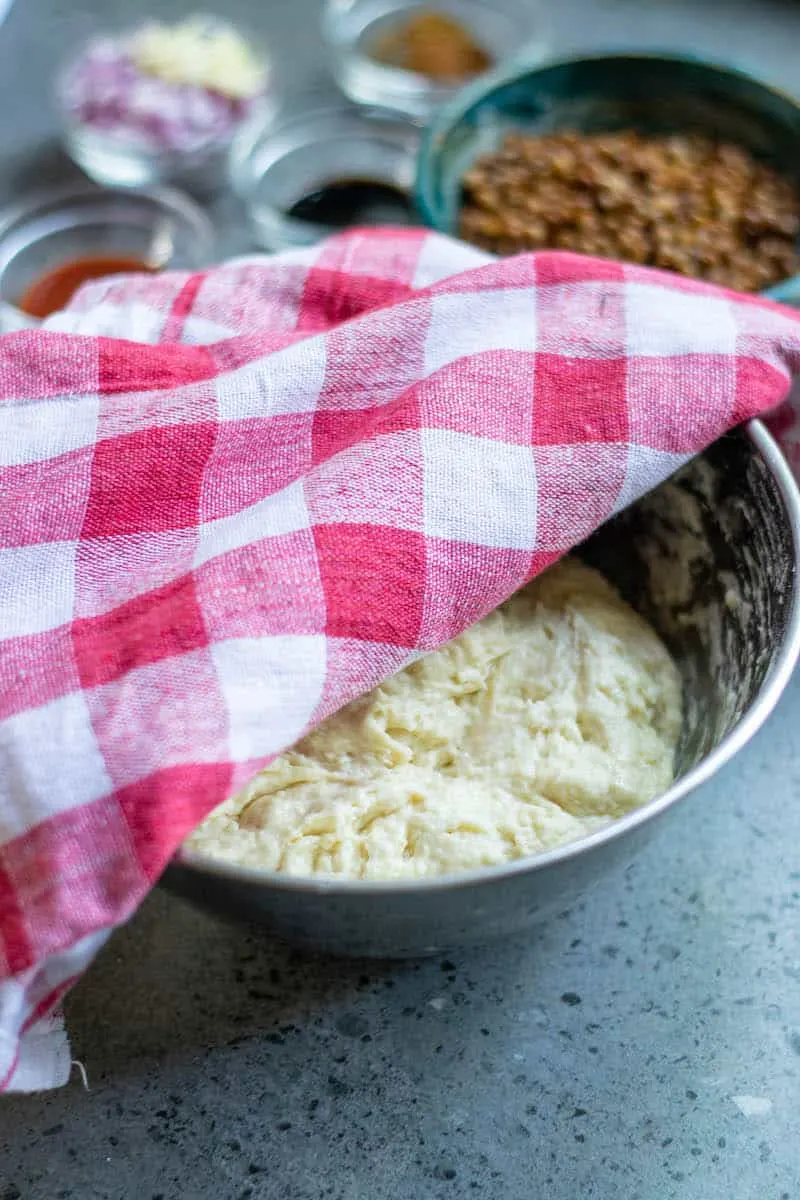 Heat a non stick pan on medium heat with oil. Cook onion and garlic until tender then add spices and cook for another 10 seconds. Add in soy sauce and tomato purée. Mix then add lentils.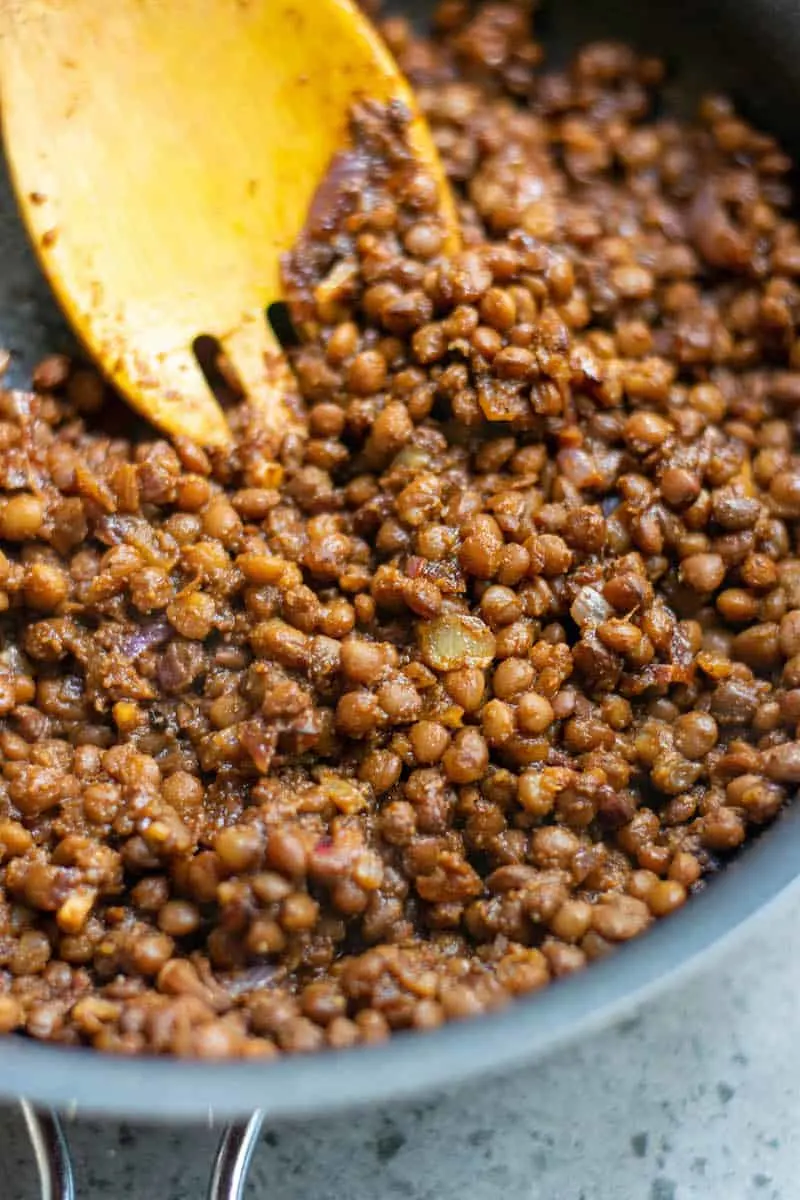 Cook for about 1 minute. Remove from heat and let cool down.
Prepare bread for stuffing. Flour your working space and divide dough into 6 equal sized balls. Press each ball with your hand to flatten to a disc.
Divide lentils in 6 portions and add to the middle of each dough round. Close the dough by bringing the sides to the middle and press again with your hand to form into a round pita about 12 cm diameter.
Heat a clean non stick pan on medium heat. Brush one side of stuffed pita with oil then fry in pan until golden brown. Brush other side with oil before flipping to fry.
Serve stuffed pita warm.
Notes
These can be kept in the refrigerator for up to 4 days or frozen and reheated.