Biryani is a celebration of all the potent aromas, the vibrant colors, the fluffy rice, and those compelling curry flavors. Tender & succulent pieces of chicken are cooked in a yogurt and Indian spice marinade, and then layered with crispy onions, coriander, mint, and basmati rice and finally topped with a spoonful of ghee (clarified butter).
What's not to love?
History of Biryani
I feel like it would be wrong to share this recipe if I didn't give some context. The word 'biryani' is derived from a Persian word, birian, which means fried before cooking. It's originally from India and most often attributed to beginning with the Muslim Indian population. That being said you'll find it throughout many south Asian countries.
There are as many theories on where this dish got its start and who created it as there are variations on how it's prepared. Biryani is a dish unto itself and while it can have many steps to create it, the results are worth it!
Marinating the Chicken for Biryani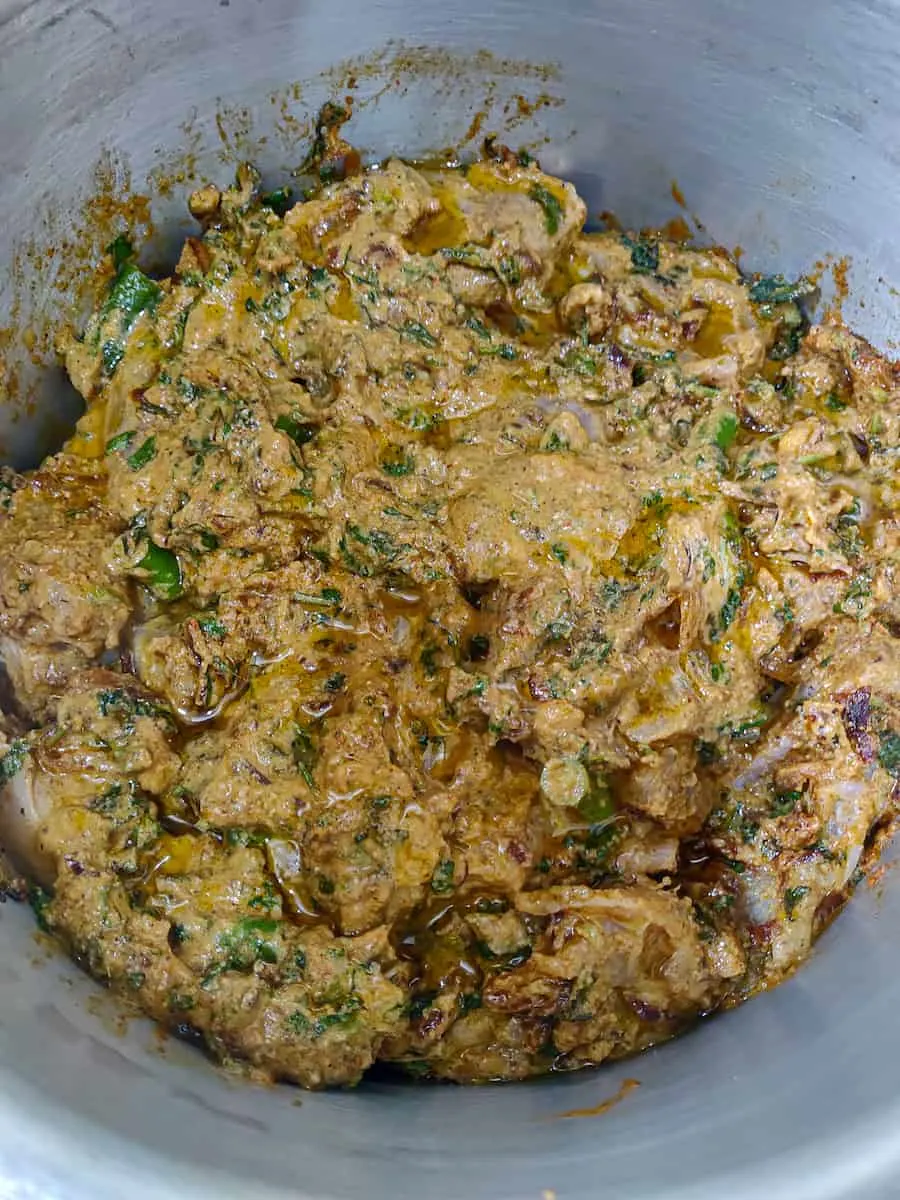 Authentic chicken biryani gets a lot of its flavor from the marinade. We are using yogurt as a tenderizer, fried onions (birista), ginger, garlic paste, chili powder, turmeric powder, coriander powder, homemade biryani masala, lemon juice, and salt to flavor the chicken. It's important to marinate the chicken for at least three hours or overnight for the maximum flavors.
Chicken Biryani Masala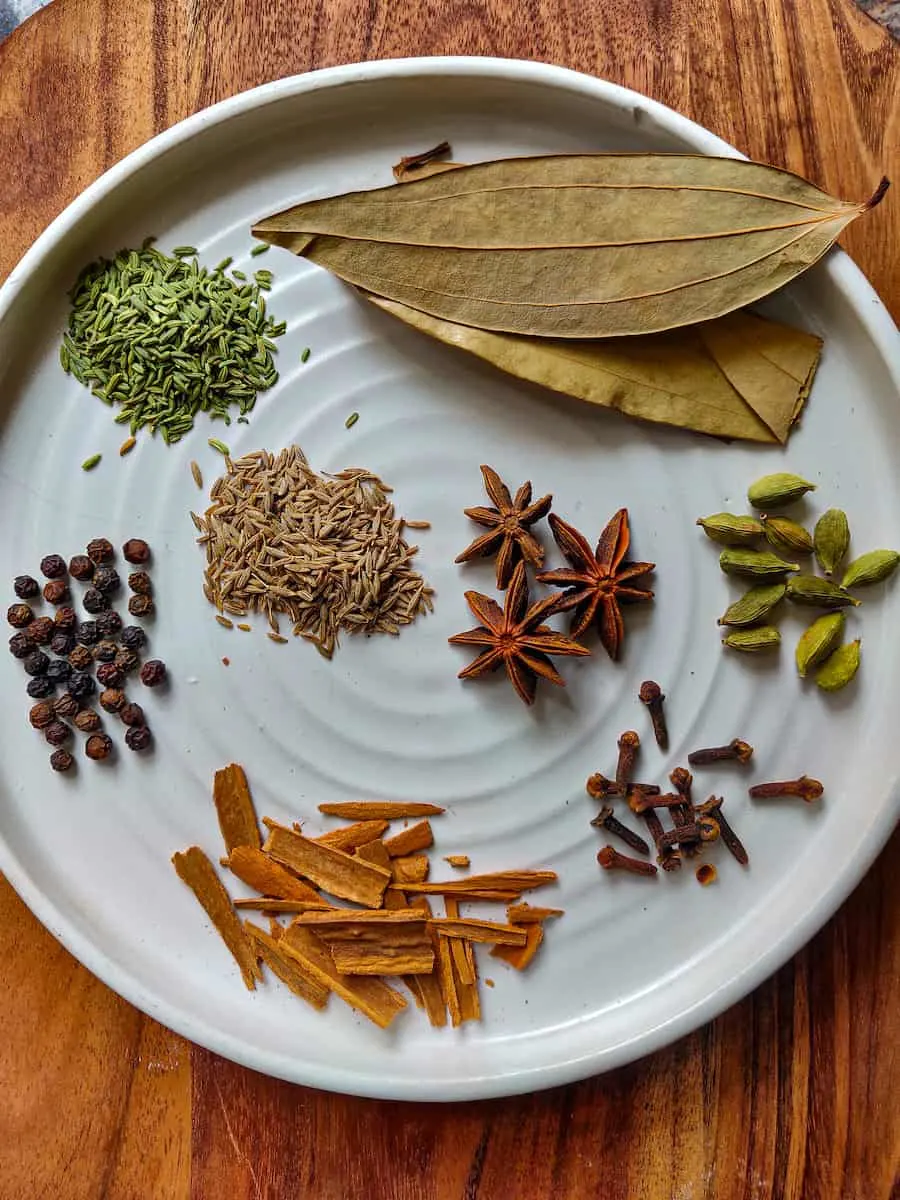 An authentic chicken biryani requires perfect and aromatic biryani masala. The aroma of fresh homemade spice powder is always superior to the store-bought ones. It can be prepared in bulk and stored in refrigerator. Freshly ground biryani masala is the key ingredient to this recipe. A perfect blend of Indian whole spices will make biryani more aromatic and delicious.
Fried Onions and Basmati Rice
Fried onions are a key ingredient here, and it is important to get this right. Onions are cut into slices and then browned on medium flame in oil. They don't need to be extra crispy, but onions should have a deep golden brown color, and should not be burnt.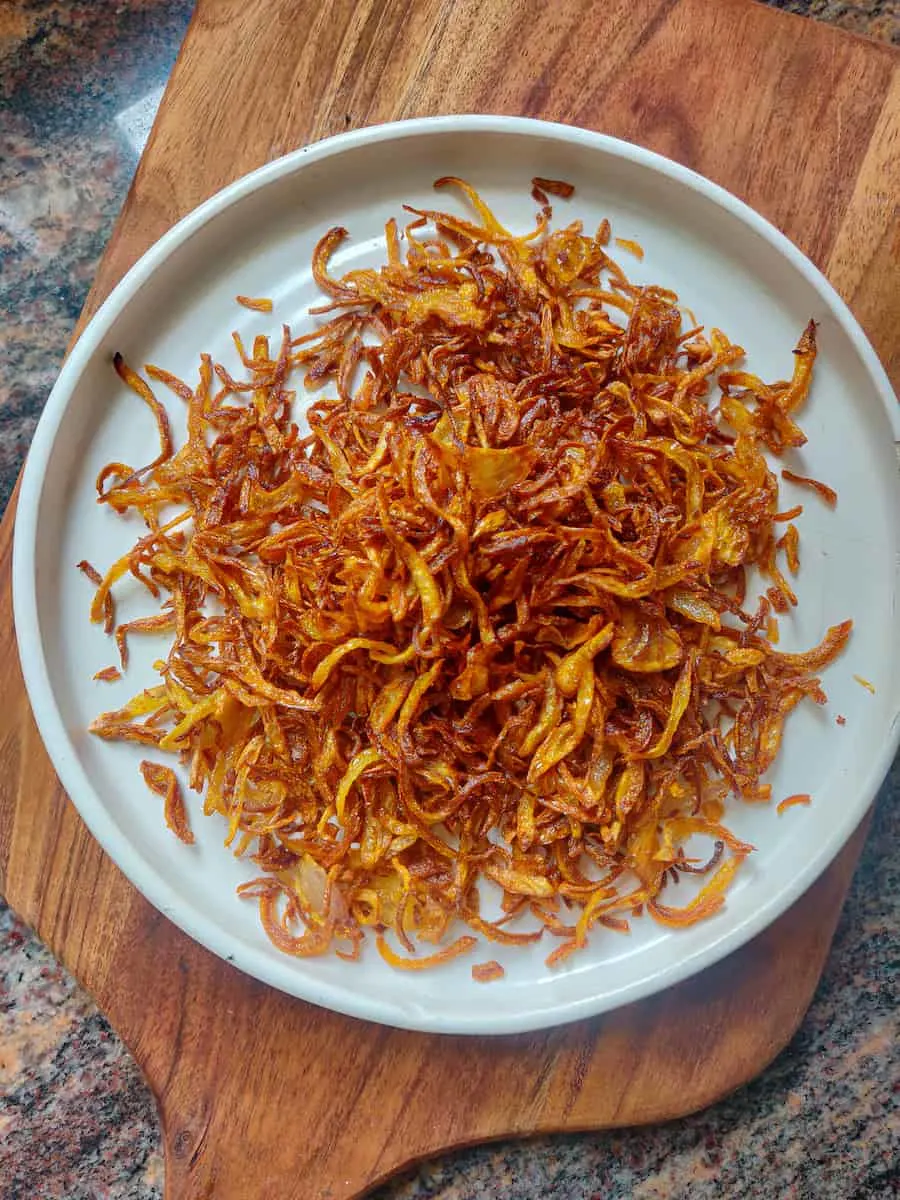 While choosing rice for the biryani, make sure to buy 'basmati rice' and not long grain rice. While they may look similar at first, good quality basmati rice is aromatic and has grains that are thin and long as opposed to long grain rice, which has fatter grains and almost no aroma.
The basmati rice is soaked for around 45 minutes and cooked for exactly 5 minutes in boiling water with whole cumin seeds, bay leaf and salt to get it to the right doneness – which is 70%, because the rice continues to steam when we finally cook it along with the chicken.
Yield:

6-8 servings
Chicken Biryani
Ready to make a delicious, authentic chicken biryani? You're in luck! Don't be intimidated by the ingredients, with just a little prep work you'll have a delicious meal on the table.
Ingredients
Biryani Masala Mix
3 Bay leafs
1 tsp cumin seeds
1 tsp fennel seeds
3 star anise
1 teaspoon black peppercorns
10-12 whole cloves
10-12 green cardamom pods
2 large cinnamon sticks
Chicken Marinade
1 kg chicken bone-in and skinless
1 cup Yogurt
1/2 cup vegetable oil
3 Tbsp Ginger Garlic Paste
1 Tbsp Red Chili Powder
1/2 tsp turmeric powder
1 tsp cumin powder
1 Tbsp corriander powder
3 Tbsp biryani masala
1 & ½ tsp salt
2 Tbsp Fried (brown) Onions
Juice of 1 lemon
1 cup finely chopped mint
1 cup finely chopped fresh coriander
3-4 green chilies roughly chopped
Fried Onions
3 large Onions, sliced evenly
1/2 cup vegetable oil
Saffron Milk
3 Tbsp Hot Milk
10–15 Saffron strands
Parboiled Rice
3 cups Basmati Rice
8 cups of water
2 tablespoon salt
2 bay leaves
1 teaspoon cumin seeds
Additional Ingredients
2 tablespoon crispy brown onion
1 1/2 tablespoons ghee (or melted butter)
1 tablespoon kewra water (optional)
To Serve
Crispy Fried (Brown) Onions
Raita ( Spiced Yogurt)
Instructions
Biryani masala
Take all the ingredients under biryani masala and grind them into a fine
powder. This masala can be stored in an airtight container for future use.
Marinate Chicken:
Mix together all the ingredients under chicken marinade and marinate for at least three hours or overnight for best results.
Fried (Brown) Onions
To make the Fried (brown) onions, pat the onions dry and if time
permits, leave them out on a kitchen towel for 15-20 minutes to dry them out slightly.
Heat oil in a pan and add the onions. On a medium flame, shallow fry
the onions for 15 minutes till they are a deep golden brown, without burning them.
Drain them out on a paper towel, and set aside. These can be made ahead
and stored in an airtight container overnight. Burnt onions will add a bitter
flavor to the biryani.
You can also use store-bought fried onions, which are easily available in supermarkets.
Saffron Water
When you are ready to make the biryani, soak saffron strands in hot milk and rub them slightly with the back of a spoon. Set this aside.
Parboiled Rice
Bring water to a roaring boil and add salt, whole spices, and basmati rice.
Cook for exactly 5 minutes on medium flame and drain completely, take the bay leaf out from the rice. This will cook the rice to about 70% doneness, which can be checked by pressing a grain of rice between two fingers – the rice should still be raw in the middle.
Layering and Cooking Chicken Biryani
Heat a heavy-bottomed pot like a wok, and add the
chicken to it. Cook for 4 minutes on medium flame and then turn the chicken pieces once.
Cover and cook for another 3 minutes.
Next layer the rice all over the chicken, and in the end drizzle saffron milk, kewra water, and ghee or butter all over the rice.
Cover and cook on a low flame for 25 minutes – this will help steam the rice, cook it to doneness and cook the chicken.
To Finish
Once the biryani is cooked, let it rest for 5 minutes, and finish by scattering the remaining onions on top. Serve hot with Raita (spiced yogurt) and salad.
Notes
Don't skip the marinading time for the chicken. You can do it overnight as well.
You might also have heard of two quite popular chicken and rice dishes from the region chicken mandi and chicken kabsa. These three are similar but they are not the same. If you want to, take a look at my recipes for those two dishes to try something different!