When you think of easy Arabic recipes does pasta come to mind? I know for me it didn't! So when my friend Aya wrote this guest post I was surprised – in the most pleasant way.
Salam! This dish is called macaroni béchamel. My mom taught me this Egyptian dish and it's one of our family's favorite dishes. It's nice because it includes protein, starch and dairy.
You can also make a vegetarian version and not add the ground beef or substitute it with ground turkey. It's a little time consuming because you have to keep an eye on the béchamel sauce as you're mixing it so it doesn't burn. But it's a filling, delicious dish – make a salad with it and you're good to go.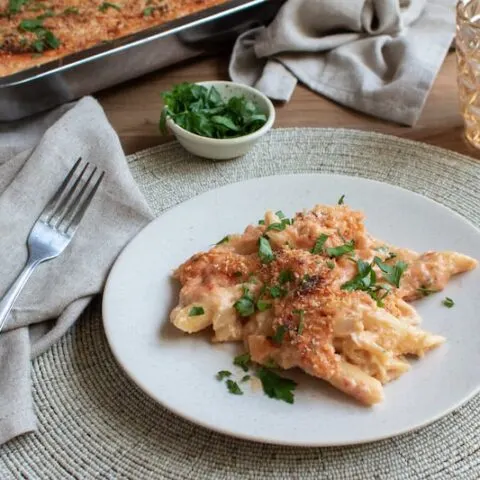 Yield:

8
Egyptian Macaroni Bechamel
Total Time:
1 hour
15 minutes
A comforting Egyptian pasta dish with cheese and creamy bechamel sauce.
Ingredients
1 box penne or Angel hair pasta
2 lbs ground beef
1 medium onion, chopped
2 garlic cloves, minced
2 tablespoons chopped fresh parsley (optional)
1 (8 ounce) can tomato sauce
1 egg
About 5 cups cold milk
6 tablespoons butter
6 tablespoons flour
1/2 teaspoon nutmeg (optional)
salt
black pepper
Italian bread crumbs
Instructions
Boil the pasta and drain- set aside
Saute the onion in a little oil over med high heat until soft. Add garlic and saute another two minutes.
Cook the ground beef on med-high in a pot until it's no longer pink. Add the onion mixture and add the parsley. Set aside.
How to make the béchamel sauce
In a large saucepan over med-high heat melt the butter. Once melted, whisk in the flour until smooth. Keep whisking for 2 minute.
Now whisk in the milk very slowly until all the milk has been added. Keep whisking making sure there are no lumps in it. You can add more or less milk depending on how thick you want it. Add the salt and black pepper to your taste.
Whisk pretty continuously until the milk is almost boiling. Add nutmeg. The sauce should now be fairly thick.
Quickly whisk in the beaten eggs. Remove from heat.
Mix the pasta, tomato sauce and the ground beef together in a baking dish
Pour the sauce over it.
Add the Italian Breadcrumbs on top the béchamel.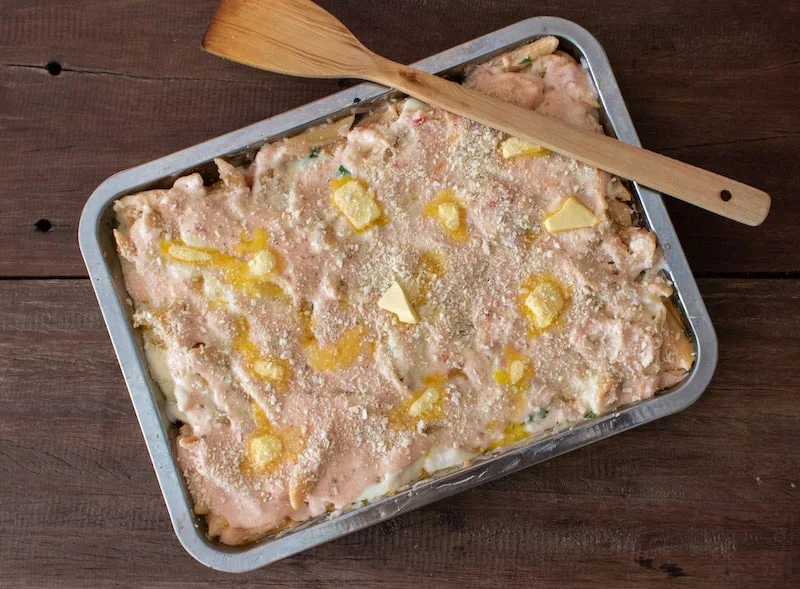 Add slices of butter on the top.
Bake in the oven at 375 degrees for about 30-45 minutes. Then broil for 5-10 minutes (until it's brown)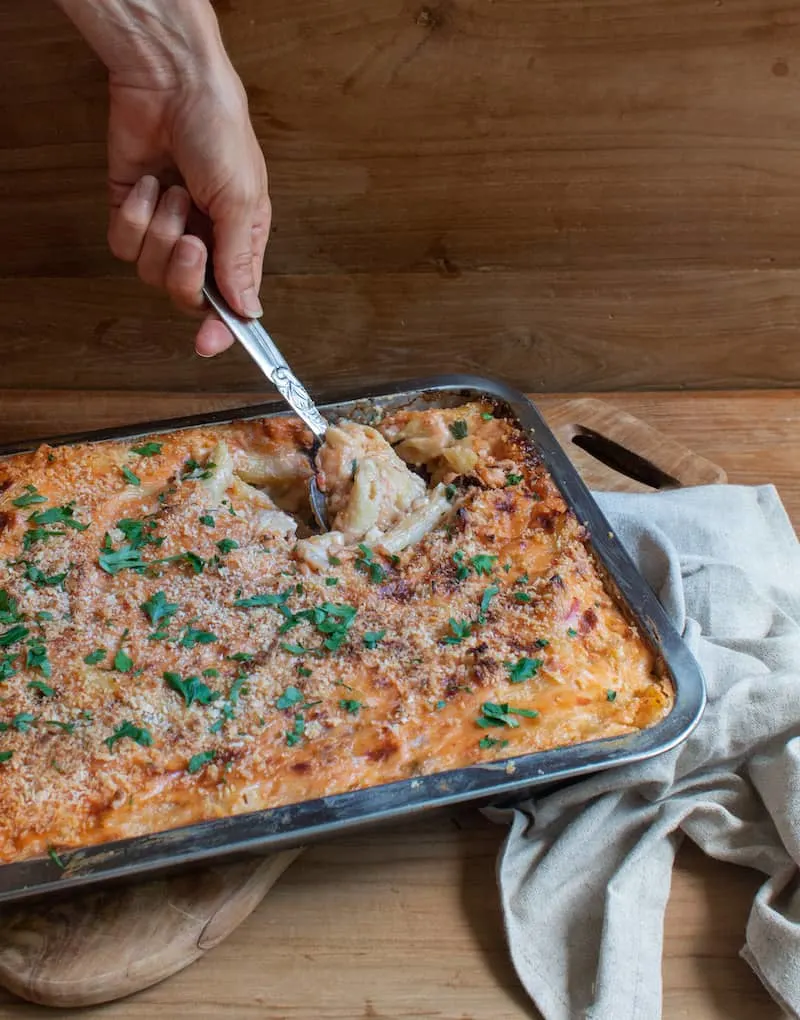 This post comes from Aya who blogs at AyaKhalil.com. She's a freelance journalist and mom of two. This recipe for macaroni bechamel may not sound Egyptian but I assure you it is! One of the first Egyptian meals I tasted included this dish and every Arab potluck that has Egyptians present will have a few dishes of macaroni bechamel. I mean what's not to love? Enjoy!