It has been so great to have many blogging friends offer guest posts for me during the last 10+ days (and there's more coming this week!) It has given me time to spend settling into our new home, unpacking, and buying things to set up our new home. MarocBaba and I joked with his sisters that it was like we were getting married again..but 10 years later!
While we had a wedding party, we never set up a home here so the traditional process of buying things for a new home never happened. It hasn't quite been a a week yet and so I'm hesitant to offer too many reflections because I think they may be a bit tainted. So many people said they wanted to know everything I would share about our experience and it's important to me that I try to provide the most honest glimpse into everything.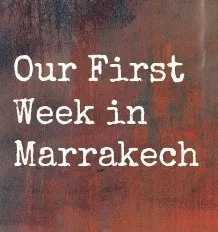 We didn't realize how much we'd need to purchase.
I don't think we realized the extent to which things would need to be purchased when we got here. I would have budgeted a lot more in this department if I would have known.
Homes and apartments in Morocco are largely unfurnished. I think that here and in the US that has two different meanings. Here unfurnished means there are not even cupboards, no appliances, nothing. It's essentially walls and a ceiling. My in-laws had a bed and mattress for MarocBaba and me and for the boys.
We've had to purchase everything to set up a living room, kitchen, and most importantly fans. Cooling devices are a must in Marrakech. We have several totes of household goods coming. We thought they would be here mid-September but it looks like we'll be lucky to get them in October. I've tried to be judicious with what I've been buying, knowing that I have my things coming soon but have had to buy a lot.
Transportation Realities
In most large cities public transportation is readily available and accessible. Where we live we've realized we need to have a car. We had hoped to put off this purchase until the kids got to school, but it's going to need to be sooner rather than later.
It's not really possible to buy a used car here on credit – cash only, and finding automatics is like finding the holy grail. I can drive a manual however MarocBaba can't. Judging by the traffic here, we both would prefer to have an automatic. A car will also make traveling around Morocco and to Europe easier.
Cost of Goods
10 years ago Morocco was a cheap destination. Today not the case. I haven't been able to really figure out yet how much it will cost us week to week here, because of all the big purchases that have needed to happen.
Food remains relatively inexpensive. For example 1 kg of tomatoes here is about $0.75 – in the US I would be paying close to $6 for the equivalent. We bought several bags of fruit and vegetables for under $10, or about 1/6 the price we pay in the US.
Are we lucky?
A lot of people have asked me how it is and expressed how lucky we are to be living here. I have thought about this almost every day since arriving. Truth be told we've found Marrakech not to be the glistening gem many people imagine or we've experienced in the past.
There are a lot more people (than even 2 years ago), more garbage, more cars, more of everything. (note: I also may be just a tiny bit disgruntled by the oppressive heat.) The real Marrakech is not what you see a'la Sex in the City. There are many resorts and tourist spots that ARE that vision of Marrakech. Living here is not like living that life every day. Well maybe there are some people that live that way but unless you're wealthy you're not going to.
It's boring.
Let me just put this out here. We've been here a week, and at home I'm very used to working, school with the kids, family events, going places, etc. From what I've seen so far my sister in laws lives are in the house. They clean multiple times a day, top to bottom. They cook big meals, they nap. Sometimes they go out.
I don't think this is due to any cultural taboo of being required to stay home, it's just how their lives are. I don't see myself ever doing that or being content in that kind of life. Just like I wouldn't be happy working 60 hours a week and never seeing my kids. There's nothing wrong with it, it's just different.
I need to speak Arabic – like yesterday.
It didn't take long at all for me to realize there's a gigantic hurdle when it comes to the language barrier. I'm left on the outside a lot and I can't do even basic things for myself because I don't speak the language.
Kids are amazing.
I was worried my kids would stick to themselves and be overwhelmed by the language issue. No way! They were playing from the second we got here. They already have mastered going to the hanut (corner shop) to got simple things.
They are willing to try saying things even if they aren't sure what they are saying. They find a way to play even when they can't share a conversation. Most of all they find a way to have fun even when everything around them is different.
It's just the start of this journey but it's proven to be a lot!