In September of 2015 my friend Sofie and I planned a trip to Bulgaria. She had asked me months earlier if I would be interested in going, her father had a past colleague from there and she wanted to Sofie to visit to see what Bulgaria was all about. Honestly, Bulgaria was never on my "must visit" list. But, with a true sense of having no idea what to expect I said "let's go!" and bought a plane ticket.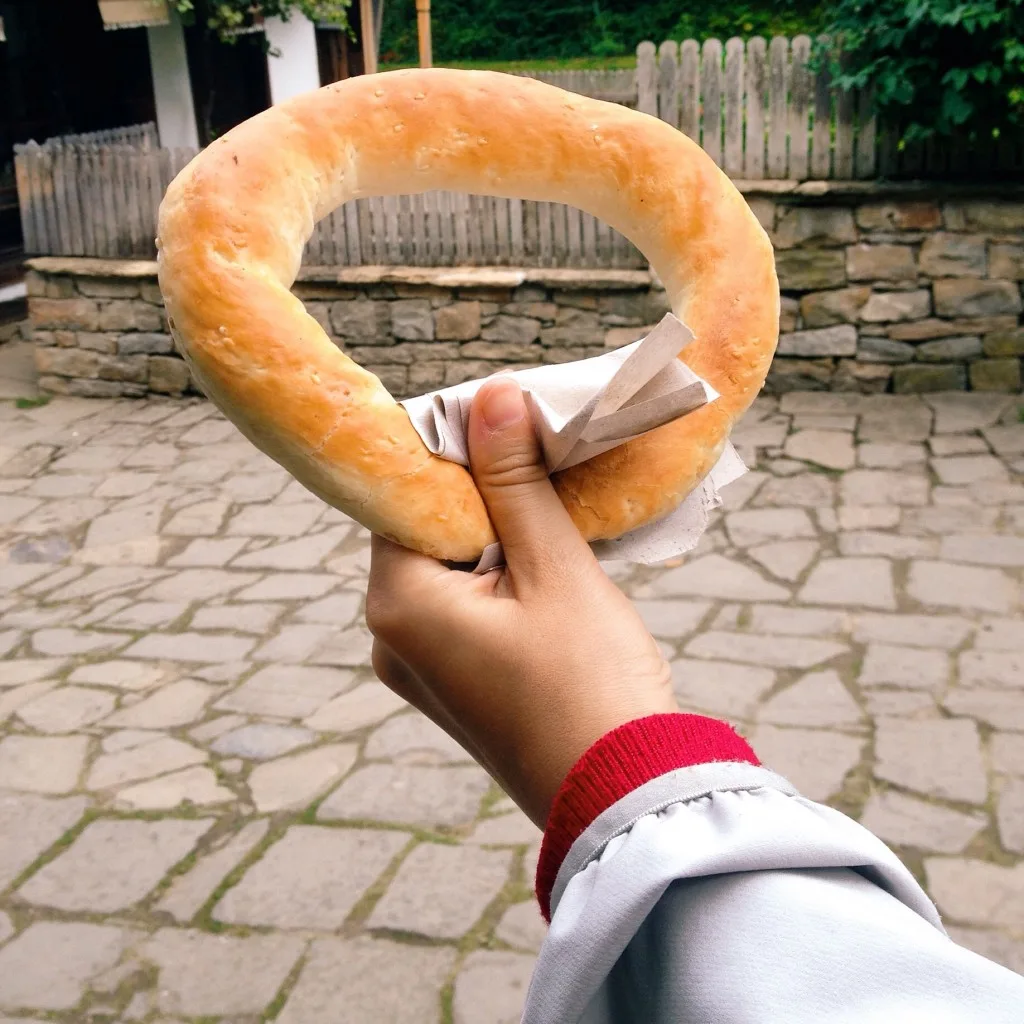 After spending a week traveling all over the country I left with one thing on my mind: Bulgaria is an unknown culinary travel gem. Time and time again we were surprised by the food, but of course in the best way! Bulgaria is a culinary crossroads. It's influenced by Turkish cuisine having been under Ottoman rule for many years, Greek cuisine due to it's geographical position and neighbors to the south, and of course their own traditional recipes. The food is also rooted in the farm to table concept. Whatever is made, is done so with ingredients that are grown or found nearby. This is as much out of common sense as it was necessity. The result is a diet seeped in history and memories.
If you're going to Bulgaria do so with an empty stomach and open mind. Then be sure to try these dishes.
Breads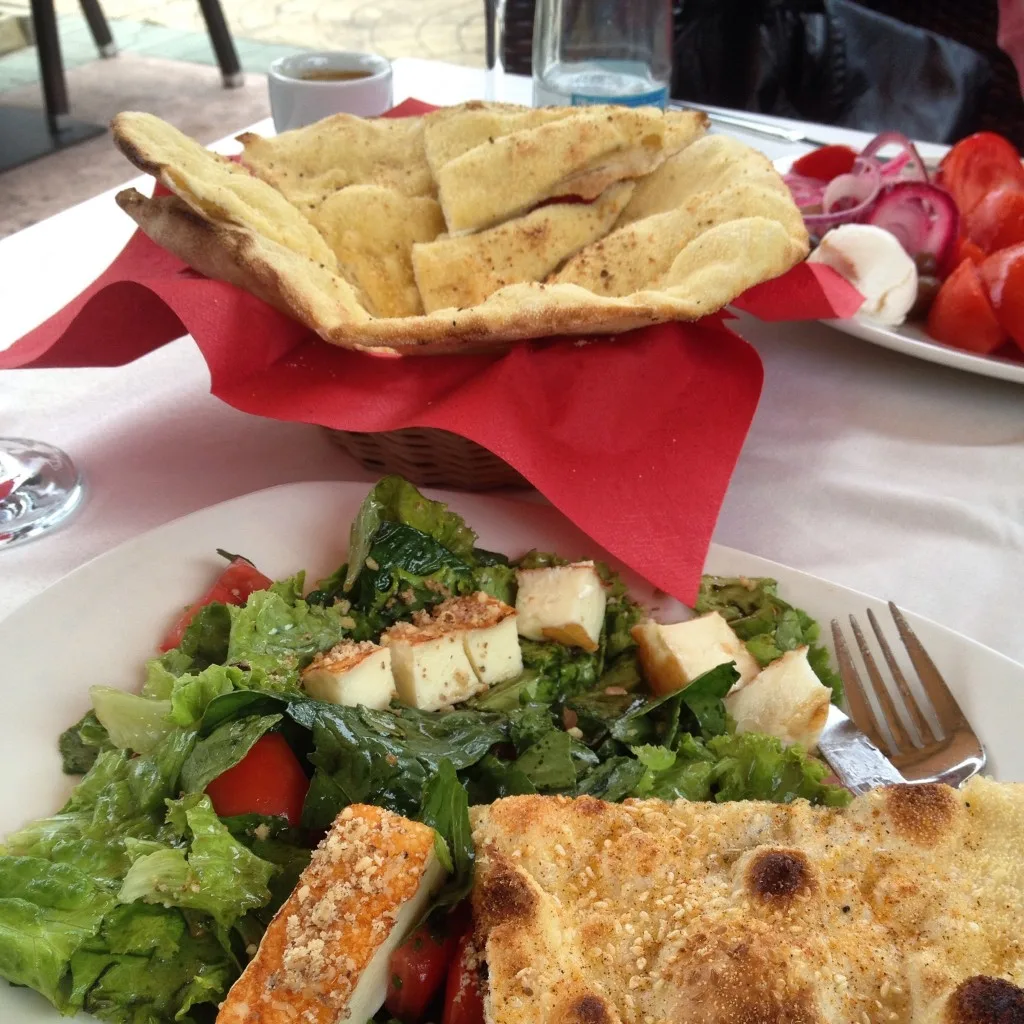 Living in Morocco I thought the Moroccans had the market on bread consumption but the Bulgarians might give them a run for their money. There's bread everywhere and it's all delicious. This is going to be terrible if you're gluten-free and I'm so glad MarocBaba wasn't with and didn't have to be tempted with this.
Banitsa
One of my very favorite parts of our stay in Bulgaria was when we were in a small mountain village. The bed and breakfast was run by a couple who had moved from Sofia back to the husband's home village to start a farm and homestay. They grow and raise everything that is served. Unbelievable is the only way I can put it. They were so nice and the food was outstanding. For breakfast a hot tray of banitsa was waiting for us. This bread, egg, and cheese dish was hands down my favorite food in Bulgaria. Sinfully delicious.
Shopska Salad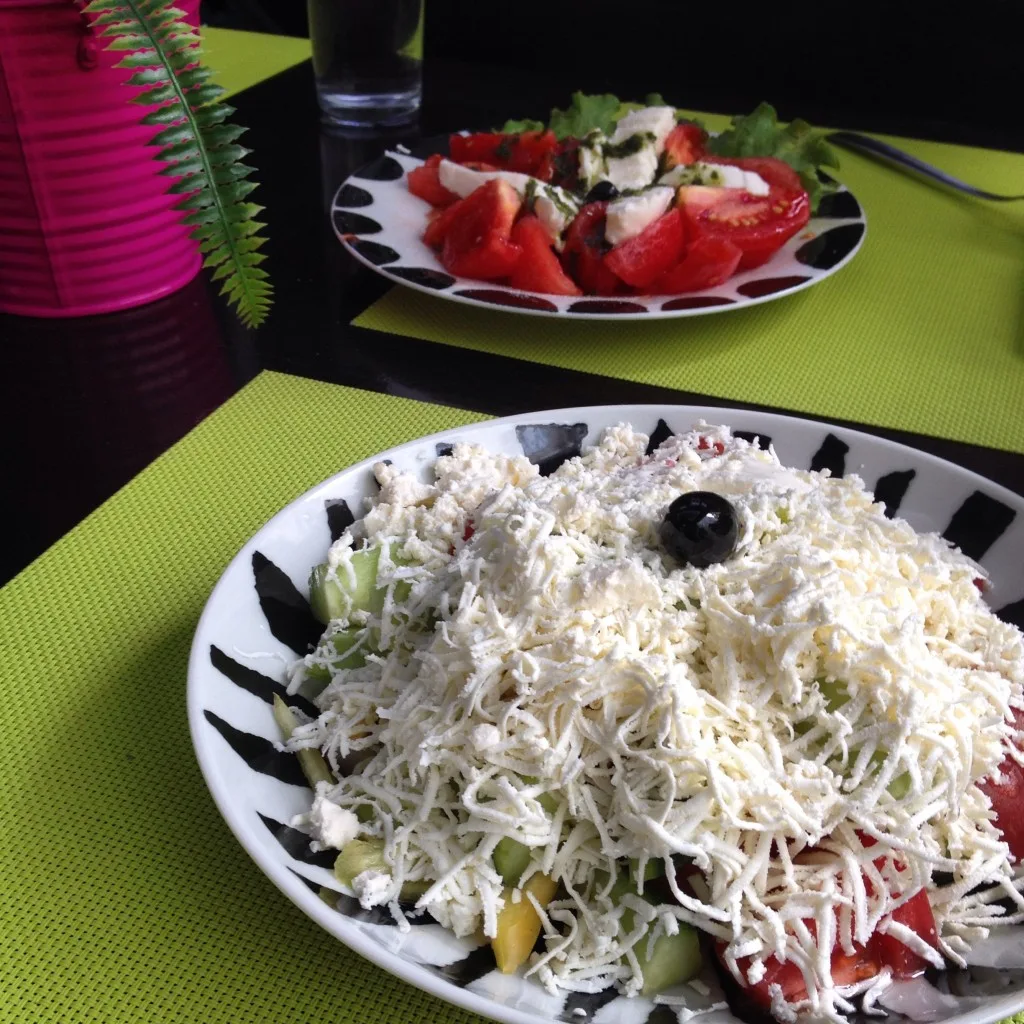 The one dish most people know from Bulgaria is shopska salad. It's similar to the tomato and cucumber salad found across the Middle East but with one variation – it's loaded with Bulgarian white cheese. It's simple and delicious. I really do love this but it was served so regularly that I did get a little tired of it towards the end.

Baklava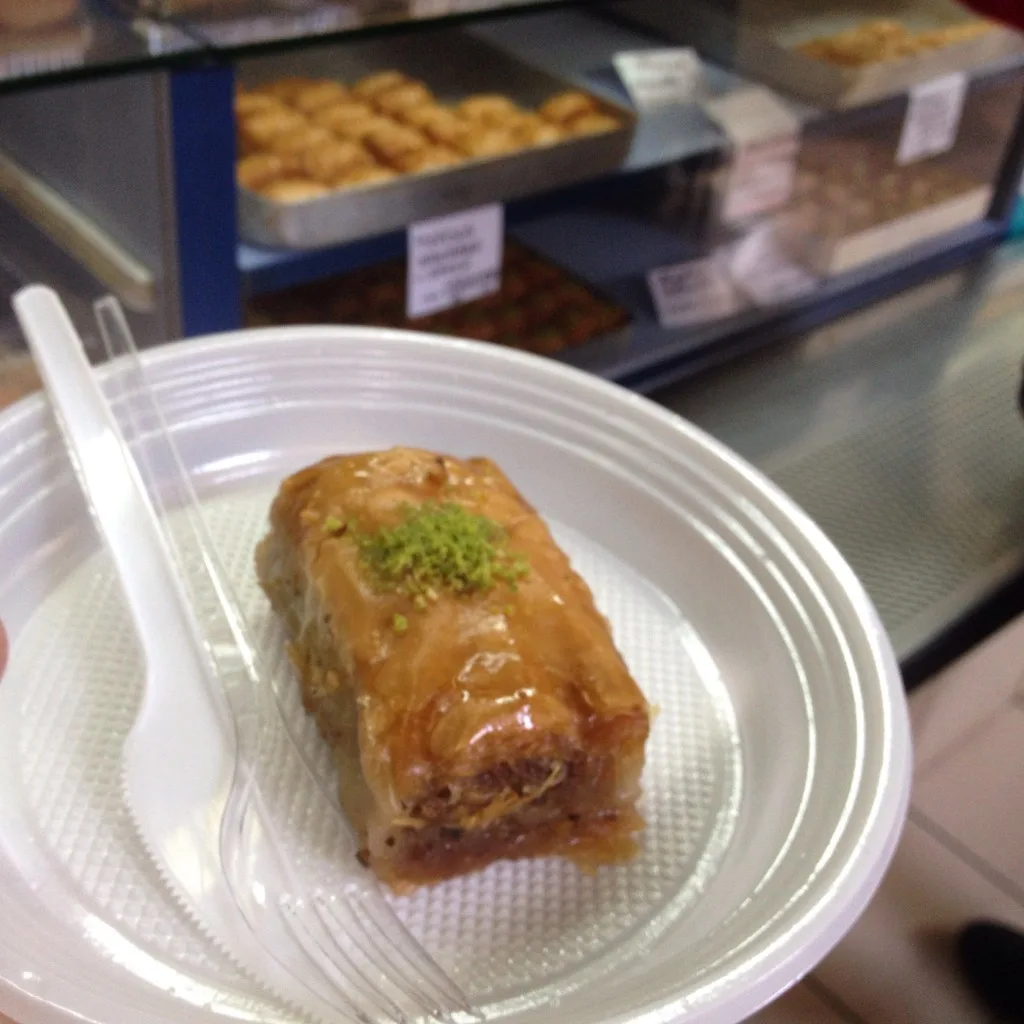 Bulgarian baklava is not so different from Greek or Middle Eastern baklava but the one we tried also had raisins inside and the phyllo was a bit thicker, more sweet and less crunchy. One small piece is certainly enough! I am sure that every Bulgarian grandma and every Bulgarian bakery has it's own variation and take on this classic dessert. You'll just have to try them all!
Beans in Tomato Sauce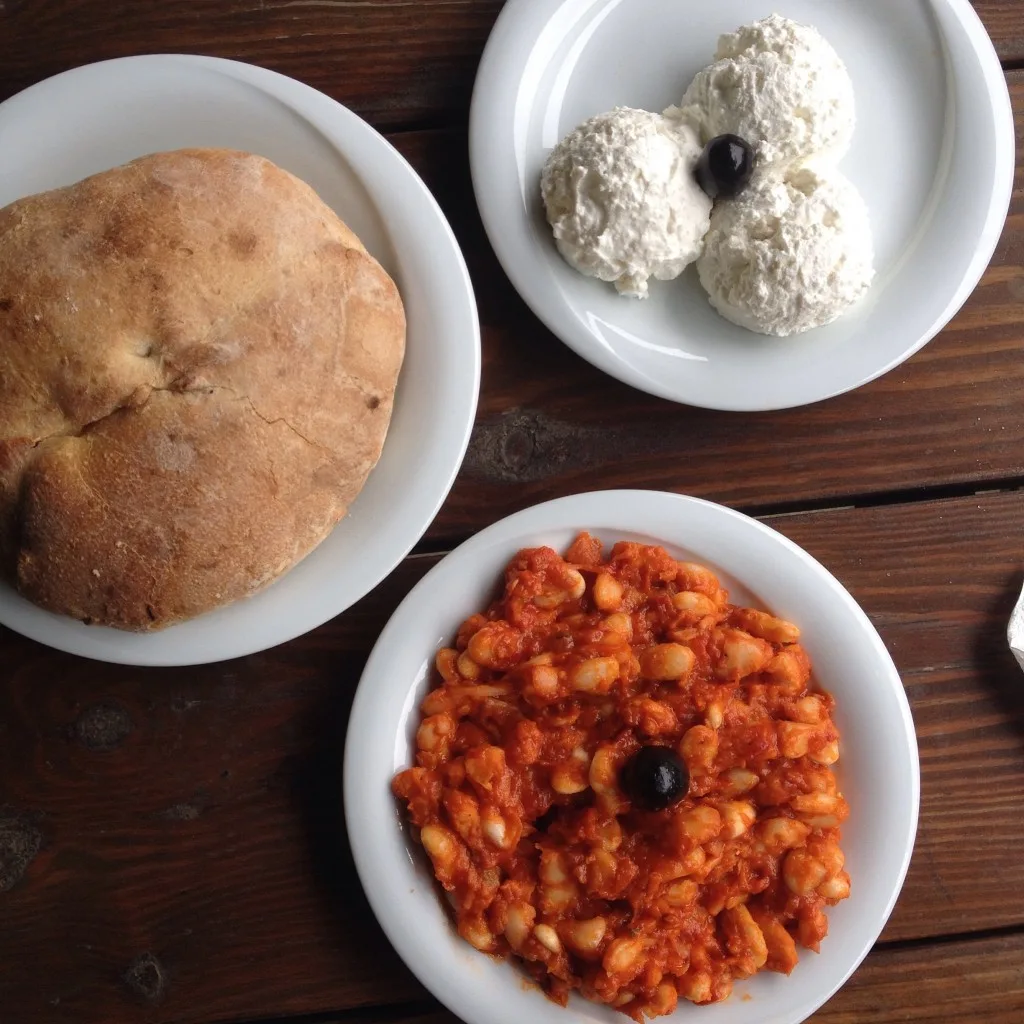 As soon as I saw this dish it reminded me of Moroccan loubia and it tastes somewhat similar. White beans are cooked in tomato sauce along with onions and something sweet that I couldn't quite decipher. It was served warm but I'm sure would be just as good at room temperature. It's a great vegetarian option.
Cottage Cheese
Served with the beans I ordered cheese that looked an awful lot like cottage cheese in the US but was not watery. Chunks of Bulgarian cheese are combined with yogurt for a creamy delicious dip or spread.
Bulgarian Spice in Olive Oil
Found on most tables in Bulgaria is a spice mixture that can be added to dishes or combined with olive oil for a dip. Our guide and friend xxx shared a story that when she and her girlfriends were in university and money was tight they would eat this with bread to spread the budget a little further. It's like the Bulgarian version of ramen noodles!
Offal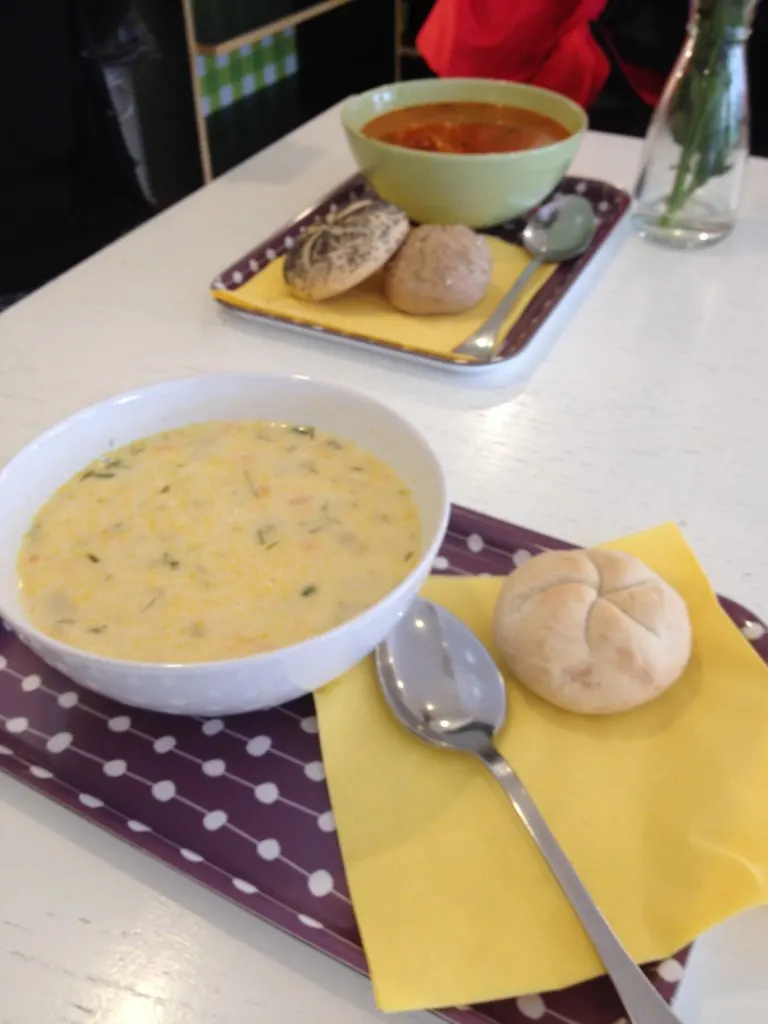 I've tried a lot of offal (organ meat) and it's not for me but in Bulgaria you'll find it on just about every menu. From tripe soup to fried chicken hearts, and anything and everything else you can imagine. The concept of not letting anything go to waste is still a part of life in Bulgaria. However the traditional dishes made these ingredients are losing popularity with younger generations. The one dish you should try is shkembe chorba, a soup made with tripe and supposedly a hangover cure. The verdict is still out on that!
Meat and Potatoes
Finally, meat and potatoes. Bulgaria is a land of agriculture and hard work. Hearty, calorie heavy meals like a basic meat and potatoes are very traditional. there isn't a lot of flavor or spices added into these dishes, it's simple. A meal that is meant for fuel. You'll find a Bulgarian version of kebabs on just about every menu.
This is just a handful of the dishes we were able to enjoy during our week in Bulgaria. It's quickly become one of my favorite "hidden" foodie destinations. Great food, crazy portions, and inexpensive prices make it an easy culinary travel up and coming hot spot!