When I started sharing my recent safari trip to Tanzania on Instagram I got several questions from followers. I decided I would put all my answers down here so that they can be easily found and serve as a resource for you!
How to get a Tanzanian Visa for American Citizens
I did a lot of research before going to Tanzania about what the visa process was and it wasn't cut and dry, so I also asked a few friends who had previously gone about their experience. The following is my experience.
On arrival we were given a landing card that had to be filled out – it looks like this;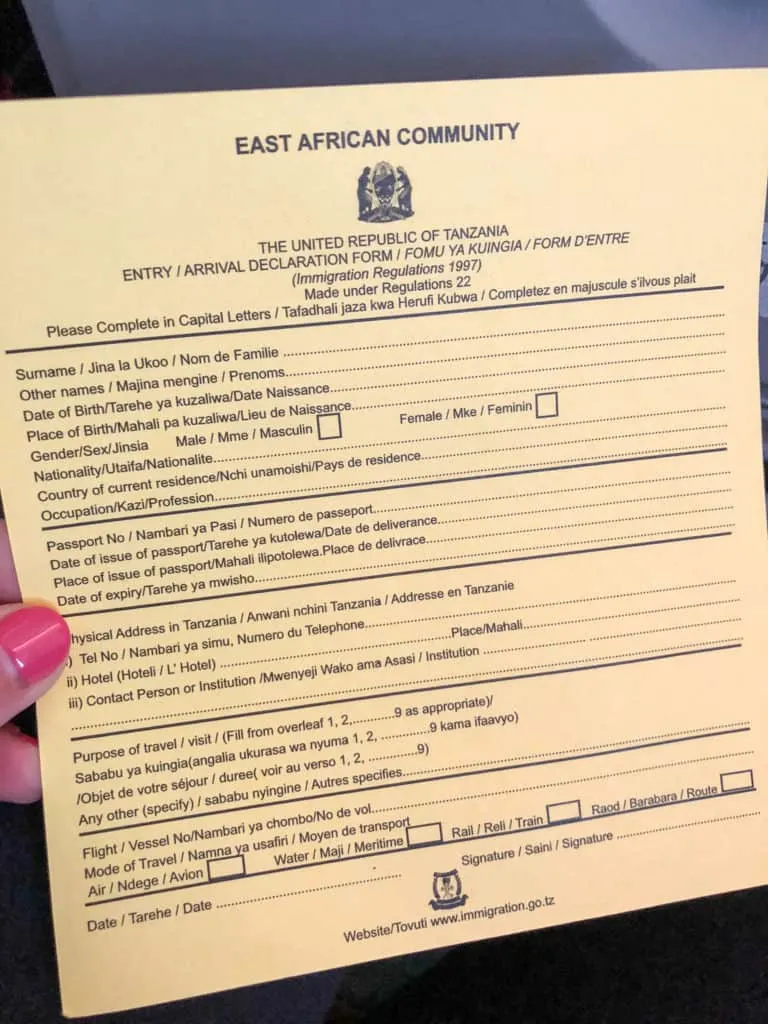 When we got inside the airport and I did start to worry as most everyone had a printed paper visa and were going to the general immigration line but I went off to the side where it said visa.
From here it was pretty simple; I handed the card and passport to the first man who took my information and gave me a paper and sent me to the side where I waited for another officer to print out the paper I needed for the final step.
When this was done I was moved to a third window where I gave them $100 (yes it was a $100 bill but you can also pay in $50 or $20 increments) and had my passport stamped. It was really very simple but you do need to have US dollars with you – I'd suggest new bills that are in good shape.
It ended up that my visa line went way faster than the general line of people that already had visas in advance so it worked out well.
Is Tanzania Safe?
This is likely to be one of the top questions people have. Overall, Tanzania is safe though that doesn't mean it is free from dangers. In tourist areas you are likely to encounter touts.. Petty theft can happen so it is important to secure your belongings.
Other precautions to take include avoiding walking alone in isolated areas and making sure to use only licensed operators for transportation or tours. Carry your passport and cash/cards on your body whenever possible.
What Vaccinations are Needed for Tanzania
I didn't get any additional vaccines for Tanzania though I'm quite up to date with my immunizations. If you have standard vaccinations such as MMR, polio and TDAP you're on your way. I also have Hepatitis A, Hepatitis B, and yellow fever.
Yellow fever is only required if you're traveling from a country that has a risk. If you plan to visit East Africa in general I think it's a good vaccine to have.
There is a risk of malaria when traveling in this part of the world so do speak to your doctor or a doctor that specializes in travel before you go so that you're best prepared.
Also check the recommendations from your local government before traveling so that you are best prepared.
What to Wear on a Tanzanian Safari
I purchased nothing new for our safari, instead using things that I already had. I think that having a good mix of comfortable clothing that can be easily layered and a few nicer pieces for evenings are smart to have. Keep in mind I also dress more conservatively so have a bit more clothing than someone else may need.
There are no dress codes in Tanzania to follow but dressing a bit more conservatively is advisable.
Your clothing might also vary on the time of year. I visited in December in the rainy season so layers were key.
Here is a basic list of what I packed;
Leggings with a skirt or shorts over – I LOVE these for traveling because they let me be comfortable and modest while still being very functional.
Comfortable pants with a narrow ankle. It's not a requirement but I found that closed ankle pants just work better – whether it's using a toilet or just walking in areas where you may not want things crawling up your leg!
1/2 or 1/4 zip long sleeve pull over. This can be worn alone, with a tank under or even a collared shirt.
Several tank tops and t-shirts
Two button up shirts – ideally wrinkle-proof that can be layered. I like having a collar that I can pop up over my neck if I'm in the sun a lot.
Light polar fleece jacket or pull over. I wore this alone or paired with some extra layers if needed. I've also used it when I've slept places and the heat wasn't so great.
Long sleeve t-shirt (or two!) These can be paired with pants or shorts or used as a base layer.
A midi or maxi length, wrinkle proof dress. These are great to have (if you wear dresses) because they're easy to pull on when you head to dinner or just to relax.
A travel blazer – I SWEAR by these. I have a few now and I love them. They're flexible and breathable. They wash well and can be worn dressed up or pair with yoga pants for ultimate comfort while still looking put together.
A few comfortable items – I include pajamas with this. Pack a few items that you can wear for lounging, you'll be glad you did.
Longer length rain jacket – This is the one I actually have and it works in so many ways – it's not so heavy that it's hot during summer rains but it's also warm enough that it works well in cold rain.
Packable sun hat – you're going to want something to cover your face and neck.
Tennis shoes. I know some people prefer hiking boots but I can't stand the rubbing on my ankles and my shoes are broke in and comfortable.
Sandals – A lightweight pair of sandals that can be used to wear to dinner or to just walk around when you're not on safari.
Undergarments, socks, medications and toiletries.
When to go on a safari in Tanzania
It really depends what experience you want to have. The good news is there's not really a bad time to visit. A lot of people want to come to see the migration and that's fine but know if you come during this time, you're going to have a LOT of other people around you. You'll also find higher prices for just about everything.
December is part of the shoulder season and yes there is a chance you'll face rain however I found this was a very lovely time to visit. Likewise we were in Kenya in late October and I also found it to be a good time to visit.
June to October is generally considered the best time to visit with the migration happening in June and July. The low season is in April and May.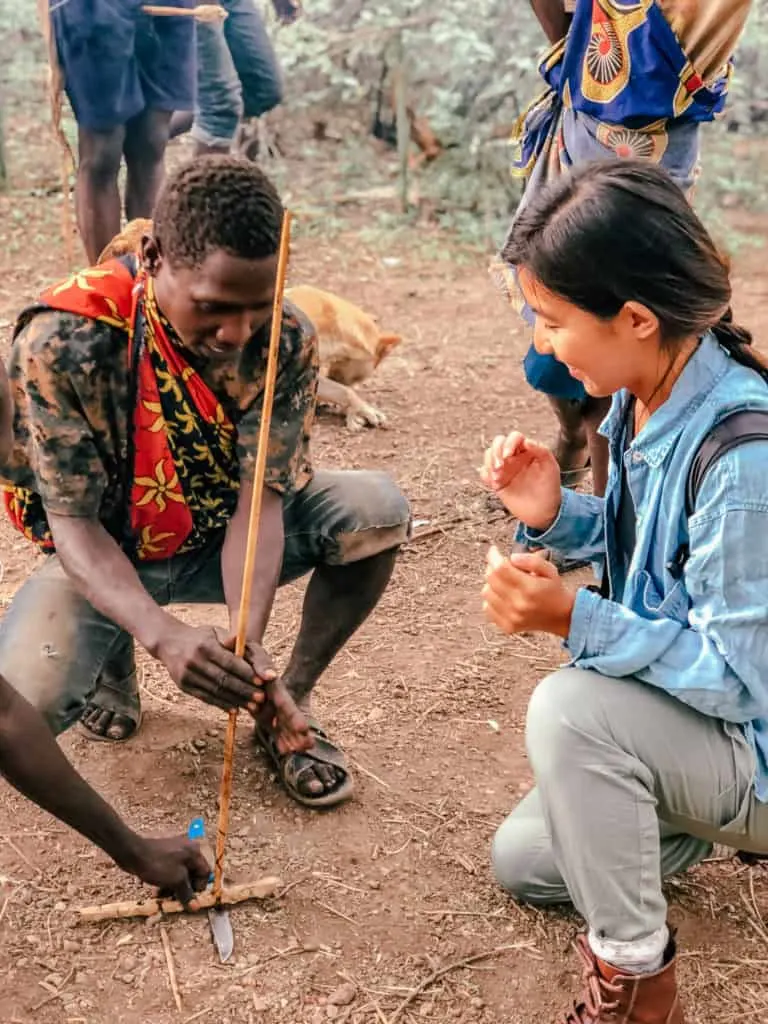 How to Plan Your Tanzanian Safari
It can feel very overwhelming to start planning a trip like this. Where to go and what to do – plus who to trust? When you're starting to consider your trip start by thinking of what's important to you.
Do you want to just see animals and go on safari drives?
Do you want to have cultural experiences?
Is there an event like the animal migration that you absolutely don't want to miss?
How much time do you have and where will you arrive/depart?
These basic questions can help as you go through the information gathering stage. From there I highly recommend checking out tour companies that work in the region. While you can plan and make all of your arrangements I find that when I travel in East Africa it's 100x easier to work with someone that is already on the ground.
Shadows of Africa put together a great itinerary for my trip to Tanzania. They are local and work with dozens of local guides, hotels and transport options so that you can have a seamless start to finish experience.
Can you take kids on a safari?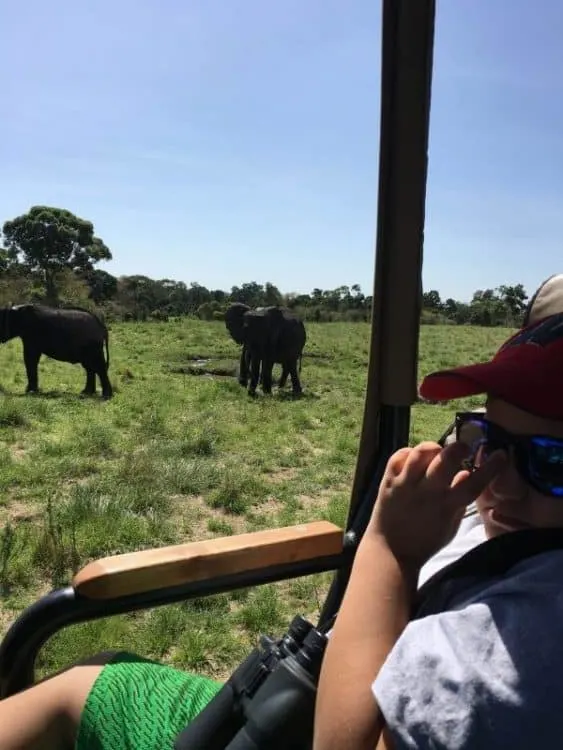 The answer to this is yes and no.
Depending on the company you choose to travel with there may be limitations on ages. From personal experience I can say that I would hesitate to take kids under 8 on this experience. My son was 9 when we went to Kenya and it was an amazing experience. He loved every second and it wasn't difficult for me to manage alone.
Shadows of Africa requires kids to be at least 5 years old and if you had a mature 5 year old that was quite used to traveling it may be ok. Remember days can be long and with lots of driving they may get quite bored.
I think kids need to be old enough and mature enough to handle taking directions and listen well because on safari you are with wild animals. If your child isn't quite at this maturity level yet then I'd hold off a bit.
If you do decide to do a trip like this with children adjust your expectations and consider shorter days. Game drives often happen in the early mornings so if you've got kids that aren't big on mornings know this can be a challenge. Also pack activities to keep them busy and snacks to keep them happy in case they decide the food isn't for them.
Should You Have Travel Insurance to Go on Safari?
The easy answer to this question is yes. You should have travel insurance whenever you travel but especially if you will be in places that have more limited medical options and/or costs of private medical care can add up quickly.
It's important to look into what is the best travel insurance for your specific situation and I also suggest checking out SafetyWing for their coverage policies. Safari's (as well as a really wide range of sports and activities) are specifically included. Some people worry that those who have had dengue fever in the past would not be covered by insurance but SafetyWing does cover you if that's the case. If you're taking kids with, one child 10 and under is covered for free, up to a maximum of 2 children per family with this coverage!
Make sure to arrange for your insurance ahead of your trip and include everyone that you may need. You also should cross reference all of the activities you will be doing to make sure you are covered. Print off your insurance policy and keep the contact numbers for claims in advance so that you have a full understanding of what you need to do to file a claim in case of an emergency.
Have additional questions? Leave a comment and I'll update the post!