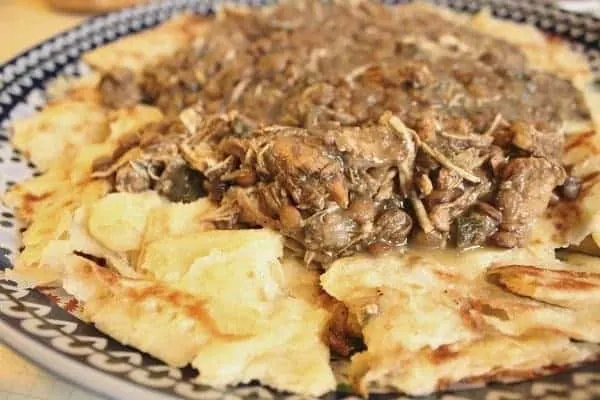 I have two very dear Moroccan friends who have been some of my closest friends as an adult. When we lived in Washington DC one of them prepared this dish one evening. I had never eaten it in Morocco and later learned my husband doesn't like it so my mother in law never made it when we were there. For a long time I never even attempted to make rfisa because I thought it was very time intensive and I knew that MarocBaba wouldn't eat it, and I certainly didn't need to eat an entire platter myself.
The boys had been bothering me to make msemmen for them for weeks and finally I broke down and made a huge batch. As I was cooking them I thought it would be the perfect time to take on rfisa.
I am so glad I did because it was enjoyed by everyone! I omitted the one ingredient that is the characteristic spice of this dish – fenugreek. I was sure that was the culprit of previous bad experiences. This dish is customarily served to women to help push labor along or to post-partum mothers to increase milk production. It is the fenugreek that helps with those things, but since no one in our house was looking for that effect I felt safe leaving it out!
You do need to make msemmen to go along with this but my recipe is easy to follow. I even have a video available to show you step by step.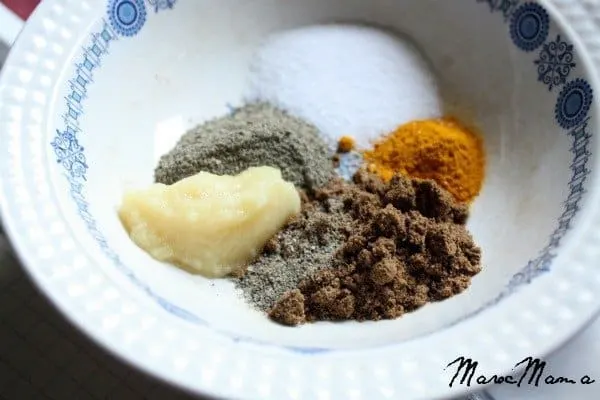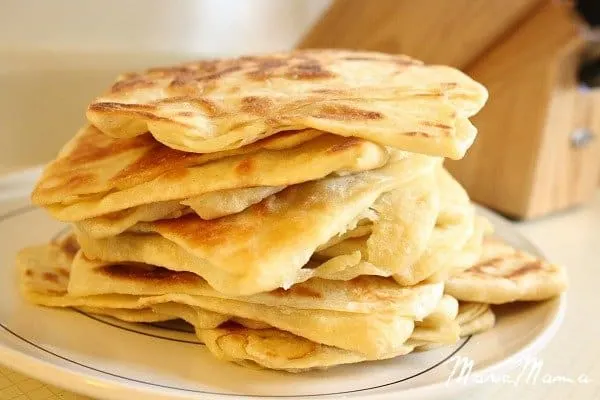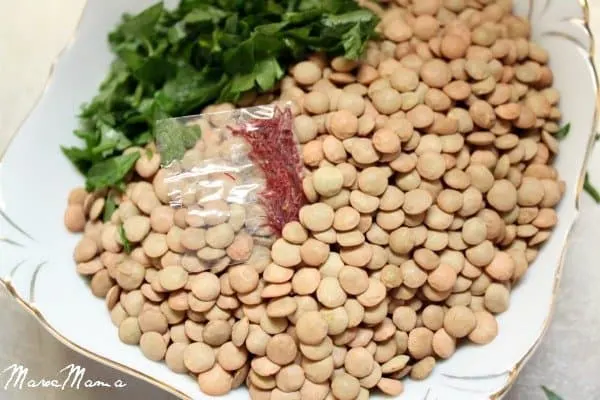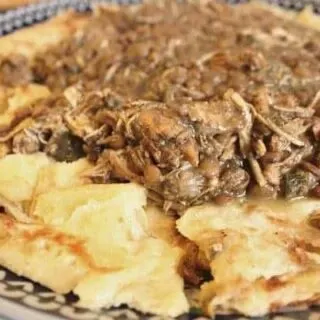 Yield:

6-8 servings
Rfisa or Tred
Often made for special occasions or celebrations like the birth of a new baby this is a special dish. It takes time to prepare but is so delicious.
Ingredients
4 chicken breasts or any other cuts of chicken
1 medium onion chopped finely
1 tsp saffron threads crumbled slightly and soaked in warm water
palm size bunch of flat-leaf parsley or cilantro (or both)
1 tsp each salt and pepper
1 tbsp minced ginger
1 1/2 tsp ras al hanout
1/4 cup uncooked lentils (soak overnight)
3 cups water
1/4 cup olive oil
6-10 cooked msemmen (depends on size)
Instructions
Add chicken, onions, oil, ginger, salt, pepper, and ras al hanout to a large pan or into a slow cooker and mix. Allow to marinate covered for 30+ minutes (can leave overnight)
Once marinated either turn the slow cooker on low heat or pan on the stove on medium heat. You will want to watch and stir occasionally if you are cooking on the stove top. The chicken will start to cook and a sauce will be created within 20-30 minutes. If cooking in a slow cooker this process will take longer. Check after 2 hours and leave longer if needed.
If you are using a slow cooker, transfer the contents to a large pot at this time. Drain the lentils and add to the pot along with the saffron, parsley, cilantro and water. Cook on medium until the lentils are tender and chicken is falling apart. You should still have sauce left. Test and adjust seasoning if needed.
To serve rfisa, heat up the msemmen and shred them onto a large platter. Don't be stingy with the amount of msemmen used (it's the best part!) You shouldn't be able to see the plate underneath the msemmen. Scoop the chicken, lentils and sauce and pour on top of the msemmen. This dish is meant to be saucy - the msemmen will soak up the sauce and when it mixes with the buttery flaky msemmen the taste is amazing!
Serve hot and eat by using msemmen as a utensil to scoop and sop up the chicken and sauce.