[vc_row][vc_column][vc_column_text]Months ago when we (I) began planning our trip to Spain, the first thing I researched were food tours. We had one week and I knew the only thing MarocBaba really wanted to do was to see the alHambra so I worked in two days to spend in Granada. Aside from this famous landmark I had no idea what else was there but was pretty sure we could find good food.
After seeing Seville, we almost didn't go to Granada, opting instead to stay in Seville. But, we already had reservations and knew it would be tough to find somewhere to stay this late during Santa Semana. Reluctantly we boarded the train that would take us away from Seville.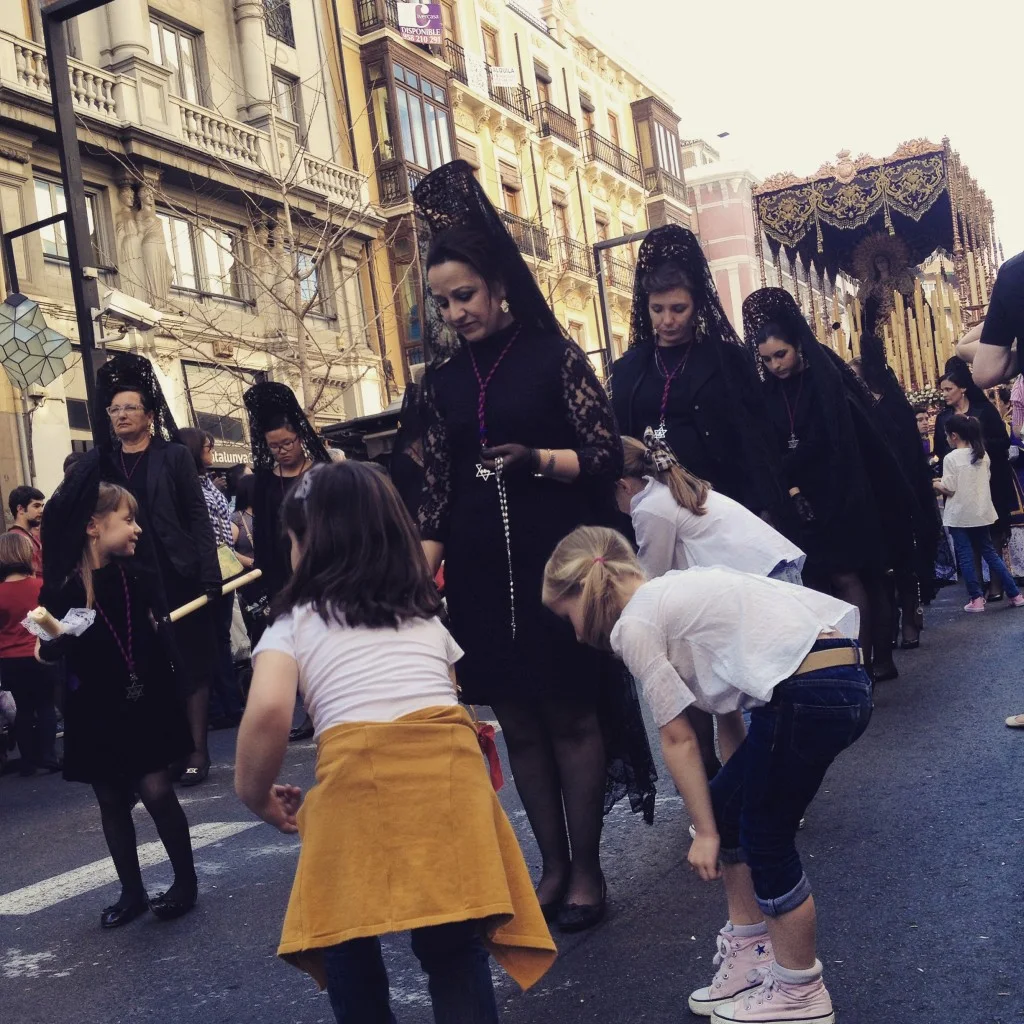 While Grenada itself didn't win me over, I was very satisfied with our Granada Tapas Tour. During the tour we had one of the best things I've eaten in my entire life and try as we might the next day to find the restaurant again we failed – after searching for hours. This is why food tours are so great!
Granada felt smaller than Seville and getting around wasn't a problem, even though many roads were blocked for processions. We found the meeting point in front of the tourism office and met Gayle our guide and a mom and daughter who also joined us.
Our first stop we tried mosto, a Spanish drink that's made with apples or grapes and tastes a bit like cider but had more sparkle and was a bit tart. I loved it! We also ate a vegetable pie. I didn't really care for it but remained optimistic about the rest of the food.
We moved on to a small bar that was crowded with locals – always a good sign especially when there are hundreds of tourists also in town. The lettuce cup salads reminded me a lot of Moroccan salad and the spring rolls were also tasty. They were drizzled with a honey balsamic sauce and it was a really different taste contrast. A new idea for party appetizers! This place was also known for its snails. Gayle asked if we'd like to try them but after giving Moroccan snails and Portuguese snails without success I opted out. MarocBaba did try them and agreed they were quite good.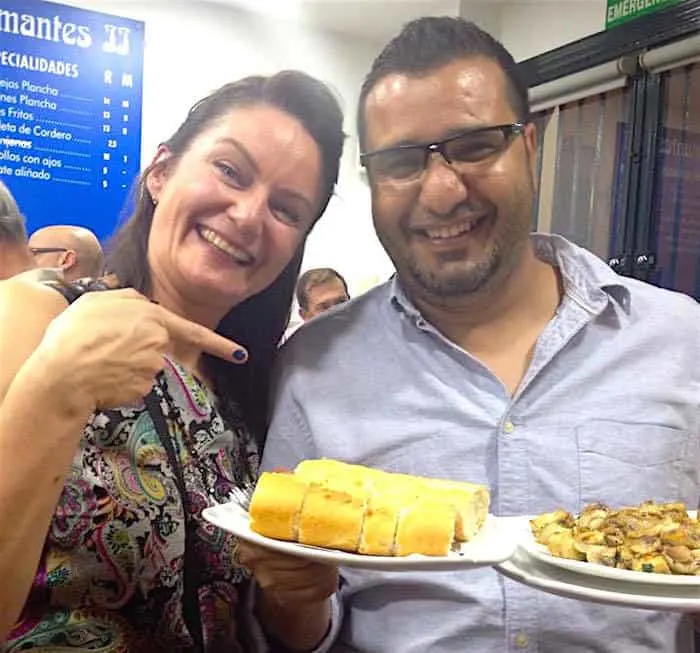 You can just refer to these as clam crack. I honestly wasn't too keen on clams even six months ago and when I found out we'd be having clams at this local seafood bar I was unsure. Then I ate one. Good lord! They were simply amazing. I picked through the plate hoping to find just a few more beauties to devour. This was the place we tried to come back to so I could eat even more but were unable to find it. This place alone is worth the price of admission.
It was standing room only and we had to hold onto the plate while eating. MarocBaba took charge and offered his excellent host services as the plate holder. Just goes to show you even on vacation you can't leave work behind when you work in tourism!
The last place we went was a bit of a fusion style tapas restaurant. It was decidedly more upscale and refined than some of the local bars but very good. The first picture is of a tempura fried eggplant with a honey syrup on the top. It sounds strange. We really weren't sure what to expect but it was really delicious. The eggplant are flash fried so that the oil doesn't soak into the meat of the vegetable. They weren't overdone either so they were light. The marinated artichokes were another favorite of mine and I may have eaten everyone's leftovers. We also had a prepared duck liver dish, it was good but I think you really need to have a taste for liver to enjoy any liver dish. Hey, I tried! The other two guests with us had a sausage dish that they were very happy with as well.
Overall we had a wonderful evening with Gayle and enjoyed the experience of learning more about Granada. There are a variety of tours you can choose from and the price is really a steal. Tours begin at 35€ per person and vary depending on tour selected. You can find out more and book on the Granada Tapas Tours website.
We were provided this tour complimentary however all opinions are our own. We enjoy taking food tours around the world to experience and learn from other tourism professionals as we perfect our own food tour business. [/vc_column_text][/vc_column][/vc_row]