[vc_row][vc_column][vc_column_text]When I go somewhere I decide what to see and do based on what I can eat. A lot of times I have a good idea of what the local specialties are but sometimes I'm thrown a curve ball but that's what makes culinary travel so exciting. The only thing I knew about Portuguese food was there was a lot of pork and there's a delicious cupcake/custard "thing" called pasteis de nata.
My normal planning includes mapping out where the best food is but with no time before this trip, I'd have to rely on instincts. In order to find what to eat in Lisbon and the surrounding areas I signed us up for a food tour and an all day tour of the area. I also made use of the resources at our hostel to tell us where they liked to eat.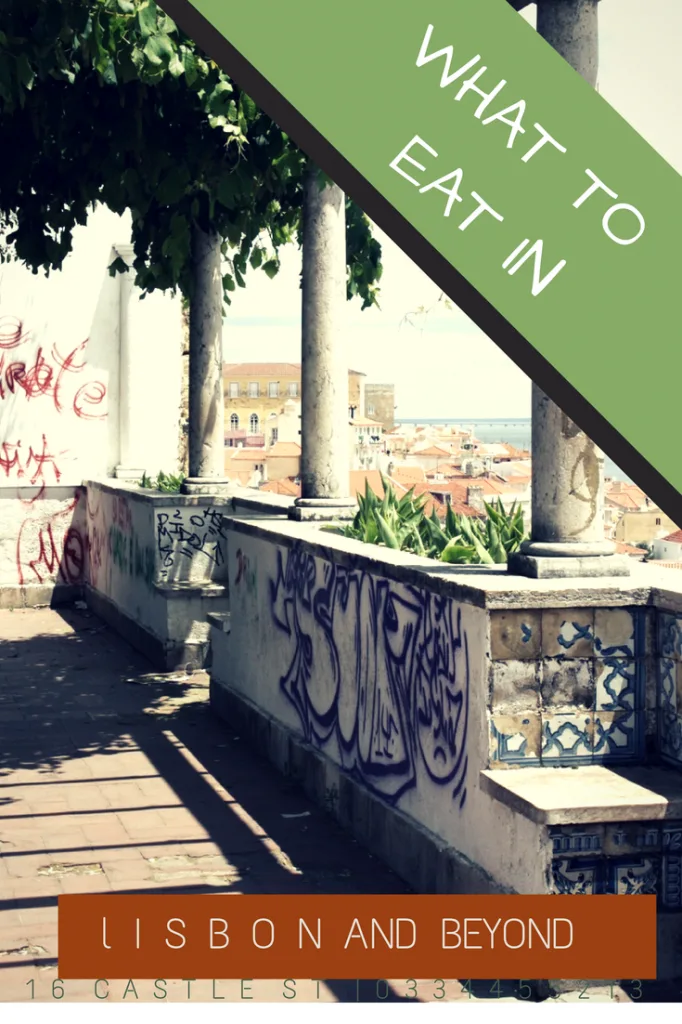 Our first day we arrived in the early afternoon from Cascais and our room wasn't ready. We asked about great food in the general area and were immediately sold when "there's a great Mexican restaurant a few blocks away," came out as a suggestion. We'll take Mexican every time! The walk really was very short and as soon as we walked in we were seated by the hostess, given a table as well as some chips, a pepper salsa of sorts and menus. Huge smiles spread across our faces at the prospect of having an entire menu of Mexican food choices. This is truly one of the things we miss the most living in Morocco.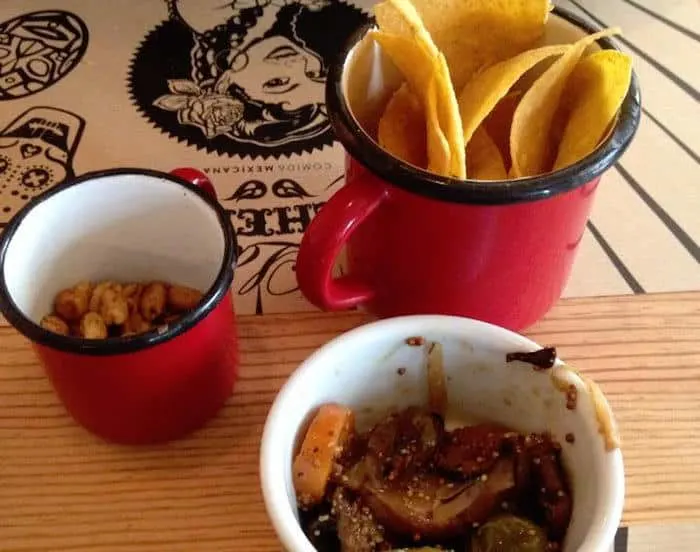 I ordered flautas and MarocBaba had fajitas- we were both really happy with our food, and only wished we had room to eat more! If you're visiting Portugal you should know that bread and some other starters are automatically put on the table. If you eat it, you're charged for them – if not no charge. We weren't sure if the tortilla chips were in the same category until the bill came (they were). It was fine because we enjoyed it but we probably wouldn't have ordered them on their own. Our meal with soft drinks came to about 28 Euros.
During our time in Lisbon we stayed at The Lost Inn, dubbed a hostel but really much more like a home/hotel. This was our first time staying in a hostel and truth be told, I was nervous. I've read plenty to know what the typical hostel is like and I knew we were past that. But, I was so pleasantly surprised by our stay. Every night they have a churizo and sangria offering for guests and one night when we were there Manuela, the amazing PR/social media star offered to make a Mozambique style curry. I had asked for her suggestions where we could eat Portuguese/Angolan/Brazilian/Cote d'Ivorian food (all ex-colonies of Portugal) and she enthusiastically offered to make this meal as she was born and raised in Mozambique. We shared this amazing meal with some of the other hostel guests and had a wonderful conversation to boot. Really wonderful. I attribute this great vibe – something we experienced during our entire stay – to the stellar staff and hands-on owners who make the hostel what it is. This isn't just a job, they're not looking to turn over as many rooms as they can. They're here every day welcoming guests, sharing their city, and wanting to form connections. A truly unique experience!
After reading some great reviews of the We Hate Tourism tours in Portugal I decided I'd book with them. They were offering a great promotion that allowed us to do the dinner tour and then get the full day tour for 1/2 price. In! We did the food tour first, meeting our guide near the hostel at 5pm. To start we picked up some drinks and headed to one of the many lookout points in Lisbon. We pulled up some grass and talked a bit about the history of the city, it's current situation and a bit on the political and economic conditions. From here we hopped in the sweet van (you can see it above) one of the "undercover" vehicles the company uses. No, this isn't your average tour! We then went to see the graffiti wall of Lisbon. Not so long ago there was no prohibition on graffiti in the city, so you'll see some really amazing creations all over (and some that leave room for improvement).
However, there's a lot of bad feelings towards the politicians and leaders of the country and some of the work became quite insulting so now you have to get permission before painting. After checking out some of the work we went to see the aqueducts that stretch across the edge of the city. The amazing arched structure you see above runs 18km but canals and tunnels stretch 58km. It was built in the early 18th century to supply Lisbon with drinking water. It no longer is used but remains an impressive piece of history and architecture.
Then it was time for the food. The restaurant we visited is a family run, small pub/restaurant and it was packed the night we went. It was the evening of the Champions League final and there were 4 TV's showing the game in a place that sat perhaps 100 people. There was plenty of food, from tasty breads topped with cheeses and garlic to snails (yes I tried them again), a toad in the hole style dish with beef and a tomato-y sauce, bacalou (salted cod fish) with potatoes, grilled fish, and of course dessert.
I've got to be honest, I didn't really like most of it. Not for lack of trying! The tour itself was great, dessert was amazing, but Portuguese food itself failed to excite me. I did like the fish, and the appetizers were great. After dinner we went to a fado bar. There's lots of opportunities to listen to fado in Lisbon, and most are high priced tourist affairs. We went to a bar that once was a chapel – it had amazing acoustics and it was really worth the price of the tour just for this experience.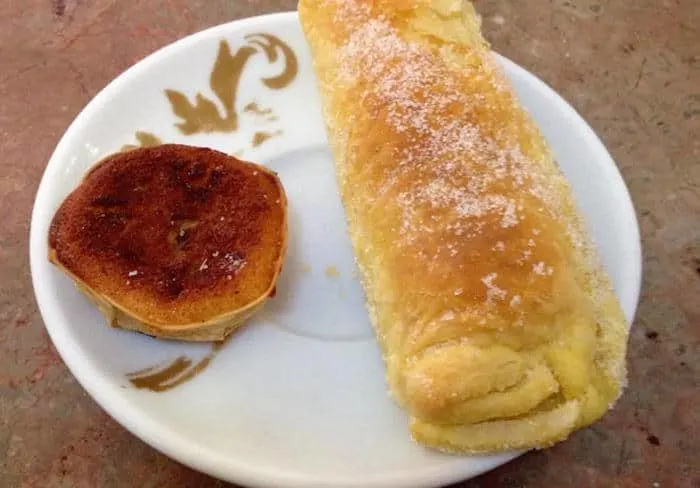 It may (or may not) be a surprise that almost all of my favorite things were sweet. Portugal is a dessert lovers' paradise. For sure once, and sometimes twice a day we sat in a cafe, sipping coffee (or tea for MarocBaba) and trying different pastries. The pasteis de Belem were everything people said they would be. Though, after eating probably 20 while we were in Portugal, from different places nothing really stood out. I prefer the soft crust to the crunchy crusts and love them warm with cinnamon and powdered sugar.
We had wonderful gelato in Lisbon and in Cascais. The gelataria in Cascais was probably the best gelato I've ever had in my entire life. Santini has been around for 50+ years, having first started when the Italian king was disposed by Mussolini pre- World War II. The king was living in Portugal and wanted real Italian gelato and so Santini was opened. Though the one we stumbled on in Castelo was also delicious.
In Sintra we had a cheese filled pastry called queijada – you couldn't taste any cheese. My favorite pastry here was the travesseiro and I easily could have eaten six more of these. For savory food my favorite was hands down, some steamed cold shrimp we ordered on a whim in a small restaurant in Baixo Chiado. We were drawn in by the window displaying a grill with loads of chickens but won over by the sweet and salty shrimp. So simple. So delicious.
Our favorite meal however, was held at the home of Manuela (who made the Mozambique curry). She invited us to dinner which turned out to be a birthday party – for her! – and a big family gathering. We got to eat some delicious foods, share wonderful conversation where we learned so much about Portugal and the Portuguese diaspora population and situation. Most of all we saw the warmth of the Portuguese people. It was a wonderful, wonderful evening.
Let's just say my motto holds out – the best food you'll eat anywhere is the food cooked in the homes of the people that live there!
There are a lot of really nice, mid to upscale restaurants in Lisbon – most of which we didn't get to experience. When you're traveling on a budget, that's what happens. But, we did walk away with a love of the country and a desire to return and explore even more.
Making a trip to Lisbon soon? Here's some of the places we enjoyed;
Las Ficheras Cais do Sodre rua dos Remorales 34 Lisbon
Santini Gelato Cascais
Gelataria Portuguesa Castelo
Casa da India – Baixa Chiado Lisbon
[/vc_column_text][/vc_column][/vc_row]