There are few things that I enjoy more than dessert when we travel. Ok who am I kidding, I love dessert anytime! In Portugal the one dessert I heard about over and over again was pasteis de nata. These egg tarts are maybe the most famous culinary tradition Portugal has made. One friend described it to me ahead of our visit as "imagine a cupcake meets custard" umm yes! There's no need to twist my arm.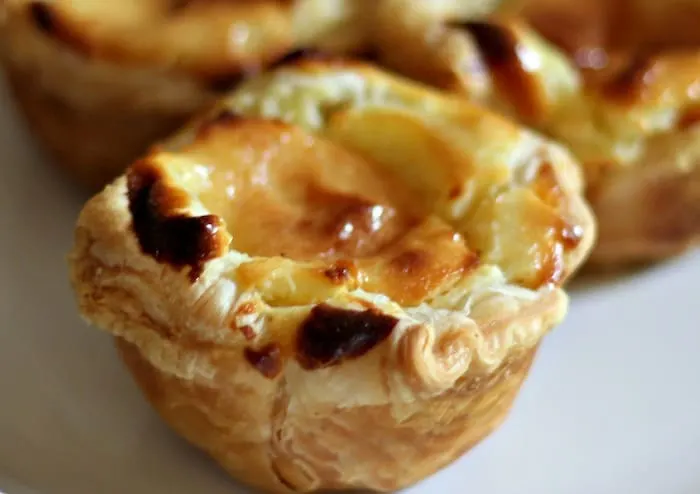 The most famous bakery making pasteis de nata is Pasteis de Belem and we of course stopped there (more than once). But if I'm totally honest even when I bought these at the grocery store they were delicious. So the only real problem was that once we left Portugal there would be no more. While you can't replace the ambiance of walking down the streets of Lisbon while eating a hot pastry, I think you won't complain when these come out of the oven.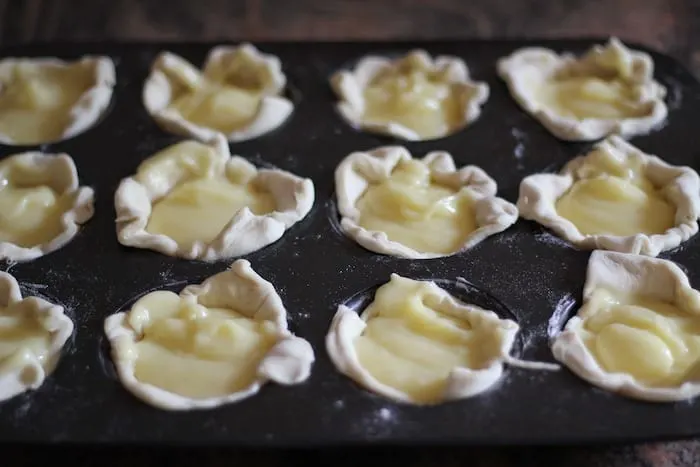 The good news is that these are not all that hard to make. You'll need to have some puff pastry on hand which can easily be purchased. You'll also need lots of eggs. If there's something the Portuguese love it's eggs in desserts – there's loads of them! Other than that you might be surprised at how easy these are to make!
I'm still deciding if it's a good or bad thing that I know how to make these now. It might increase my consumption again! But you should make them for your next party or special event. They're just as easy as cupcakes but you'll really wow the crowd!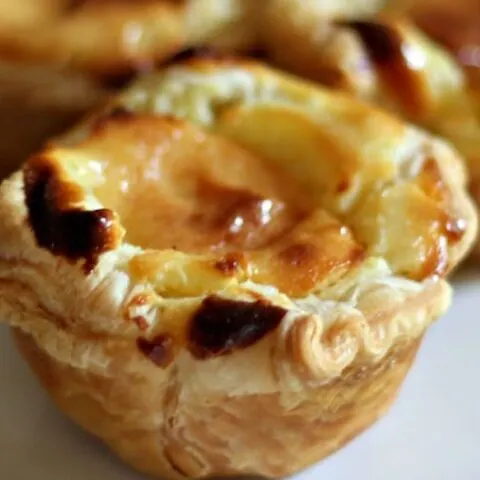 Yield:

24 pieces
Pasteis de Nata
One of the best desserts to come from Portugal, you won't be able to eat just one!
Ingredients
6 tablespoons of cornstarch
4 teaspoons of Vanilla Extract
1 3⁄4 cup white sugar
2 cups milk
12 egg yolks
2 (17.5 ounce) package frozen puff pastry, thawed
Cinnamon and powdered sugar for sprinkling
Instructions
Preheat the oven to 375 degrees F (190 degrees C.)
Lightly grease 24 muffin cups
Roll the pastry and cut into squares approximately the size of a glass coaster.
Line the muffin cups with the pastry squares - It doesn't have to be neat.
Place the egg yolks in a medium bowl.and whisk them together - set aside.
In a saucepan, mix the milk, cornstarch, sugar and vanilla together
Cook, stirring constantly, until the mixture begins to thicken.- approximately 5 mins.
Slowly whisk about 1/2 a cup of the hot milk mixture into the egg yolks.
Gradually add the egg yolk mixture back to remaining milk mixture in the saucepan, whisking constantly.
Cook the mixture, stirring constantly, for 5 minutes, or until thickened - roughly the consistency of sour cream.
Fill the pastry-lined muffin cups with the custard mixture and bake in a preheated oven for 20 minutes, or until the pastry crust is golden brown and filling is lightly browned on top. The egg custard will rise while in the oven - don't panic! It will deflate again when out of the oven.
Sprinkle with cinnamon and powdered sugar.
Serve and enjoy!