While I personally am not a massive smoothie drinker, my husband loves them. Let's face it, smoothies are a popular breakfast option or a healthy drink on a hot day out in a café or restaurant. Of course, smoothies are not just for going out as they are quick and easy to make at home – just like this banana almond smoothie.
I have found this recipe to be a great alternative for those who want a protein boost, and for people looking for vegan or dairy-free smoothie alternatives.
It takes only 10 minutes to whip up a dairy free smoothie for breakfast, lunch or a mid afternoon snack. I like to use frozen bananas as they add a nice chill to the smoothie drink without watering it down by adding ice to the mix. The frozen banana also adds a creamy thickness to the smoothie which acts as a good base for the smoothie recipe given there is no dairy ingredients such as yoghurt or traditional milk.
This recipe is dairy free as it uses almond milk and almond butter and there is no yoghurt. I find that 'almond milk' is such a curious term as there is no actual 'milk' involved. Instead, it is made by blending almonds with water. The liquid is then strained off, and this whitish colored liquid is what is referred to as 'almond milk'. These days almond milk is readily available to purchase in supermarkets, however, you could make your own for this smoothie recipe if you wanted to.
Including almond butter in this recipe keeps it vegan friendly as well as boosting the almond flavor and thicker texture to the smoothie. This is another item that has become readily available commercially as more people opt for dairy free recipe ideas. I used chocolate protein flavor as it complements the almonds, although you could try vanilla protein power as well for an alternative taste.
Banana Almond Smoothie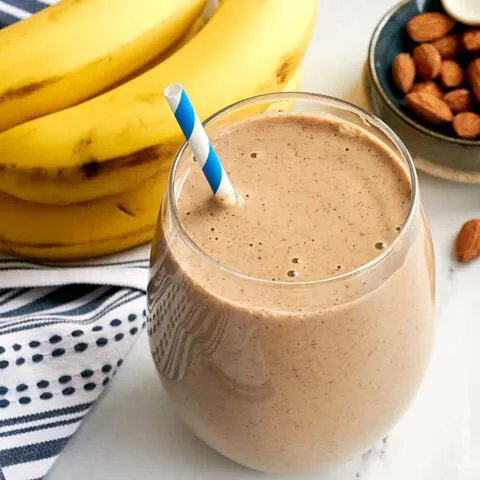 Yield:

SERVES 2
Banana Almond Smoothie
Ingredients
2 large bananas, peeled, sliced and frozen
¼ cup almond butter
1 cup almond milk
2 tablespoons chocolate protein powder
Instructions
Combine all ingredients in a blender and blend until smooth.
Plant-Based Milk Smoothies and Smoothie Bowls
You can substitute plant milk such as almond milk in any of my smoothie or smoothie bowl recipes, such as the almond date smoothie bowl. If you like the banana almond smoothie, you might also like to try my Moroccan avocado smoothie bowl and my blackberry fig almond bowl.