It's been almost four months since we moved to Marrakech, and I haven't done an update post on day-to-day life since October! Lots has been happening since then. I think that we've finally settled down into a normal life, a new-normal life. I'm happy to report that my surgery was very successful and I am feeling so much better.
It's amazing how quickly one forgets how sick they were! My boys were very happy to have mom home (I got back mid-November) and were probably more happy to discover the goodies I returned with. While in the US I celebrated my 29th birthday and after I returned to Morocco there was cake and a few gifts waiting for me as well. Happy birthday sung in 4 languages is quite the send off to a new year to be sure!
As I've shared before I work from home so I was able to keep going, albeit at a slower pace, while away. Coming back has allowed for more stability and planning which is important for me.
School
We've had quite a few milestones surrounding the boys and school. The biggest one being, they don't hate it anymore! We knew it would be a struggle for them in the beginning, because they didn't understand what was going on.
A few weeks ago they took school exams and while they struggled a bit, they both received a 6 out of 10 overall score in all subjects – this was after only 10 weeks in school. We are very proud of them! M has always enjoyed school and even when he didn't really know what was happening here he made a very big effort and enjoyed the challenge. K is the opposite. He hated it, and let us know everyday he hated it.
Until two weeks ago.
Something happened, a flip switched, or a miracle – because he came home one day and said, "Mom I had a great day at school! It was so fun!" My jaw dropped. Both boys will tell you they prefer French to Arabic, though they speak Arabic more easily and conversationally than French. We're excited to see how much more they learn and acquire in the coming months.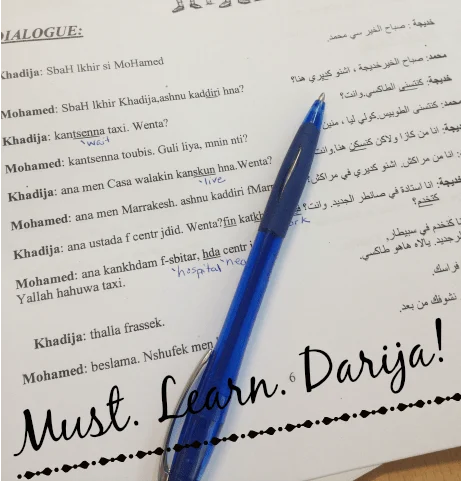 This leaves me. I started taking Darija (Moroccan Arabic) classes last week. I go twice a week for 90 minutes and am so happy to finally be doing this! I know enough to hobble along if I have to but I really need to learn enough to hold up a conversation, ask questions, and be ok alone -such as when taking a taxi, or trying to purchase something.
The longer I'm here the more I learn just through listening, but formal classes are helping me understand much better. We'll have 4 more classes, and then take a break over Christmas and New Years, and begin again in January. I've considered doing some small lessons here (or somewhere online) worksheets and such that I'm making up for myself to practice, but am unsure if this is something others are interested in?
Eating
Now that I'm not sick everyday I've been exploring more food options. Of course we mostly eat traditional Moroccan foods in the house, unless I make something different. But there's more out in the city waiting to be explored! I'll be honest, I'm very adventurous, I want to try new places and new things. I'm always looking.
MarocBaba is not. He really doesn't like to eat Moroccan food out of the house, and thinks anything that's not Moroccan is either a) over priced or b) not good. I'm breaking him of this way of thinking but, it's not easy.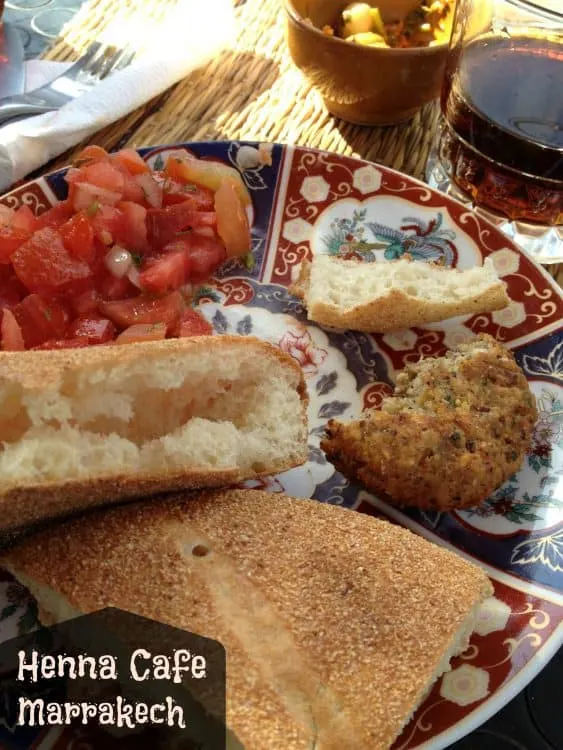 One of the places that we've tried is the Henna Cafe. It's in the medina of Marrakech, just off Bab Doukala near Dar el Bacha. It's a little tough to find but if you need help, the locals nearby can help – the best people to ask are "guardians" the boys/men who watch motorcycles and cars in parking areas. They usually know all the nearby shops and restaurants.
This is a restaurant, henna shop, and learning lounge. The terrace offers a great and different menu – that included falafel (that were very good!) They also have a large selection of local teas, including herbal blends, that you aren't likely to find elsewhere. If you want to get a henna tattoo on your visit to Marrakech, go here. The prices are fair, the henna organic and safe, and prices are set so you'll know exactly what you're getting.
Do not, I repeat do not, get henna done in Djem al Fna.
Henna Cafe 93 Arset Aouzal, Medina Marrakech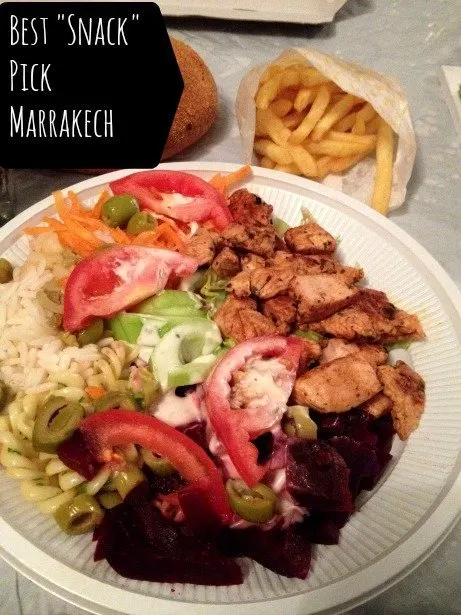 Unless you walk around with your eyes closed, you'll see a "snack" shop at every turn. Most of these places offer cheap meals like 20-40 dirham pizzas, burgers, and fries. But, they also have kutban, or brochettes. My favorite thing to get is grilled spiced turkey breast with salad and fries. It looks like a hot mess, but it's really good and filling. It's also really affordable. That plate above costs less than $3.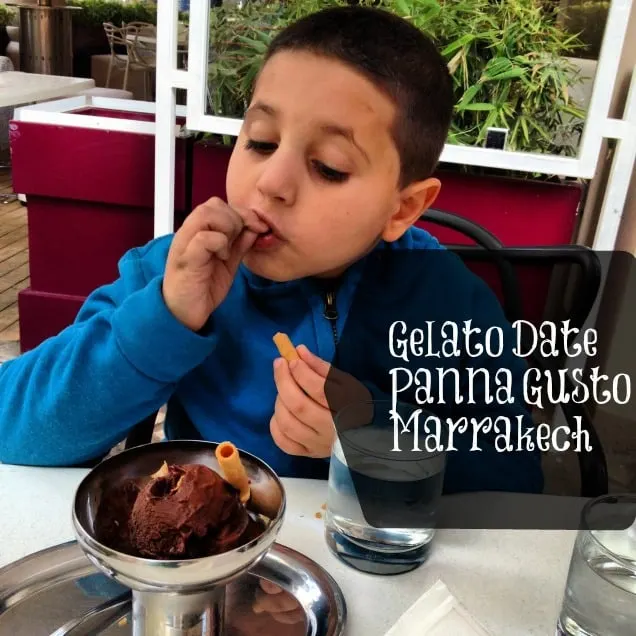 I've mentioned my kids are polar opposites yes? M spends every second outside playing with other kids while K would rather cuddle up in bed and spend time alone. But, we can always lure him out if it means alone time with mom and dad.
A friend had told me about Panna Gusto, a gelato shop, and I'd been waiting for the opportunity to try it. We found it quite easily and were won over by it's cleanliness and fun seating. Their products are locally sourced, seasonal, and organic whenever possible. They're also ridiculously delicious. Yes it's a little more expensive than some other gelato/ice cream shops in the city but we will be going back for sure. K ordered chocolate, I had mandarin, and MarocBaba pistachio, but we all stole spoons from each other.
Panna Gusto Italiano Avenue 4éme D.M.M. angle Rue due Capitaine Arrigui Gueleiz, Marrakech (closed as of 2020)
Odds and Ends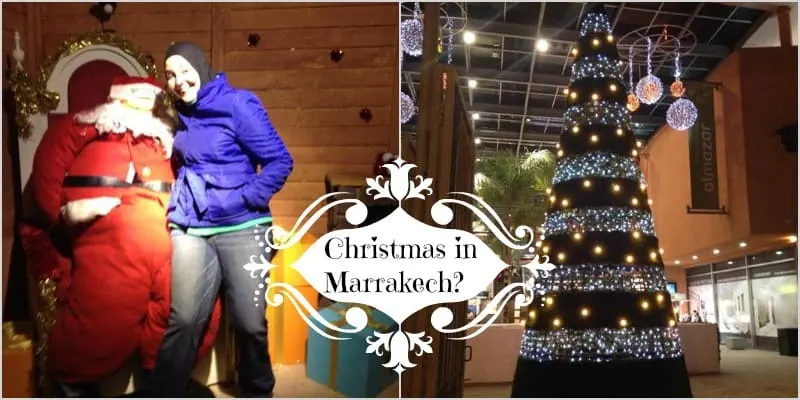 MarocBaba and I were both a bit sad knowing that on our move here we would miss out on Christmas. We both really love the lights and decorations, plus it's always been a big holiday for my family. Being far away is never fun. We honestly didn't think we'd find anything here that would be close.
We packed our kids stockings, and my mom sent chocolate calendars back (her tradition with us, and now the kids). A month ago we went to Carrefour (a grocery market) and saw an entire Christmas section with chocolate santas, trees, lights, tinsels, you name it!
When we went back this week we found this! A giant (fake) Christmas tree, palm trees wrapped in lights, "Papa Noel" workshop, giant hanging ornaments etc. We could have been at any US mall! I almost started crying just having a little bit of something familiar here. So, there is Christmas in Morocco!
Lastly….
I shared this on my Facebook page this week but here's the official announcement. MarocBaba and I will be attending the Nordic Blogger's Experience next month in Provoo and Helsinki, Finland. We are beyond excited! This trip promises to offer some really amazing experiences, and here we thought we would spend this winter without snow! We'll come back with some amazing experiences to share, and hopefully new friends and opportunities in the future.
So that's the state of things! I'm sure I left some things off but I'll come back to them. If you've got questions, leave them in the comments. I'll either answer them directly or add them to an upcoming post.