My husband thought I had lost my mind when I told him I wanted to take our oldest son with me to Thailand.
"Thailand, really? Thailand? Couldn't you go to Italy or England?"
Nope, I couldn't.
While MarocBaba has never had much desire to visit Asia, I was ready to spread my travel wings and start exploring the continent. Putting together my Chiang Mai itinerary with my friend Julie who has a similar travel bug I knew that it would be great. We both wanted to take a trip together, each taking one of our kids. She lives on the west coast of the US and with us living in Morocco we needed somewhere central and roughly would cost us the same to get there. Turns out Thailand in October has some seriously reasonable airfare deals.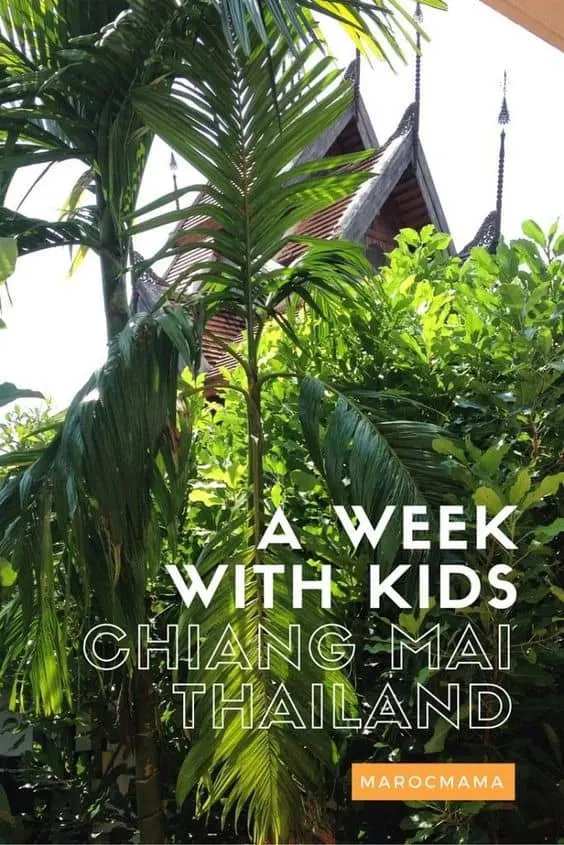 So Thailand it was, but where? We did our research and settled on Chiang Mai. As two women alone with 10 and 11 year old kids, we wanted someplace that would have plenty to do but wouldn't be a major challenge for us to navigate. Chiang Mai is a larger city, has enough tourists and a sizable expat community to make navigating not too difficult, and the price was right.
Turns out we couldn't have made a better decision.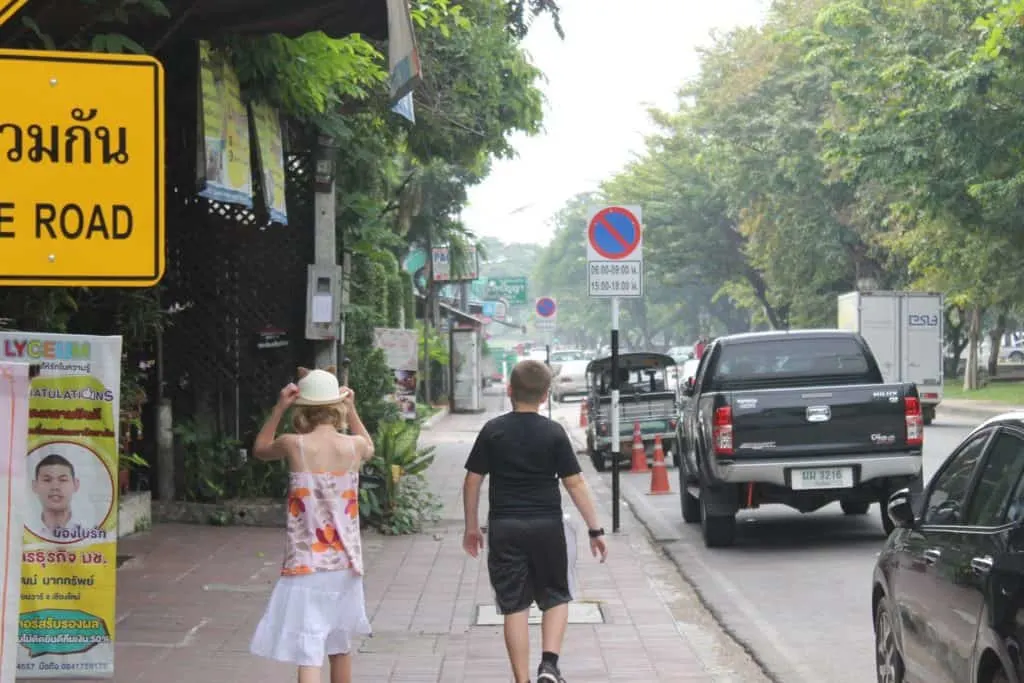 While our first night wasn't one to write home about, the rest of the week in Chiang Mai was really amazing. Julie and I scheduled activities but left our calendar open enough that we had plenty of downtime too – this was a vacation after all. When we booked our hotels we sought out those that had swimming pools. We also made sure massages were part of the plan.
I'm sharing our itinerary for one week in Chiang Mai to give you some ideas and inspire your travel too.
Travel and Arrival in Thailand
Our flights arrived to Chiang Mai very late and so we booked a cheap stay near the hotel. I wouldn't recommend the place we stayed though it was safe. In the morning a driver arrived to transfer us to a new hotel that we booked as a part of our elephant experience with Rickshaw Travel. We stayed at The Rim Resort Chiang Mai, where we had an easy check-in followed by lunch onsite and the kids enjoying time in the swimming pool. Due to lots of jet lag the night ended early.
Chiang Mai Itinerary 5 Days
When planning your Chiang Mai trip with kids, we felt like five days was a good amount of time to spend in the area. of course you could stay longer or shorter but this was comfortable.
Elephant Nature Park
A driver and guide picked us up early for the trip out of Chiang Mai to the Elephant Nature Park. We met several others on our tour in the mini bus that picked us up and we ventured the 50 odd kilometers out of the city to the site of the reserve. This park is a rehabilitation center and home for animals. There is no elephant riding or forced work.
Confession time. I'm not an animal lover. They're cute and all but I don't have a strong attachment. My kids on the other hand, well that's another story. The first thing my son said when we were planning our trip to Thailand was, "so what about the elephants in Thailand? I want to see elephants."
But what did I know about elephants in Thailand? Sure, I'd seen plenty of videos and pictures of people riding elephants through the jungles. I'd seen videos of elephants hauling logs and working in the forests of southeast Asia. But, I didn't want that kind of experience. While I don't love animals I certainly want them to be treated well. When Rickshaw Travel asked us if we'd like to visit the Elephant Nature Park outside Chiang Mai I was intrigued.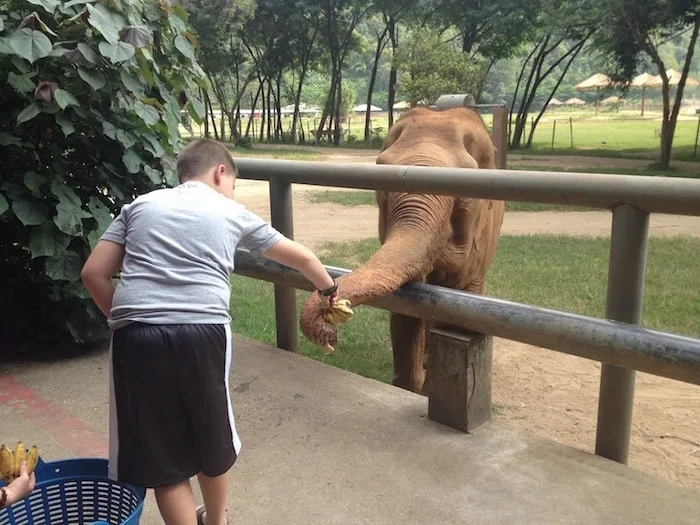 What made this different?
To begin with this wasn't an elephant amusement park. This is a sanctuary for elephants, many of which have been rescued from exploitive practices like giving rides and logging farms. Many were hurt either by accident or on purpose and rehabilitate and then go on to live at the reserve. Other animals were being used in the tourism industry for riding and were bought and brought to the reserve to live a more normal life. People are able to interact with elephants in a way that isn't harmful. But beyond that it's also home to many other animals like buffalos, dogs, and cats.
It was heartbreaking to see these HUGE animals that had been abused so badly they were physically deformed. One elephant had broken it's leg and the owners couldn't afford (or didn't) have it set. I can only imagine how painful it must have been. Another elephant was blind and while we were walking on the grounds she kept coming towards us but not at all in an aggressive way. I couldn't help but think for many of these animals they simply craved positive attention. They had been around people their entire lives but how often had it been in a caring way? How often had it been simply cruel?
The morning was full of feeding the animals watermelons and bananas. Their trunks are crazy! I kept thinking of the Snuffleupagus on Seasame Street. It reminded me of a really strong worm! A vegetarian lunch was served and everyone enjoyed trying different Thai foods. Unfortunately, I was not feeling well at all and opted to stay in the lodge area in the afternoon. My friend Julie, her daughter, and M took part in the afternoon activities like bathing the elephants in the river and watching the baby elephants play. Sadly I had to miss out.
For me, I took a rest and then discovered one secret. The upstairs offered foot and Thai massages. For less than $5 I could get a massage. Since I was feeling pretty awful I figured why not. As I laid in the open air hut, watching the jungle around me and being sometimes-not-so gently massaged I felt at such peace. It was a really beautiful way to take in my surroundings and made what could have been a terrible end of the day wonderful.
Our trip with Rickshaw Travel included two nights in a Chiang Mai hotel (with transfers), transportation to the Elephant Nature Park, our admission, and transport back. It was a great way to start our stay as we were able to get a general feel for the area and knew everything would be taken care of. We stayed at The Rim Resort which was absolutely lovely. Here's a few pictures for a glimpse.
Rickshaw has plenty of other Thailand itineraries and offers. Our experience booking and traveling with them was seamless and I can highly recommend their services. If you're wanting to visit Thailand but would rather someone else handle the planning, check them out.
Meet the Locals
It was time to change hotels one more time but we had free time in the morning. After breakfast we wandered around the neighborhood and discovered a temple and small market a few blocks away. It was here we were asked to meet a group of volunteers who were studying English and in return they answered our questions about Buddhism and Thailand in general. With ample time to wander the temple complex and then return to our hotel for check out we had a new appreciation for what we would see during the rest of our days in Thailand.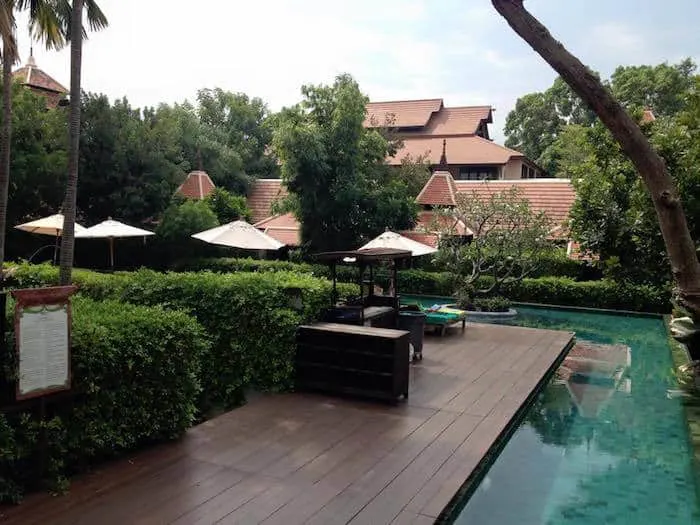 We booked rooms at the Siripanna Hotel and easily found a taxi to take us there. It is not in the middle of Chiang Mai and for us this was a good thing. There are many hotels that are much less expensive in the city but we were looking not only for a good experience but a chance to relax and enjoy. I'm getting too old for hostels and roughing it! The kids were dying to go swimming in one of the most beautiful pools I had seen! They were able to swim just enough before the 5pm downpour rolled in.
The hotel has free shuttles to the different night markets in Chiang Mai several times a week. We were able to use this service to visit the Sunday night market. It was a great experience and something we highly recommend!
Fun Things to do in Chiang Mai with Kids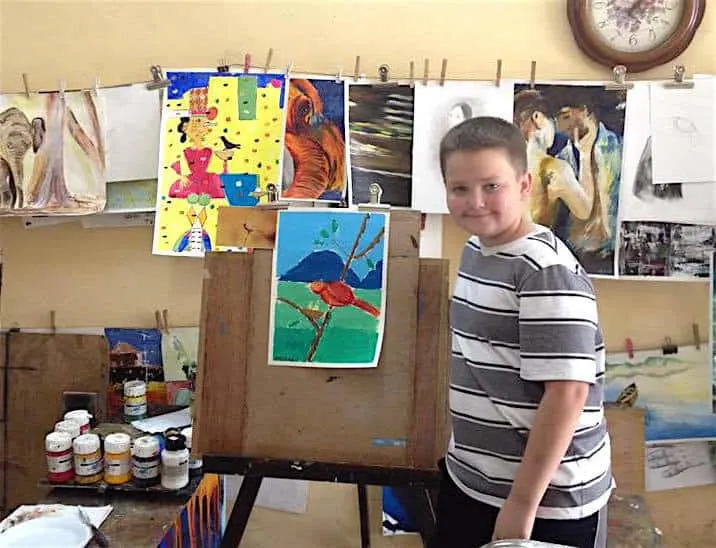 The day of relaxation arrives! A bit of research uncovered there was a studio giving art lessons to kids (Noina Art Studio) next door to a massage shop. How perfect! We signed the kids up for a two hour lesson, while we booked ourselves a full morning of relaxation. Afterwards the kids came over to check on us and got their own mini massages while we finished up our treatments. Whoever had this idea was pure genius!
For our evening activity we booked places on Chiang Mai Food Tours (you didn't really think I would go somewhere and not do a food tour did you?). All I can say is AMAZING! This is getting it's own complete blog post with loads of drool worthy images – click over if you're hungry!
Thai River Adventure
Another early morning had us out of bed to head for the river where we took a river boat to an organic farm outside Chiang Mai. Truthfully it wasn't our favorite part of the trip and we felt like it was a bit lackluster BUT the saving grace was lunch, a meal of Khao Soi, a northern Thai specialty dish and one that goes down as one of my favorite meals of 2015.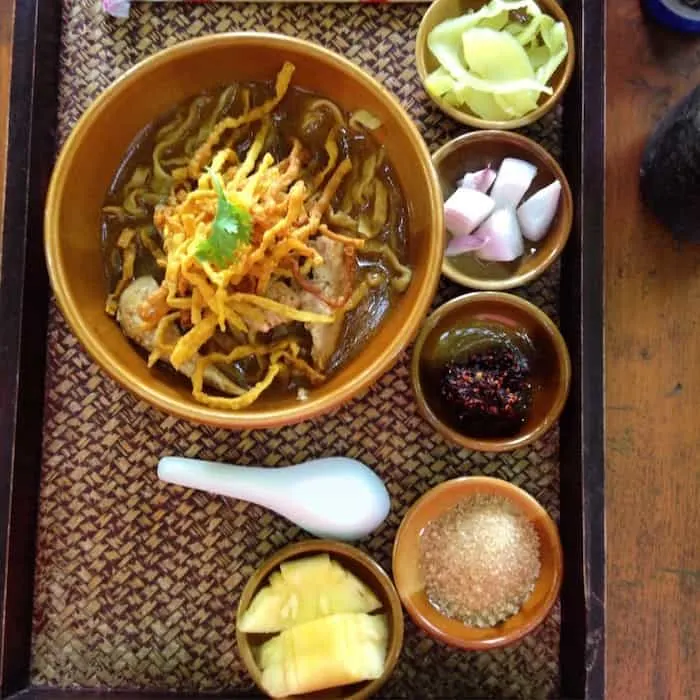 Trip in the Countryside
This day was a complete shot in the dark. Across the street from the hotel we found a small tour company. The friends we had made at the Buddhist temple early in the week had given us some ideas of things to see and do that most tourists don't. But, we needed a driver. We took our chances and spoke with the man at the shop who gave us an excellent price for a full-day driver and car rental. He took us to the umbrella factory, the hot springs, and a cave temple. It was totally impromptu but very fun and we were so happy to have found him.
Our day trip included a stop at;
a craft workshop where paper umbrellas were handmade
a cave that included a small hike and visit inside via a very narrow entrance
visit to a popular with locals hot spring where the kids went in the pools and we boiled eggs in one of the very hot springs!
If you're looking for more souvenir ideas from Thailand this post is a great resource.
WHEW! There you have our whirlwind week in Chiang Mai! I should add the kids did swim every single day while Julie and I spent lots of time lounging, reading and sipping cool drinks. I loved Chiang Mai, the Thai people, and everything about this trip. I couldn't recommend the destination more highly!