I'm two weeks into my cookie making class at the Amal Center in Marrakech and have several different cookies to share. Moroccan cookies are intricate, they're all made by hand and there are few short cuts. But, there is one positive – several of the different shapes all have the same exterior pastry and interior filling. So, you only have to make these once and then you can make the shapes that you want.
This cookie is a variation of the ka'ab gazelle, one of the most well known Moroccan pastries. I find these are a little bit easier to shape and more forgiving than the others. They don't really have a name but I call them Moroccan pouch or purse cookies. Even though they are easier than ka'ab, they still take some practice!
Tools needed:
Pastry brush
rib edged pastry cutter
Pasta rolling machine (you can use a rolling pin but it's difficult to get pastry thin enough)
baking sheet
Ingredients for Ka'ab Gazelle Pastry
2 bowls flour
1 egg
1 tea cup vegetable oil
2 Tbsp powdered sugar
1 teaspoons butter softened
1/2 tea cup orange blossom water
Directions for Ka'ab Gazelle Pastry
Begin by mixing the flour, powdered sugar in a bowl with the softened butter and eggs. Use your hands to mix everything. Slowly pour in the oil while continuing to mix everything together. Once incorporated the dough will barely hold together when squeezed. Very slowly add the orange blossom water while kneading. The final dough should be pliable and elastic, somewhat similar to a pasta dough.
Filling for Ka'ab Gazelle
(the ingredients here were a little more precise!)
1 kg almond flour
150g butter
250g powdered sugar
1 tsp cinnamon
pinch of grated nutmeg
1/2 tsp orange blossom water
Mix all of the ingredients together to form a paste that sticks together when squeezed.
Before you shape the pastry you'll also need to crack an egg to serve as an eggwash.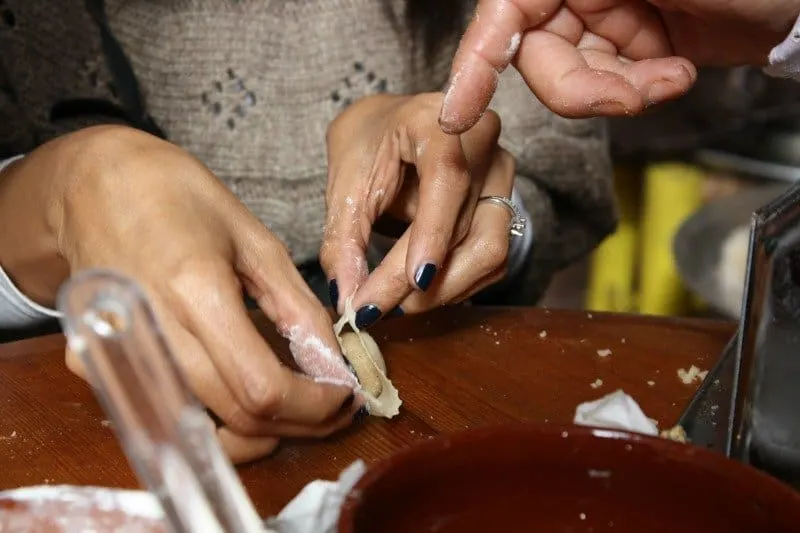 To start you'll want to run a small amount of the pastry dough through the pasta machine several times to make it as thin as possible without it breaking. You may need to experiment a few times to find the right balance. The next step is to cut out a square approximately 1 1/2″ by 1 1/2″ with the ribbed pastry cutter. The size of the square really won't matter, just try to be consistent – remember these cookies are meant to be eaten in 1-2 bites.
Roll a ball of the filling to fit in the middle of the square leaving 1/2″ around the edges free.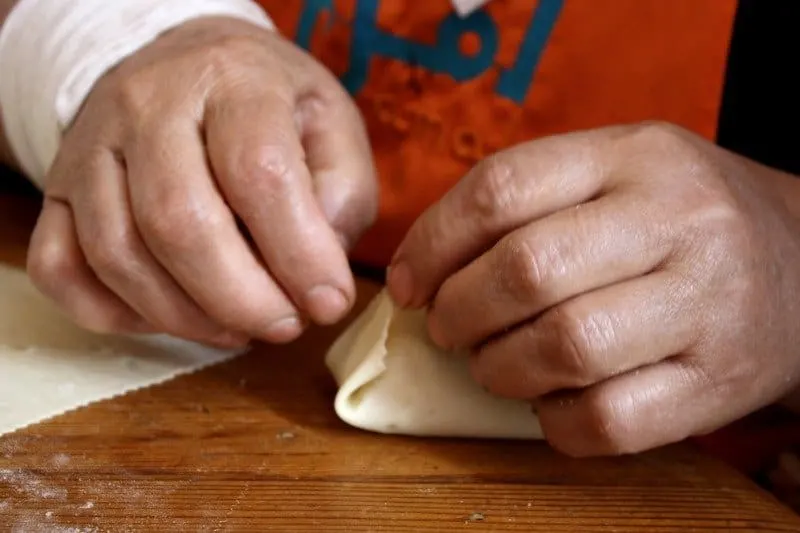 Pull up the edges that are across from each other, placing a dab of eggwash on the interior corners to seal them. Pull up the opposite corners and do the same. Pinch the edges outward, it will look similar to the inside of a seam on your clothing. Gently push in the dough so that it creates a triangle shape. If the edges aren't holding you can use a bit extra eggwash inside to seal the seams.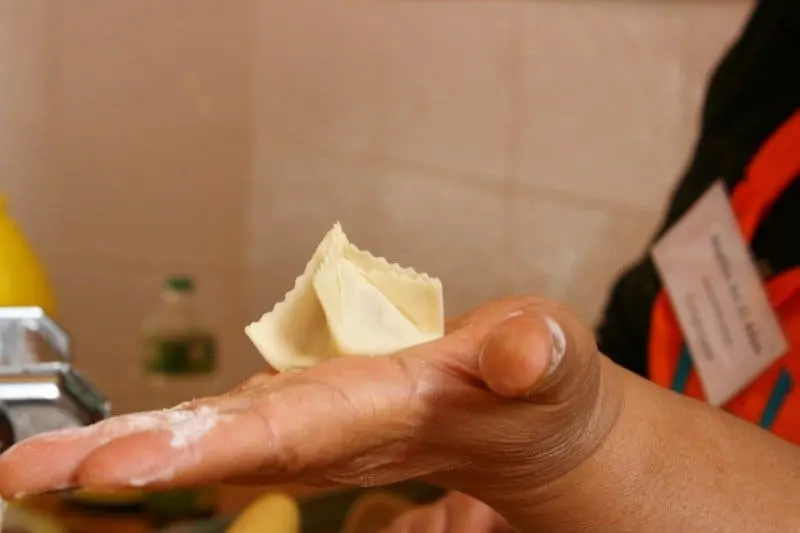 If you've made these and the ka'ab gazelle you can bake them all together. Place the cookies on an oiled baking pan and put into a 350F/175C oven for 10-12 minutes. The cookies will be a very pale brown when cooked through. They should not be crunchy.
When your cookies are all done you should of course enjoy over glasses of Moroccan Mint Tea! Bssha! (to your health!)