These Cactus Pretzel Rods are the best! Not only are they super simple to make but there's no denying that they really could pass for a cactus as well! If you're looking for a fun and delicious treat, don't pass up on this delicious cactus dessert.
I love making these treats for the summertime or just as a fun weekend treat with the kids. They always get a huge kick out of them and I do as well. No matter what, they always bring a smile to my face and happiness to my tummy.
With just 5 simple ingredients needed, you'll be chowing down at no time at all. They're perfectly sweet and crunchy and easy to make. You just might find yourself gobbling up each and every one!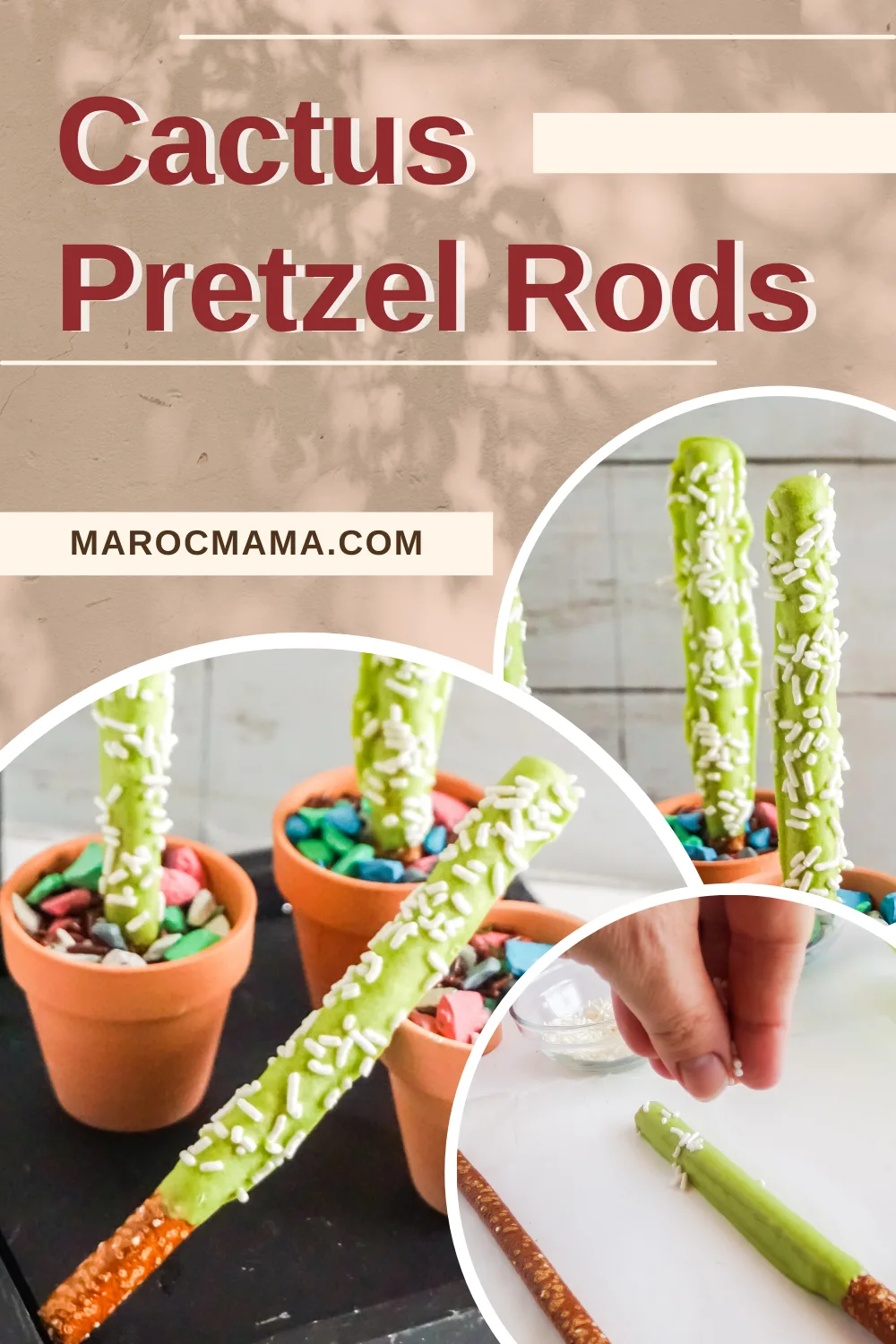 How do you store pretzel rods once coated with chocolate?
The biggest thing to keep in mind is that you need to store these in an airtight container. Even when they're coated with the melted chocolate melts, there's still a chance that they're going to get stale if you leave them out in the air.
The best bet is to store them in a container with a lid or add them to a sealable plastic bag. That way you can keep out the air and keep them fresh and crunchy.
How long do pretzel rods stay good for?
If you store them correctly, they should stay fresh for 2-3 days. And if you don't store them correctly, they're going to be soft but still have a good taste. (which means you can still totally eat them!)
Do you store pretzel rods in the fridge?
Nope! They are just fine to leave out on the container in a container. You can put them in the fridge if you want to, but it's not a requirement at all.
Ingredients needed to make Cactus Pretzel Rods
These chocolate-covered pretzel rods are fast and easy to make! Just gather up the list of simple ingredients below to get started.
Ingredients
You will also need:
parchment paper
and a tall glass
Once you gather up the ingredients and supplies, you'll be well on your way to making these fun treats!
Instructions
In a microwave-safe bowl, place the candy melts in the microwave and melt per the package directions. Stir until smooth, then place the candy melts into a tall, thin glass.
Dip the top ⅔ of each pretzel rod into the melted chocolate, then place the pretzel rods onto the parchment paper.
Immediately sprinkle the candy-coated pretzel rods with the white jimmie sprinkles. Place the pretzel rods into the fridge for 5 minutes to harden.
Cut each of the cupcake liners on one side, to allow you to overlap the sides of the liner make the liner fit nicely into the bottom of each terra cotta pot. Fill each cupcake liner with chocolate jimmy sprinkles. Top with the candy rocks to fill the remaining portion of the pots.
Insert the uncovered ends of the pretzel rods into the rocks and enjoy!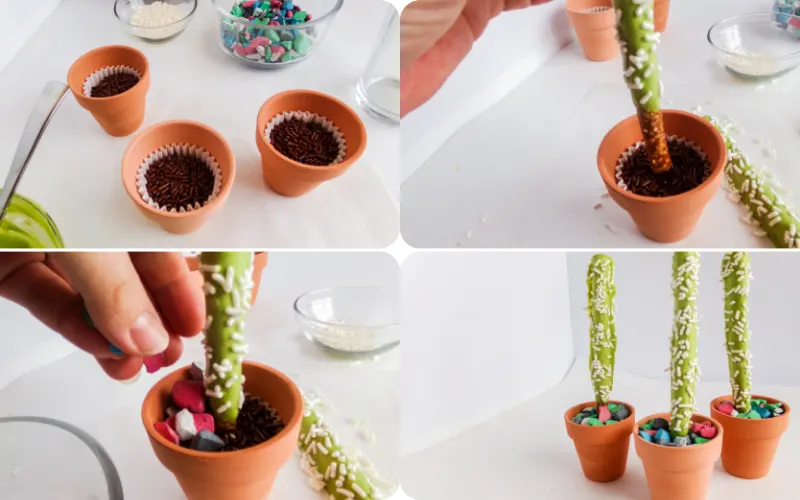 How do you showcase these pretzel rods?
There's no denying that making these cute treats are all part of the fun. After the pretzel rods have been created, it's time to assemble them in the terra-cotta pots!
To do this, make certain to check out the full list of directions below! It's really fun and easy to do!
Fun Ways To Share These Cactus Pretzel Rods
This recipe is so much fun to make! It's perfect for a fun weekend surprise at home or great for a fun summer party, too! These would be the hit of the dessert table at a baby shower, family gathering, or fun birthday party celebration.
Once you create these sweet treats once, you're going to have to make them over and over again. They're just that good and easy to make that you're not going to want to stop!
Have fun making these delicious Cactus Pretzel Rods. They're the perfect sweet and crunchy treat.