Morocco has a long history of inspiring artists, writers, and other creatives. I'd be lying if I told you I personally am not constantly inspired by the colors, scenery, and people of this country. Some of my best writing and artwork happens when I'm on a rooftop overlooking the city or countryside. The mid-20th century brought dozens of writers to the country, while decades before it was artists who came to capture the images on canvas. One thing that most artists have in common is their depictions and themes that resonate through all of the work.
Color
Pattern
Abstract (mostly)
It's these three items that run through all of the artwork produced both by Western and Moroccan artists. For children (and adults) who want to learn about and have more experience with the art of and art produced about Morocco there are several artists and styles to consider.
Western Art about Morocco
Delacroix is one of the biggest names in the art world who created pieces inspire by his time in the country. His work is classified as of the Romantic period and he later went on to inspire artists such as Picasso. Later artists wouldn't produce works that were as highly technical and detailed. Delacroix, while focusing on the subjects is well known (in his Moroccan pieces at least) to capture the entire scene and create a sense of place through this portrayal.
Almost 100 years after Delacroix, Henri Matisse visited and painted his own interpretations of Morocco. The artist came in 1912 and 1913. But these two had little in common. Whereas Delacroix felt the scenes were begging to be depicted as is, Matisse refused this notion and, in his characteristic style interpreted them as his own. Matisse came to Morocco for the light and when viewing his works in person that feeling transcends the canvas. Instead of heavy applications of oil as is, he instead opted to thin down paints and use them almost as watercolors.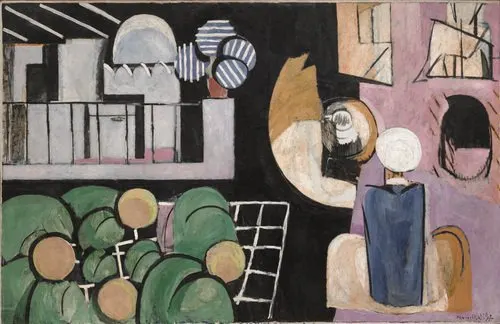 Moroccan Artists
Moroccan traditional artwork can be found everywhere in the styles and designs that are associated with the country. Intricate chipped tile mosaics (zellige), carved wood and plaster, and furniture making a few examples in which traditional art styles can be seen. Islamic art is largely geometric, as the depiction of creatures is frowned upon.
Mohammed Ben Ali R'bati
Perhaps the first known Moroccan artist creating images similar to those of the great "master" painters is Mohammed Ben Ali R'bati. Born in 1869 it was through a chance encounter with Sir John Lavery, a court painter for the Queen of England that he learned to paint and traveled to Europe – eventually finding his way back to Morocco. His style, while simple is very uncharacteristic for Moroccan artistry of the period.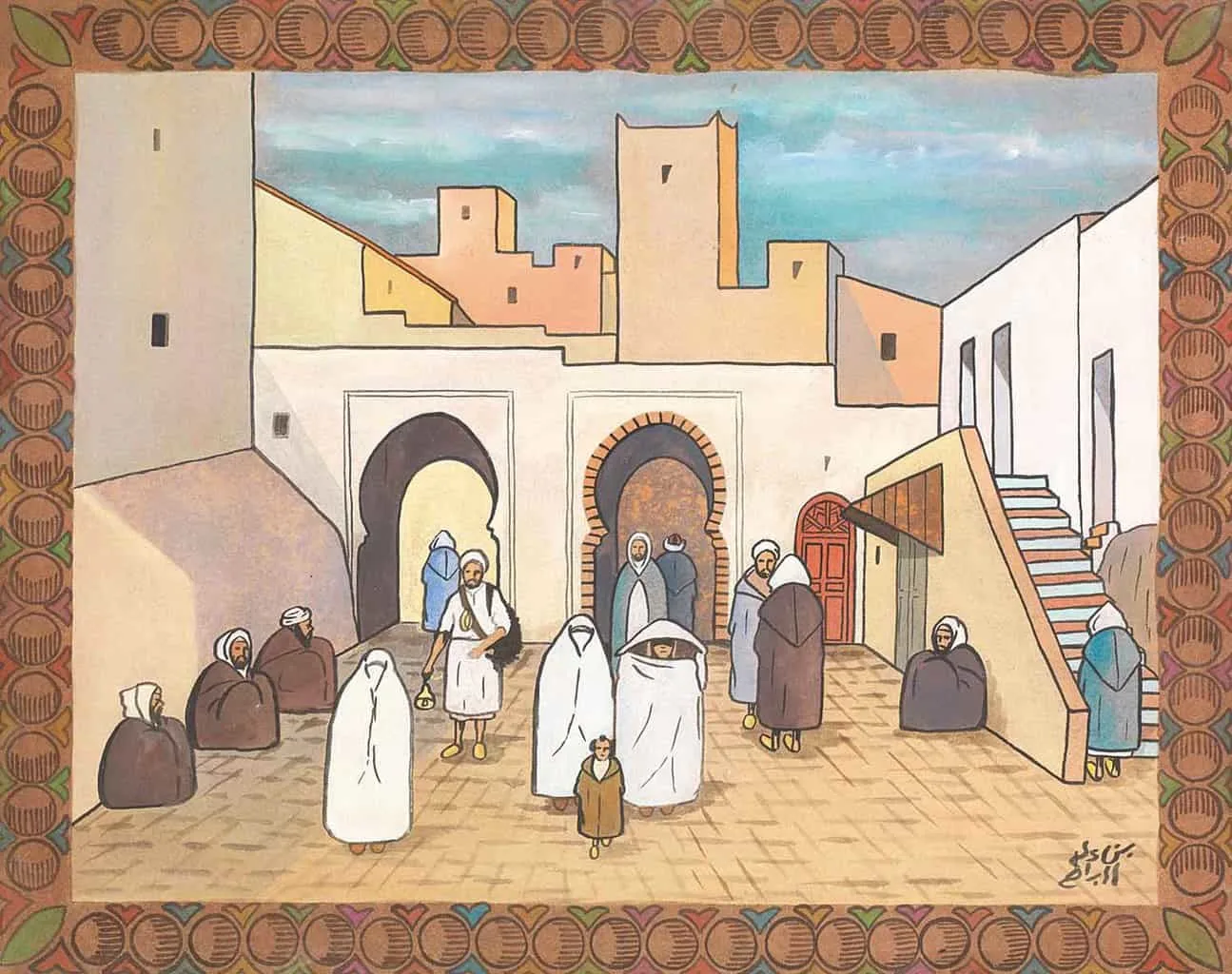 Mohamed Mrabet
Mrabet is best known for his work with Paul Bowles who translated many of his stories and later writing his own material. His early stories translated in English were a departure from anything else coming out of Morocco as they were true translations of stories that hadn't been orientalized or changed for an anglo-audience. He also is an artist. Born in 1936 he lives near Tangier, Morocco. To this day he holds exhibits of his work.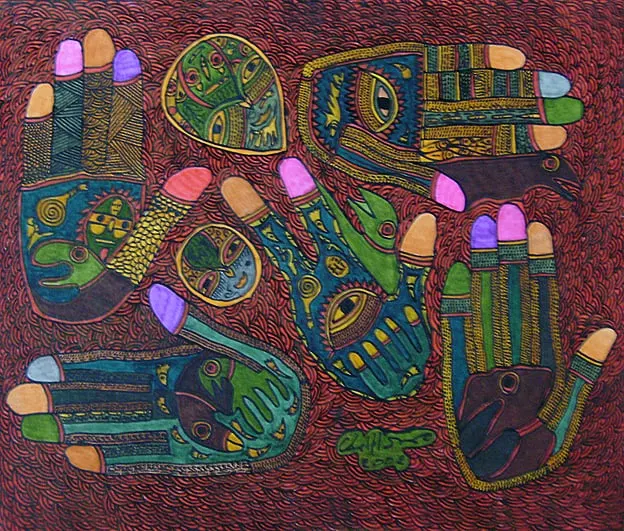 Zakaria Ramhani
Moroccan contemporary art is pushing the line between old and new, and what is and isn't acceptable. The work of Ramhani represents one artist doing just this. Ramhani's work mixes the art of calligraphy with artwork and often times portraiture. His work is controversial, especially pieces related to politics. At just 30 years old he has won many awards and held exhibitions across the world.
Want to make your own Moroccan art?
If you're inspired by these artists, why not make your own Moroccan inspired artwork? Some project ideas;
cut out or purchase geometric shapes to arrange into a pattern similar to Moroccan tiles. Learn about traditional Moroccan patterns with the help of this great resource from Crayola.
Create a piece of art using the style of cubism (like Matisse) be inspired by your local environment!
Like Mohamed Mrabet, take a large image (like a hand) and fill it with smaller images. Zentangles are a great example of this technique!
Use the written word to create a picture. Like the style of pointillism (a repetition of dots and dashes) repeat single letters or words to create an image. The more spaced out the letters are the lighter an area, create depth but putting them closer together.
Use modeling clay and make your own ceramics (or models of ceramics!)
Do you have a favorite Moroccan artist or Moroccan art element?