I love this mint cornstarch playdough because it reminds me so much of mint tea. Mint tea is the "national" drink of Morocco and this playdough was inspired by this beloved Moroccan drink.
We love playing with playdough in our house as it promotes fine motor skills, imagination and strengthens little hands. It's also in the spirit of the Moroccan arts and crafts tradition that runs so strong.
This is an easy play dough recipe that uses cornstarch instead of flour, which is great for children who may be sensitive to gluten or wheat.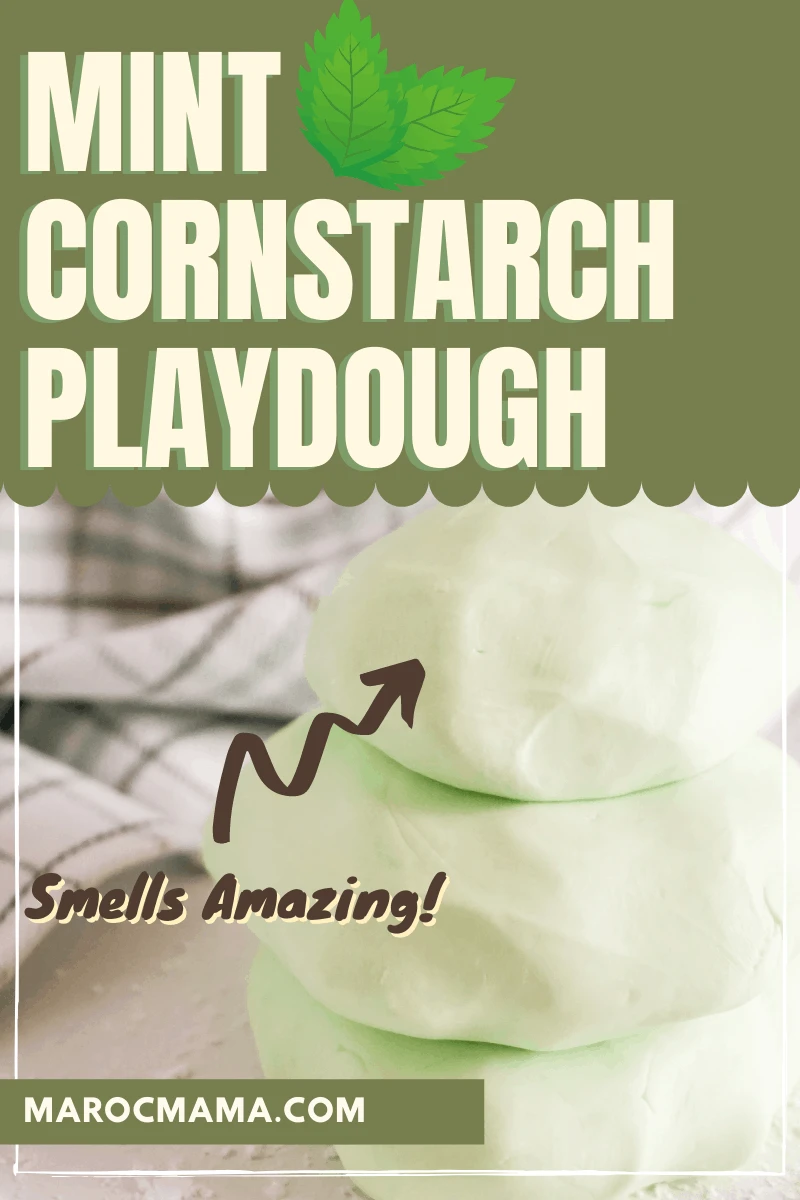 Supplies
To make this homemade playdough you will need cornstarch, mint extract, mint-scented conditioner and light green gel food coloring. Here are the exact measurements that I used:
2 cups Cornstarch
1 tsp Mint Extract
1 ½ cups of Mint-Scented Conditioner
5-6 drops Light Green Gel Food Coloring
You will need a bowl to mix the ingredients in and a spoon to mix with.
Instructions to Make Mint Cornstarch Playdough
Add 1 cup of the conditioner to the mixing bowl (reserve the rest for step 4)
Then add the cornstarch, mint extract and food coloring to the conditioner.
Use a spoon to stir the ingredients together. The mixture should be a little dry. Continue to mix until everything is consistent and well-incorporated.
Slowly add one (1) tablespoon of conditioner at a time until you reach the desired consistency. Mix well with each tablespoon you add.
Notes:
Remember you want the playdough to be moldable but you do not want it to get too soft or wet. If you add too much conditioner, try adding a tablespoon or two of cornstarch slowly to get a perfect consistency. It really is that simple.
Now, this playdough should not be given to a child who is still experimenting with their mouths. If your child still puts things in their mouth, make this taste-friendly playdough recipe instead. It is non-toxic and safe if your toddler or preschooler tries to eat it, but it shouldn't be eaten in large quantities.
This playdough came together so easily and quickly is one of my go to playdough recipes. It is so soft and luscious you might find yourself wanting to play with even once the kids have moved on to a new activity.
5 Fun Ways to Play with the Playdough
Now that you have made the playdough, here are some fun ideas to play with it with your children.
1- Use This Cool DIY Playdough Kit
If you just want your child to explore the playdough and use it as an open-ended toy, try using this DIY Playdough Kit, I have the instructions over there to make it yourself.
The idea of a playdough kit is that it has a lot of different items your child can use to help them strengthen their imagination.
Open-ended play, such as allowing your child to play and experiment with playdough is a great way to build their imagination. Playdough and small toys help your child strengthen their fine motor skills.
So this activity is a winner all around for your child's development.
2- Use the Playdough with Educational Playdough Mats
Printable playdough mats with things like letters, numbers, shapes, and even pictures to complete are educational as well as entertaining.
Your child can use the playdough to roll long snakes and push them into the shapes of the numbers and letters.
A little playdough knife can help them cut extra pieces off and encourage fine motor skills and life skills of using a knife (even a playdough knife) safely and effectively.
3- Try Making Sculptures
Imitating art is a great way to introduce art to a young child. Looking at sculptures and letting your child try their hand at making their own sculptures is a fun afternoon activity.
If you give your child some reference images to look at, or maybe even an object to sculpt, it will help them to pick out details as they try to recreate the piece.
It doesn't matter if their final product looks anything like what they were modeling it after.
Praise your child for making art and ask them open-ended questions about how they enjoyed the process and did they think it was easy or hard.
Remind them that they made art just like the artists you studied earlier.
4- More Fine Motor Practice
Another fun activity you can do with your homemade cornstarch playdough is to put dry spaghetti into a big mound of playdough. It will look like a porcupine with spikes sticking up everywhere.
Next, give your child some cereal like Cheerios or Fruit Loops that can be put on the spaghetti like beads on a necklace.
For added learning, a colored cereal like Fruit Loops can allow your child to practice their colors and also start learning how to make patterns.
5- Make a Marble Maze
Playdough is the easiest way to make a marble maze for small children.
If you want to do this just roll the playdough out in a long snake then use it to make paths on a piece of cardboard or even the table where your child can roll a marble or ball through it.
By making the maze your child will practice planning and problem-solving skills. The problem-solving skill will be practiced a lot in this activity because sometimes plans do not turn out as we expected them to.
This Mint Playdough is the easiest cornstarch playdough recipe I've ever made. And it lends itself to hours of fun learning and play.
If you are looking to learn more about Morocco with your preschooler or toddler, I suggest you try my preschool pack all about Morocco.
An extensive collection of kid-friendly Moroccan recipes are included in it, as well as a guide to host a fun Moroccan tea party. As you explore Morocco with the preschool pack, you will also find ISpy games, a color book of information about Morocco, and a movie night guide to learn together as a family.