I decided to make this play dough kit not just with a Moroccan theme but that it could also double as a desert theme. So often I see Moroccan themed activities that are really very stereotypical and not representative of the country or culture so my aim was to make something fun and engaging while not doing that. Because let's face it Aladdin has nothing to do with Morocco!
What is a play dough kit?
It's a very simple idea but one that has so many opportunities. Play dough is a fun activity for kids of all ages but a play dough kit takes it up a notch. Instead of just playing with the standard toys, making a kit gives you lots of opportunities to introduce other items and let your children be even more creative with their play.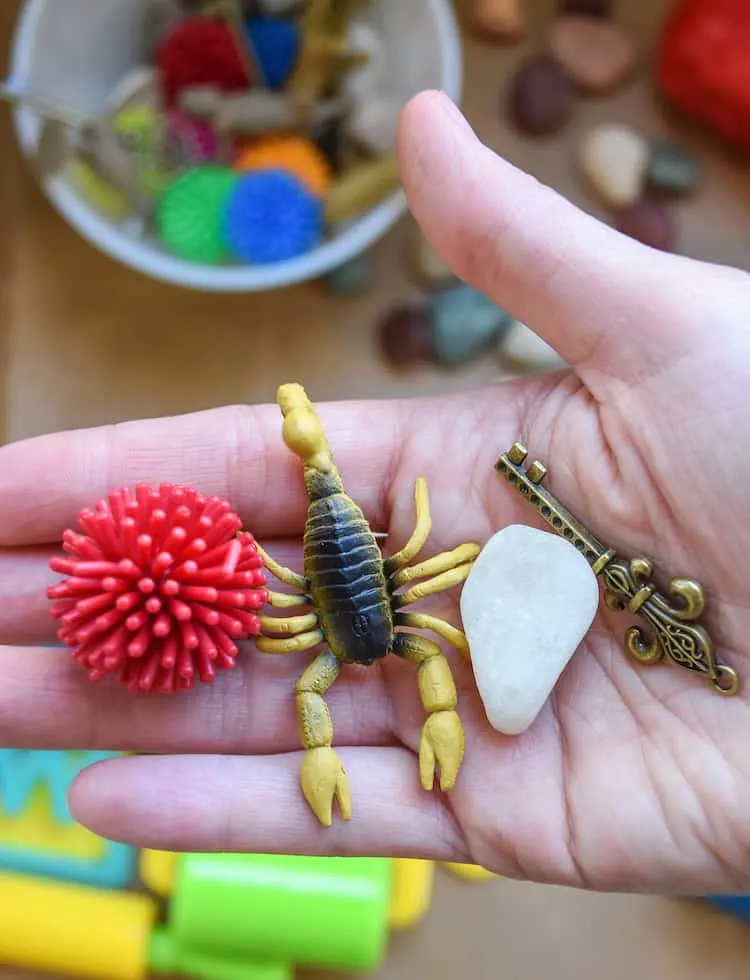 How do I make a play dough kit?
There are a few components to play dough kits. First of course is your theme. Other items to include;
The box itself. It doesn't have to be a box, you can use a tray or fruit and vegetable platter – whatever you have on hand will work. I've even used different size boxes. The idea behind this is to have something to divide up the play items.
The play dough. You can use store bought dough or you can make your own.
The add-on items. These can be things like small figurines, glitter, popsicle sticks, plastic buttons, acorns – seriously ANYTHING! Having a theme helps make this a little easier and guide play a little but really just having a mixture of shapes, colors and textures is what you're going for.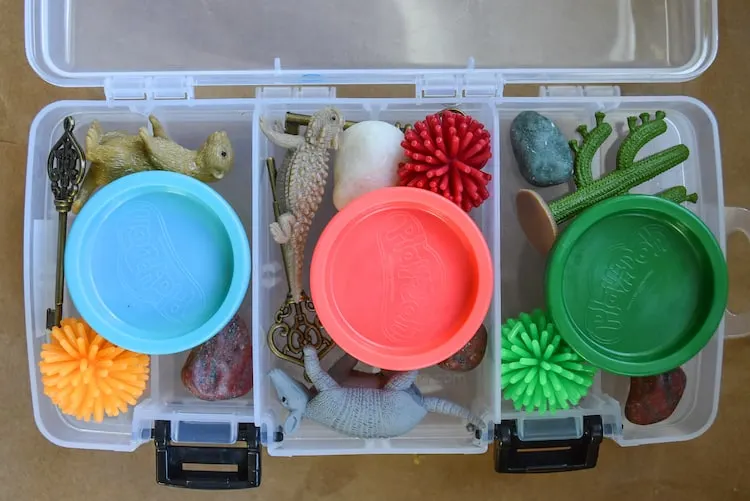 What ages are these kits good for?
I think that as soon as a child starts to exhibit interest in play dough it's a great time to give it a shot! My two year old likes to play with a very simple version of a kit like this. My niece who is 3 LOVED playing with hers. What's nice is that you can really adjust these based on the ages of the kids as well as what they like.
When I created this example I tried to keep it in mind for a child who was between 3 and 6. That doesn't mean older kids won't like it, nor younger kids couldn't play (perhaps with a bit more supervision). You'll want to tailor the items you do include so that they are safe for the age of the child you're giving them to.
Moroccan Theme Desert Play Dough Kit
Let's get started!
For this box I'm using a desert theme and giving you the option of making your own play dough or choosing the store bought version. Below I'm listing the items that I put inside mine and then I'll add some extra suggestions for items you could add if you wanted.
I tried two different sizes for these kits with the idea that they would make great gifts. Both worked well while obviously the large size holds a lot more. The important thing is you want them to seal well especially if you're using homemade playdough or it will dry out. You may want to consider keeping homemade dough separately when it's not being played with so it doesn't dry out.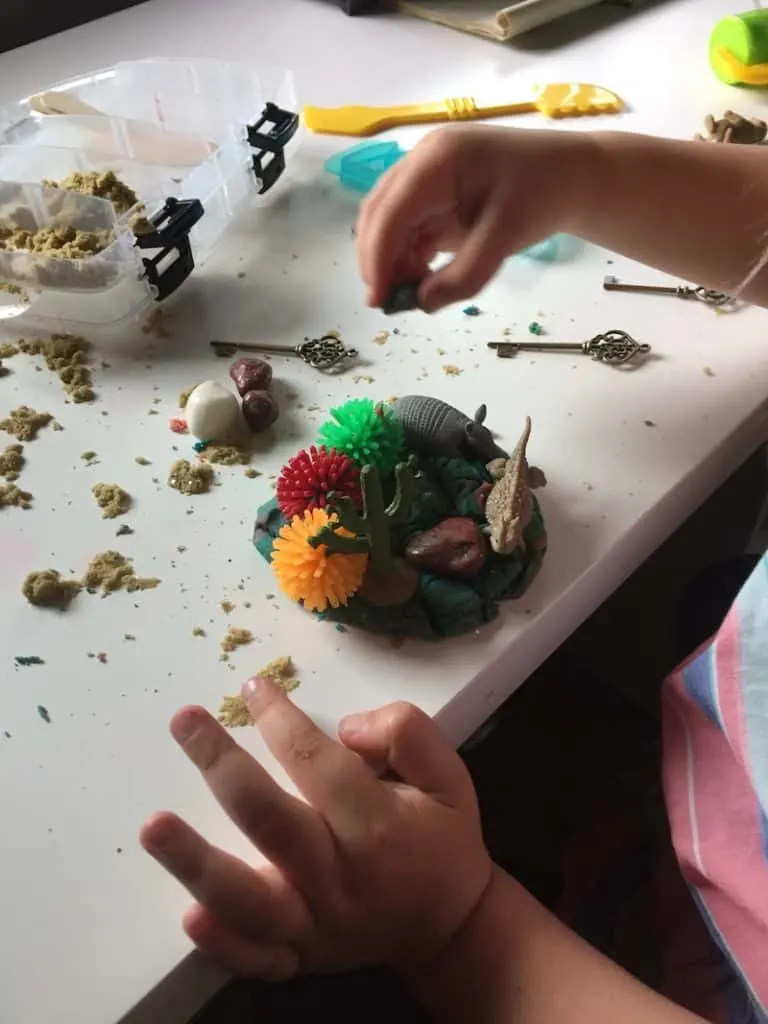 Other items you could include in addition or instead;
There's no shortage of options for your boxes. I would recommend adjusting what you include based on the age of the child playing with the box so that all of the contents are safe. For older kids you may want to include tools or items that they can use to build more advanced play scenarios with.