Playdough is probably the most universal toy of childhood. This Moroccan inspired Orange Frosting Playdough is edible and easy to make. It also smells amazing.
I thought the lemon playdough we made a while back was the best smelling playdough ever, but this playdough I think beats it. But then the mint play dough we made was so relaxing and fun to play with. I just love making these aromatic playdoughs. It adds another level of enjoyment with this playdough.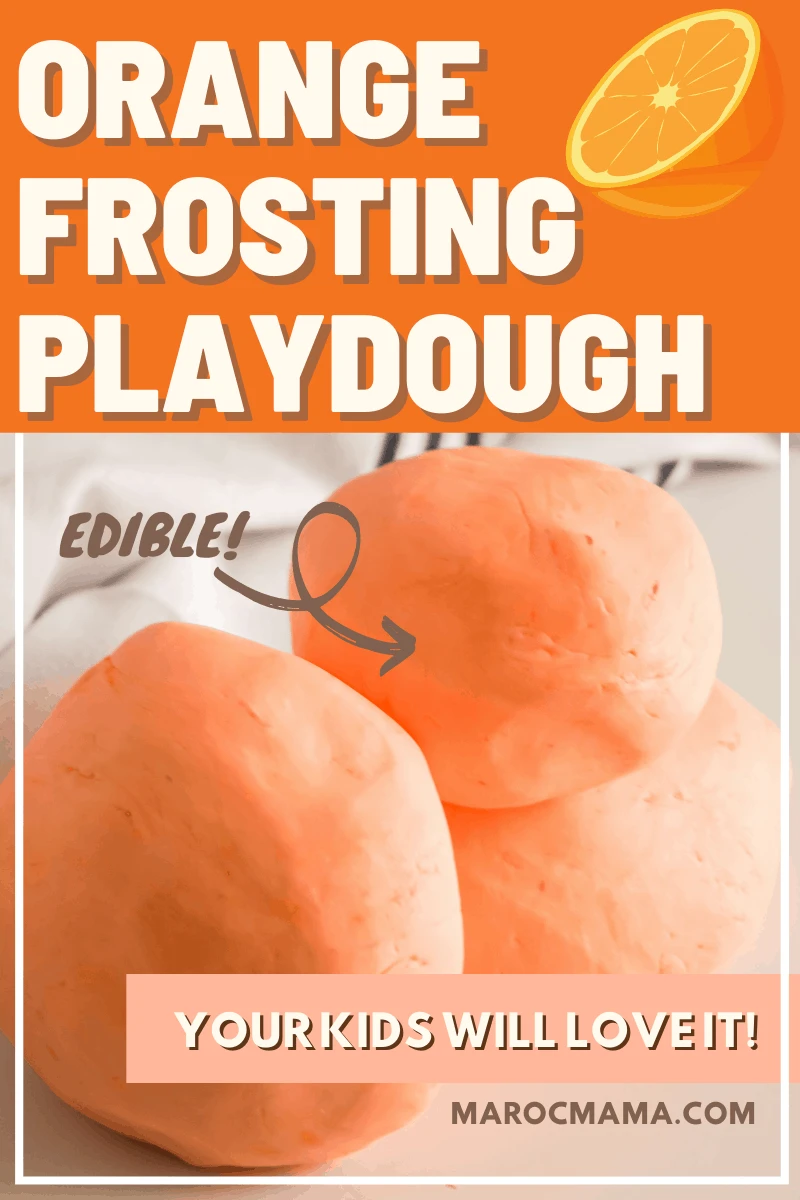 How is This Edible Frosting Playdough Moroccan Inspired?
In Morocco, there are orange trees everywhere. Like the mint playdough, the scent of these just makes me feel like I am right there in Marrakech.
If you have ever seen a photo of Marrakech, you have likely seen all the orange trees that fill the city. The smell of oranges permeates everywhere and is so tropical and light.
Unfortunately, those oranges are not really edible. But they smell so strong and amazing that even the scent of oranges transports me right there.
This soft and smooth orange playdough smells like being right there.
What you will need to make Orange Frosting Playdough
This playdough is some of the easiest homemade playdough I have ever made. The basic ingredients are one can of vanilla frosting and 4 cups of powdered sugar. It also requires no cooking, which means your children can be involved in all the parts of making this playdough.
In fact, if they are old enough they may be able to make it themselves.
And I know you are thinking "Frosting and sugar? That has to be the stickiest mess ever!" But when it's finished it is not sticky at all just soft and silky.
Supplies
1 16 oz Can Vanilla Frosting (This is the standard size of a can of frosting)
1 tsp Orange Extract
4 cups Powdered Sugar (sometimes called confectioners sugar)
4-5 drops Yellow Gel Food Coloring
2-3 drops Red Gel Food Coloring
Note: Make sure you are using a gel food coloring because a liquid food coloring is going to make the playdough too wet. If you only have liquid food coloring you may need to add a tablespoon or two of powdered sugar to make the consistency right. You may also want to have a little extra powdered sugar on hand in case your mixture is too wet.
Tools
Make sure the bowl you use is a large mixing bowl that you have plenty of room to blend and mix without spilling the powdered sugar. I suggest a wooden spoon or rubber spatula to mix with because it will be easier to clean up and will give you the stiffness you need to mix with.
Instructions for Orange Edible Frosting Playdough
Step One: Add all of the powdered sugar to a bowl with ½ of the frosting. Add orange extract and food coloring
Save the other half half of the frosting for the rest of the recipe.
In your bowl should be all 4 cups of powdered sugar, half of the can of frosting, 1 tsp of orange extract, 4-5 drops of yellow food coloring and 2-3 drops of the red food coloring.
Definitely put the powdered sugar in first to keep the frosting from sticking to the bowl.
Step 2: Use a spoon , Stir the contents of the bowl together. The mixture should be crumbly but well incorporated.
Stir with a spoon as long as you can but you may need to get your hands in there to incorporate all of it. Don't worry if it looks really crumbly, we just want it all mixed together as best as you can.
Step 3: Add ⅓ of the can of frosting to the mixture and combine using your hands. At this point the mixture will be quite sticky but well incorporated.
At this point your frosting playdough should be getting a better consistency and you are going to have to use your hands to mix it up well.
Just keep kneading your playdough in your hands and it will get softer and more put together.
Step 4: Add more frosting until you reach the desired consistency.
If your playdough is still too crumbly, start adding small amounts of the frosting to your mixture until the playdough is soft and silky and stays together when molded.
Once it looks like this you are done and it's ready to play with. Enjoy.
How Long will Edible Playdough Last?
To keep your edible playdough, once you are finished playing with it, store it in an airtight container, a ziplock bag, or plastic wrap.
Your playdough should stay good for 3 or 4 days but is possible that it could last longer than that.
When you take it out to play again, it may be a little bit stiff. To fix this, just add a few drops of water and knead the dough in your hands. It should go right back to being moldable, soft and luscious.
And it is edible, so if your child decides to eat it while playing with it, that's alright. And who could blame them this stuff smells delicious. However, it is a lot of sugar, so I wouldn't recommend eating too much of it. It might give them a tummy ache.
Looking for More Learning Activities
First go check out my DIY playdough kits, because they will be playing with playdough all afternoon. Adding small toys and items to cut and mold the playdough assists with fine motor skill, hand strength and will encourage your child to play longer with the playdough. Keeping a few different playdough kits on hand is a fun way to mix up your playdough time.
If this has sparked an interest to learn more about the beautiful country of Morocco, check out my Morocco Preschool Learning Pack. It is an exciting and fun way to learn more about Morocco.
This pack has fun and educational coloring pages, games and flashcards, a guide to hosting a Moroccan Tea Party, kid-friendly cookbook and a movie night guide. Have a Morocco movie night and try out all the kid-approved Moroccan snacks and food in the kid-friendly cookbook. It will almost transport you right to Morocco!