Are you looking for a fun and easy craft project for your kids at home or for a birthday party activity? Look no further! These cactus string art not only are a fun and easy project but did I mention they are also a virtually no mess craft?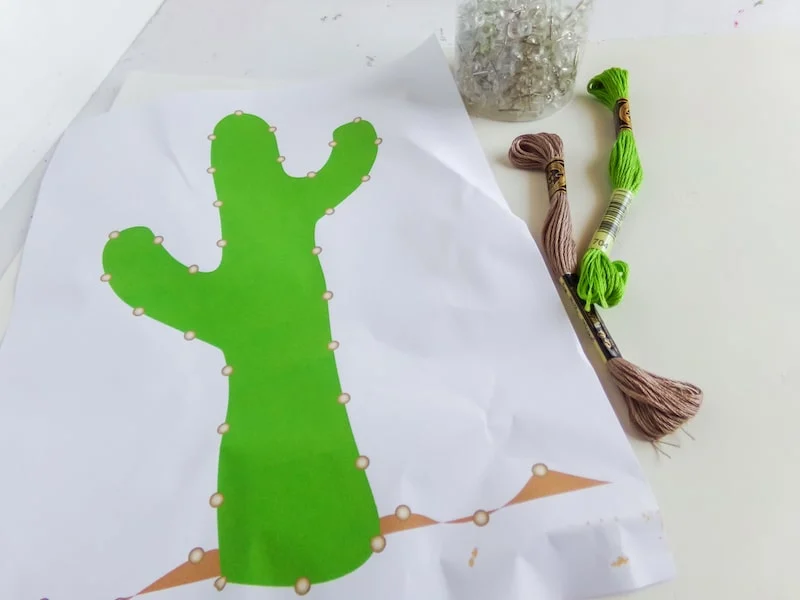 SIMPLE are the kinds of crafts I can get behind because I am not into elaborate messy projects. Trust me over the years I've tried! String art is perfect for parents like me who want to try something fun with their kids but prefer the clean types.
I chose the cactus design because it reminds me of Morocco. But I also have a template for creating a khamsa string art project as well. Make them alone or together – your choice.
One other bonus of this project is that you don't need a lot of supplies. I chose the colors for the threads however you can make them whatever colors you like. In the end it's totally up to you how your project turns out.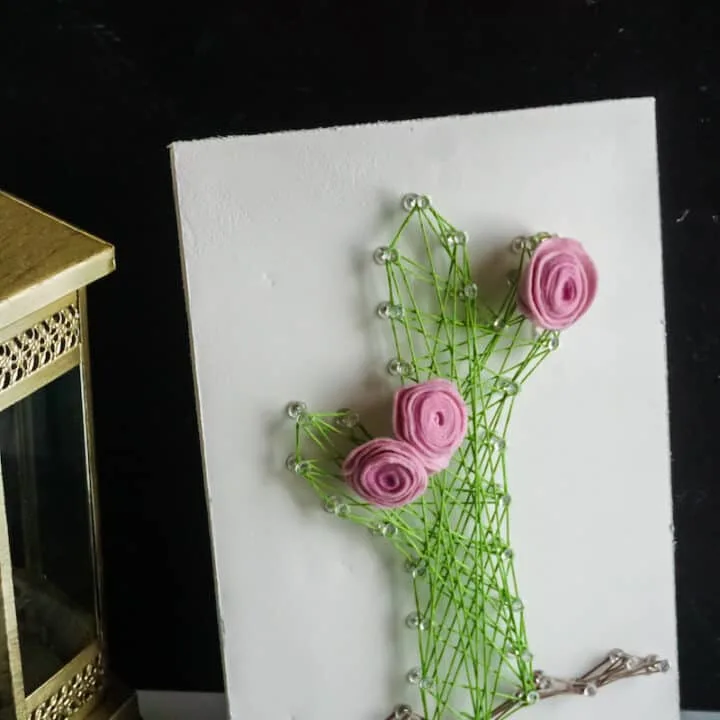 Yield:

1
Cactus String Art
Materials
Supplies
2 Pieces 9x12 (or larger) Foam Core Board
Pushpins
Light green embroidery thread
Light brown embroidery thread
Rolled Felt Flowers or Paper Flowers
Tools
Printable Cactus Template
Painter's Tape
Scissors
Instructions
Glue the two pieces of foam core board together. I did not do this at first and learned my lesson. The doubling of the board provides enough thickness that the pushpins won't stick out the backside.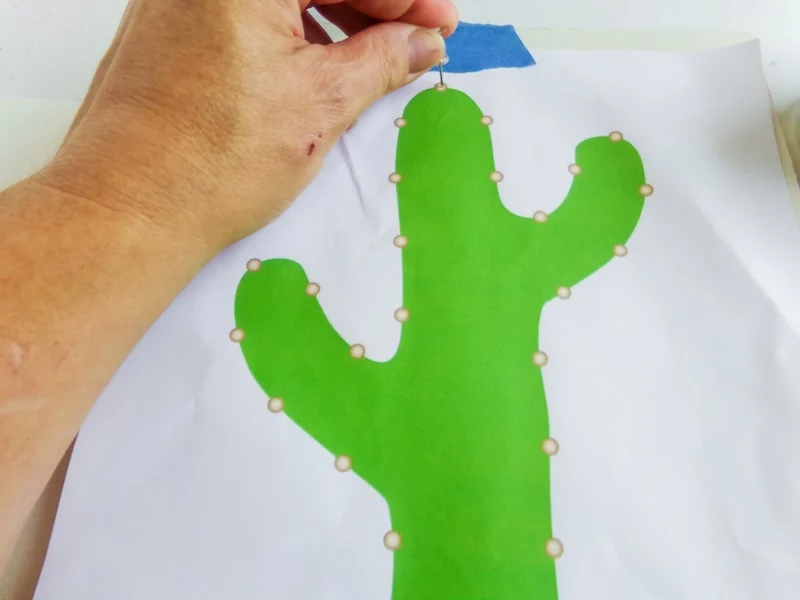 Tape the cactus template to the front of the foam core board piece.
Stick the pushpins in the designated spots on the template, pressing them into the foam core board firmly so they won't fall out. If your child would prefer to add more pushpins than we did, that is certainly allowed, the template just has the minimum required to get the cactus shape.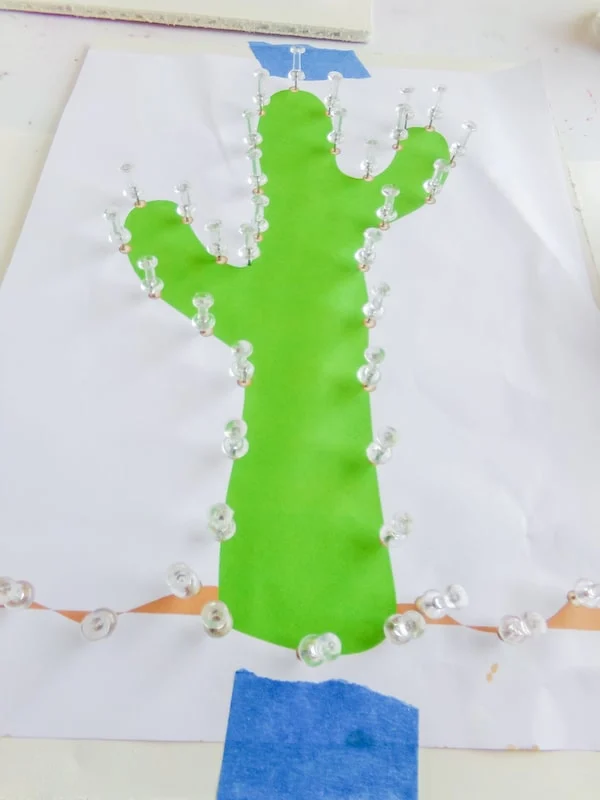 Gently pull the cactus template off the foam core board and pull out any hangers-on pieces of paper.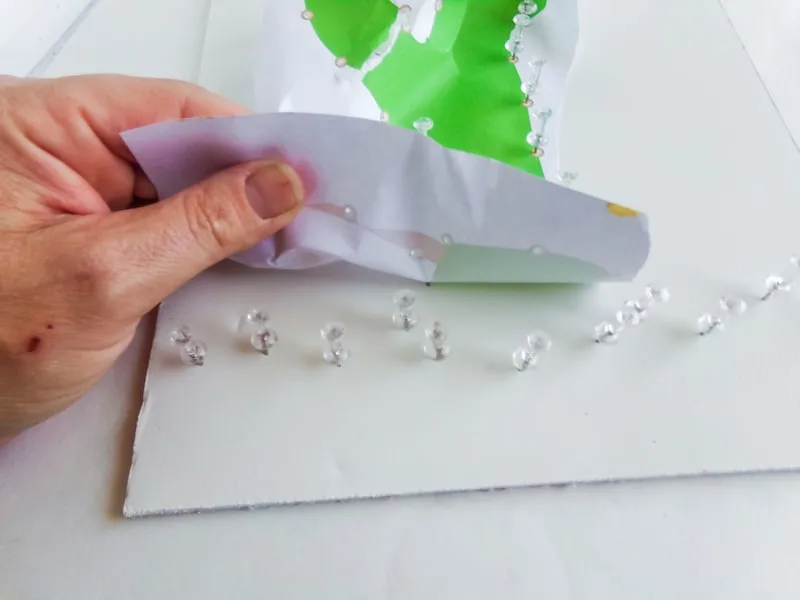 Tie one end of the light brown embroidery thread to one of the pushpins on the board in the background desert line on the bottom.
Wrap the thread around each of the pins in order to outline the entire shape.
When your child reaches the end pushpin, tie off the loose thread end and trim.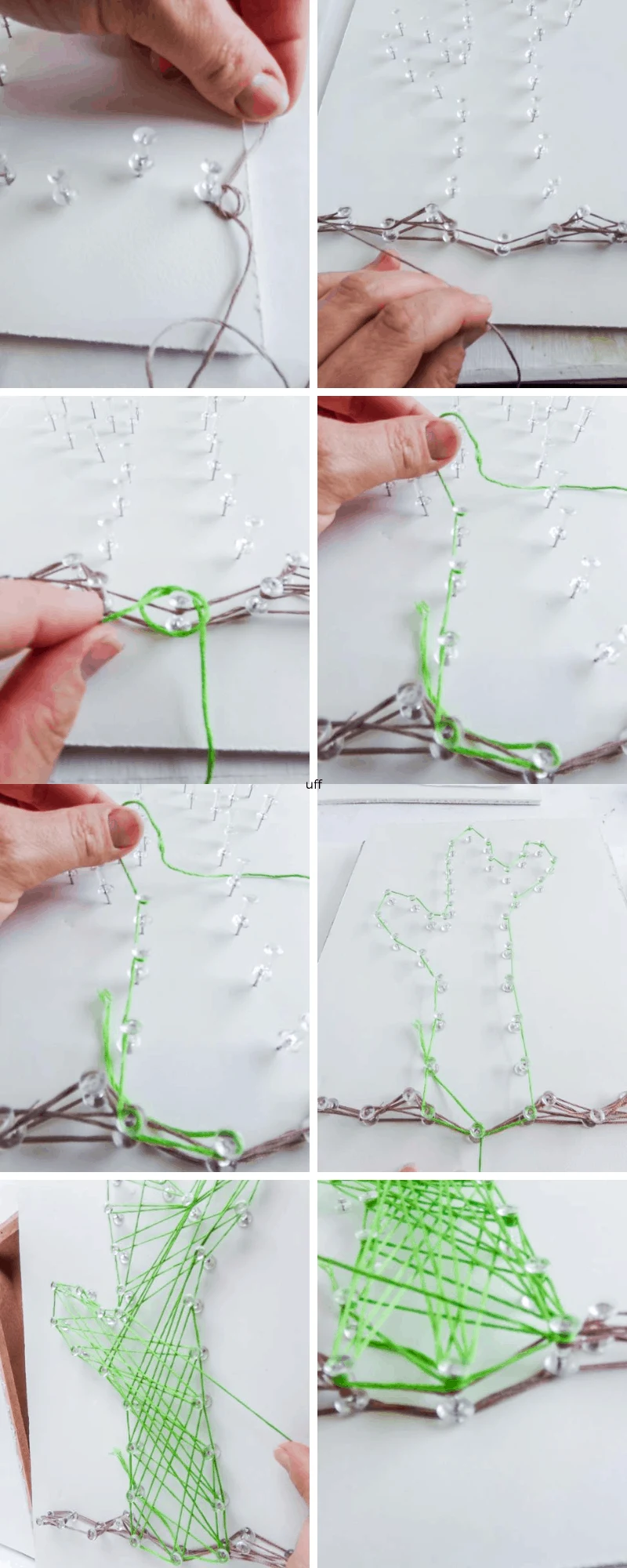 Tie one end of the light green embroidery thread to a pushpin on the board on the cactus shape.
Wrap the thread around the pushpins in as random a pattern as possible, sometimes crossing over the cactus, sometimes going side-to-side. There is no right or wrong with string art.
When your child has added enough string in their estimation, tie off the thread on a pushpin and trim the length.
Glue your flowers in place, as desired.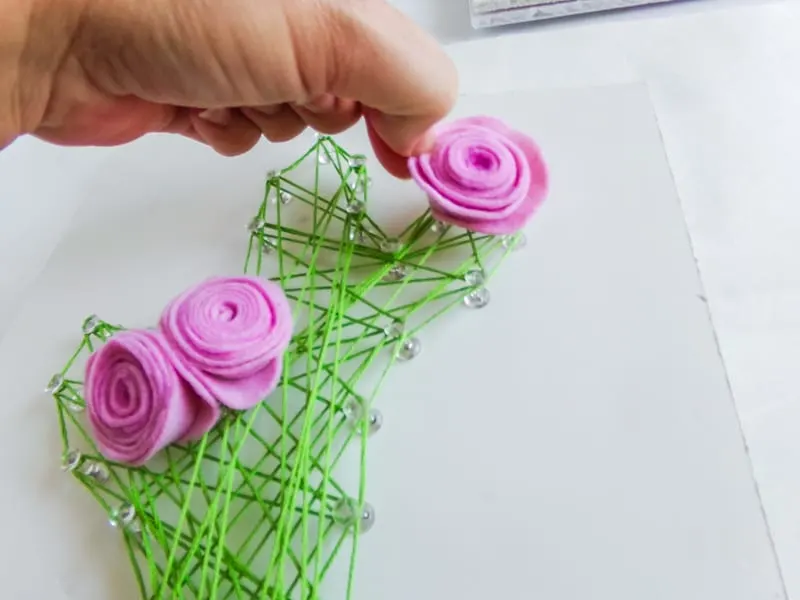 Then enjoy!
Recommended Products
As an Amazon Associate and member of other affiliate programs, I earn from qualifying purchases.
Get the Template for the Cactus When You Sign Up Below