Everyone talks about the great reasons to move overseas however not as many people talk about the reasons you shouldn't move. Of course, any hurdle can be overcome but if you don't consider some of the negative reasons you may find yourself in a difficult or uncomfortable situation down the road.
None of the below reasons mean you should never move or they are reasons to take a life overseas off your list but are meant to give you additional things to think about.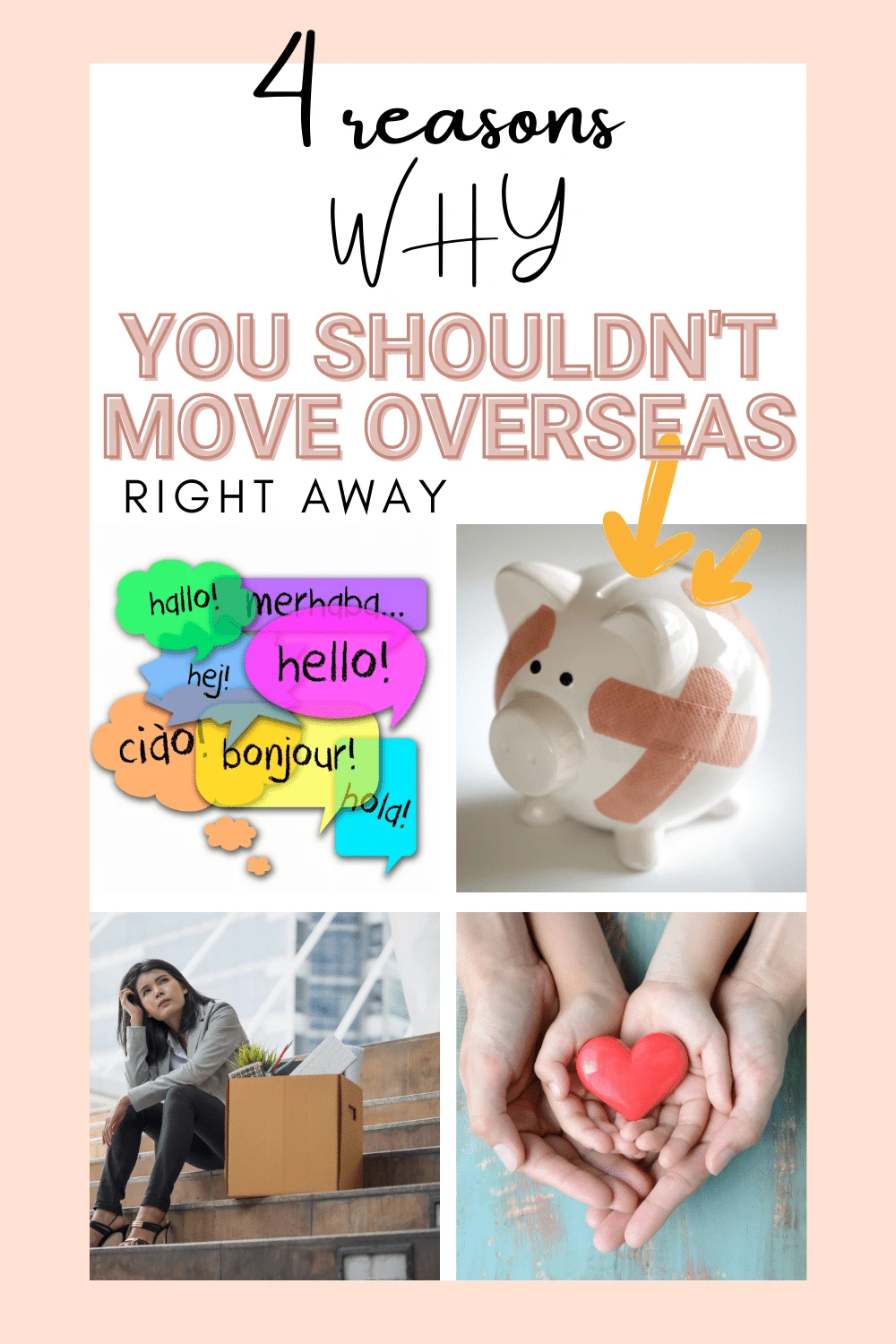 You Don't Have a Job
One main reason why you shouldn't move to another country is if you do not have a job already lined up for you when you arrive.
Some people can be fortunate enough that their company will allow them to move abroad and simply work in an international office or work from home. If this is not you then you should consider how easy it will be for you to get a job once you move.
You shouldn't move abroad if you have not already thought this through. Have a look online for job postings in your area of expertise in your desired country. If there will be a lot of job opportunities for you then it may be worth your time applying before you move, or at least enquiring as to how easy it would be for you to be hired by a company there.
If you have enough savings in the bank to cover yourself for a while whilst you look for a job then this will, of course, give you a bit of leeway. If your finances are such that you can move without the need to work then even better. But always consider your own living expenses and financial situation before taking the plunge and moving abroad.
No savings or backup finances
Moving to another country can be a very costly affair. Not only will you need to spend money on plane or train tickets, luggage allowances and a taxi at the other end but there will be a lot of expenses very quickly.
You will need to buy new furniture, pay rent (typically with a few month's rent upfront), register with the relevant authorities (which can mean hiring a lawyer) etc. All of these expenses will need to be paid at roughly the same time and are certainly not cheap.
So, unless you have enough money saved in the bank to accommodate all of these major expenses then it not a good idea to move to another country. You will want to make the transition as smooth as possible, so the more money that you have put aside for these the better.
You're in A Brand New Relationship
Many people meet someone new and move into the phase of relocation shortly after. While this is a personal decision, in general if it's your only reason for moving overseas, it's a bad idea. It also can be a dangerous idea. There is a lot of potential to be in a situation where you are completely dependent on your new partner as well as become isolated in the new country.
Instead of moving immediately, make plans to visit a few times and see what it is like to live in the new place. You want to feel completely comfortable before making any big moves and be totally prepared for what that move means.
You have relatives who rely on you
This is a very personal reason not to move to another country. If you have relatives of any age who rely on you and need stability then perhaps moving to another country is not the best idea.
For example, if you have elderly parents who are in care homes then you may feel a significant amount of guilt about moving so far away from them. Similarly, they may feel lonely and abandoned. Of course you have to make the decision that is best for you but this responsibility can weigh heavily on people.
One More Consideration: You Have Special Medical Needs
This doesn't automatically disqualify you from making an international move but it does require additional research and considerations. You may not be able to find the care that you need, or even the medications you need in some instances.
If you have a child with special needs, then you should also consider how a move will impact them. Can they get the care and attention that they need in the new country? If you (or they) cannot then it is a very good reason not to move abroad.