If there's one question we hear a lot it's whether or not we feel like it was a good idea to move to Morocco for our kids to learn Arabic. The answer is so subjective that I never feel right answering. What works for us might not work for you. While we're happy our kids are learning Arabic and French it does come at the expense of their English skills.
We purposely put them in private Moroccan school because we wanted them to learn Arabic and French fast. Plus, why move half way across the world and put them into an American school? It just doesn't make sense! While I know every situation will be different, I overwhelmingly believe that yes, you should move overseas if you want your child or you, yourself to learn a second language.
Today people learn Arabic for all kinds of reasons: work, family, religion and even travel. And what could be more interesting than learning Arabic in an Arabic-speaking country? Morocco offers a host of language institutes that not only provide excellent teaching staff but also let you complement your studies with cultural programs and fun tours to explore the local culture and Morocco's incredible sights.
In this post I cover mostly resources for adults to learn Arabic. If you want to know about schooling options for children read my post on Schools Around the World: Morocco where I go over our experience with Moroccan elementary schools.
Why?
As one of the most spoken languages in the world and one of the United Nation's six official languages, reasons for studying Arabic abound. But if you need some convincing, take a look at just some of them below:
Arabic is the fifth most spoken native language in the world. It is the official language of more than 20 countries and there are well over 300 million native speakers of the language.
Arabic is the liturgical language of Islam. In addition to the millions of native speakers, many more millions know Arabic as a foreign language because it's the language of the Quran.
There is a high demand and low supply of Arabic speakers in the Western world. With the growing importance of the Middle East in international affairs, there is a high demand for Arabic speakers in the Western world but few have ventured to learn the language. This offers you many employment opportunities in journalism, translation, international law, teaching, research and other areas. This was a BIG reason we wanted our kids to learn Arabic. As US citizens with a US passport speaking both English and Arabic fluently there are hundreds of opportunities available to them in the future.
Learning Arabic makes you more marketable in the academic world. If you're looking to apply to a graduate or postgraduate degree in Religious Studies, Linguistics, Middle East Studies, International Studies or other related fields, knowing Arabic can give you the upper hand and make you stand out among other potential candidates.
Learning Arabic will open you up to a whole new world. The Arab civilization has made astounding contributions to the world in areas including algebra, medicine, geometry, philosophy and poetry. Learning Arabic will help introduce you to a rich civilization that is unfortunately sometimes misrepresented and oversimplified in the mainstream media.
You will be fully immersed in the culture. Studying Arabic in an Arabic-speaking country such as Morocco will help you become fully immersed in Arabic language and culture. You can practice what you learn on a daily basis plus explore this fascinating country.
How?
So now you know you want to study Arabic in Morocco but you are not sure how to start planning for it. Here are some things you can think about to figure out exactly how you want to immerse yourself in the intriguing world of Arabic language:
Choose exactly what you want to study. There are essentially two types of Arabic taught in Morocco: Modern Standard Arabic (MSA) and Colloquial Moroccan Arabic or Darija. MSA is the standardized and literary variety of Arabic used in writing and most formal speech across the Middle East, North Africa and Horn of Africa. It is also one of the six official languages of the United Nations but it is not spoken in daily life. Darija, is a spoken variety of Arabic used in Morocco and intelligible to some extent among other North Africans but not to every Arabic speaker.
Pick where you want to study. There are language institutes spread across all of Morocco and it's virtually up to you where you decide to study. Whether it's in the bustling medina of Marrakesh, in the intellectual capital of Fez, in the Imperial City of Meknes, or in the cosmopolitan hub of Rabat, the options are almost endless.
Choose your perks. Besides excellent teaching staff and Arabic lessons, many language institutes also offer extras such as free meals, local excursions, tours of Morocco, academic clubs and even help with finding accommodation and learning to live in Morocco. We look over some of these institutes below.
Decide how much you want to spend. Different language institutes offer different fees. From private institutes to public language and cultural centers, each school offers different services and different tuition prices. Ranging from USD $500 to up to USD $9,000, the choice is yours.
Where?
There are numerous language institutes throughout Morocco and many of them offer excellent conditions for learning Arabic while being immersed in the wonderful Moroccan culture. Below, we will take a look at some of the best language institutes in Morocco's main cities.
Center for Language and Culture (Marrakesh): Set in one of Morocco's biggest cities, this language institute offers qualified teaching staff and an intensive immersion into the fascinating world of Arabic language. (My kids also take English classes here!) Courses run year-round, the Center for Language and Culture uses a communicative approach which seeks to get students to communicate as naturally and as early as possible in the learning process. The institute also helps students from beginning to end.
Arabic Language Institute in Fez (ALIF): Established some 30 years ago, ALIF is one of the oldest Arabic schools in Morocco. It offers an 11-level program in MSA ranging from an Introductory Course which focuses on script and pronunciation to the Upper Advanced Level where students can use their advanced MSA skills to explore stylistic aspects of different literary genres. The institute's approach allows student to develop MSA and Darija language skills in reading, writing, speaking, and listening.
Qalam wa Lawh Center for Arabic Studies (Rabat): Located in Morocco's capital, this language institute has a reputation for excellence in providing a comprehensive and intensive MSA and Darija program. With small classes and six- and twelve-week programs available for all levels, they also offer cultural programs, local excursions and academic clubs.
Arabic American Language in Institute in Morocco (Meknes): This private language institute is accredited by the Moroccan Ministry of Education and has US offices in Virginia. It offers all levels of Arabic study throughout the year and, in addition to tuition, fees also include accommodation, two meals per day and cultural excursions.
When?
Many of these language schools offer year-round programs for winter, spring and summer semesters so it is almost always up to you to decide when to come to Morocco to start learning.
The summer semester tends to be the most popular one for these schools as that is when most exchange programs take place. Classes will usually still be somewhat small but large enough for you to be able to engage with a variety of like-minded people who are in a similar situation to yours. However, if you are looking for a more intensive one-on-one experience, the winter and spring semesters are your safest bet for smaller classes and more focused learning.
Scholarships
How am I going to afford this?
Studying abroad is not cheap. There are several universities that have relationships with programs in Morocco to assist students. Often the tuition is about the same as they would pay at home. But if you're not college age anymore and wanting to do this for other reasons how can you do it? (Many of these resources will be targeting US citizens/residents – my apologies ahead of time, but I will add others as I find them).
The Critical Language Scholarship – This program is sponsored by the US State Department to encourage more people to study in-demand languages. Good news – Arabic is one of them!
Boren Awards for International Study – This is an initiative of the National Security Education Program to provide unique funding opportunities for U.S. undergraduate students to study less commonly taught languages in world regions critical to U.S. interests, and underrepresented in study abroad
Benjamin A Gilman International Scholarship – The Gilman Scholarship Program aims to diversify the kinds of students who study and intern abroad and the countries and regions where they go by offering awards to U.S. undergraduates who might otherwise not participate due to financial constraints.
SIT Abroad School for International Training – If you want to get in depth not only with language but the region these programs might be a great fit for you!
Rotary International – offers multiple different scholarships at a local and national level for language study as well as other purposes like peace studies.
Still not sure? You might be surprised to find spending a year in Morocco can be much more affordable than you think and studying in these programs are not nearly as expensive as higher education/training courses in the US or North America. It might not be as cost prohibitive as you think.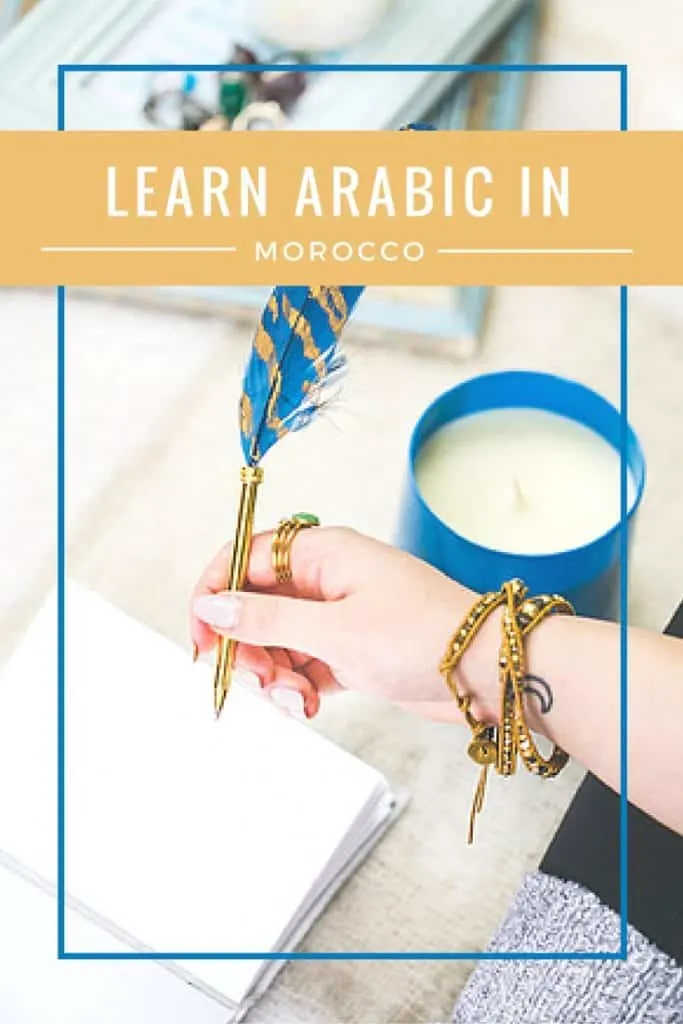 Other Ways to Study Arabic in Morocco
Private Courses and Tutors
In Morocco there are several private courses that you can take. We might refer to this as tutoring in the US. A good course will tailor your needs. I have had both positive and negative experiences in this arrangement. The bad scenario? We had a local woman coming to the house 5 days a week to work with me for 45 minutes. I was clear that I wanted to learn Moroccan Arabic and that was my #1 priority.
She really wanted to teach me classical (fusha) Arabic and Qu'ran recitation. I HATED the time spent with her because she wasn't doing what I had asked. Why was I paying for this and hating every second? I finally told my husband and asked him to help me explain to her several times what I wanted. Needless to say she had her own opinion and after 2 weeks I gave up.
I took another stab at getting some help with Dialect Marrakech. They have a school in Marrakech so I could go take lessons in person however with my busy travel schedule I knew I would end up missing a lot. So I instead opted for one-on-one lessons over Skype. It worked well for me and I felt like Khalid (my teacher) really understood what I needed, worked with me at my level and wanted to see me improve. Plus he speaks great English so could explain anything that wasn't making sense. The good news is they can work with people anywhere in the world so no excuses!
On Your Own
I have a page with some of my own resources for learning Moroccan Arabic on my language resource page. If you prefer a self-study there are a lot of options here. Sadly there's few resources to help you transition into making sentences and complete thoughts. If you're after basic vocabulary these resources will help in a big way. If you're after more it might be a bigger challenge.
The question is how will you choose? Make sure to spend time thinking through your options and also don't be discouraged. Arabic is a difficult language to learn and it takes time. I firmly believe immersion is the best way to learn and there are lots of options to make that happen.