There are numerous flights from the US that transit through Amsterdam. It is a hub for Delta and KLM flights coming from around the world. Amsterdam Schiphol is laid out really well, it's easy to navigate inside the terminal both land and airside. It also has fantastic connections to the city and the rest of the Netherlands just outside the airport doors.
Things to do in the Amsterdam Airport on a Layover
If you have less than about five hours during your layover in Amsterdam, staying in the airport is most likely the safest bet to help you get to your connecting flight in time. Luckily, Schiphol airport has plenty of things to do to pass the time.
If you want to relax during your time, consider getting a Priority Pass membership to access one of the lounges in the airport. There are two lounges that you can access with this service; one in Terminal One and one in Terminal Three.
In these lounges you and your travel companions (additional fee) will gain access to amenities such as WiFi, incredibly comfortable seating, refreshments, tv, newspapers and magazines. You can pay extra for a relaxing shower and remember that smart casual dress if required in the lounges at all times.
One of the best new experiences in Schiphol airport is the new Holland Boulevard. A great way to get a dose of Dutch culture, Holland Boulevard has a collection of 17th century Dutch paintings on loan from the renowned Rijksmuseum and a library that allows travelers to become acquainted with Dutch writers with books available in over 40 languages.
Holland Boulevard has a wonderful, authentic atmosphere- you don't even feel like you're in an airport. Holland Boulevard also features an exhibit from Amsterdam's most famous science museum, Nemo. It's filled with interactive science activities and is great for the young and the young at heart.
Another fun option is taking a tour of the airport. A one hour bus tour called "Schiphol Behind the Scenes" allows travelers to get a look at the behind the scenes action by exploring places such as aircraft hangers, the fire station etc.
Shopping or window shopping is always a sure-fire way to pass the time. Shops at Schipol include well-known brands such as Hermes and Rolex as well as fun shops such as "The House of Tulips" where you can get tulip bulbs for souvenirs. If you're looking at spending a bit of cash but are feeling lucky you can also visit the in-airport casino.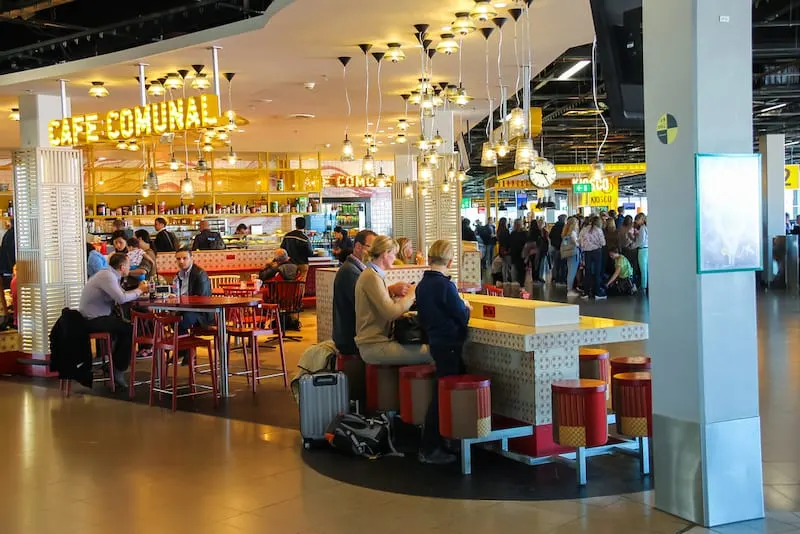 Where to Eat in Amsterdam Airport
Schiphol has a wealth of options when it comes to either dining in or grabbing a quick bite.
Cafe Rembrandt is a great spot that has the vibe of the typical Dutch cafe- a great place to eat if you'll need to stay in the airport during your layover.
A much loved British chain, Leon, serves quick healthier options like kale salads and baked potato fries.
If you're craving Japanese food, Two Tigers is a tasty and quick sushi and ramen bar.
If you're in the mood for a little taste of Amsterdam while in the airport, head over to Tastes from the Lowlands. Everything here is Dutch- snacks, drinks, pastries etc. This is a great place to grab something fun for the plane ride if you're rushing and would like a fun treat for the next leg of your trip.
Wondering what Dutch food you should try out? Brush up with this post that will give you the rundown!
Visit the City of Amsterdam on a Layover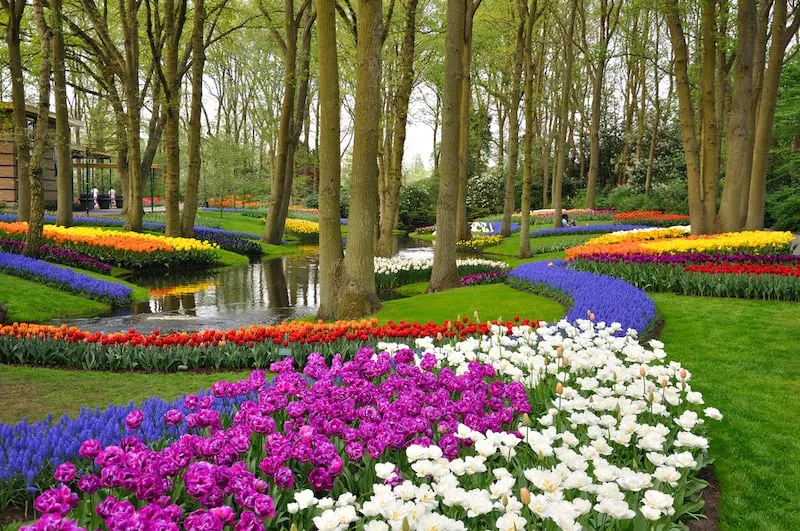 Schipol airport is about 18 kilometers from the downtown area of Amsterdam making it fully possible to enjoy a visit if your layover in Amsterdam is longer than six hours. There are so many options for things to do in this marvelous city during you layover. Unfortunately, the city does not have a stopover program or tour.
You need a transit visa to change planes even if you're not planning on leaving the airport but are exempt from that requirement if have a valid visa for an EU/EEA country, Canada, Japan or the United States of America. Also, you may in fact need a visa if you intend to leave the airport during your layover unless you have an EU member country visa. Visit the Netherlands government website for more information as it can get a bit confusing!
There's a visa advisor available to help you pinpoint exactly what you need for your layover. If you have a passport from the United States of America, you don't need a visa.
First of all, if you're planning on leaving the airport, Schipol does have luggage storage facilities where you can store your luggage while you explore. Consider taking advantage to help your layover to move a little more quickly and be a little more enjoyable. Rates are by the hour.
There are some great tours that run directly from the airport making your layover a time to truly relax instead of dealing with the hustle and bustle of more traveling.
With this 4-8 hour tour, you can customize exactly where you'd like to visit both in Amsterdam and in the Dutch countryside and they'll even pick you up from the airport in a private vehicle.
If you're visiting in the spring time than it's well worth it to consider visiting the Keukenhof Gardens. While it's true this will be very tourist heavy the gardens are beautiful and a good way to spend a layover. There is a bus that runs directly to and from the airport to the gardens. Tickets can be purchased ahead of time online so you don't have to wait at the garden entrance. Grab some sandwiches at the airport before you go and sit in the grass and enjoy a picnic!
With a 30 minute train ride from the airport you can also reach the Hague making a great layover destination. Take a private walking tour of the city! If you consider yourself a foodie, consider taking this 4 hour food tour of the Hague. You'll visit bakeries, pubs and cafes while learning about the Hague's culinary history and sampling local delicacies.
If your layover isn't as long as you'd like but you'd still like to get out into the city, considering joining the Dutch and biking. Take a short 2 hour bike tour of the city. The exercise will feel amazing before you hop back on a plane and you'll get to enjoy Amsterdam in similar to the Dutch.
Another enjoyable and quick tour will take you on an evening cruise of the canals. This hour and a half tour provides the pizza of your choice and a marvelous way to see and enjoy the city.
Amsterdam Layover Hotels
If you're looking for a place to stay the night, these hotels will give you quick and easy access to comfortable overnight accommodations.
Yotel
Located inside the terminal this is a go to option when you need a good nights rest but don't want the hassle of going through security and transiting to a hotel. They offer a "pod" room where you have a single or double bed option. Each room is compact with a bed, shower, and toilet. Perfect for quick stop overs.
CitizenM
This hotel is literal steps from the airport and offers simple, clean rooms that are ideal if you've got a short layover but want to get a good nights rest. Dining is available or you can pop back to the airport/train station next door where there are multiple take away options. You can also book a stay here during the day.
Hilton
Classic Hilton luxury hotel with a spa and luxury amenities. The Hilton is directly connected to the airport via a covered walkway so you don't have to go outside if the weather is bad. They also have day use rooms available if you need some shut eye during daylight hours.
Park Inn
Located a short ride from the airport in a business park you'll find this hotel. Take advantage of the free shuttle bus that runs and drops off to several stops along the way. The hotel does allow for early check in and late check out (when available) for a fee. The rooms are spacious, clean and quiet.