Munich, the capital of Bavaria in Germany, is home to centuries-old buildings, world-class museums, towering fairy tale castles and breath-taking scenery. Munich is an amazing layover to consider on the way to Morocco.
What to do in the Munich Airport
If you're considering a layover in Munich, you may want to think about a Priority Pass. Munich Franz-Josef Strauss has two Priority Pass lounges both in Terminal 1. One of the lounges is for Non-Schengen and transit flights only while the other is strictly for Schengen-area flights. Both feature amenities such as comfortable seating, tv, refreshments, Wifi, and the non-Schengen flight area lounge features showers and conference rooms as well.
Well, here's a first. Munich airport features the world's first airport microbrewery called "Airbräu." Opened in 1999, travelers from all over have been able to experience freshly brewed beer and authentic Bavarian dishes. There are eight different types of beer brewed at Airbräu and prices are quite the bargain: a pint of beer is only 2.75 euros. This micro-brewery is a great way to use your layover in Munich.
Visitors Park is another great way to spend a layover at Munich. Visitor Park is an interactive airport exhibit and adventure playground where families can explore the world of flight as well as watch large jets take off or land on the runway. It is open year-round and is free of charge.
Where to Eat in Munich Airport
Munich is an old world city with up and coming flavor. There are so many great places to dine and get a taste of Bavaria including some truly unique dining experiences.
Il Mondo is a great sit down restaurant offering Italian classics with fantastic views of the runways. 4URBS is good when you're with a group traveling and everyone wants something different as they have regional specials as well as international dishes on the menu.
Dallmayr is a traditional, Old World German specialty-foods emporium. Dallmayr is the oldest delicacy house in Munich and famous for its outstanding coffee varieties and worth visiting in Terminal 2.
For healthier options check out Bistro Organic for wellness drinks and healthy snacks where everything is 100% organic. Foodji is another spot to stop for healthy snacks.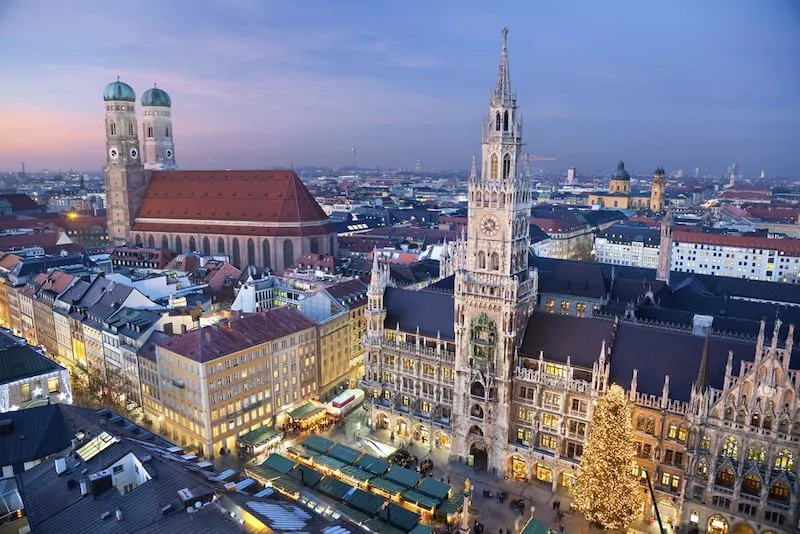 Visiting the city of Munich on a Layover
The airport is about 35 kilometers northeast from the Munich city center, but getting there is fairly simple thanks to quality public transportation. We recommend the train for its speed – and it won't get stuck in any traffic.
Trains depart from both terminals every 10 minutes and connect to the Central Station and Ostbahnhof. Buses and taxis are available, too. If you have luggage, you can store it at the airport at the Left Luggage office for a maximum of three days. A six hour layover should be enough for you to head out and explore the city.
Another easy travel option from Munich Airport to the city center is taking the Lufthansa Express Bus for a quick, non-stop ride there and back. The benefit of this option is that a bus reliably leaves every 15 minutes, 7 days a week. If your flight is unexpectedly delayed or things don't go quite according to plan, your transportation options will still be there.
Hop on buses are a great way as always to see a new city. With this hop on bus tour you can purchase a one or two day ticket and get up to 3 tours and 13 stops.
Once you're downtown, head to Marienplatz, the traditional main square. Iconic sites like the Frauenkirche, the long-running beer hall Hofbrauhaus, and the Kunsthalle (art museum) are within walking distance. Or stroll the streets of Gartnerplatz, the hip neighborhood that feels like artsy Berlin.
If you're interested in some of the fairy-tale castles of Munich, there are several that aren't too far for a long layover. Nymphenburg Palace, Neuschwanstein Castle, Linderhof Palace, Burghausen Castle and Munich Residenz are all glimpses into the stately pomp and extravagance of the old world and worth a trip.
Dachau Memorial Site is a former extermination camp held by the Nazis during the Holocaust in WWII. Consider taking this five hour tour with one of the few guides that are authorized to conduct on-site tours and take the opportunity to learn and reflect on this terrible chapter in history.
For a more general overview, the Munich Old Town Walking Tour is a great option especially if you're traveling in a group as this tour can be scheduled as private. Take a walk, stretch your legs and learn about the history and culture of Munich while seeing the sights.
Dinner Hopping is a restaurant inside of an old school bus if you can believe it. The bus drives around the city and food is served from various restaurants that is "on theme" for the night- Bavarian food, American food, Italian food etc. They even have live acts on the bus! A meal with Dinner Hopping would definitely be a night you'd never forget.
Cafe Luitpold is one of the most traditional and beloved cafes in Munich. It's truly an institution. This elegant cafe is one to some of the most amazing pastries in Munich. It's the perfect setting for a romantic outing if you happen to be traveling with a companion.
A food tour is a great way to sample food in Munich as well as enjoy the ambience of the city. Viktualienmarkt Gourmet Food Tour is a 2 hour tour of the Viktualienmarkt in Munich where travelers can enjoy not just delicious tastes and marvelous smells but learn more about the history of Munich and its people.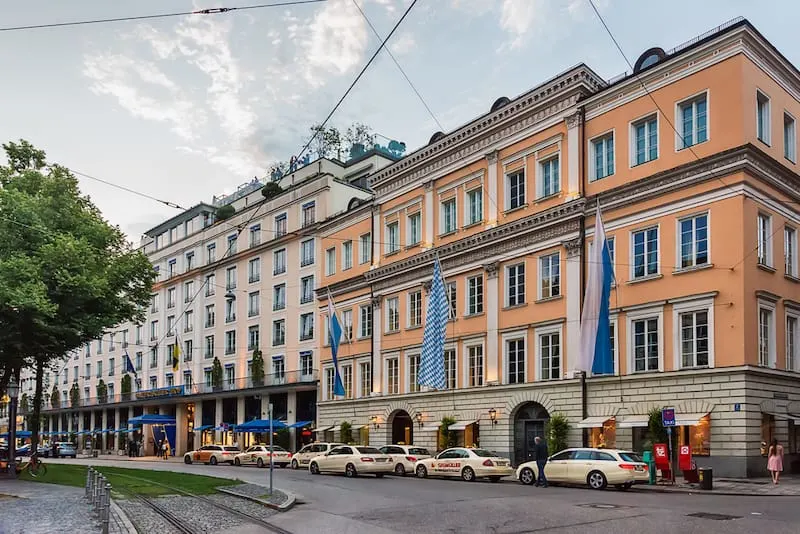 Hotels for an overnight layover in Munich
There are several hotels that are at or very close to the airport if you have an overnight layover in Munich. Try one of these for your stay.