In April of 2019 Istanbul opened their brand new airport. For two days they closed down operations of their old terminal and moved the ENTIRE airport to its new location!
Being the crossroads that Istanbul is there are a lot of flights that are coming and leaving all day and night, which also means there's a lot of layovers. If you happen to have one don't worry. Whether you choose to stay in the airport, or leave there's plenty to do.
One important thing you should know that the new airport is HUGE. It's probably the biggest airport I've ever been in and I've been in a lot. Everything is very spread out and you should plan to spend quite a bit of time just getting from one point to another.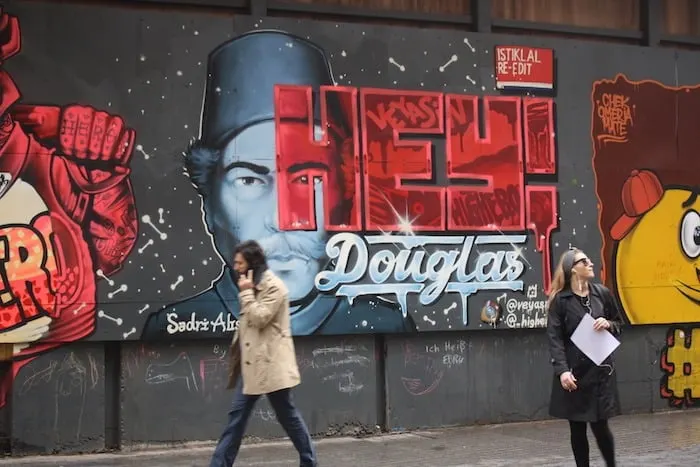 What to do in the Istanbul Airport on a Layover
Airports around the world are investing more in their spaces as more and more travelers take advantage of lower fare deals and families have long layovers. Having a layover in Istanbul Airport is no different. There are many services and amenities found inside the airport such as kid's playrooms, hairdressers, photography services, shoe shiners, news stands, groceries, florists, lounges to relax in and some great restaurant options.
There is a lounge in the airport that you can pay to enter though it is quite pricy. It's open 24 hours so if you have a long layover in the middle of the night, it's not a bad choice to relax. There are some reclining chairs and with an eye mask a nap is possible.
Where to Shop in the Airport
Old Bazaar – If you can't get into Istanbul proper to hit up the bazaars then fulfill your shopping needs here! They have all kinds of lokum (Turkish delight) and baklava as well as other Turkish specialties available for sale. Stock up – the baklava is fresh and really good.
Duty Free – Yes, just like most airports there is a lot of duty free shopping here. You'll find all the standard items for sale with a few Turkish specialties.
In a lot of ways the central area of the airport feels more like a mall than an airport. There are a lot of high end stores but there are also more affordable shops like LC Waikiki. You may not be there to shop but if you forgot something in your bag and only realized it in transit it's an easy way to pick up the items without having to spend your time at your destination trying to track things down.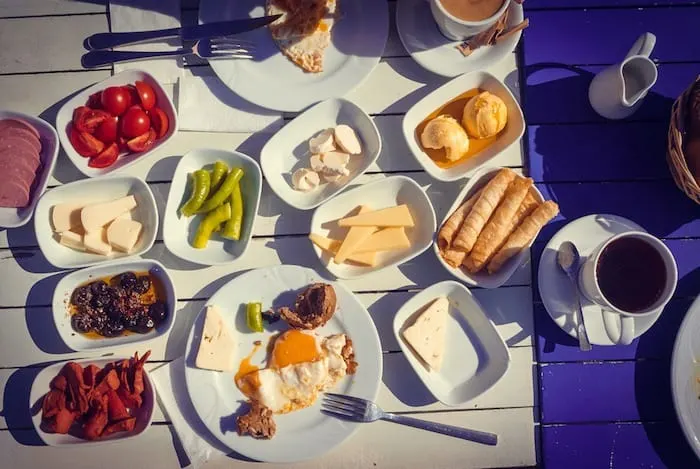 Where to Eat in Istanbul Airport
For gourmets and gourmands on this layover, Mısır Çarşısı, or the Spice Bazaar, is a food shopping experience that will fill your senses! Take the T1 tram to Eminönü and browse around the market to pick up fresh cheeses, spices, Turkish delight, baklava, tea, dried fruits, nuts, and so much more.
If you're looking to stay in the airport, 'Restro, Eat 'n Fly' is a buffet-style international option. You can get Turkish meze such as stuffed grape leaves or a Chinese stir fry. This tends to be a popular option so get there with plenty of time to spare.
Another option is Sky Restaurant. It is the quietest and most relaxing spot to eat in the airport and is also a restaurant with an international menu. Quick tip: the cold basil and melon soup is very popular!
If you're not in the mood for a full meal, why not have dessert? The Authentic Turkish Ice Cream Guy Turkish ice cream might hit the spot. Turkish ice cream has an interesting texture- it's a bit chewy and sticky and even a little stretchy. The ingredient that gives its distinct texture is salep, the ground tubers of wild orchids.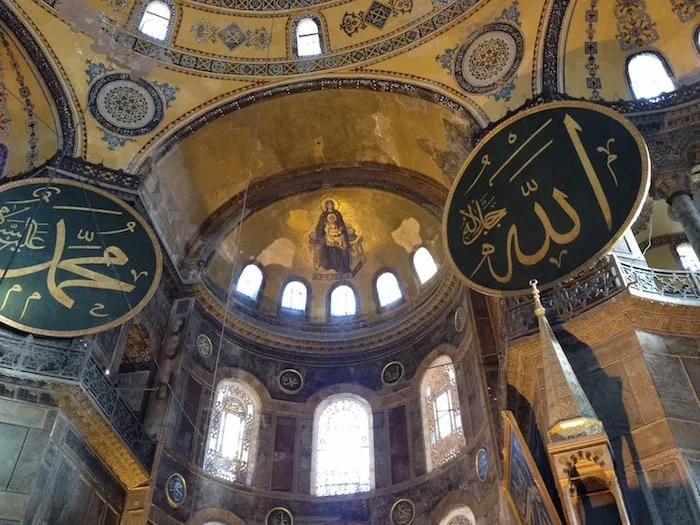 Visit the City of Istanbul
LIke many international airports, you can store your bags inside the airport whether you're staying in the airport or going out at baggage custody services. This service is on the arrivals floor of both the international and domestic terminals.
If you're flying with Turkish Airlines, look into the Turkish Air stopover program. They offer free tours depending on when you land and how long your layover is.
If you want to get out of the airport and head into the downtown area of Istanbul, you can get there via taxi services, hire a car, taking the train that begins in the Esenler Terminal, or the Havas bus service.
Consider booking a private transfer if you want a ride into the city waiting when you arrive.
You can also book a taxi in advance if that's what you prefer.
One of the most popular destinations is Sultanahmet Square where tourists and locals alike can visit some stunning landmarks and see iconic architecture.
The Blue Mosque got its name from the color of the tiles inside and with its many domes and minarets it truly is reminiscent of a traditional Turkish aesthetic and architecture. Right across the street from the Blue Mosque is the Hagia Sophia, one of Istanbul's biggest landmarks.
Hagia Sophia was a Greek Orthodox Christian patriarchal basilica, then it was an imperial mosque, and now it's a famous museum that showcases architecture and art from the Byzantine and Ottoman Empires.
Topkapi Palace was the residence of the Ottoman Sultans from 1465 to 1853. It's a great place for a history buff to learn about the long history of the area. A final jewel of Sultanahmet Square is the Basilica Cistern. It is the largest of several hundred cisterns that are under Istanbul and is a wonderful place to learn more about Istanbul's history and see some real beauty as well.
The Grand Bazaar is an iconic location particularly if you want to do some shopping during your layover. As there are over 4,000 shops at the Bazaar, if you can overcome the sheer vast array of choices and not get decision fatigue chances are you'll find something special to take home.
If you're looking for a traditional Turkish experience, consider visiting a Turkish bath during your layover to relax from the rigors of your travels. Book a massage, soak or go to the steam room. Cemberlitas Bath near the Grand Bazaar is a highly rated option.
Want more insights to Istanbul? I've got a full guide to the city in this post.
Where to Spend the Night on a Layover in Istanbul
Need to catch some sleep?
Because of the 24 hour nature of this airport there is no problem sleeping anywhere and everywhere – and you will see it!
If you want to spend the night in a little more comfort there is a YOTEL in the airport that is the largest one in the world and is most like a regular hotel than any other I've been in. They have rooms for one person and rooms for families with sleeping space for 4. The price is more expensive than any other Yotel I've stayed in but it's also the most like a hotel.
There's also an 85-room hotel inside the airport called International Airport Hotel, which offers great rooms (and showers!) as well as hourly accommodations.
One thing to also keep in mind when considering a hotel in the airport or outside is the time and hassle savings. If you're like me and require a visa to get into Turkey, you won't need to pay for a visa if you stay here.
If you choose to go outside the airport to spend the night and come back, it will take you at least an hour to get to the landslide of the airport. I'd arrive 3 hours ahead of my flight to check in and get through security and get to the gate. Some of the gates can take 20 minutes or more to reach walking.
Outside the airport there are a few nearby options as well.
Park Inn by Radisson Istanbul Ataturk
A 10-15 minute drive from the airport this hotel offers guests a shuttle to get to and from the airport. With just under 100 rooms, several of which are large enough to accommodate families traveling it is a good size. There is breakfast available and an on-site restaurant as the area surrounding the hotel and airport is still in development phase.
Istanbul Airport Durusu Club Hotel
This hotel looks a bit more like a resort than what you'd expect from a hotel. It's located in a park setting with walking trails and a swimming pool – great for relaxing in between flights. Airport shuttle services are available.