I'm still young enough that the generation I grew up in isn't retro yet. While one of my grandmothers cooked a lot, she made meals that would be considered more ethnic fare. There wasn't a single recipe I could remember from my childhood that would count as retro!
As I scratched my head I thought of devil's food cake. For whatever reason, it sounds and feels like a thing of the past. I asked my mom to look through my great grandma's recipe box to unearth a recipe for this.
No luck.
The next stop was several small, old cookbooks I acquired at a thrift store. One of them happened to be the book in the picture above. There were two devil's food cake recipes, one I had the ingredients for, the other I didn't. I'm sure it's pretty obvious which I chose.
It's called "Devil's Food Cake De Luxe". It's deluxe for sure.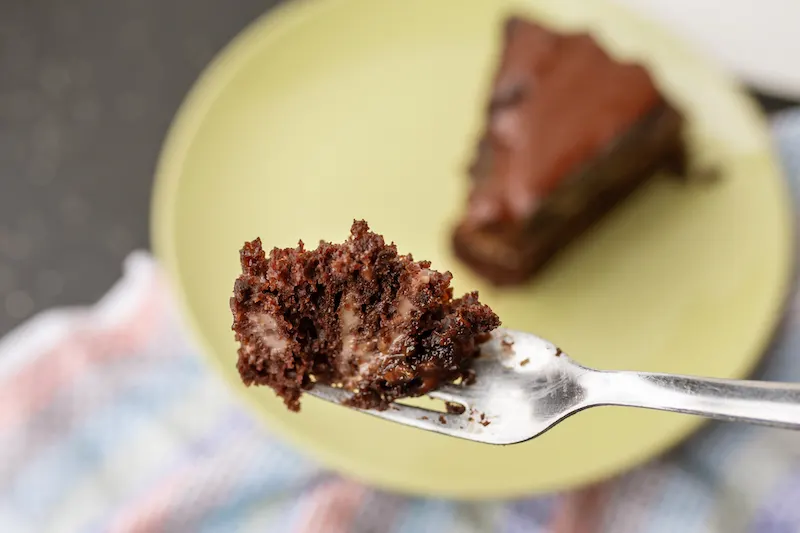 What is devil's food cake?
MarocBaba asked what the difference between devil's food cake and chocolate cake was. I didn't know. I always assumed devil's food cake was a richer cake. But consulting a few different sources there seems to be no consensus as to the definition.
Some possibilities are;
a moist, airy, rich chocolate layer cake similar to yellow or white angel food cake.
a cake that is more moist than the traditional chocolate cake that uses cocoa and coffee.
different from a chocolate cake because it uses baking soda, incorporates butter, and uses less egg.
a cake similar to red velvet cake, possibly incorporating beets (as a carrot cake incorporates carrots) and makes the color "devil red".
What I do know:
layer cake
chocolate
moist
filling between the layers
Yum!
I knew I would never get away with making a cake that had gluten. MarocBaba would be devastated. So I'm giving you this recipe with gluten-free flour.
If you're making this with regular flour use 2 1/4 cups sifted cake flour in place of the gluten-free flours. Don't be intimidated by the list of ingredients or the multiple steps. It's worth the time to make each of the components from scratch but you could use store-bought frosting and cream if you're short on time.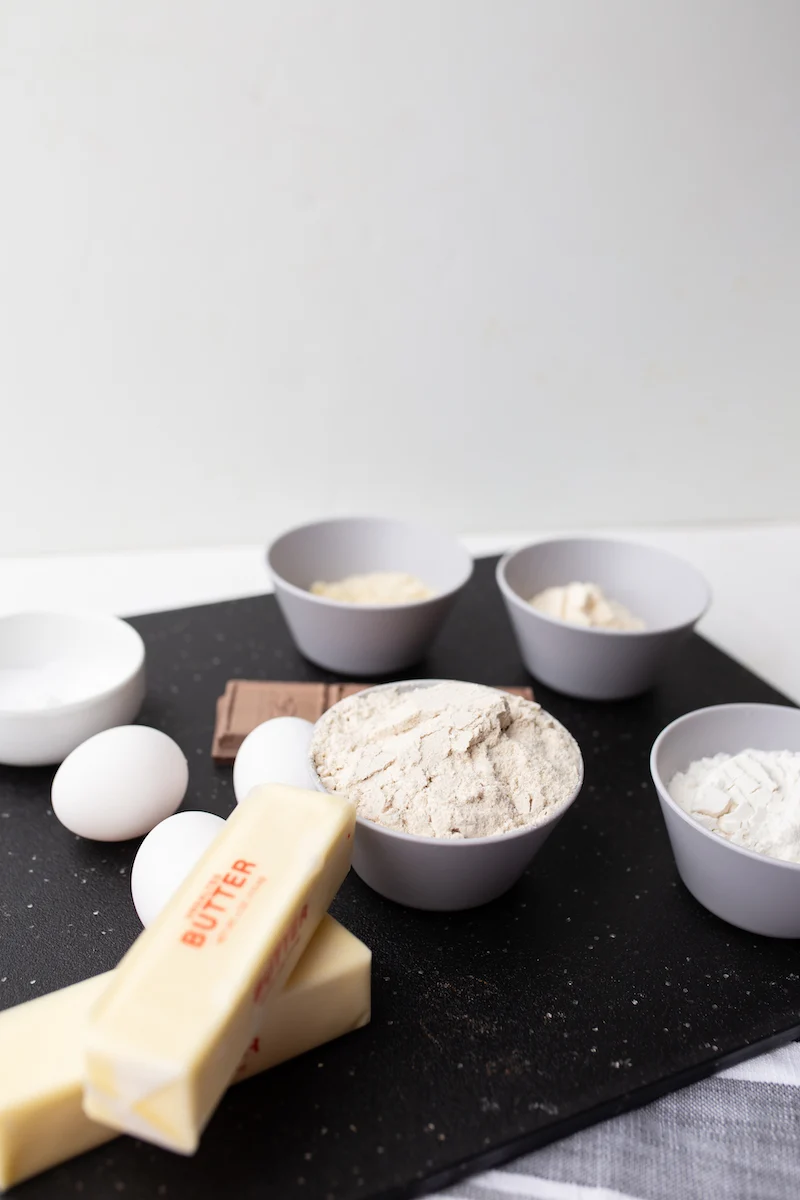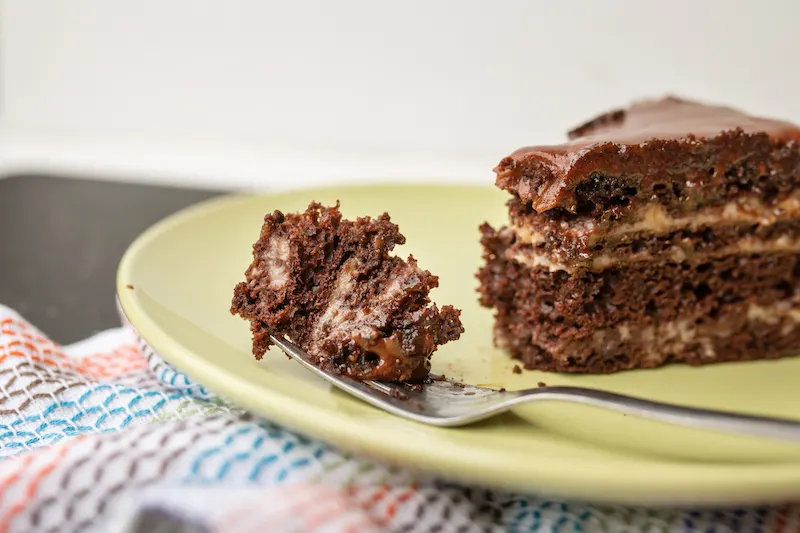 Yield:

8-12 pieces
Gluten Free Devil's Food Cake
Cooling Time:
2 hours
40 minutes
Total Time:
3 hours
40 minutes
A retro recipe adapted for a gluten free diet. This cake is delicious and a great sweet for anyone that is gluten free.
Ingredients
Cake Ingredients
2/3 cup sweet white rice flour
1/4 cup almond flour
1 cup sorghum flour
1/4 cup coconut flour
1 tsp baking soda
1 1/2 tsp baking powder
1 tsp salt
2/3 cup butter
1 1/2 cups firmly packed brown sugar
2 tsp vanilla extract
3 eggs, beaten
3/4 cup buttermilk
3/4 cup boiling water
3 squares (3 oz) unsweetened chocolate
Filling Ingredients
1/2 cup sugar
3 tbsp cornstarch
1/4 tsp salt
2 egg yolks
2 cups milk, scalded
2 Tbsp butter
1 tsp vanilla
Frosting Ingredients
2 cups sugar
3 Tbsp corn syrup
3 squares unsweetened chocolate
1/2 cup milk
1 tsp vanilla extract
2 Tbsp butter
Instructions
Preparing the Cake
Preheat your oven to 350F.
In a small bowl combine the water and chocolate, stir until thick and set aside.
In another bowl, sift together all of the flours, baking soda, baking powder, and salt.
In a stand mixer cream together the butter, sugar, and vanilla until creamy and smooth.
Add the eggs and continue to beat until fluffy.
Slowly add the melted chocolate, stirring to blend well.
Next, add the sifted dry ingredients and buttermilk. Alternate between adding a portion of each, blending the mixture after adding each item.
Spray two 8″ round pans with baking cooking spray or butter and dust each with flour.
Pour equal amounts into each of the pans.
Bake for 35-40 minutes.
Making the Cream Filling
Scald the milk before putting all of the ingredients together.
Combine the sugar, cornstarch and salt very well.
Add egg yolks and beat well.
Add a little bit of the milk (it will still be warm) slowly, mix and then, transfer the sugar and egg mix into the remaining milk.
Whisk, whisk. whisk!
Pour the mixture into a pan, turn the stovetop to medium heat and continually whisk.
The mixture will thicken.
Add butter, cool, and then mix in the vanilla.
Cool the cream before adding it to the cake.
Chocolate Fudge Frosting
Cook sugar, corn syrup, chocolate, and milk, stirring constantly, until it reaches 232F or a small amount of the syrup forms a very soft ball when dropped into cold water.
Remove from the heat – add vanilla and butter.
Cool to lukewarm.
Beat in a stand mixer or mixer until creamy.
Assembling the Cake
Once cool, cut each of the cake rounds in half horizontally.
Place one round on the bottom of a large cake plate.
Top with 1/3 of the cream filling.
Add the next round on top of the first.
Continue until the cake is assembled.
Frost the top and sides of the cake with the fudge frosting.
Serve in small slices. This cake is very rich and a little will go a long way.
Store in a sealed container in the refrigerator.