It might seem simple but one of my favorite things is a good sandwich. One fo my earliest food memories is of my mom cutting my white bread sandwich into squares or triangles and using a pretzel stick as a "toothpick" to pick them up. So I thought up this twist on the classic monte cristo and making it a great quince fruit recipe too.
I've seen a few different versions of this recipe that use jam or cranberry sauce but I thought why not quince jam? It's got a tangy and sweet mix that works well. The jam I used had chunks of quince in it and I chose to not use those – my kids can sometimes get weird about that, so I just picked around them.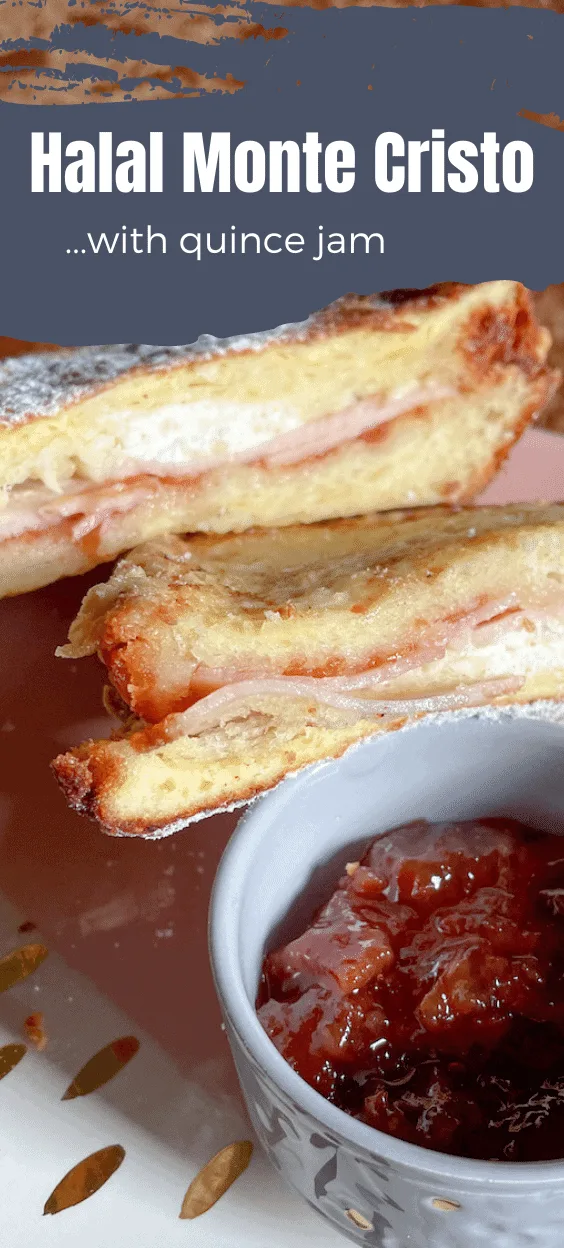 What is a monte cristo?
The monte cristo is an Americanized version of the French croque monsieur. While the croque monsieur became popular around 1910 in France, the monte cristo appeared in American cookbooks around 1930.
Depending on where you are in the US, the sandwich is prepared and served different ways. I opted for the most decadent version – dipped in egg and fried.
If you're a fellow sandwich lover you should make it a point to try these sandwiches!
Yield:

2 sandwiches
Turkey and Quince Monte Cristo
Dress up those grilled cheese with this American-ized version of the French classic croque monsieur sandwich.
Ingredients
4 slices of brioche bread
4-6 slices of sliced turkey breast
2-4 slices of cheese like swiss or gouda
1/4 cup quince jam (approximate)
1/2 cup flour
2 eggs
1/4 cup milk
3 Tbsp vegetable oil
1 Tbsp butter
toothpicks (optional)
powdered sugar (optional)
Instructions
Slice your bread into thick slices and top with 2-3 pieces of turkey, 1-2 slices of cheese and slather one side (or both!) with quince jam.
In a skillet heat the oil and butter on low heat.
Place the flour on a plate or bowl large enough to fit the sandwich.
In another bowl mix the eggs and milk and whisk well.
You can use a few toothpicks on the outer corners of the bread to keep it together - this is totally optional.
Dip the bread in the egg mixture on both sides and then in the flour mixture to coat it completely.
Then, place the sandwich into the oil/butter and leave for 2-3 minutes until browned. Flip and repeat on the other side.
Remove from the oil and place onto a plate lined with paper towels to take off any excess oil.
Allow sandwich to cool for approximately 5 minutes and then dust with powdered sugar for an added flavor contrast.
The sandwich can be served with extra jam if desired.
Notes
This recipe makes two sandwiches. Feel free to double or triple if you need to make more!
Recommended Products
As an Amazon Associate and member of other affiliate programs, I earn from qualifying purchases.