This year has been really strange. From the obvious global pandemic, our business being completely upended, homeschooling my kids and just about every other imaginable thing happening it's been a doozy. I'm writing this post in mid-November 2020 and I know to many people things feel very uncertain.
Myself included.
We usually spend every summer in the United States and realized around May that there was no way that was happening this year. In Morocco we had a full lockdown until nearly August. This means we didn't leave the house for 109 days. My kids were heartbroken that they wouldn't be able to see their grandparents or any other family for another year but it wasn't even logistically possible as international flights were grounded.
Trust me I even considered the very expensive repatriation flights but the reality was, we were here, we were safe, and this is our home now. The last thing we wanted to do was upend our lives even more when we had no idea what the future would bring. We knew at that time we could get out but no idea when or how we could come home.
As school time came around we had to make a decision about what we would do. Our oldest son wanted to homeschool and we decided for him this would be fine (you can read more about how we're doing that in this post about homeschooling high school in Morocco). Our middle son wasn't quite ready for that move however we decided to move him to a smaller Waldorf-inspired French school just outside the city.
We really had no idea if schools would open, how long they would stay open or what would happen so we rolled with. Our oldest son had been begging since early summer to go to the US and stay with my grandpa who lives alone on 40 acres of land in the forests of Upper Michigan – 20 minutes from the closest town. We decided that this was ok for him and for us. The issue just was when we'd be able to let him go.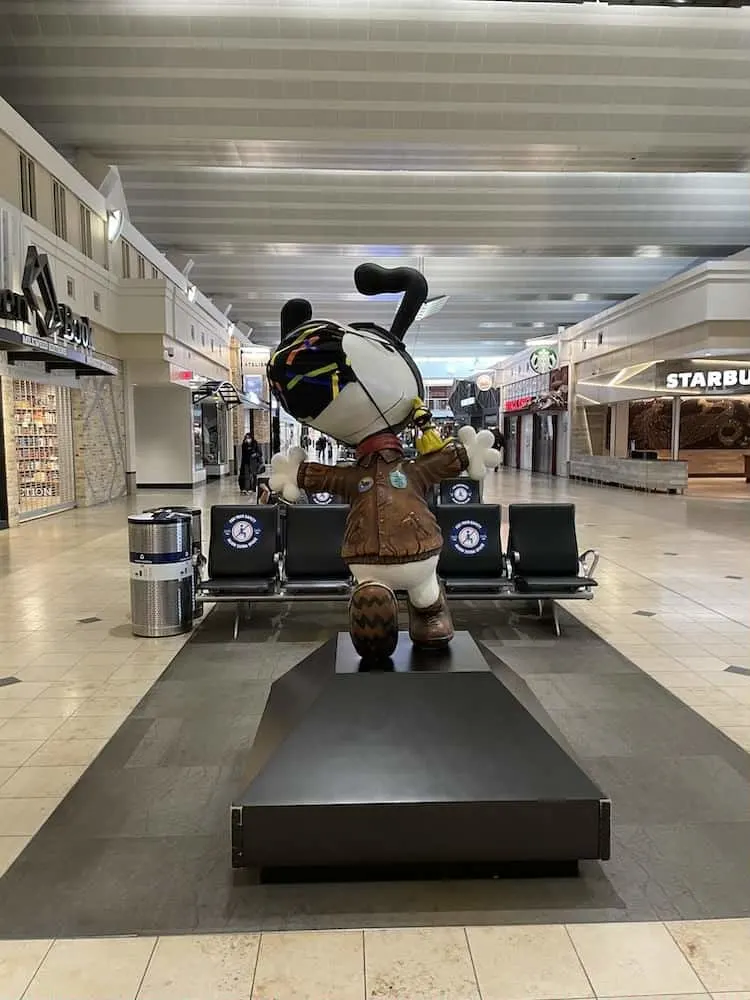 Initially we were going to let him fly there alone, M is 16 1/2 and has a lot of travel experience. But something nagged me and just couldn't bring me to let him go alone. The biggest reason was that he would have to spend the night in NY. Even though my brother in law lives there and would pick him up and bring him back I worried something would go wrong.
Flights were open from Morocco to the US and it felt like we had a window of opportunity to make it happen. The plan was I would fly and take him and then when our middle son had 2 weeks off at Christmas we would all fly over for the holidays and bring M back.
But then I started getting anxious even about that, what if it was too hard for us to go in December? What if things changed? K (the middle son) had a week off school in October so we decided I would go with the two older boys, for 2 weeks and come back with K. This is what we decided to do.
I have never been as anxious to fly as I was before we got on this flight. I take dozens of flights a year and yet this time it felt so terrifying. I know for K it did too – later on he told me he almost changed his mind on the way to the airport.
So what was it like flying from Morocco in fall 2020?
TL;DR : It was fine.
Checking in at Casablanca airport we arrived a little earlier than normal and check-in did take awhile, I would say 45 minutes. People were spaced out, which to be honest did surprise me.
Everyone was wearing masks and I saw no one really trying to violate this requirement. I think at this point most people have gotten very used to wearing masks and aren't trying to flout the rules.
Going through security and immigration was the same process as previously but with a little more space between people. When we got on the flight I wasn't sure what to expect but we boarded by rows and that was enforced.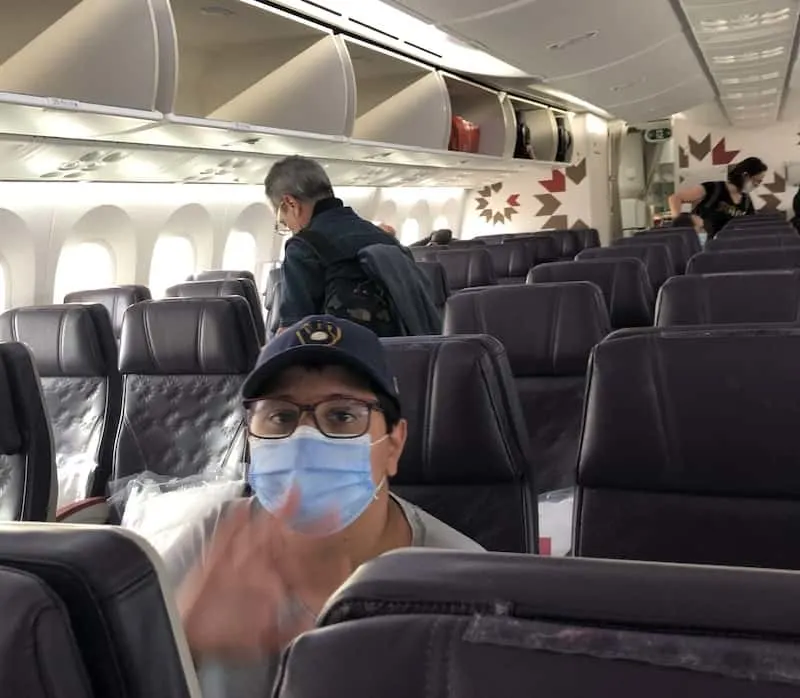 The plane itself was spotless. Seriously it might have been a brand new plane because it looked hardly used. Everything was very clean. Our flight was around 60% full so we had plenty of space around us.
The food service was marginal at best. But, I rarely expect much from flight meals. We brought our own sandwiches and snacks knowing that it would be this way. We did get a wrapped sandwich and items but there was no drink service at all. This was a bit disappointing as we also couldn't bring any drinks onto the flight – even if bought in the airport.
Arriving in New York it was congested, there wasn't a lot of distancing but we made our way through everything and picked up our luggage. Then it was on to our hotel for the night before continuing on domestic flights in the morning.
What did I do differently?
The biggest difference is of course masks. We wore disposable masks that we could change easily as needed and we could throw away after the flight and put new ones on.
I packed differently. I put pajamas and a change of clothes for each of us in a luggage cube and into one of our suitcases so I could reach it easily. When we got to the hotel (we stayed at JFK at the TWA hotel) before touching anything we all took our clothes off and showered. I left the clothes in the closet overnight and then in the morning put them into the sealed luggage cube.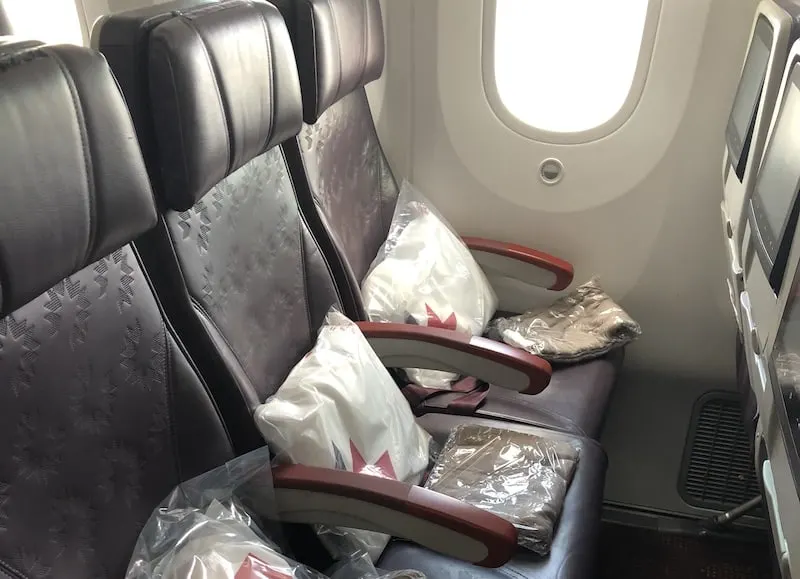 We used a lot of hand sanitizer and avoided trips to the bathroom as much as we could. Overall we were just extra cautious of what we were touching and the space between us and the people around us.
When we arrived we didn't get a COVID test however we isolated at my moms house for about 5 days until we really went out at all. Even when we did go out it was very, very minimal; a stop at a restaurant to pick up takeout for example.
How did we get back to Morocco?
Because we are citizens (kids) and a resident (me) we are permitted to come and go without any special procedures. So returning for us was a bit easier.
Morocco IS open to tourists who want to visited if you follow the procedures.
The entry requirements can change at anytime so if you want to come do expect you'll need to be flexible. The most difficult thing for us was getting our COVID test results in time for the flight.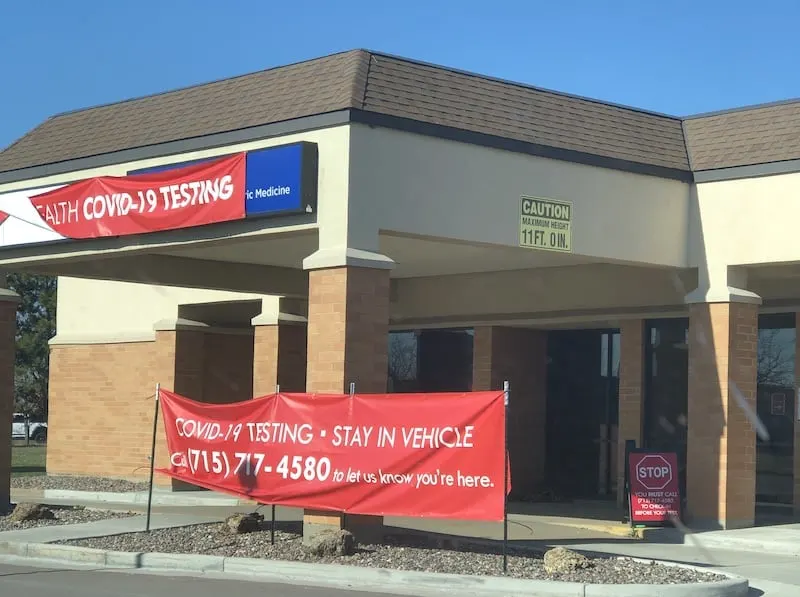 Our flight was Saturday and we went to the free community testing site on Wednesday, hopeful we'd have results by Friday night. I was originally told to expect it to be 48 hours but the day of the test they said it was closer to 4 days. By Friday morning I was starting to panic about how we'd make our flight Saturday.
The issue is that you have to have the test results returned in a certain window and where we were there aren't many places that have a guaranteed return time. So it was a guessing game. On Friday I decided I couldn't take the chance and we pushed our flights back to Sunday.
This was the easiest part.
We changed our flights with Royal Air Maroc and Delta in about 10 minutes. No questions asked, no issues. Seriously this may be the best thing that's come out of this time. Flexibility with flights!
Thankfully the results did come back Saturday morning so we were ok for Sunday. My advice is to really call around to everywhere in your community or nearby to find out what options are available to you. I would have paid for our tests if I would have known for sure when they'd come back.
With this in hand we were set.
K and I went to the airport Sunday and flew Delta to JFK – which was very pleasant and I can say they did a fantastic job. At JFK we checked in faster than I ever have for a Royal Air Maroc flight. Our COVID tests were looked at but that was it. This second flight was not as nice as the first. It didn't look like the plane had been cleaned as good. We had the same meal we had on the first flight which we skipped again thanks to our lunchbox.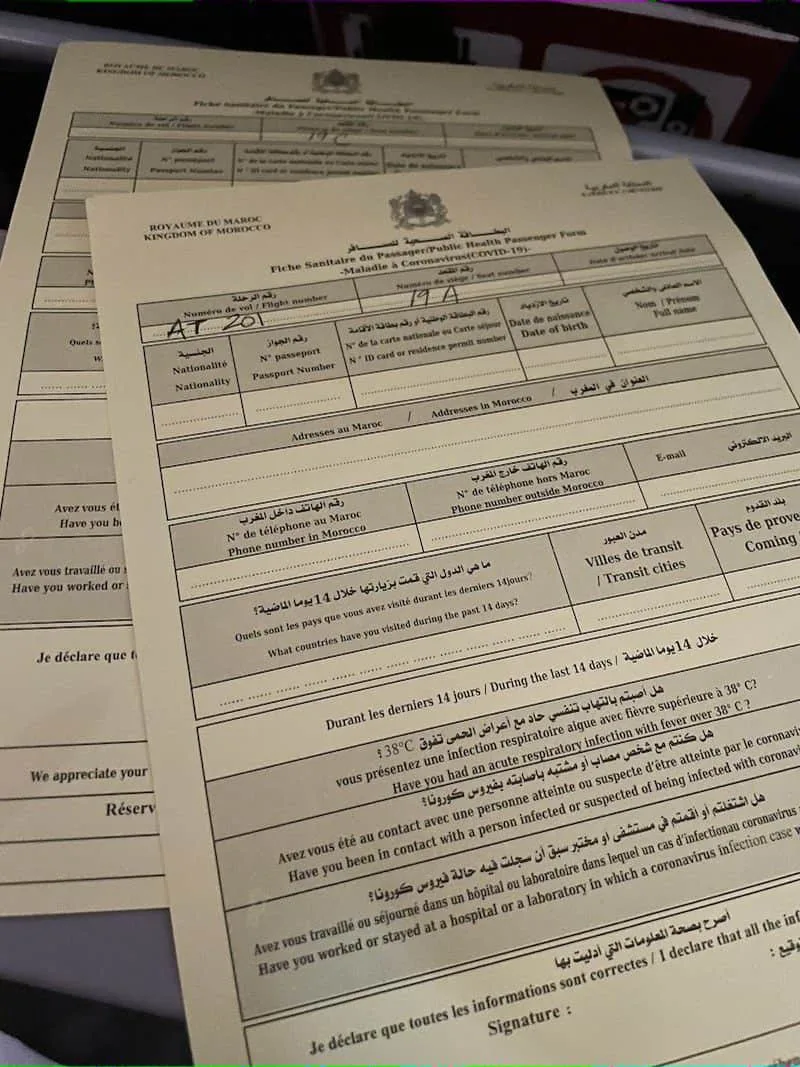 On the flight we were given these health landing cards. I remember in early March I had to fill one out too when I was returning from Germany right at the outbreak and shut downs. It's very basic information for tracking should there be a case.
In Casablanca, on landing we had to show our COVID results again before getting to the immigration counter. We weren't asked any questions and were waived through. If you have to travel forward in Morocco there is a desk right near the exit in the baggage claim (it's not marked) with officials who can give you the permission to move to your next destination though I'm told foreign visitors don't need this.
Update: M returns January 1, 2021
M stayed in the US for two extra months and returned alone on New Year's Eve. His experience was very similar to ours however there were a few issues. The first was that his flight with Royal Air Maroc was cancelled and rescheduled for the next day – and it wasn't updated online.
So he flew to New York with Delta (as we had done) and only found out there was no flight to Morocco when he got there. Yes, this mom did panic at her 16 year old son being stranded in New York City. But, my brother in law lives there and so after a few calls and arrangements he spent the night there and was on the flight the next night.
His procedure to enter was the same as ours was and as he's a Moroccan citizen there was no issue.
My US Trip: End of January 2021
While I was not planning to go back to the US so soon, some family circumstances came up and I spent the end of January stateside. This time I flew Air France/Delta from Marrakech and can say I 100% preferred this option.
I did need a COVID test this time and there are 4 (and possibly more now) places in Marrakech that have testing. It was around 700dh for the test but this too changes depending on the place.
Where to get a COVID test in Marrakech
Lab Gueliz – located near the train station in Marrakech. Typically this location is quite busy. I suggest calling ahead for an appointment if they are busy.
Laboratoire al Baraoudi – this is where I went. It is located across from the Koutoubia Mosque on Ave Mohamed V.
Labo al Manar – This lab is opposite the big university hospital in Amerchiche. If you go early in the morning they can sometimes get you the results the same day.
Centre International d'Analyses Medicales de Marrakech (CIM) – This lab is near the International Hospital in Marrakech. Open 8:30am – 5:30pm and no appointment needed. Bring an ID and results are ready typically in 12-24 hours and are sent via email if requested.
The downside – normally I can leave the airport in France however US citizens are not allowed to enter so I couldn't leave the airport. I couldn't even leave the terminal and I had an overnight layover. I did book a night at the YOTEL Charles de Gaulle and that was a great choice.
I have stayed in many YOTEL's and this one was in the poorest shape and a bit of a walk to find but being able to get a night of sleep was amazing. Also, there was no food service and I wasn't allowed to leave the terminal area to get food (on the other side of the passport checks). So my advice if you're doing this is pack your own food.
I had no issues entering the US, my flight was delayed leaving Paris but Delta rebooked me on the next flight immediately. Returning I was able to get my COVID test MUCH quicker than the first time. Aside from a longer wait at the airport (always advisable when flying through Paris) it went smooth.
You will need to check IF routes are open, don't assume if they sell you a ticket you will be able to fly. You need to check and double check if this is an option as well as making sure you have all paperwork (COVID test, boarding passes, residency cards/hotel reservations if needed) as this was checked multiple times.
Final Verdict?
Traveling was not the same as it was before but I expected that to be the case. Overall the worst part was getting the test results in the right time frame. These are always changing. Before we arrived the test results had to be gotten 72 hrs before flying to Morocco. Now, the rules have changed to be the test has to be given 72 hrs before flying. We would have never been able to make that deadline.
You need to keep a very close eye on what the requirements are as they can change very quickly with little notice. You may even want to call or check with the airline a week in advance and again a few days before your flight. Be ready to make a change if needed.
Thinking of visiting Morocco now?
If you're the type of person that is open to adventure and willing to be flexible you'll be fine. If however, the thought of uncertainty and changing your plans at any moment makes you anxious it might not be the right time.
What you Need to Enter Morocco (subject to change)
negative PCR test taken and results given maximum 72 hrs before departure.
hotel reservation in Morocco OR invitation letter from a business if visiting for business OR attestation letter of marriage to a Moroccan national.
flight on one of the authorized carriers.
passport from a country that allows visa on arrival in Morocco (US/EU etc..)
Also you should be prepared to follow all of the rules that Morocco sets out. Please keep in mind our population is vulnerable and as much as we all can't wait to see tourism come back, irresponsible tourists will not help. We do have fines for not wearing masks and you should make it a point to check on what the local laws and prohibitions are before and during your stay.
Here are some official sources you can consult for the latest updates;
**The information included in this post is my personal experience and opinion. You should always check with the appropriate authorities when making travel plans.
PPS – Our food tours are open and operating! If you do come to Marrakech we'd love to have you!