I don't often think of fish dishes when I'm making a recipe but they really are a great example of easy Arabic recipes. You might be surprised how many fish and seafood dishes are made in Arab countries.
This recipe is a guest post that was shared shortly before we moved to Morocco in 2013.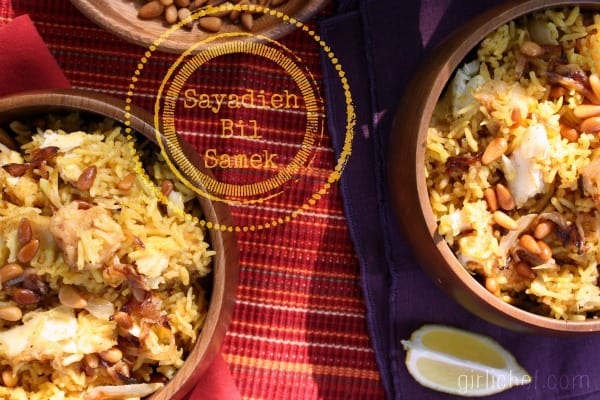 I almost hate to admit that I don't really know anything about Morocco. I mean, the extent of my "knowledge" of Morocco stems from Casablanca, Babel, and Hideous Kinky. Mmmm hmmm, movies. In other words, I am looking forward to learning a bit more about things like raising a family…daily life…and especially eating there…from Amanda. Once she settles in.
So, with all this jabbering about Morocco and my ignorance, you'd think I'd have chosen a Moroccan recipe to share today. Uh, yeah. That would've taken a moment of lucidity on my end. And under the sweltering heat weighing me down this summer, and the clock that has been speeding by faster than a speeding bullet, I didn't. But tackling a few dishes of North African cuisine is on my culinary bucket list!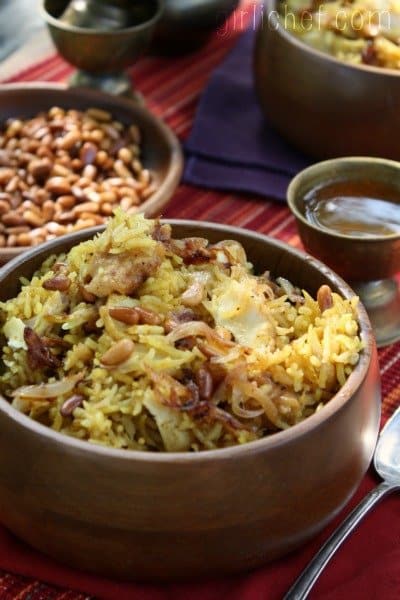 Instead, I chose to make something Middle Eastern. It's a fish and rice dish that may seem daunting at first glance due to the mile-long ingredient list. But I promise, if you take away the ingredients that can be found in your spice cupboard, you're only left with five or six ingredients. It's a simple dish with huge flavors. A dish that I could put on my menu a couple of times a month. And the really crazy thing is, even my "I don't like fish"-proclaiming husband LOVES it!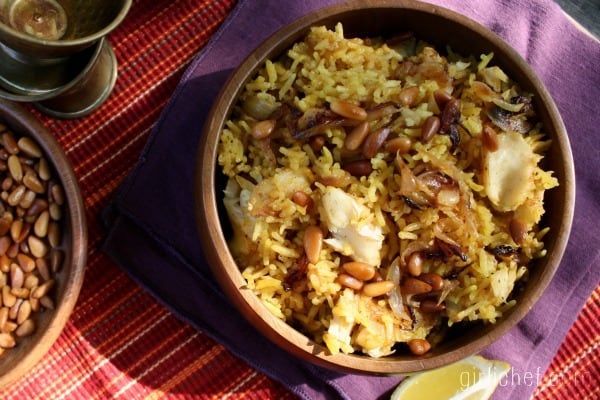 Hopefully once Amanda settles in and has a change to hit the spice market a few times, she can easily make it for her family, as well.
Yield:

4 servings
Middle Eastern Sayadieh Bil Samek
Total Time:
1 hour
20 minutes
Ingredients
4 tablespoons sunflower oil (or other)
1/4 cup pine nuts
For the Fish
3 tablespoons all-purpose flour
1/2 teaspoon ground roasted coriander
1/2 teaspoon ground black pepper
1/2 teaspoon ground ginger
1/4 teaspoon ground cumin
1/4 teaspoon ground ginger
1/4 teaspoon fine sea salt
1/8 teaspoon ground cinnamon
1/8 teaspoon ground cardamom
1/8 teaspoon freshly grated nutmeg
pound Cod (or other firm white fish), rinsed & patted dry
To finish:
large onion, thinly sliced
1-1/2 cups uncooked basmati rice, soaked for 10 minutes and drained
1 teaspoon Nine Spice Mix (recipe follows)
* 3/4 teaspoon fine sea salt
* 3/4 teaspoon ground cumin
* 3/4 teaspoon ground roasted coriander
* 1/2 teaspoon ground turmeric
* 1/8 teaspoon freshly ground black pepper
* 1 tablespoon sunflower oil (or other)
2 - 2-1/2 cups fish or vegetable stock, simmering
Lemon wedges to serve.
Instructions
Start with the pine nuts:
Heat the oil in a large skillet over medium heat. Add pine nuts and toast until golden brown, 1-2 minutes, stirring constantly. Use a slotted spoon to scoop the pine nuts from the pan and into a small bowl, leaving the oil in the pan.
Next, the fish:
Whisk together the flour and spices in a shallow dish. Dredge the fish in the mixture and shake off the excess.

Turn the heat under the skillet to medium-high, and add the fish, frying until golden on both sides, about 4 minutes total.Transfer the fish to a plate or bowl, and when cool enough to handle, flake into large chunks. Set aside.
Now, caramelize the onions:
You should still have oil in the bottom of your skillet...and by now it should be nice and flavorful. To that oil, add your onions.
Saute the onions over medium to medium-high heat, until they have gotten a good caramelization on them, 15 minutes or so. If the onions start to get too dark and dry too quickly, add a little splash of water. Transfer to a bowl; set aside.
Putting it all together.
Combine the soaked and drained rice with the spices in a large bowl; toss to combine.

Drizzle the oil in the bottom of a medium heavy-bottomed, deep-sided skillet or pan (with a lid). Scatter half of the rice across the bottom of the pan, then scatter 1/3 of the caramelized onion over it. Arrange the fish on next, in an even layer.Add another 1/3 of the caramelized onion, and finish with the remaining rice. Set the final 1/3 of the onions aside for garnish.

Carefully pour the simmering stock over the rice, so that it is just covered. Bring to a boil over high heat, cover the pot, then reduce the heat to low. Allow to simmer until rice is tender, about 12-15 minutes. If it looks like the rice is getting too dry, drizzle in a bit more hot stock or hot water. Turn the heat off, and allow to sit (still covered), for 15 minutes.

Fluff gently with a fork, and transfer to a serving dish. Scatter the reserved caramelized onion and the reserved pine nuts over the top. Serve with lemon wedges.
Notes
Nine Spice Mix:
Combine 1 tablespoon ground black pepper, 1 tablespoon ground allspice, 2 teaspoons smoked paprika, 1-1/2 teaspoons ground coriander, 1-1/2 teaspoons ground cumin, 1 teaspoon ground cloves, 1 teaspoon ground cinnamon, 1/2 teaspoon freshly grated nutmeg, and 1/2 teaspoon ground cardamom in a small bowl or baggie and stir/shake to combine. Store in an airtight container at room temperature (yield: heaping 1/4 cup).
About this post:
Heather of girlichef has graciously offered this delicious recipe! Find more of Heather's great recipes on her blog, connect with her on Facebook, Twitter, and Pinterest too.
Be a part of the MarocMama family!
Do you want access to all things MarocMama? Join our community of readers to get updates on new posts, inside information that won't go on the blog and so much more!
Sound good? Pop your email below and you're in!