Harcha is a simple Moroccan bread that is cooked on the stovetop. It's generally eaten for breakfast or at the afternoon snack time in Morocco. This version is safe for people who can not eat gluten.
Gluten-free eating and Moroccan cooking are not the best of friends. The idea of eating gluten-free is pure craziness to most Moroccans. Many have told me point blank they would rather suffer the repercussions than be forced to give up gluten.
My sister-in-law is case in point. While she has many of the symptoms associated with those who have an intolerance to gluten (frequent stomach pain, bloating, gas constipation, headaches), and each trip to Morocco I talk to her about what I believe is her gluten intolerance just like my daughter's, she has been unwilling and incapable in her own mind, of forgoing bread for even just one day.
Bread in Morocco
You see every meal and snack in Morocco revolves around bread. Bread goes beyond being a simple staple—it is also the primary utensil you use to eat with, replacing forks and spoons.
The last time we went to Morocco, I was able to arm myself with an arsenal of gluten-free bread, pasta, and cereals to take with us. It still didn't do much good because when the whole family was enjoying just off the stove, flaky pieces of msemsen—a fried Moroccan bread that is sheer heaven— and you hand my daughter a dry, gluten-free roll out of plastic, you can guess how that went down.
We weather Morocco with a lot of Miralax and do our best to limit bread as much as possible (usually this involves eating breakfast with Jasmin before everyone else to ensure she eats gluten-free and is full by the time the real breakfast is served). But at home, it's a different story. Our household is largely gluten-free, except my husband who can't survive without bread.
Breakfast for him is a baguette with olive oil for dipping. He's never really tempted by any of my weekend breakfasts—pancakes, waffles, Brazilian cheese bread, and instead always opts for white bread with olive oil and maybe jam if he's getting crazy and really mixing things up (sarcasm).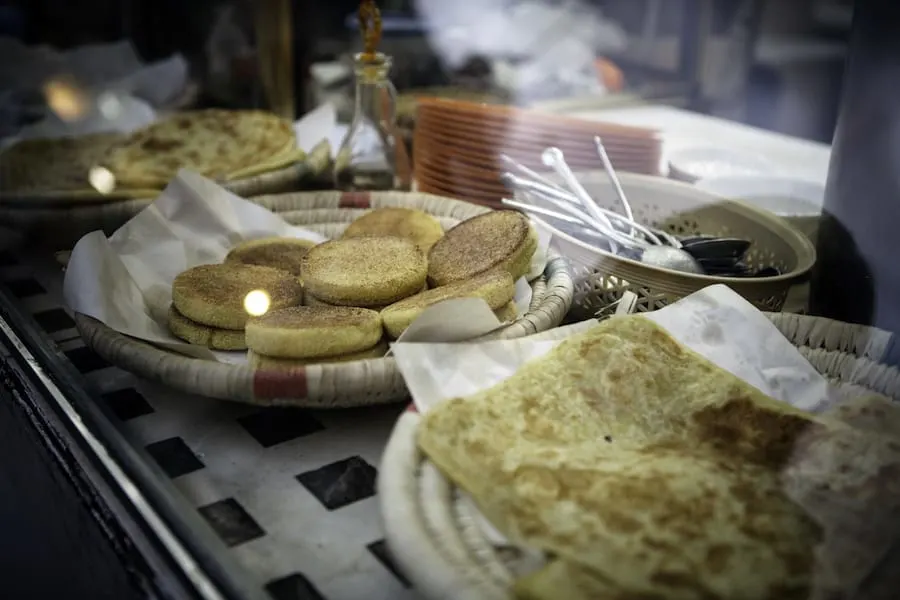 Often times, direct gluten-free substitutes don't end up tasting as good.
But more and more, I have been experimenting and improvising to turn traditional Moroccan meals into gluten-free ones. I started with something easy: harsha.
What is harsha or harcha?
Harsha, a pan-fried flat bread, is like a Moroccan pancake except much firmer. It's sort of like a patty and you eat it always fresh out of the frying pan, then smeared in jelly or dipped in honey.
I make my gluten-free harsha with corn flour (masa harina) and it's a distant cousin of the Colombian arepa, but using a Moroccan recipe all the way.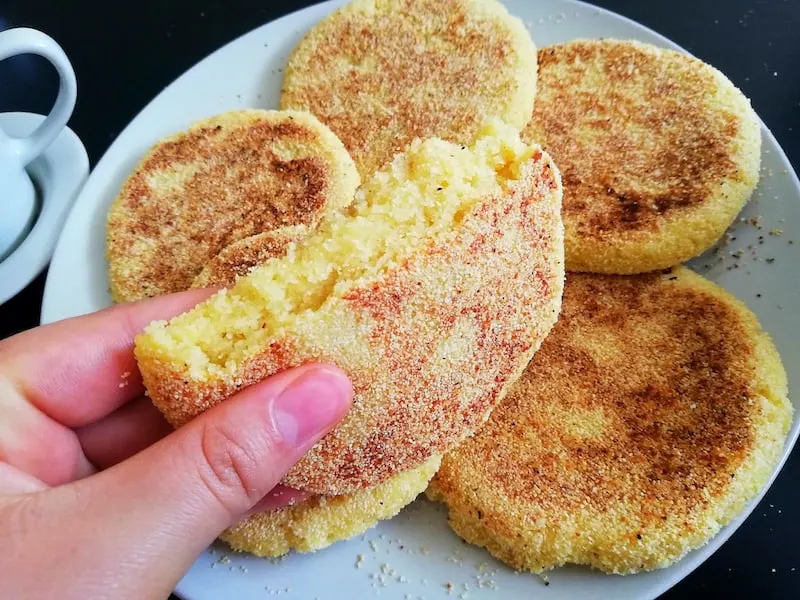 Gluten Free Moroccan Harcha
Harcha is a Moroccan skillet bread that is served for breakfast or snack time.
Ingredients
3 cups corn flour (not cornstarch)*
1 T baking powder
4 T sugar
1 t salt
4 T butter (melted)
1/2-3/4 cup warm milk until the batter is wet enough to form patties in your hand
Instructions
Mix the dry ingredients and add in the butter then milk.

Add the milk slowly to make sure the dough is not too wet. Mix dough with your hands as it will be stiff.

Form into hamburger-like patties and cook in butter over medium-low heat. They take a little bit to cook fully through on both sides (approximately 6-9 minutes per side).
Serve with honey or jam. Better yet, you can make a true Moroccan side by mixing together warm butter and honey, in equal proportions, for dipping sauce. Bet you can't eat just one.
Notes
The cook time is PER bread however you can cook several in the same pan at the same time.
*If you want to make regular harcha, then you would use semolina flour instead of corn flour to make authentic gluten-filled harcha.
Thank you so much Stephanie for sharing this story and post. I know that as we continue down the road of gluten-free living there will be so many issues like this that come up!! If you'd like to follow Stephanie you can find her at IncultureParent.com.