"We've spent ten years building our riad and we'd love for you to come and stay."
I'll admit this is not a conversation I have every day. But, it's certainly a great way to get my attention. Ten years? My mind raced as I considered just how much time, attention, and love must have gone into restoring this riad. Without blinking I accepted as my curiosity got the best of me.
Valerie, one of the owners of Karawan Riad, was more than helpful as we planned a midweek getaway to Fez. It's about a five hour drive from Marrakech on the tollway, long enough that it warrants several days of staying. While it wasn't our first time to Fez we were in need of time to relax and it would be our first time together here without the boys.
It also happened to be our wedding anniversary. Let's just say MarocBaba was off the hook this year!
As soon as we arrived in Fez we followed the simple directions to the R'cif neighborhood, and while the car was parked I went up to the riad to get checked in. Immediately on entering it was clear why it had taken ten years to rebuild Karawan Riad. The huge courtyard immediately brought be back to the time of the pashas.
Stunning.
A brief tour of the downstairs while I waited revealed more detail and glimpses into what makes this riad unique.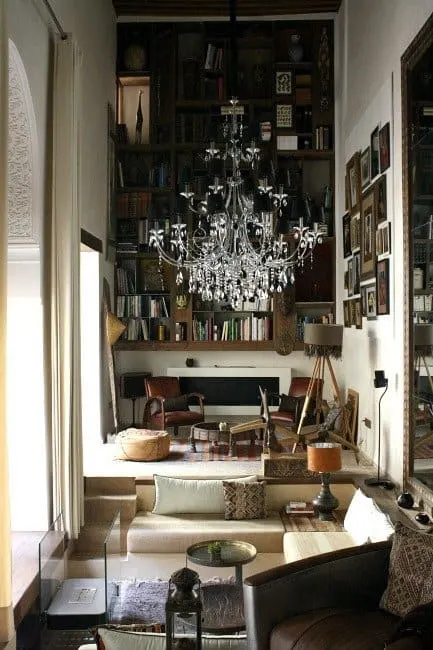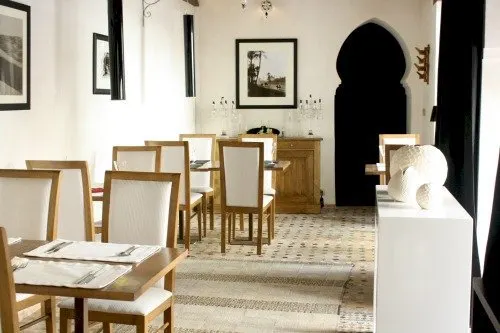 By then MarocBaba arrived and we were shown to our room, or rather apartment in the Dzhari suite. A gorgeous living space, work area and bath and half made up the space. There also were three balconies, two inside over the courtyard and another outside, though very private. Floor to ceiling curtains and windows brought in lots of light, a feature that many riads struggle to incorporate. There are six other rooms each individually designed and unique.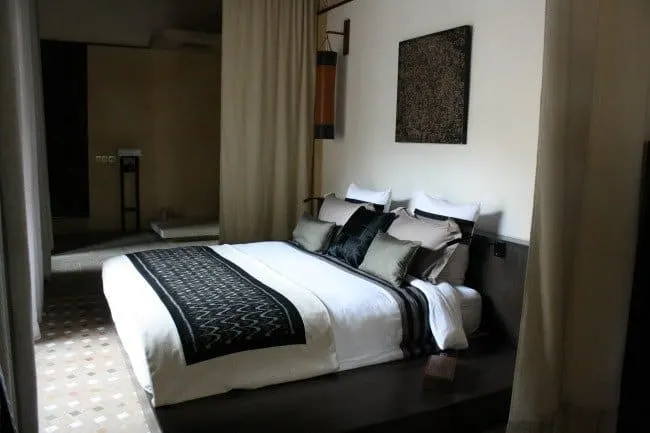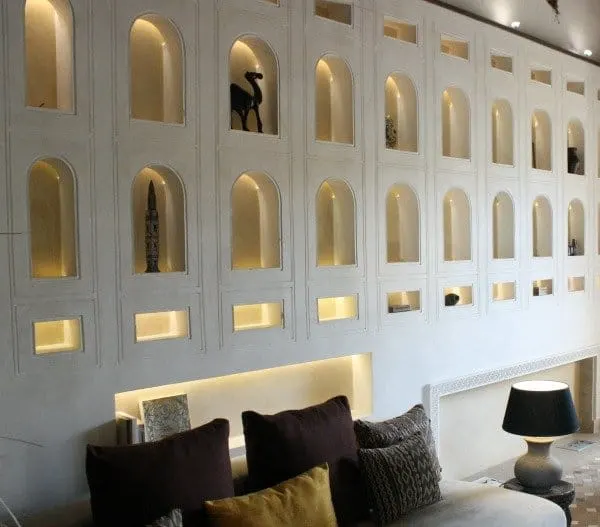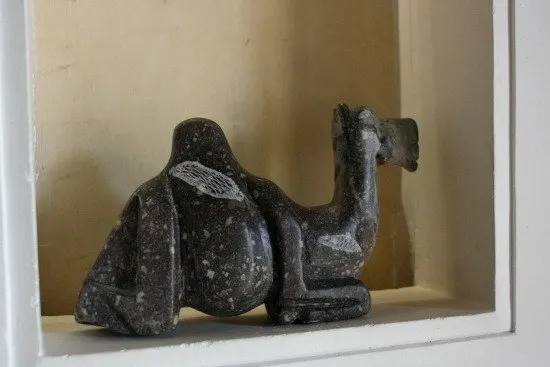 That evening we opted to have dinner at the riad and were not disappointed. The menu isn't Moroccan but more Mediterranean inspired but using local ingredients – a very welcome change. We immensely enjoyed our meal but weren't able to savor it for long. The Fez Sacred Music Festival was in town and knowing we were keen to go, Valerie managed to arrange tickets for that evenings' performance.
That evening as we crawled into the GIANT king sized bed (something that is very hard to find in Morocco), we both fell asleep almost immediately. This was to be one of the highlights of our trip. Both of us suffer from insomnia but we dubbed this bed the "magic bed" because as soon as we laid down we were out like a light.
Every morning we were treated to breakfast on the rooftop. The first morning as we arrived on top we were welcomed with this view of Fez.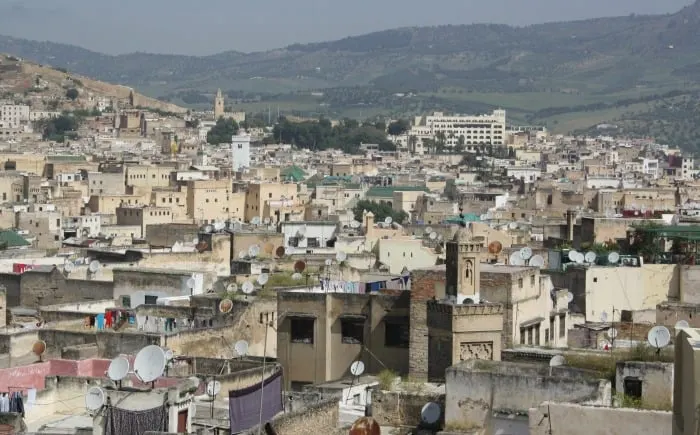 Amazing isn't it? Our breakfast came with traditional Moroccan options, all made in house. The jams were a special treat and the chance to savor a long meal, with a great view, and good conversation was perfect. When you come to Morocco be sure to take your time. It's these moments that will remain, not the rushing about in the medina to see monument after monument.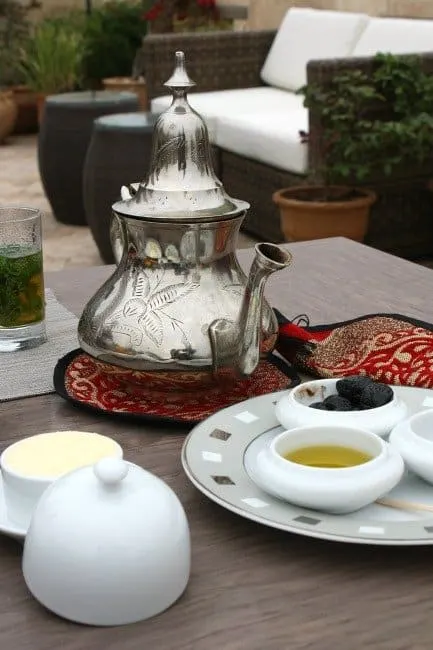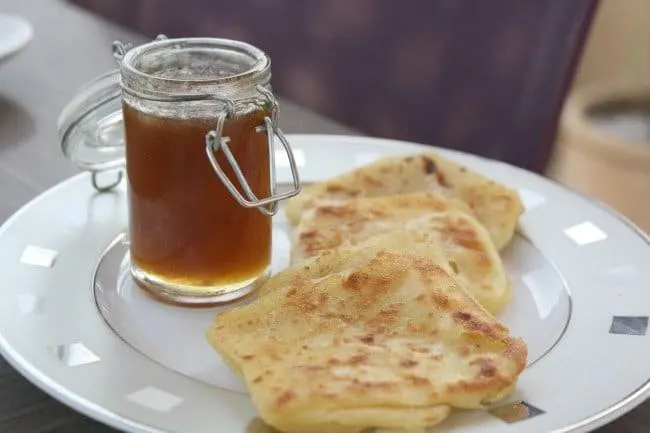 Along with the restaurant there is also a hammam and massage room in the riad. I typically do not like hammams and was going to only get a massage but I wanted to report back fairly! We indulged and both got a hammam and massage. In Fez, the hammam is different. In Marrakech savon noir, the black soap is used. This is very hard on my skin and often causes a rash. In Fez a mixture of ghsul (a clay), henna, and laker al Fassi (a red plant pigment) is mixed to create the "soap" that is used on your body. It's then rinsed and you are scrubbed. My skin was not irritated at all and the scrubbing was very light with the same result as the harsh Marrakech scrub. I walked away having actually really enjoyed the experience and made a beeline for the souk to buy the same ingredients to take home. How was the massage? One of the best I've had. It was the perfect strength and completely relaxing.
Karawan Riad is located in the R'cif neighborhood of Fez, not in the main beehive that is the medina. However, it is a very short walk to the R'cif souk and then the main medina area. Some of the most famous areas of old Fez can be reached by foot in 15 minutes. We really loved staying in this neighborhood and got to see a different side of life in Fez.
To book your stay at the riad click over here (Karawan Riad) for more information and special deals. We know you'll love it as much as we did!