When you think of Spanish cuisine, the first things that probably come to mind are tapas, Spanish tortillas, and paella. Pastries and bread might also come to mind – causing concern when it comes to eating gluten-free in Spain.
With that said, if you're the type of traveler who enjoys exploring places through your taste buds, you'll love to know that Spain is a wonderland when it comes to delicious food and dishes with plenty of history and flavor behind them.
Celiacs or those who have chosen a diet free of gluten may be worried about traveling to Spain with their dietary restrictions, but the good news is that many of the most delicious typical flavors in Spain are actually gluten-free already. Paella, Pipirrana, Butifarra, and Jamón Serrano are just a few of the options that are available all over the country and that you can easily find in most restaurants.
Moreover, if you're visiting major cities like Barcelona, Madrid, Cordoba, or Valencia (to name just a few!), you'll find restaurants aplenty that are either completely gluten-free or offer a lot of options for celiacs.
Below is the ultimate guide to eating gluten-free in Spain without sacrificing taste whatsoever, including a restaurant guide to major destinations as well as tips on how to communicate your dietary needs in Spanish.
Guide to Eating Gluten-Free in Spain
Dishes in Spain that are Gluten Free
Even though dishes and varieties are different depending on which city or region of Spain you are visiting, here are a few surefire dishes that tend to be completely gluten-free in Spain:
Main dishes
Paella, Pulpo a la gallega (octopus and potatoes), Pipirrana, Mariscos a la Plancha (fried seafood), Guisantes con Jamón Serrano, Jamón ibérico, Tortilla española (Spanish Tortilla), Butifarra, Huevos Estrellados (fried egg with chorizo or ham), Patatas Bravas (fried potatoes with bravas sauce).
Desserts
Flan, natillas, marzipan, arroz con leche, turrón.
How to Let People Know You Are Gluten Free
If you're not entirely sure if what you're ordering in Spain is gluten-free, knowing a few basic phrases in Spanish will help you. In general, people in big cities will know exactly what you're asking for.
I would highly suggest picking up a copy of these gluten-free translation cards for your trip.
They have been highly researched and created by a celiac traveler. It will be a great tool to have for your travels.
Catalan Gluten Free Traveler Card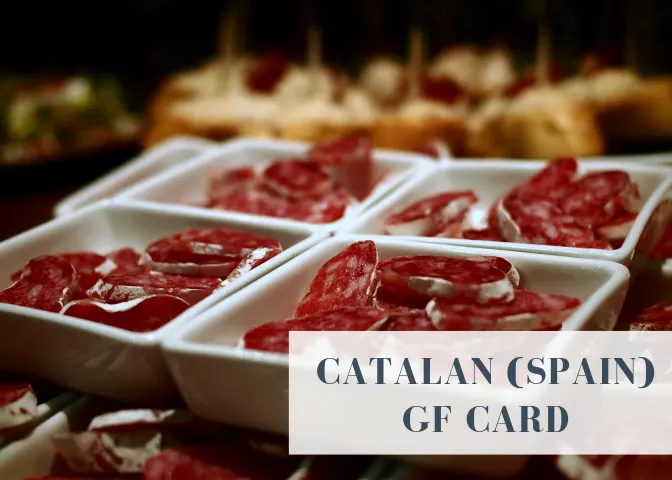 Where to Eat Gluten-Free in Spain by City
Most major destinations and cities in Spain offer plenty of either 100% gluten-free restaurants or a menu with lots of options for celiacs. Below is a list of restaurants, eateries, and bakeries that you can go to ensure you get meals free of gluten.
Seville
Postigo 10, Taberna Ke Arte Gluten Free, Habanita, Milk Away, La Bartola, Señora Pan, Bar Alfalfa, Restaurante Arte y Sabor, Restaurante San Marcos Santa Cruz, Poseidon, Estraperlo Restaurante, Bar Alfalfa, Zarabanda, Orfeo Cafe Bar, Al Solito Posto, La Azotea.
You can also refer to this gluten-free guide to Seville for more information about being a celiac in Seville.
Barcelona
En Ville, M2 Gluten Free, Cal Marius 449, Massie Sin Gluten Muntaner, Messie Pizza Gluten Free, Copasetic Barcelona, A Vocados Gluten Free, Manduca Gluten Free Corner, Potstot, Flax and Kale Passage, Ca la Gemma Gluten Free.
Madrid
[0% Gluten] Madrid, As de Bastos Madrid, La Próxima de Velázquez, Gausa Madrid Arepas, Madrid Grill, Grosso Napoletano, Okashi Sanda, CELICIOSO Gluten Free Bakery, La Tape, San Locura Gluten Free Bakery, Pizza End Gluten, Superchulo Madrid, Sin Gluten.
Cordoba
La Taperia de Juan Perez, Ginos, Restaurante Las Delicias, Panea, Patio Romano, O Mamma Mia, Sociedad Plateros.
Valencia
Número Uno Steakhouse, Galipán, Ampar, Casa Adrán 1944, Rakki, Alcantara Bistrot, La Roche, Camboi Benimaclet, Albufera, VERA Restaurante, Le Marquis, A Tu Gusto.
Ibiza
La Paloma Cafe, Los Otros, Wild Beets, The Skinny Kitchen, Celicioso.
Lanzarote
Highlander Too, Little Elm Restaurant, Tiramisu Pizzeria, La Gondola, No Stress Restaurant, Cesare, Dolmen Restaurant, Antica Trattoria Di Verona, La Lanterna, Bistro Arbol.
Palma de Mallorca
St. Lorenzo Tapas Gluten Free, Avocado Mallorca, Ill Capriccio, Santosha, Ca n'Ela Vegan Restaurant, Sabores de Sandra, Plaer Natural, Gigi's Piccolo Ristorante, Pizzeria Sa Cova, Rawcoco Green Bar Palma, Ciao Ciao.
Lanzarote
Eco Eco Brunch and Cafe, Buena Vida 100% Vegan, The Burger Cafe, Limoncello, Restaurante Oasis San Telmo Gluten Free, Skura Fruit and Honestfoood, Convivio, Contigo Comida Saludable, Restaurante Gran Tarajarl, Restaurant Sebastian, Panzaburro Gastotasca.
Málaga
Vida Libre de Gluten, Naked and Sated, Astrid Organic Taperia, Restaurante Vegetariano Cañadú, Noviembre Healthy Food, El Vegetariano de la Alcazabilla, KORTXO, MIMO Vegan Bistro, BYOKO, Vegan-té La Siria, Creplovers, BYOKO, REVIV, La Plaza Malaga, Burnchit España, La Plancha Taberna.
Granada
El Piano, El Cortijo Sin Gluten, Wild Food, Aparicio's, El Pescaito de Carmela, Restaurante Paprika, La Autentica Carmela, Restaurante Vegano Hicuri, I Need Coffee, La Piccola Carmela, Papas Elvira, Taberna Tacon Flamenco.
Marbella
Amore e Fantasia Sexy Pasta, Celicioso, Restaurante Corleone, Giogia Plant-Based Cuisine, Hustle n' Flow Eatery, CIBO Italiano, Manuka La Cañada, Oranic Market and Food Marbella, Rachel's Eco Love, Keto Royale Kafe, Rococelli Ristorante Puerto Banus, La Pappardella Puerto Banus, Tempora Restaurante.
Bilbao
AHOAN, TxuKruT Vegan Bar, La Camelia Vegan Bar, Naked and Sated, Restaurante Don Angelo, La Despensa del Etxanobe.
Alicante
Vegan Bombon Sin Gluten, In Bocca Al Lupo Alicante, Restaruante la Taverna Dell' Artista, Bodhigreen, Falafelmania Restaurante Vegetariano, la Crispeta, Mish Mish.
Salamanca
Baco Bar Restaurante, Boabar Norte, El Pecado, The CORNER Slow Food, Telepizza Salamanca.