One thing I learned about the food of Andalusia really quickly was that the vast majority of dishes are very simple and are made using ingredients that are inexpensive. This was a new recipe for me but one I am so glad to have learned to make. When it comes to easy Spanish recipes, this doesn't get much easier.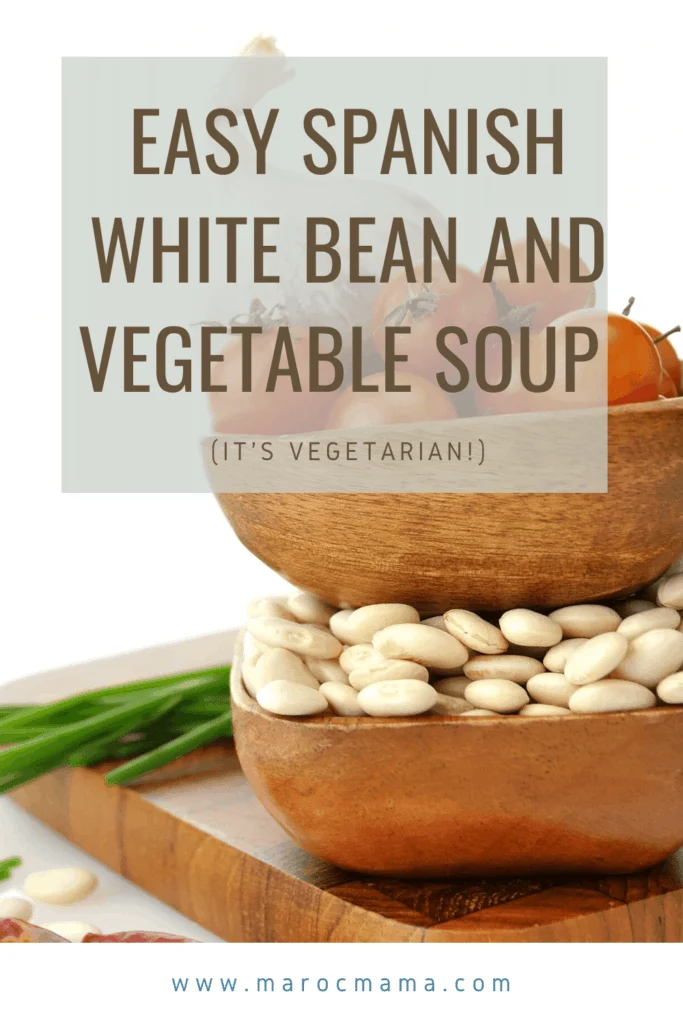 There are a lot of bean dishes in Spanish cuisine and fabada is one of the best known from the northern areas of the country. I learned to make this version in Seville and my teacher shared her own family story of how it came to be.
It's really a catch-all dish. Women would put together the odds and ends left in the pantry at the end of the week or when things were getting low to make this. Just like red beans and rice in New Orleans, this dish was typically made for wash day. The stew was something that could be on the stove cooking while she was otherwise busy.
This Spanish vegetable stew uses a little of this and a little of that and goes a long way to feed a large family when there wasn't a lot left over. The best part is when you taste it, you'll really think it's one of the best things you've had in awhile.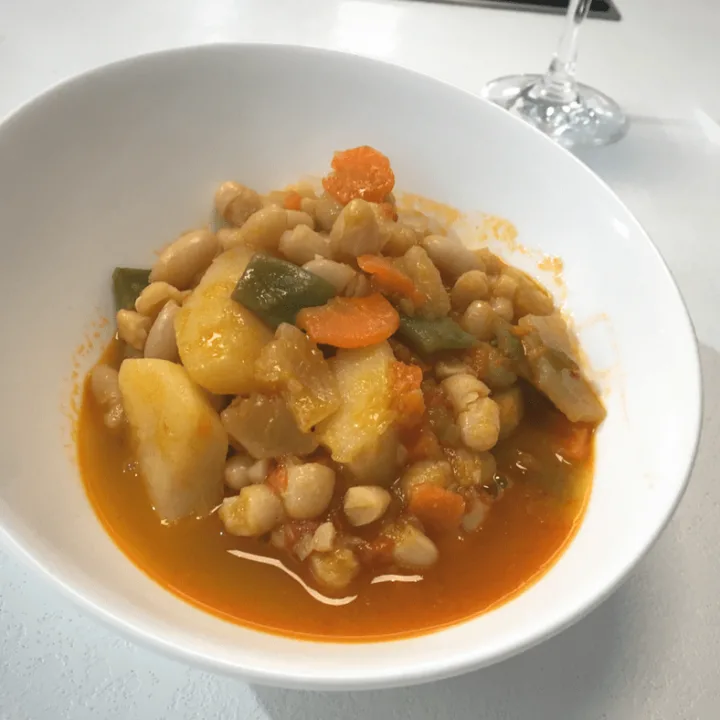 Yield:

8 servings
Vegetarian White Bean Stew
Cook Time:
1 hour
30 minutes
Total Time:
1 hour
45 minutes
This is a great catch-all dish. Made from bits and bobs left in the refrigerator and given bulk with beans.
Ingredients
300 grams white beans soaked overnight
3 cloves of garlic
1 leek or 1/2 onion diced
1/2 cup mixed green and red peppers
1 zucchini
1 small turnip
1-2 small potatoes
1-2 small carrots
1 tsp smoked paprika
1/2 tsp salt
your choice 1 bay leaf, a few springs of thyme or springs of oregano (don't use all 3 choose one that you have on hand)
olive oil
3 liters water
Instructions
In a dutch oven or heavy bottom pot add enough olive oil to coat the bottom and turn heat to medium.
Dice the cloves of garlic and onion or leek. Add these to the pot to begin to soften.
Meanwhile peel and dice the potato, zucchini, peppers, turnip and carrot. You can really use any combination of these that you would like.
Add vegetables to the pot (I suggest leaving the pepper and zucchini out until the end so they don't turn to mush).
Also mix in the white beans and the water. You also can mix in the paprika, salt, and your choice of herb. Increase the heat to a boil and then return to medium heat.
Cover the pot and allow to simmer for 45 minutes to 1 hour and check the doneness of the vegetables and beans.
When the beans are tender add in the soft vegetables and allow to cook a bit longer.
Serve hot!

This dish can be left in the refrigerator overnight and heated up the next day - it only makes the flavor better!
This is a great lunch or dinner dish that can be served year round with fresh bread or a salad. The best part is you can really use what you have available and don't need to use the exact vegetables mentioned.
While this can be made in any pot you could also repurpose your tajine and slow cook it in a tajine! This is a great one to consider that would work for a tajine or this stew.
More Vegetarian Recipes to Try
Salmorejo – Andalusian Cold Tomato Soup
An Easy Recipe for Moroccan Chickpeas (Hommos)