Soup is a hard sell in our house. But thick, creamy stews, well they get eaten up right away. Chicken and dumplings is not a meal I grew up with but my sister first made for us about a year ago. I love it, my kids love it, even MarocBaba loves it.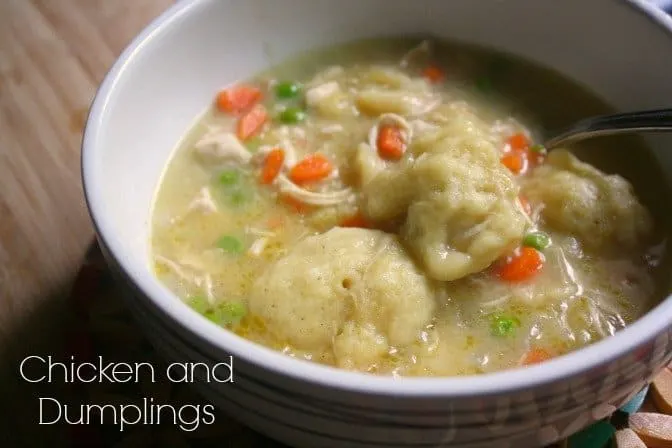 Summer in the Midwest is humid and oppressive at times. We wait months and months (sometimes 8 or more!) for the sun to finally break through and warm things up. Some nights the humidity lingers making your clothes stick to your back and your tongue thick in your mouth. Then there are the nights when the cool air begins to blow, whispering a reminder that this time is short lived – soon winter will be back. I love the cool nights, when a light sweater is in order and it's enjoyable to take a walk around the neighborhood. It's those nights that I don't mind starting the stove, knowing full well it will add heat to the house.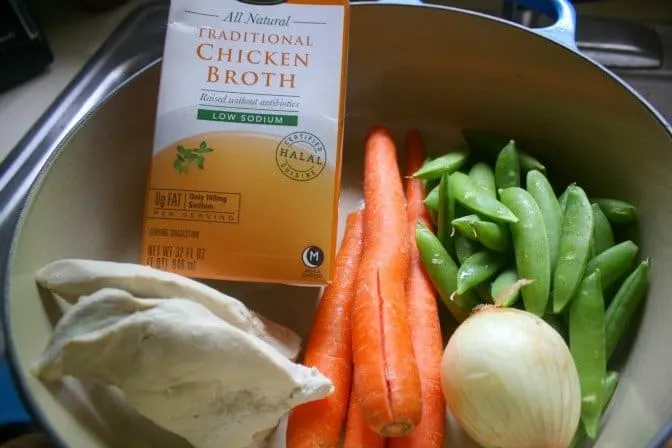 Summer brings those of us in the Midwest, fresh, delicious produce; most of it grown locally on family farms. These few short months I try to eat as many fruits and vegetables as I can because I know by September it will all be gone. That's what I use in all of my recipes and it makes everything taste just that much better.
Chicken and Dumplings is one of those cool summer night dishes. Warm enough to take off the chill but loaded with fresh produce. Don't be fooled into thinking this is a meal that requires a long cooking time or a ton of kitchen skills.
It's soooo easy!
I've changed the recipe some so that this can be made in about 30 minutes. You can use leftovers that you have on hand. I've made this recipe gluten- free, but you don't have to. I used Saffron Road's Chicken Broth
to make preparing this dish even easier.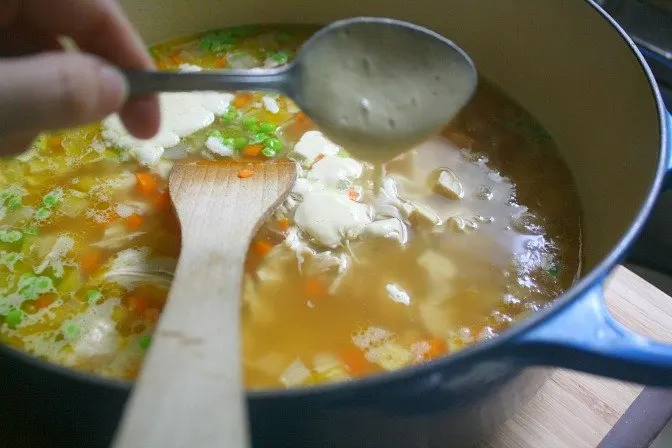 –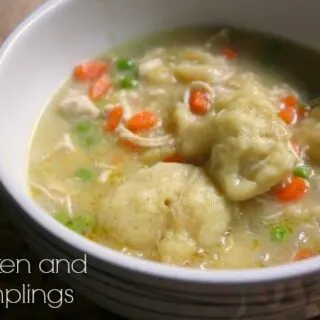 Easy Chicken and Dumplings
Chicken and dumplings are a family favorite in our house. This recipe is really easy to make and will make everyone happy!
Ingredients
For the Stew
1 Tbsp butter
1 Tbsp olive oil
1 carton Saffron Road Chicken Broth
2 cups of diced, cooked chicken
3-4 carrots diced
1 medium onion diced
1/2 cup peas
1 tsp salt
1/2 tsp pepper
3-4 springs of thyme, leaves removed from stalk
For the Dumplings
1/2 tsp baking powder
1/4 tsp salt
3/4 cup gluten-free all-purpose flour
1/2 cup milk
2 tbsp butter
Instructions
In a large pan, add the olive oil and butter and turn heat to medium high.
Once the butter has melted, stir in the diced onion and diced carrot. Cook 5-8 minutes, continuing to stir, until the onion is translucent.
Pour in all of the chicken broth, as well as the salt, pepper, thyme leaves, and chopped chicken.(Chicken could be leftover from a roast/rotisserie chicken, or boiled ahead of time - you can use raw chicken it will just take longer to cook.)
Cook for 15 minutes on low heat for flavors to combine.
Making the Dumplings
Stir together baking powder, salt, and flour.
Cut the butter into the flour, either using a food processor, pastry cutter, or your hands.
Slowly add the milk until a dough has been formed.
Finishing the Meal
You can either roll out the dough and cut into flat noodle shapes, or drop into the pan like a drop dumpling. Adjust the milk according to your preference. Drop dumplings will have a more liquidy batter, whereas rolled dumplings should be more firm.
Once added to the liquid, cover and cook on low for 10-12 minutes until dumplings are cooked through. The flour from the dumplings will help thicken the soup.
Serve hot.