Unexpected company show up for breakfast or brunch? In 15 minutes you can have a hot plate of doughnuts on the table! Pair with cold glasses of milk and fresh fruit for a perfect – albeit last minute – meal!
I regularly make many things from scratch, however time is always an issue for me. There are a lot of shortcuts I rely on to make meals easier – and especially breakfast time.
I have lived most of my life in the "dairy state," and so a lot of my meal inspiration comes from dairy products. I shop the perimeter of markets, and the final stop in my circle is the refrigerated dairy section.
Some staples I always grab are; milk (of course!), shredded cheeses, jalapeno hummus (MarocBaba's favorite), ricotta cheese, Greek yogurt, pre-sliced hashbrowns, and eggs. One of the items I occasionally pick up is refrigerated biscuit dough.
It's so affordable and can be used in hundreds of ways – besides making biscuits! I flatten biscuits to make pizza roll ups for my kids, or cut in half and press into a muffin tin to make taco cups. But, my favorite use of biscuit dough is to make these doughnuts.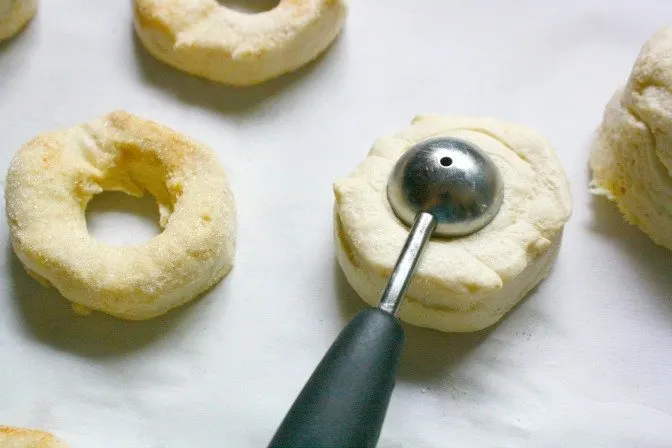 Making doughnuts from scratch takes way more than 15 minutes and can be finicky. Buying doughnuts can cost as much as $1 each. By using biscuit dough, I've made 8 for about $0.30 each.
Not only do you get the doughnuts but little doughnut holes too! To shape them, I use a melon baller to take out the centers. On a plate, the dough is then rolled in cinnamon and sugar – and baked. Of course you can use any number of toppings to flavor these. It's just a start!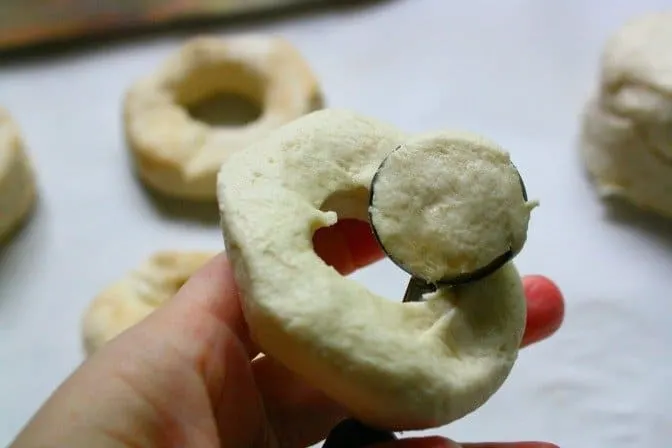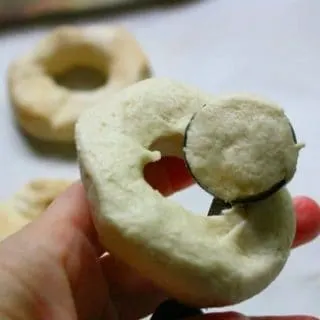 Yield:

8 doughnuts
15 Minute Doughnuts
An easy way to make doughnuts using ready-made biscuit dough.
Ingredients
1 tube of biscuit dough
2 tsp cinnamon
1/4 cup sugar
Instructions
Cover a cookie sheet with parchment paper or silpat and preheat oven to the temperature indicated on the biscuit dough.
On a plate add the cinnamon and sugar and mix to combine.
Open the biscuit dough and use a melon baller to cut out a center of each biscuit.
Roll the centers in cinnamon and sugar.
Coat each doughnut in cinnamon and sugar and space out on cookie sheet. (Note – the biscuits won't spread much).
Place centers in open spots on cookie sheet.
Bake 10-12 minutes until doughnuts are cooked through.
Eat hot with a big glass of milk!
Notes
You'll also need the following tools;
melon baller
parchment paper or silpat
cookie sheet