Cuba is one of those destinations that I've long dreamed about but haven't quite made happen yet. For this post my friend Vanessa of De Su Mama shares her insights on visiting with kids. She is Cuban, and I knew would be the go to person for insight!
It's been half a century since my family left Cuba for the United States, but our love for this island is as strong as ever. Cuban culture runs through our veins and I love sharing everything Cubano with friends who appreciate the complexities and nuances of its history.
In our handful of visits to Cuba with kids, we've explored and experienced many wonders. By far, the people of Cuba are among its most beautiful treasures. Cuban people adore children and experiencing this trip with yours will undoubtedly make it even more dynamic and memorable.
Beyond culture, Cuba also has so much to offer family vacationers by way of destinations that kids will love. Here are 5 that my kids enjoyed.
Havana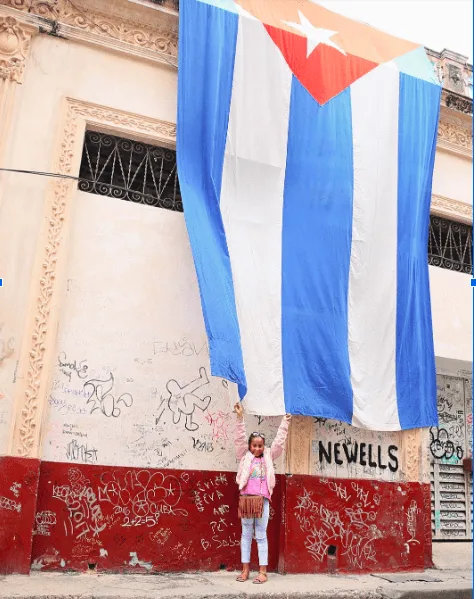 The center of Cuban life starts in Havana! With so much to offer, there is plenty to keep kids engaged, learning and enthused. Here are just a few ideas that kids will love:
Take a tour in a classic car
Walk around Habana Vieja
Tour the church and have lunch in Plaza de Catedral
Visit Ernest Heningway's home, Finca la Vigia
Explore Callejon de Hamel and watch their presentation
Experience the firing of the canon from La Cabana Fort which is presented every night at 9pm
Veradero
Located on the Hicacos peninsula, Varadero is just a two hour drive from Havana making it an easy addition to your family's Cuban itinerary. Varadero is known as the Caribbean's largest resort town and its 12 miles of white sand beach with clear, shallow waters makes it the perfect beach for kids.
You'll find many of the island's best all-inclusive resorts in Veradero that cater to families or adults and everything in between. If you're looking for full-service, beautiful beaches and easy vacationing in Cuba, Varadero is the right destination to your Cuba itinerary. One hotel to consider is the Iberostar Tainos with a beach front location and activities for adults and kids.
Viñales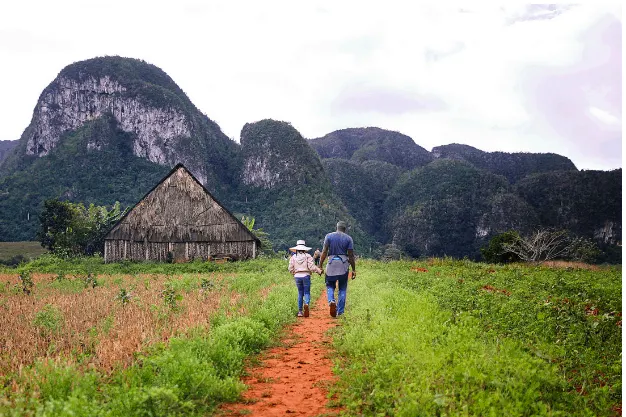 For adventurous families who love animals and country living, Viñales is a must-visit. Situated in the western Cuban province of Pinar del Río, Viñales is an agricultural town with a main street lined with colorful colonial-era wooden buildings. Just a two hour drive from Havana, kids would enjoy a night or two to really enjoy the Cuban campo life.
Horseback riding throughout the Vinales valley should be at the top of your bucket list! A backdrop of magotes with the red dirt below is one your kids will remember for a long time. Check out my post on how to save money and stretch your travel budget a bit more.
Hiking + Waterfalls
The most typical itinerary takes tourists from Havana to Trinidad passing through Cienfuegos, both UNESCO World Heritage sites, but you would be remiss to miss the beauty of the Sierra del Escambray mountain range in central Cuba while moving between the colonial cities.
About one and a half hours past Cienfuegos sits the entrance to an easy hike to a waterfall called El Nicho. The series of waterfalls and swimming holes is only morphed by the brilliance of the mountain ranges beyond them.
Just outside Trinidad, which is another hour and a half past El Nicho, you can also spend the day hiking to the waterfalls of Parque el Cubano, which I thought was a great alternative to the more popular Topes de Collantes when traveling with younger kids. Check out my detailed post on our hiking adventure!
If you have more time or kids who can withstand 8-10 mile hikes, venture into Topes de Collantes for an adventure your family won't soon forget. Most public lands offer little to no amenities, so make sure to pack everything your kids with you…including plenty of water and snacks!
Trinidad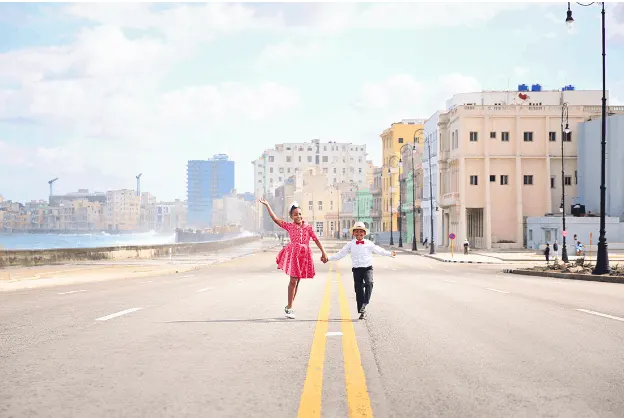 My favorite among the many Cuban colonial cities is Trinidad. This UNESCO World Heritage site feels like going back in time when horse drawn carriages and cobblestone streets were normal. Trinidad can often feel very touristy when busloads of people get dropped off, but for good reason. The slow living in Trinidad is still among my kids' favorite stop.
Enjoy live music in Plaza Mayor, tour the stately interiors of Palacio Cantero and, just before sunset, play soccer with the local kids near the old church. We have amazing experiences when visiting the slow paced life of Trinidad. Check out some of our tips and experiences here.
Overall, my hope is that you see how much your little ones will enjoy Cuba. Though certainly not the picture of luxury, with plenty of patience and an adventurous spirit, your family will make memories they will cherish forever.