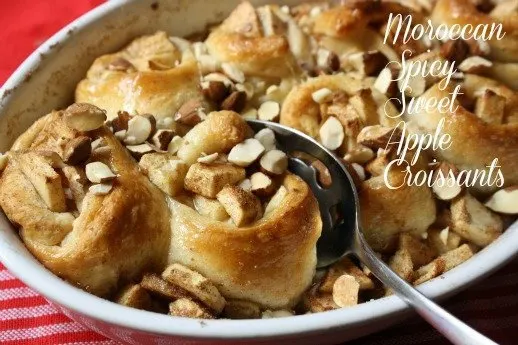 It feels like fall has been slowly making an appearance here. Summer was long and hot, a very un-traditional Midwestern summer. In July local apple orchards began reporting they wouldn't have apples available to pick, they were expecting the trees wouldn't produce because of the fruit.
Thankfully some were diligent with watering and have opened for fall apple picking. Finally the nights are dipping near freezing and slowly we're seeing the leaves begin to turn. I love this time of year, apples, pumpkins and squash, hot cocoa, sweaters and cool nights. It's still warm enough to enjoy activities outside but cool enough not to be uncomfortable.
Waking up this morning and walking into my kitchen I was greeted by a cool burst of air and an icy cold floor reminding me it's time to get my slippers out. I knew an easy breakfast that combined my favorite fall and Moroccan flavors in one dish was what was called for today. Serve this for a breakfast or dessert dish.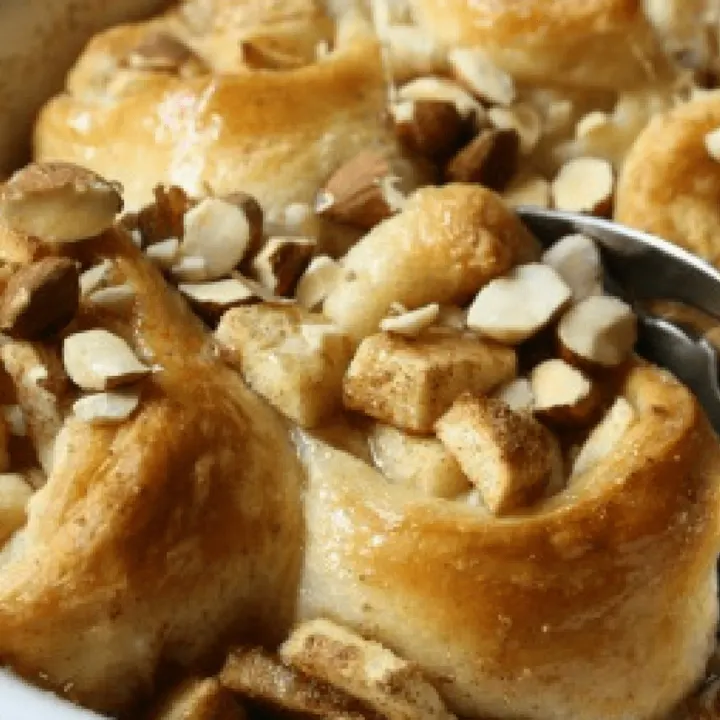 Yield:

8 rolls
Moroccan Spicy Sweet Apple Croissants
Using premade croissant dough this dessert or breakfast comes together easily with the help of apples, spices and almonds.
Ingredients
Croissants
1 can of croissant dough
2 baking apples (such as Cortland, Gala, or Granny Smith)
1/2 tsp cinnamon
1/2 teaspoon cardamom
pinch of salt
handful of chopped almonds for garnish
1 cup sugar
1/4 cup warm water
5 clove studs
1/2 c heavy cream or almond milk at room temperature
1 Tbsp butter cut into pieces
pinch of salt
Instructions
Preheat oven to 350F.
Begin preparing by peeling and coring the apples.
Chop into 1 inch to 2 inch pieces and place in a mixing bowl.
Measure cinnamon, ginger, and cardamom powders along with the salt and sprinkle on top of the apples.
Mix with a spoon to coat all of the apples.
Open the croissant dough and unroll.
Separate one triangle from from the dough and place a small handful of apples on the large end of the dough.
Lift up the long corner of the dough and fold on top of the apples.
Roll the apples up with the remaining dough.
One end of the dough will be closed and one open.
Place the closed end down in a baking dish.
Continue until all of the dough has been used.
Spread the remaining apples around the edges of the dish.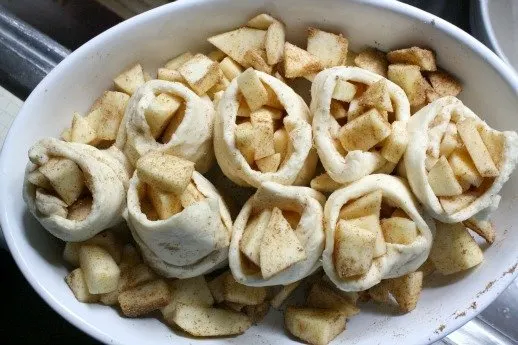 Slide pan into the preheated oven for 10 minutes and begin making caramel sauce.
On stovetop add 1c of sugar, 1/4 c of water, and cloves to a large saucepan.
Turn heat to medium and begin stirring with a wooden or silicone spoon.
Continue stirring until the mixture begins turning a light brown on the edges.
Remove from heat and slowly add the cream or almond milk as well as butter.
The syrup will start to bubble but just continue to mix until it settles down.
The syrup will thicken but is still quite fluid.
Remove the cloves with a slotted spoon or fork before pouring over croissants
When the croissants have baked for 10 minutes pull the pan from the oven and drizzle with the caramel sauce.
You will have caramel leftover.
I added about 1/4c of caramel sauce but please use more if you want gooey buns.
Reserve the remaining caramel to top the individual servings with.
Bake croissants for 8-10 more minutes until golden brown on top.
When the croissants are completely cooked top with chopped almonds and more caramel as desired.
Serve hot.