Let me be clear, unless it's saykouk you'll never encounter cold couscous being served in Morocco. The grains are used to make the different styles of couscous dishes that are always hot and anything else is virtually unheard of.
But, I'm not all that traditional and I've never met a pasta salad I didn't like so this just seems like a natural marriage of foods for me! Couscous is a type of pasta and it's great for things like this because it can cook super fast. Again, a traditional couscous takes hours but you can actually cook it in under 10 minutes.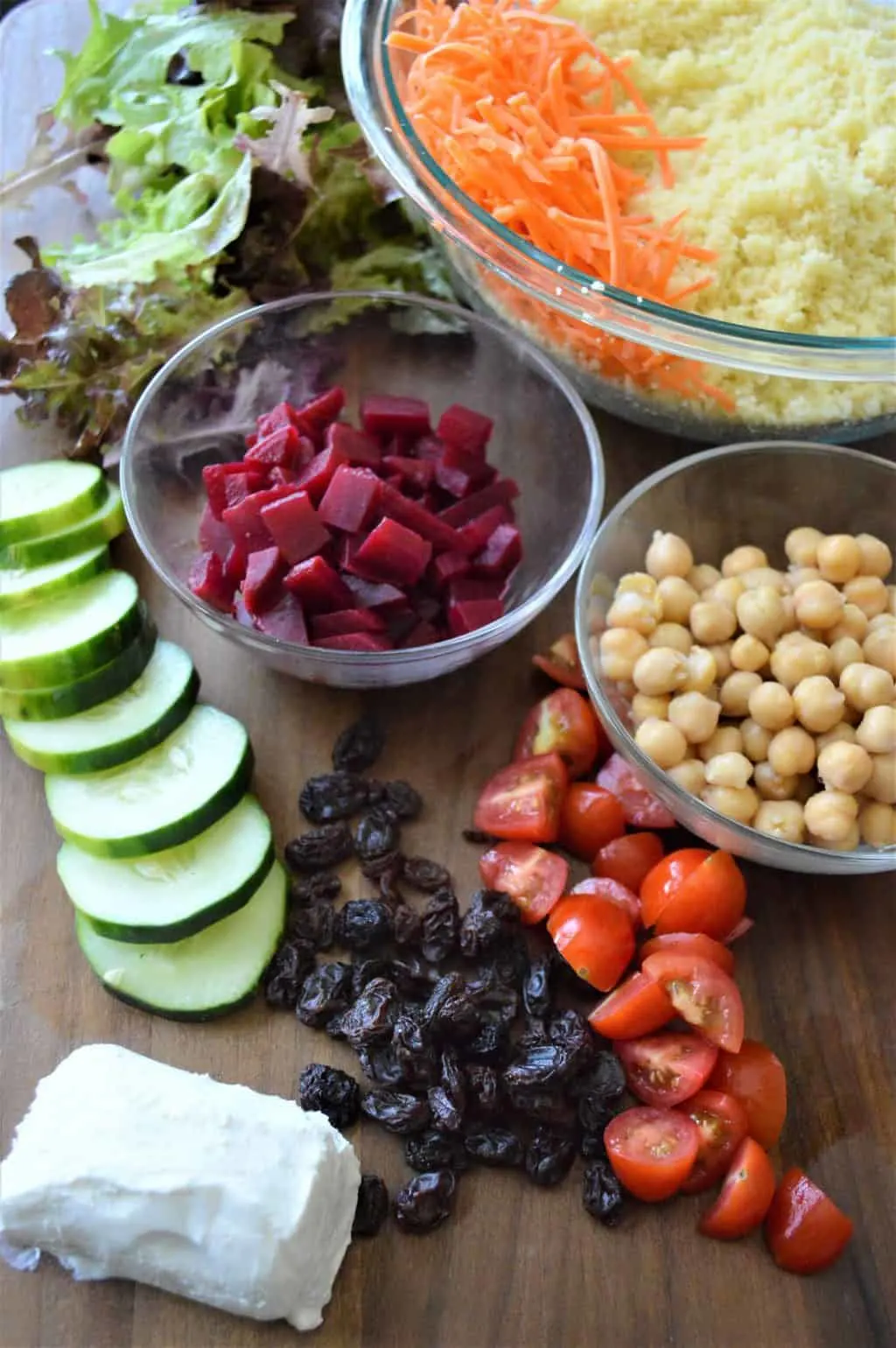 The ingredients in this dish are flexible but I went with Mediterranean flavors. You'll find all of these items in Moroccan food and Moroccan standalone salads (like this beet salad) but you can use whatever you have on hand. Cheese is less common in Morocco but goat cheese, feta or queso fresco would all be good additions.
One other hint – if you've prepared couscous for the actual dish and have some leftover, this is a GREAT way to use it up! A little couscous will go a long way in making this dish, perfect for using up a cup or two that's left.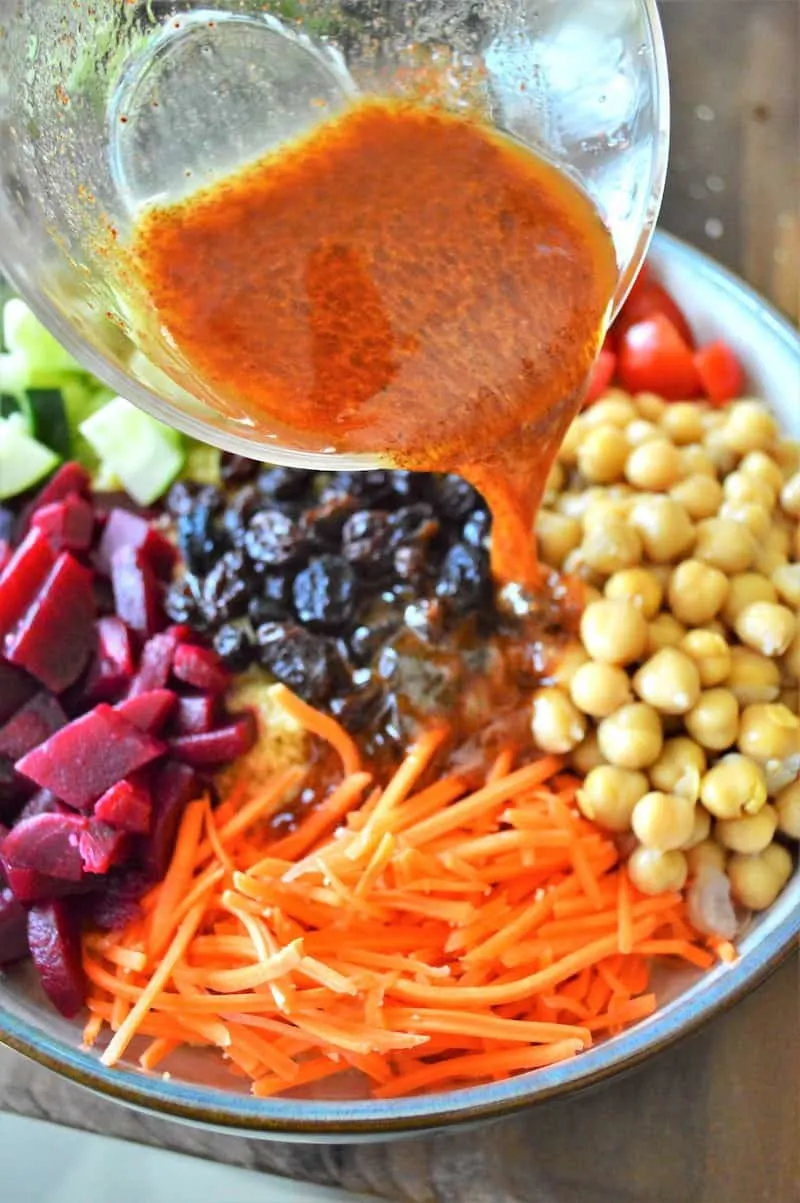 So whether you're preparing for a party or you just need to get something delicious on the table for lunch, this will be a hit. I also can't help but think it would make a great lunchbox salad option. It will be better refrigerated but even if it is kept at room temperature a few hours it will be ok.
If you plan to store the salad overnight, I would leave the dressing off and add it before serving or you may end up with soggy couscous.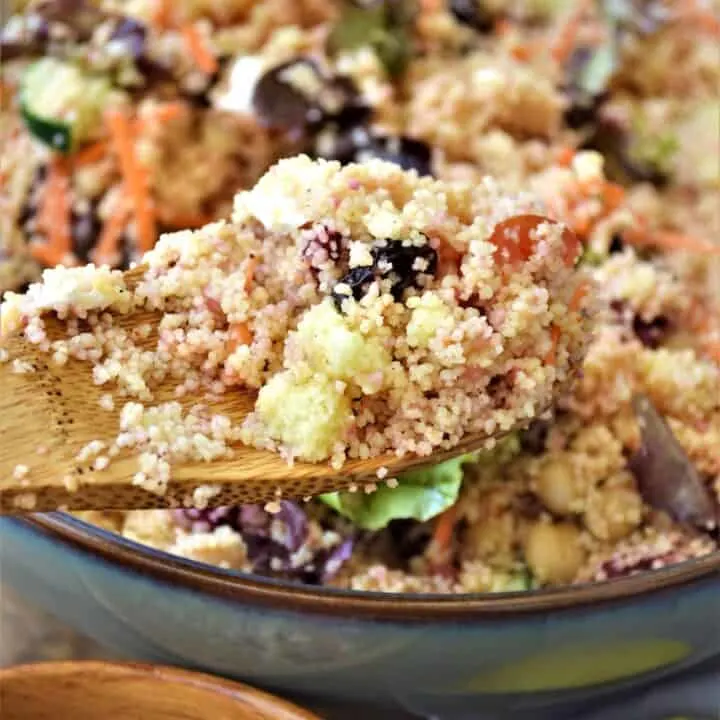 Moroccan Inspired Cold Couscous Salad
Ingredients
4 cups cooked Traditional couscous
2-3 cups mixed greens
1 cup beets - chopped
⅓ cup raisins
½ cucumber - chopped
1 cup shredded carrots
1 cup chickpeas
½ cup cherry or grape tomatoes- chopped
Preferred amount of goat cheese
Dressing Ingredients
Dash of salt & pepper
¼ tsp cinnamon
¼ tsp chili powder
1 tsp dijon mustard
Juice of 1 lemon
2 Tbsp red wine vinegar
3 Tbsp olive oil
Instructions
Prepare couscous according to package instructions. Set aside. You also can use precooked couscous.
Chop beets, cucumber and tomatoes.
In a small bowl, whisk together ingredients for dressing.
In a large bowl, combine couscous with beets, raisins, cucumber, carrots, chickpeas and tomatoes.
Top with dressing. Mix well.
Add 2-3 cups of mixed greens.
Top with a preferred amount of goat cheese.
Serve cold or warm.
Notes
For the dressing you may want to make 2 batches: one to mix with the salad, and one for individuals to add to their own salad.
This recipe calls for goat cheese but you can use any cheese you'd like. Feta would also work very well.