Rwanda is known as a fantastic destination for gorilla tracking but there are also plenty of other things to do in Rwanda. This Central African country offers so many unique things to do, breathtaking views and kind people that you'd really be missing out if you chose to fly in and out after only a day to two.
What I quickly discovered was that Rwandan culture is very welcoming. Every encounter I had was met with smiles and a big welcome. While many Rwanda tours focus on the gorillas, if this isn't your thing, don't worry. I specifically visited with World Fusion Tours because of their focus on sharing traditional Rwandan culture in a way that brings visitors in while supporting grassroots efforts in the country.
The average visitor comes for a few days, heads directly to the Volcanos National Park, spends their time tracking gorillas and leave. The cost of a permit to do this is $1500 per person – no small chunk of change. With that same amount of money you could have multiple special, cultural experiences to really get to know the country.
I have had this country on my intriguing locations radar and I even voted for it as a part of the emerging travel destinations award I judged. But, Rwanda amazed me in so many ways and I know it will do the same for you.
Day One: Welcome to Rwanda!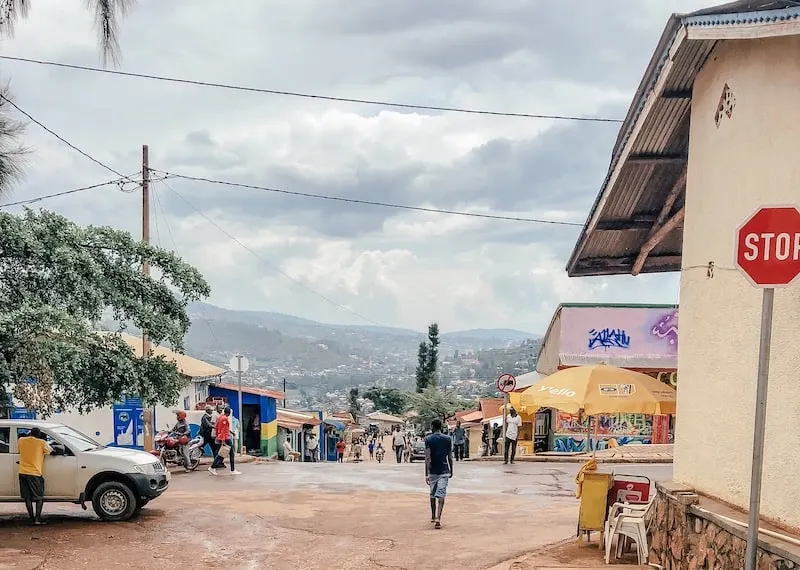 Arrive at Kigali International Airport located close to the downtown area. Entering the country is very straight-forward and in many cases you'll be eligible to get a visa on arrival. All immigration officers accept credit cards to pay this fee; or you can pay in US currency.
Proceed to retrieve your luggage and do keep in mind, plastic bags are banned in Rwanda so if you have wrapped your luggage it must be removed before you leave the airport or you will face a fine.
Directly outside the airport is a small kiosk area near the parking lot that has banks with ATMS to withdraw currency (there's also a currency exchange in the airport). If you'd like a local SIM you can get this next to the ATM/bank machines.
Settle into your hotel and either opt to catch up on some rest or head out to explore Kigali. If you are looking for something that won't take too much time consider a walk in one of the many beautifully manicured city parks or visit the Kigali Genocide Memorial.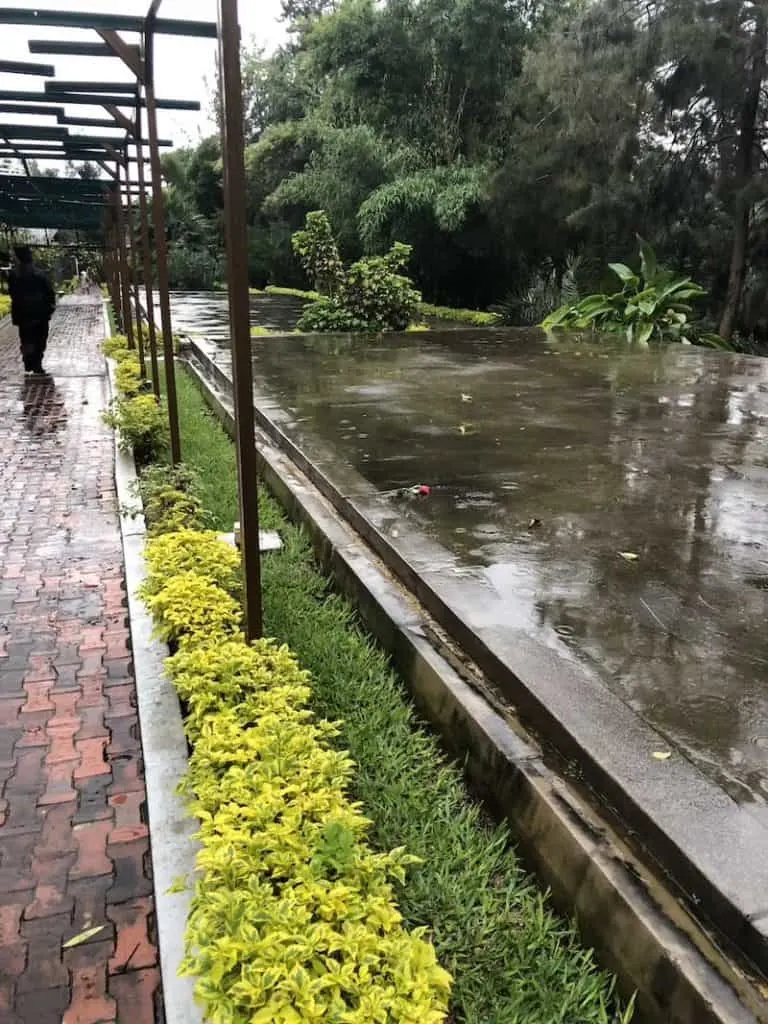 Yes, that may sound dark to do on your first day but I think to understand and appreciate modern Rwanda you need to understand what Rwanda went through only 25 years ago. Even if you think you know the whole story, you likely don't.
This is still a sensitive subject even though the country has rebuilt so if you have questions ask at the memorial instead of asking locals; while some people may open up and speak to you about this do be respectful.
Day Two: Cultural Immersion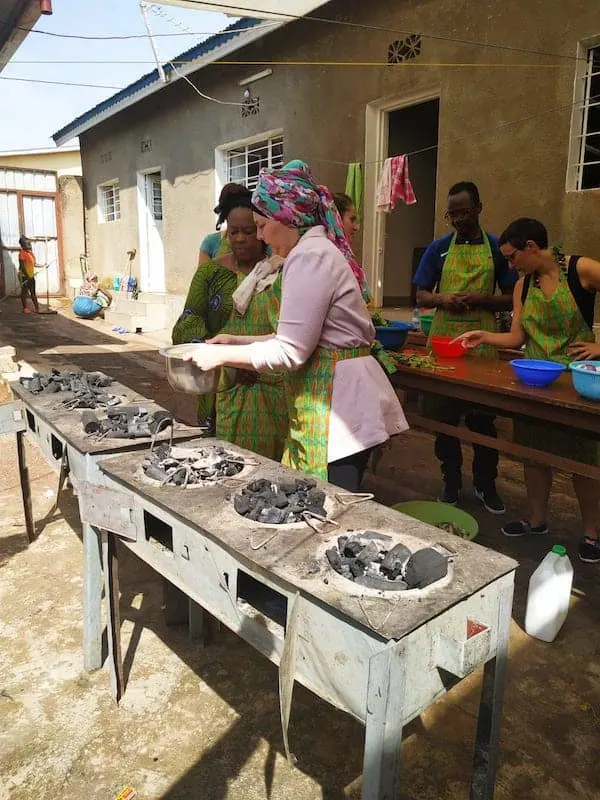 Dive into Rwandan culture with a market visit, cooking class and community walk. I arranged this experience with World Fusion Tours who provide fantastic culture based experiences that get you the heart of the local culture. Nyamirambo is a multi-faceted community based organization. Women who are members learn literacy and sewing skills as well as cooking classes to generate income. It's worth visiting just to hear their start-up story!
Visit a few local market stalls to pick up the vegetables needed for your meal. Rwandan food is primarily vegetarian and while you might be skeptical, don't be. It's fantastic! The cooking classes are done in small groups so if you're alone don't fret – you're likely to meet other travelers that are joining in.
They also offer a community walk experience and a few other options as well. Do stop by their shop where the products of the sewing cooperative are sold.
If you're looking for some places to check out when you have time, consider picking up a copy of "The Map Kigali". You can get the 2nd edition online from Amazon ahead of time or find other places the 3rd edition is sold on the ground in Kigali.
Day Three: Rural Rwanda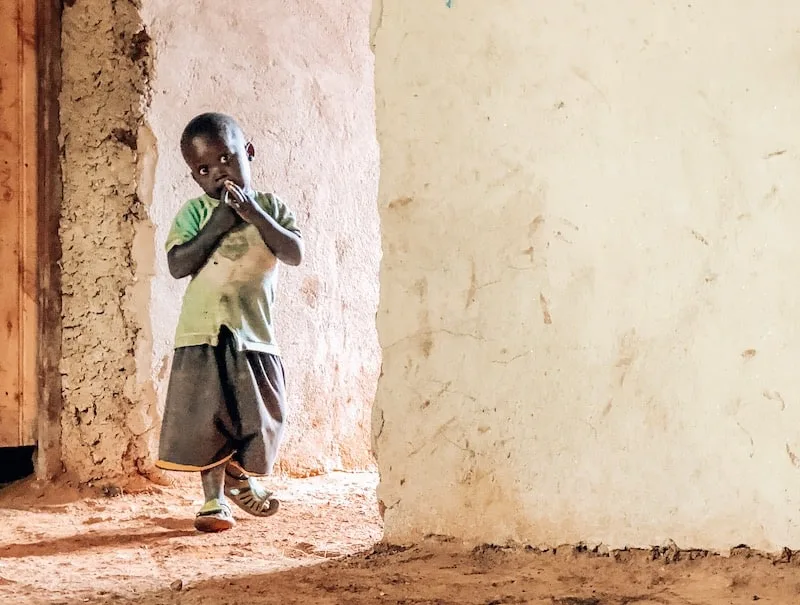 Time to head out of Kigali for a look at life in rural Rwanda. Thankfully Rwanda is a small country, making it easy to do day trips. The Azizi Life women's cooperative opens up their homes and their lives to visitors and they do so genuinely and with great enthusiasm. Roll up your sleeves and join the ladies for a morning in their world and share a meal before you go. They also will show you how to do things like making the traditional Rwandan baskets.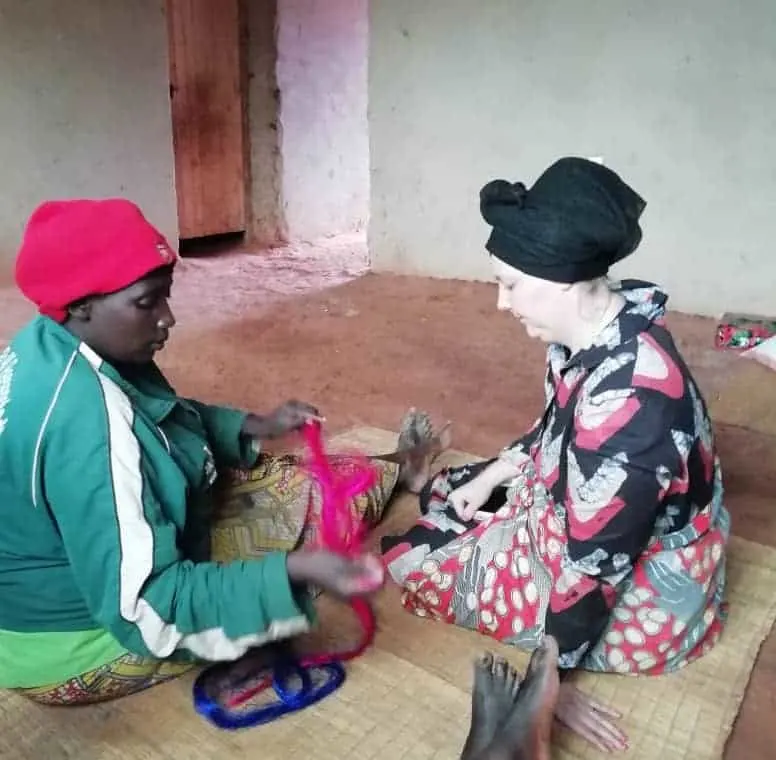 While I sometimes find these activities can be exploitative this couldn't be further from the case here. I found that the women truly organized themselves and are just as interested in learning about you as they are sharing their lives. They take turns hosting visitors in their homes, however the daily activities are shared so you're surrounded by a community of women.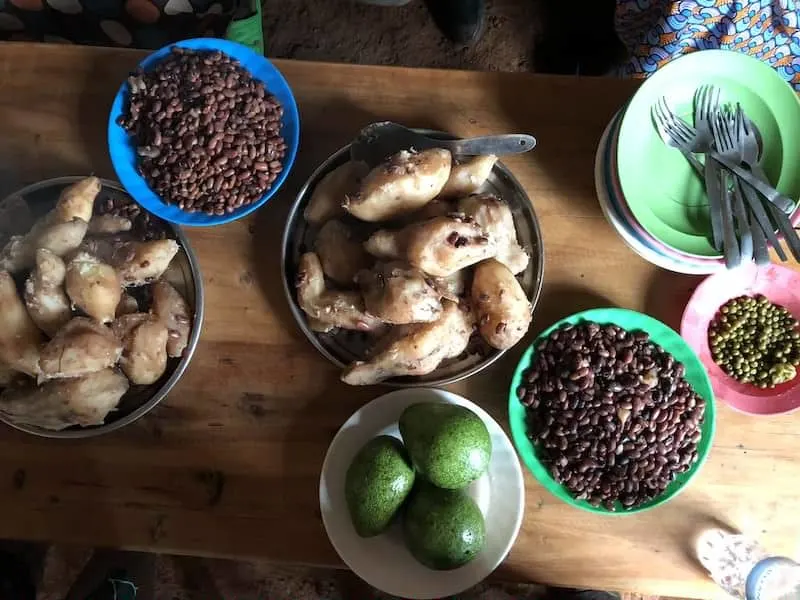 I LOVED this experience because it really felt like a true sisterhood.
Afterwards, it's back to Kigali for the evening. Relax or head out and enjoy one of Kigali's restaurants.
Day Four: Volcanoes National Park and Relaxing
Located in northwestern Rwanda this is THE area that mountain gorilla trekking begins from. It's also where conservationist Dian Fossey had her base and is the future home of The Ellen DeGeneres Campus of the Dian Fossey Gorilla Fund. Musanze, the second largest city in Rwanda is here and it's a mere handful of miles from the Ugandan border.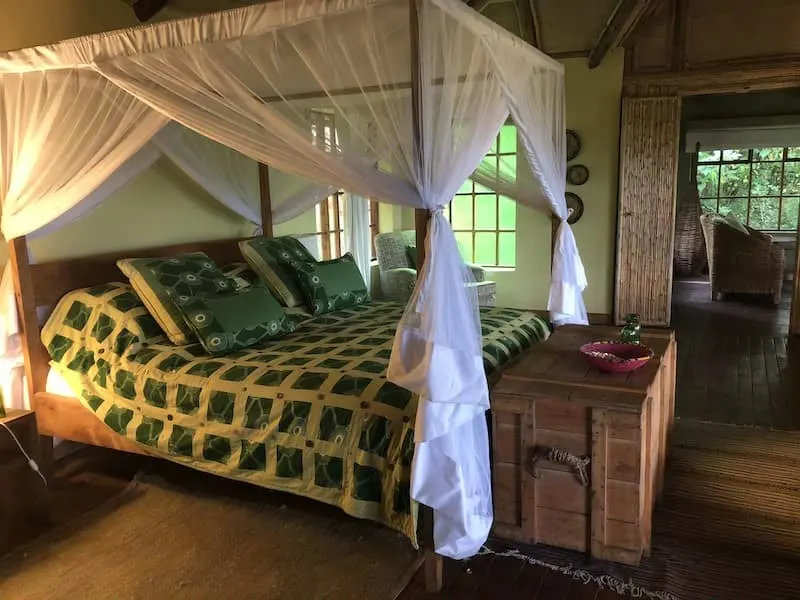 I visited and can recommend Virunga Lodge for it's absolutely stunning views, welcoming staff and great food. Each of the rooms feature either a sunrise or sunset view of Lake Bulera or Lake Ruhondo and the volcanoes. The lodge itself is nearly 7000 ft above sea level! While gorilla tracking is the most popular activity in the area it's not the only thing. You can enjoy a village walk, birding, take in time at the spa, or take easy hike/walks in the natural surrounds.
You may also want to take a hike to see the golden monkeys. They are found in the Virunga National Park and are an endangered species. They are quite rare with only 2 troops of approximately 80 members in the area. As with gorillas you need a permit; but while the gorilla permit is $1500 per person, a golden monkey permit is $100. Only small groups of 8 people at a time can visit and only for an hour. For those who fear a long, arduous hike this may be the better option as the monkeys do not go to the higher altitudes gorillas do.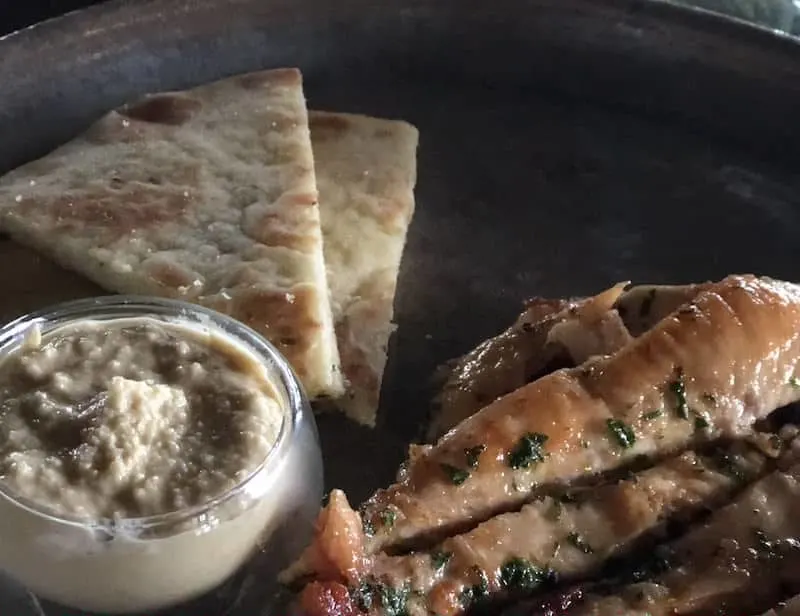 If food is important to you, the chef here has created a variety of menus that feature local products and dishes while also bringing in international flavors. There's sure to be something on the menu for you!
Day Five: Gorilla Guardians + Activity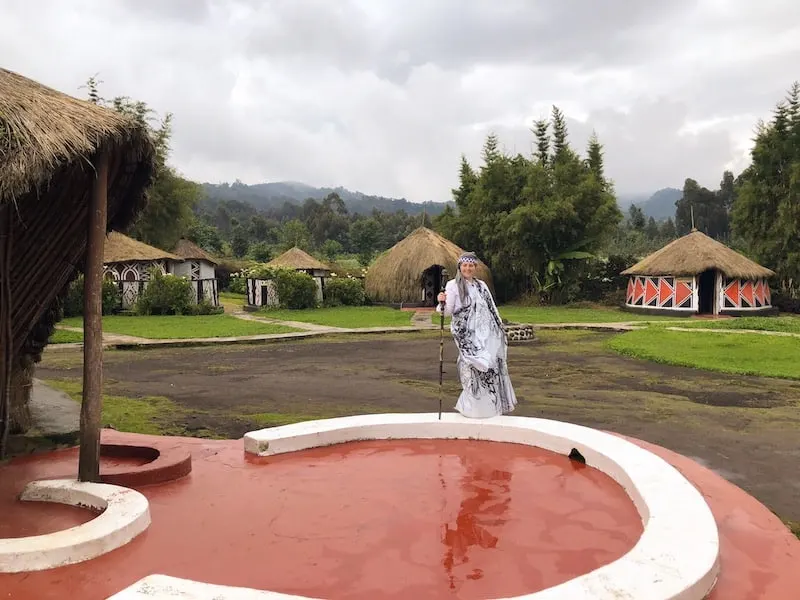 You would be remiss to visit the area and not visit the Gorilla Guardians Village. This is an area where local practices and traditions are being preserved to show visitors about life during the time of the kings of Rwanda (in the early to mid 20th century) and in doing so they provide jobs to ex-poachers.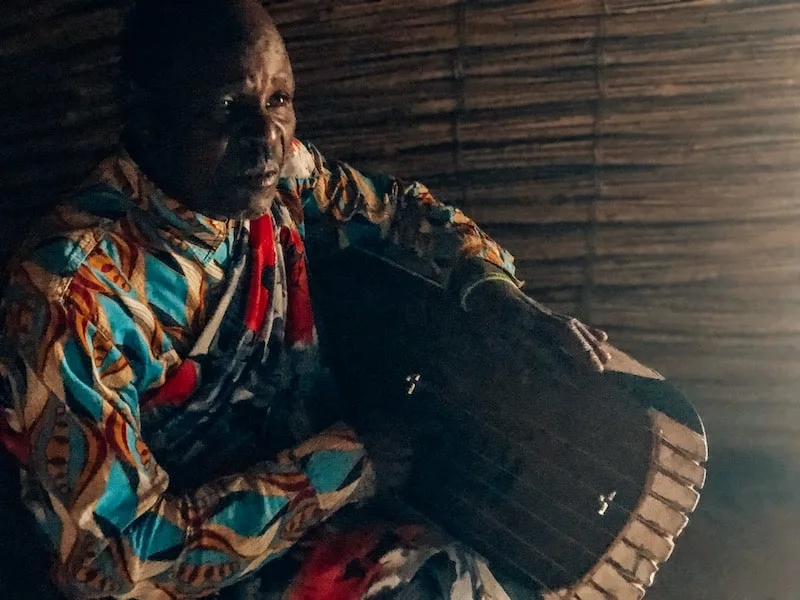 One of the major efforts in conservation is educating and eradicating poaching. To do this poachers need to see the importance of conservation and also a means to provide for their families. Community based tourism is just one of the ways they are doing this.
When visiting the village you'll see things like how traditional herbs were used for treating ailments, how milk was processed and stored, traditional songs and dances, a glimpse at traditional homes (and you can spend the night here too if you'd like!) and traditional crafts.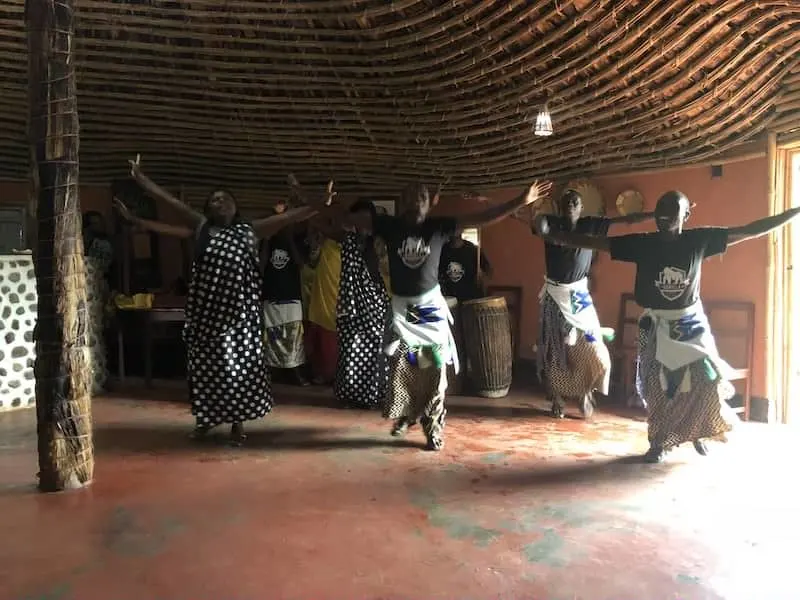 Donations can be given here to support conservation and also as a thank you to the community members who share.
You also may want to visit the Karisoke Exhibit in Musanze to see some of the information and story behind the conservation work that was and continues to be done on conservation in the area.
Spend your last night in Musanze before going back to Kigali.
Day 6: Kigali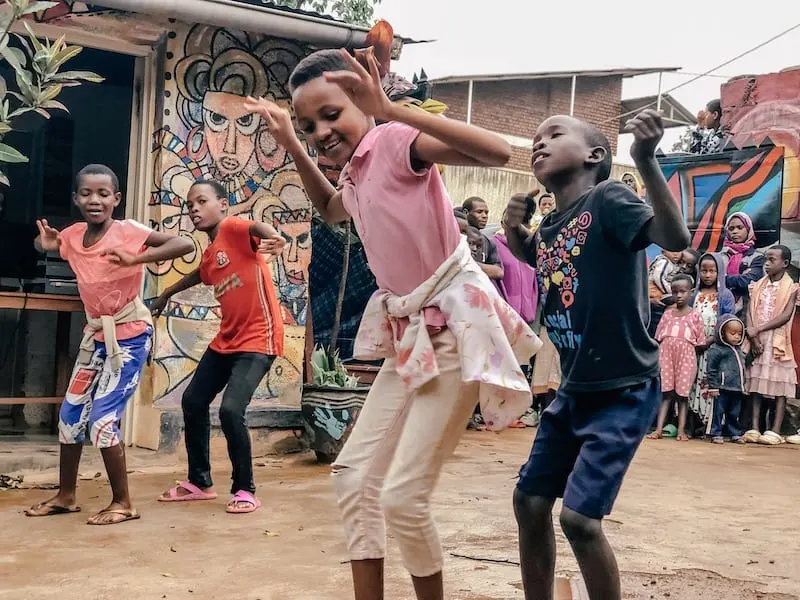 After breakfast make your way back to Kigali. The drive takes approximately three hours as it is a mountain drive. On your return make sure to visit the NIYO Art Gallery and Community Center. This is an art gallery but also a community organization supporting street children of Kigali.
Children come and learn traditional drumming dancing as well as get help with aspects of life such as health insurance, school needs and more. There are 125 children currently being supported and the story of how it was founded is reason enough to visit – let alone to see one of their fantastic performances!
This truly is a source of pride for the community; as soon as the drums start the doorway fills up with people walking by and that live around to watch the kids perform!
Day 7: Coffee and Shopping Day!
Kimironko is Kigali's largest market and chock full of things to feast your eyes on. If you're after the popular African kitenge fabric you're in luck – there's loads! Not only can you buy but you can have things made onsite too. You'll find plenty of tourist items, Rwandan baskets and of course don't skip a walk through the produce and food section to get a glimpse of what's popular here.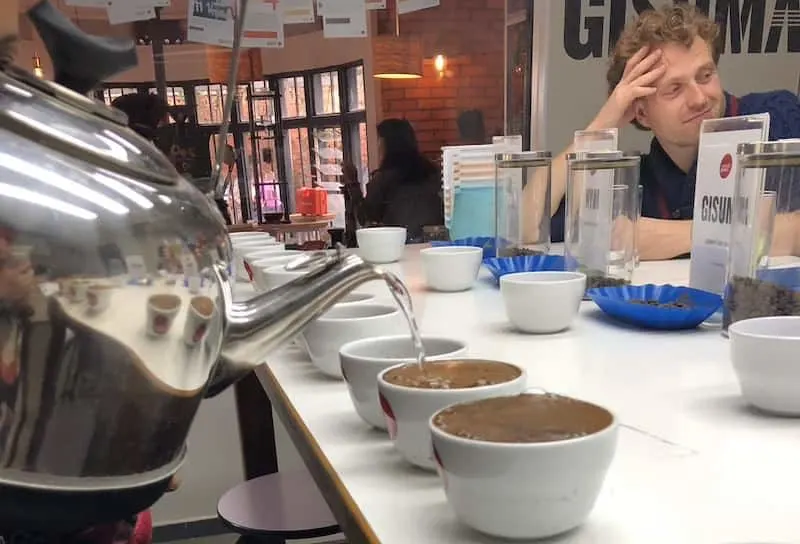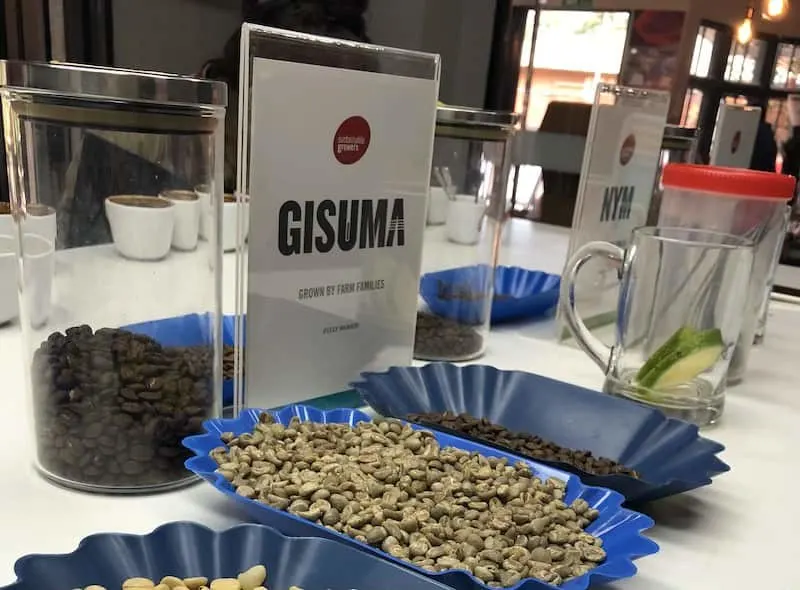 When you've gotten your fill it's time to visit one of the coolest coffee houses in Kigali – Question Coffee. Not only can you get a wide variety of hot and cold drinks, you can become a coffee master through their coffee classes. I did their cupping class and learned so much! I also got a bag of coffee to bring home (and might have bought half a dozen more). Like so many things in Rwanda the story behind how this all came to be is equally inspiring.
Other Experiences in Rwanda to Consider
This is just a handful of things that I tried when in Rwanda and I had so many other things to consider too! World Fusion Tours created an itinerary for me based specifically around what I wanted to do. Some of the other suggestions included a visit to a coffee plantation to see the entire bean to cup process, visiting a tea plantation for a glimpse at Rwandan tea production, a visit to East Africa's first craft distillery that also has rock grilled steak that you can enjoy for lunch or dinner with your drink, and so much more.
A week is not nearly enough time in Rwanda but it will give you your first taste and make you want to start planning a return trip!
Kigali Restaurants to Try
The Hut – with an extensive menu including daily specials there's no lack of choice here. In addition to Rwandan fusion you'll find a wide variety of meats (also tofu and cheese) that can be paired with a multitude of sauces, starch sides and vegetables to build your own plate. Pizza, burgers and some pasta dishes round out the menu. I loved the steak with Rwandan peanut sauce.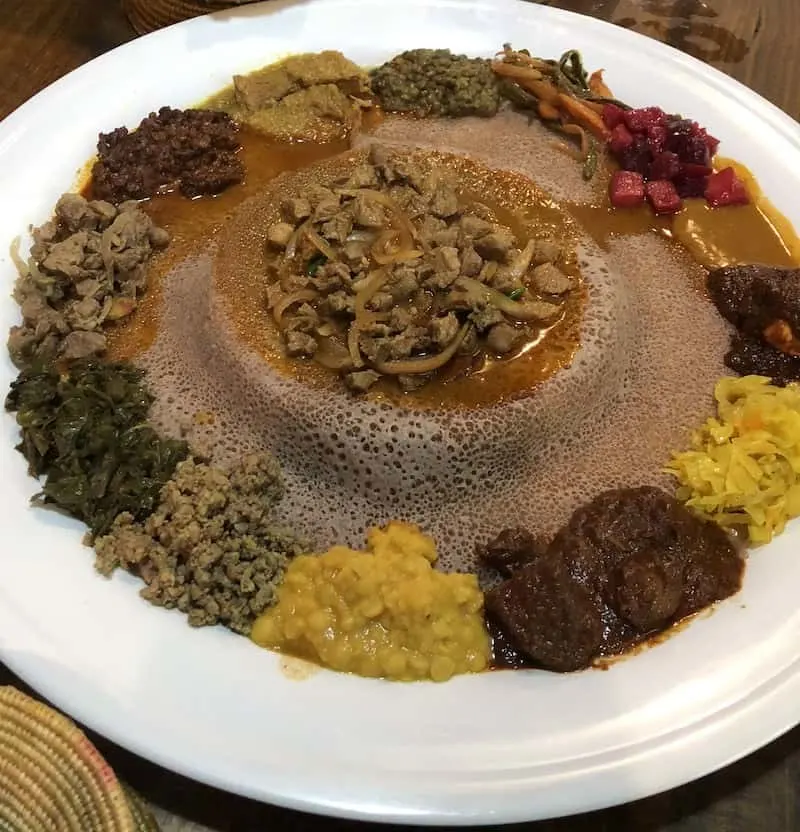 Habesha – If you like Ethiopian or you'd like to try it – this is a good option. They have a long menu with a mix of vegetables, beans, and meat options ranging from mild to spicy. If you're traveling with a partner or friends, this is a good choice as sharing your meal is advisable.
Repub Lounge – Vegetarians are in luck in general in Rwanda as the diet is heavily vegetarian. Pop into this restaurants (with reservations if there's more than 4 people) and get down on all sorts of Rwandan dishes like two of my favorites isombe (cassava leaves with peanuts) and matoke stew (green banana stew).
Billy's Bistro – I won't lie as much as I love eating local when I travel by the end of my trip I was really dreaming of pasta. It's my ultimate comfort food. This restaurant came as a recommendation from Kat my local friend and while I didn't get a chance to try it I totally trust her advice as her other suggestions were a big hit.
This is a popular spot if you're looking for a good place to catch a great view of Kigali and perhaps enjoy a sundowner. They have an extensive menu and also regular live entertainment.
For more food and culture tips for Kigali I found the Living in Kigali blog helpful and insightful!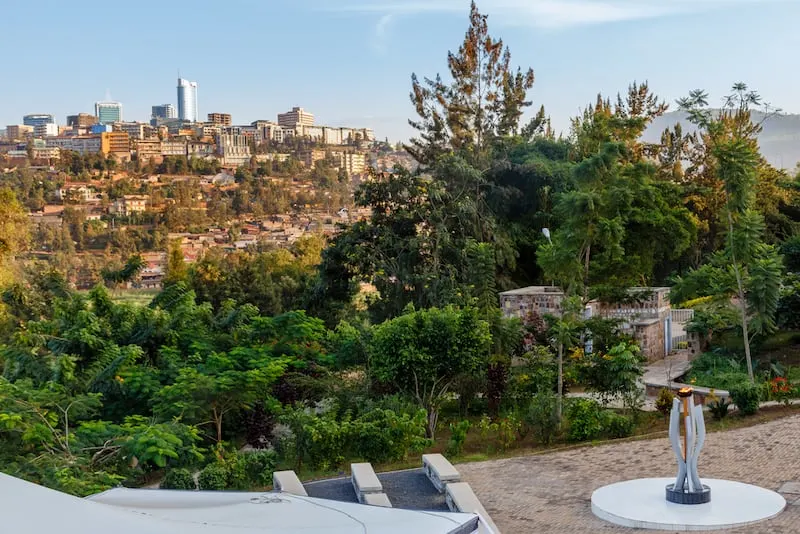 When is the best time to visit Rwanda?
I visited in December which is during the rainy season and I did face a few days of rain though it never lasted all day. May – August is the dry season however temperature wise Rwanda has a climate that usually sits in the 12-25C range year round. In the higher altitude mountains it does get colder so being prepared and packing layers is advisable.
What currency is used in Rwanda?
The official currency of Rwanda is the Rwandan franc and 90% of the time you'll want to have this available. In late 2019 the conversion to the US dollar was approximately 950 francs to $1. Credit cards are accepted in some places like hotels and restaurants.
Do I tip in Rwanda?
Yes, you can. Tipping people like drivers and wait staff can be done. Tipping is not in large quantities like the US; round up or when in doubt for smaller amounts a 1000-2000 franc tip is usually adequate. You also may find in many places there is a central tip box or deposit and the tips are then split amongst all the staff. I found this more common in Rwanda than any other country I've been to.
How should I dress in Rwanda?
What I found is that in cities people dressed in a wide variety of ways though I'd say dressing a bit more conservatively is advisable for your own comfort. Pack based on what activities you'll be doing. For example If you're going to more rural areas than being a bit more covered is not only respectful but will protect you from the sun and any bugs.
Do I need vaccines to visit Rwanda?
In most cases no. There were notices posted that if you were arriving from countries with yellow fever for example you'd need to show proof of vaccination. No one asked me for anything. Rwanda does have issues with malaria so it's up to you if you take anti-malarial medication.
Is Rwanda safe?
Incredibly! This was my first concern too especially as I was traveling alone and knowing it bordered Congo. I was astonished at just how safe it is. There is a heavy police and military presence which I know can make some people uncomfortable.. The police are very straight – there is minimal to no corruption and they take their job very seriously. I faced no sexual harassment and never felt threatened. Like any country there is petty crime and theft though even this is few and far between.
How can I get around Rwanda?
To be fair, I had a driver the entire time I was here and I think that's what worked the best for me. Driving is very orderly and I don't think I would have any issue actually self driving but the police are also very strict so unless you know the rules I'd be hesitant. There are taxis and motor taxis if you prefer this option. But again, I do think having a driver is the best and most effective way to see things without worry.