When you're moving overseas alone there is a lot to consider. But if you're wondering how to move abroad with a family it brings up a wide range of new issues. To begin the process of making this move, here are a few things to begin your relocation.
Making sure you get the right visa/permit
The first thing that you should thoroughly research when moving abroad with a family is the exact type of visa and/or permit you will need. Ensuring that you get your paperwork in order can certainly save you a lot of time, effort and money further down the line.
In fact, if you get the application wrong then you may, unfortunately, have to start from scratch. Not only will you want to make sure that your own application is correct, for example, if you need a work permit, but also that your family members' applications are correct.
If you have children then you should ensure that they are applied for as minors under you, rather than as a separate application in their own right, this will then entitle them to any benefits that you are eligible for and will receive in your new country. Every country is different and the requirements are different.
Making sure that you have all legal aspects to your stay in order is quite possibly the most important part of making the move so investing time (and potentially) money to this should be your first priority.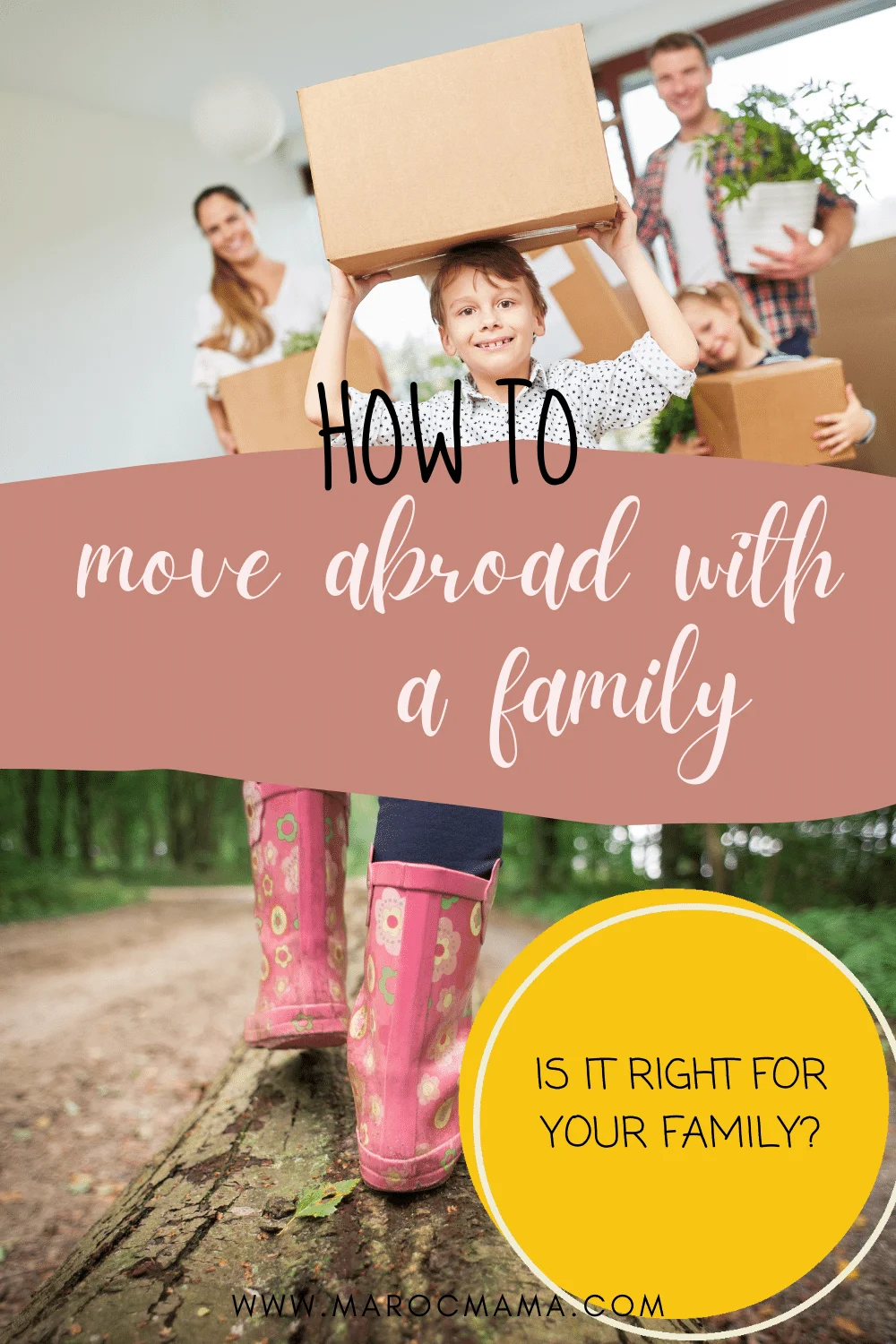 Looking for a job
If you already have a job lined up in your new country then that is great news. If you are changing countries but still working with the same company, then you should make sure that you have agreed to any new terms with them and that you fully understand everything that it will affect, for example, taxes.
If you find yourself in the position of having moved to a new country without a job it can put extra pressure on you and your family. What could have been an exciting new experience can quickly become stressful and unappealing.
Similarly, if you have adults moving with you, or any older teenagers then consider their job opportunities as well. If you are moving to a new country then the salaries will vary, as will minimum wage, but the cost of living will also likely be different. Consider how these things will affect your family's everyday lives.
Enrolling children in a new school
If you have children young enough to still be in school then you should consider the impact moving abroad will have on them. If you are set on the idea of moving abroad, then you should do your research on the best and most popular schools in your new area.
This will give your child the best chance at quickly adapting to their new environment and make it as easy as possible, mentally, on your children.
Look into international or foreign schools in your new country of residence if you are worried about any language barriers or if your child is old enough that they have already started preparing for certain exams. You really need to take time to consider the long-term education goals your family has.
Language barriers
One of the main issues with moving abroad may be the language barrier. If you are moving to a country where you or your family don't speak the language you may want to consider enrolling in classes before you leave. This will make the initial few weeks not so scary and allow your family to ease themselves into their new life. For some parents, one of the main reasons to move overseas may be for their children to learn the language. If this is you but you're still on the fence be sure to check out my course to help you make this decision!
If you are looking for a job in this new language then it may be worth your time hiring a private tutor to help you progress as quickly as possible. Also, depending on the age of your children they may need extra help with the language too. If they are young enough to be able to absorb a language then this is not such a problem, they may just need a little bit of encouragement. But, if they are older then a private language tutor could be a big help.
Extracurricular Activities
Often times this is one of the things people do not consider before moving abroad. They assume that there will be activities to do no matter where they go. Sadly, this isn't always the case.
If your family loves certain activities, for example hiking, then you will want to look into what hiking there is in your new country. How accessible is it? Is it something there is any community around?
Transitioning to a new country can be a lot easier if you have the ability to join in on activities!
Moving abroad with a family can be a fun and exciting experience and taking the time to consider some of these details will be a big help!