If you're heading to Marrakech, I highly suggest you book a riad – a traditional Moroccan house with a courtyard in the center. They're absolutely gorgeous, and you know what's even better? Staying in a riad with a big pool!
Many riads have been turned into bed-and-breakfast-style hotels. They have plunge pools in the middle of the courtyard, which is cute but not fit for escaping the heat of the Moroccan sun. If you want your holiday to be extra special, or if you're simply looking for a peaceful oasis in the heart of the bustling Marrakech, a riad with a proper pool is what you need.
Here is my list of the very best riads in Marrakech with a pool. It's a great starting point if you're looking at where to stay in Marrakech and stay cool.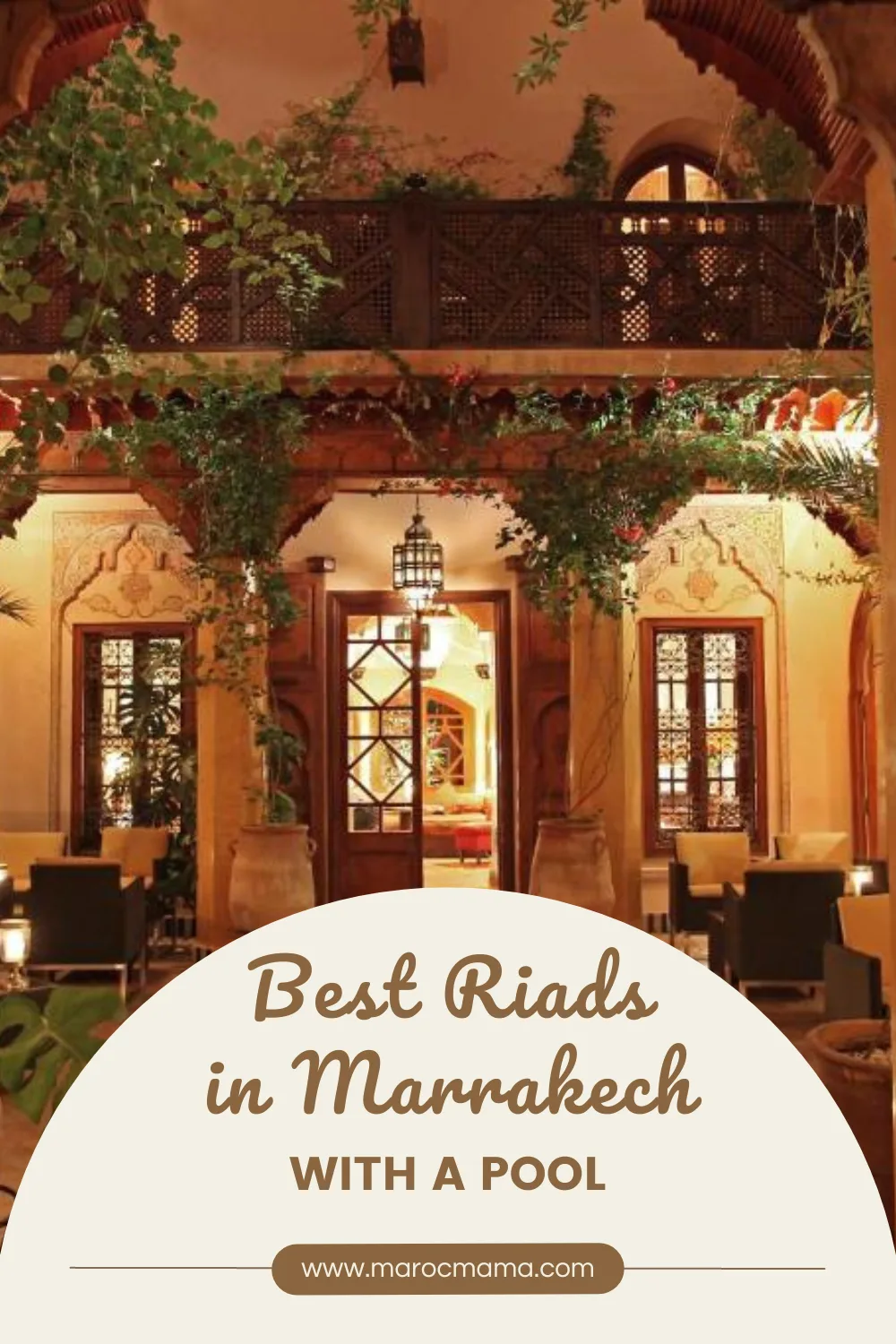 Plunge Pool vs Swimming Pool
One thing to watch for when booking a riad with a pool is understanding what type of pool they have. Many riads have plunge pools listed in their description. You won't be swimming any laps in there. A plunge pool is generally quite small and just meant for cooling off from the hot Moroccan sun. If you're looking to swim, make sure the riad has a pool that's large enough to do so!
Can You Really Swim in the Middle of a Riad?
Yes! Many riads have large open spaces around their pools and are open to the outside. This makes it perfect for outdoor recreation like sunbathing and swimming. Whether you want to relax in a more traditional setting or enjoy getting in some sun sports you can. It is worth noting that some riad ceilings have a narrow roof opening and can be partially blocked by trees so don't expect full sun – which is probably a good thing!
Riads with Pools in Marrakech
1. Riad Palais – Calipau
This is one of the best riads in Marrakech with a pool. If you are looking for a traditional but luxurious Moroccan experience, Riad Palais – Calipau is the place to be. The different types of rooms, the stunning interiors, and the courtyard space full of plants create an elegant atmosphere.
This riad also has an on-site restaurant, a rooftop, and a spa where you can indulge in the hammam, the traditional cleansing treatment. The cherry on the cake? The fantastic indoor pool on ground level!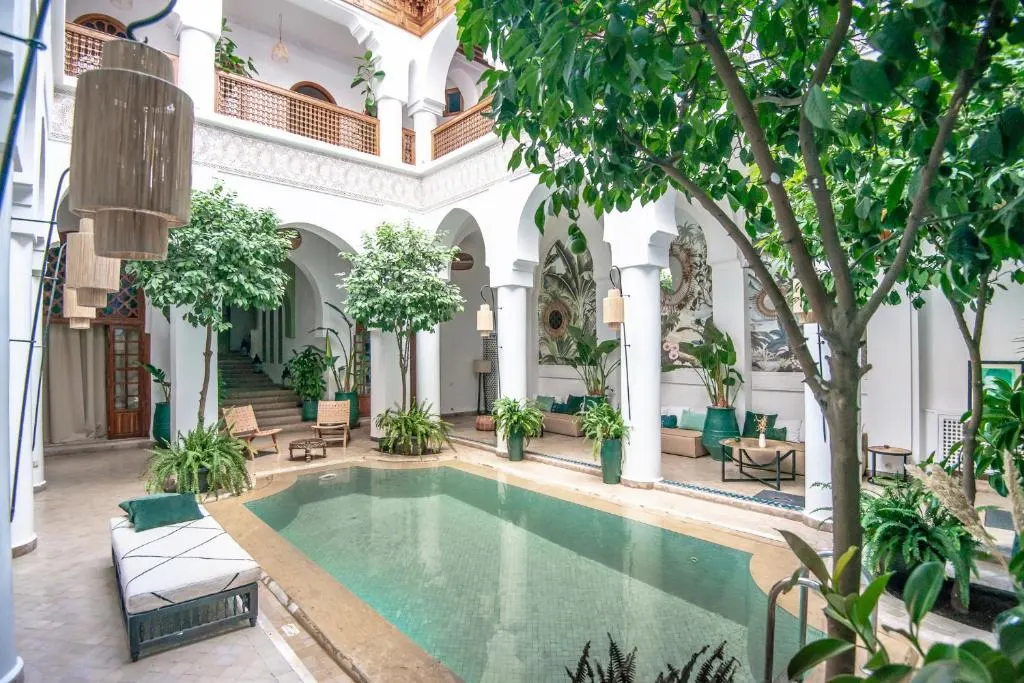 2. Riad NayaNour
A wonderful riad with a heated pool in Marrakech, Riad NayaNour is just a 10-minute walk from Jemaa el-Fna Square. This guesthouse provides all the comforts of a high-end hotel but with a strong Moroccan feel.
The predominately white interior is adorned by modern furniture and is completed by a stunning courtyard with a heated swimming pool.
The riad has seven bedrooms, including two suites with private living rooms.
Riad NayaNour serves a delicious breakfast in the restaurant, where you can also taste African cuisine for lunch and dinner.
The multi-purpose space on the spacious terrace is perfect for sunbathing or relaxing in the evening after a whole day exploring Marrakech.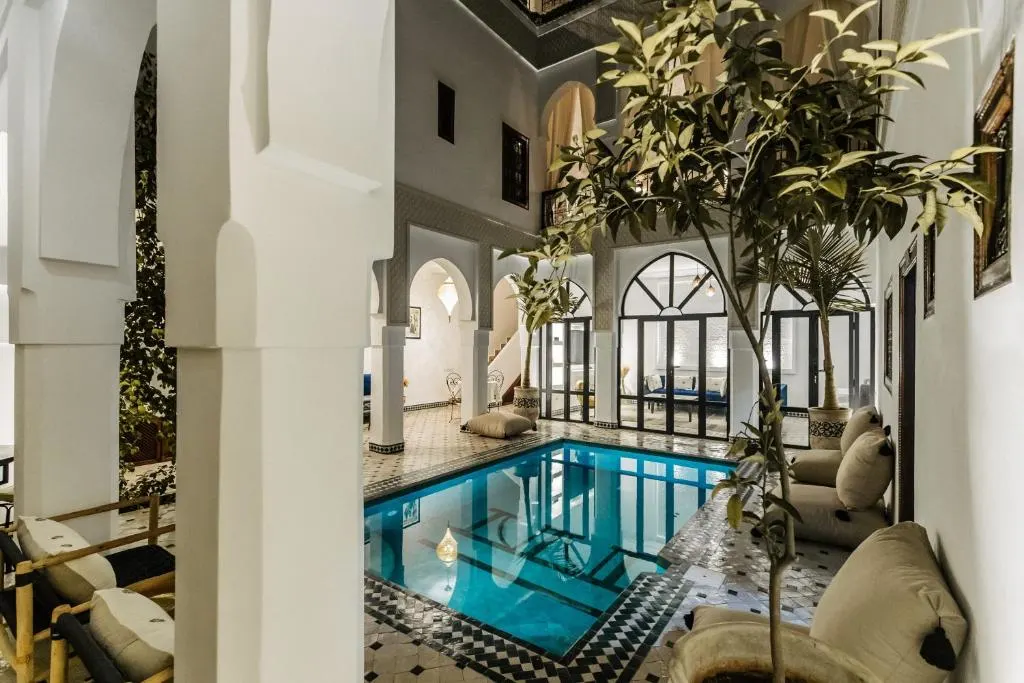 3. Riad Trésor Marrakech
This Marrakech riad with a pool is located right in the heart of the Medina. The best feature of Riad Trésor Marrakech is the large pool in the central courtyard, which is perfect for swimming.
The riad offers several different rooms that can accommodate up to four people and is beautifully finished. All the rooms also come with a private terrace.
The on-site restaurant serves traditional Moroccan cuisine as well as Mediterranea.
If you want to relax, head to the rooftop terrace to watch the sunset or spend time in the hammam.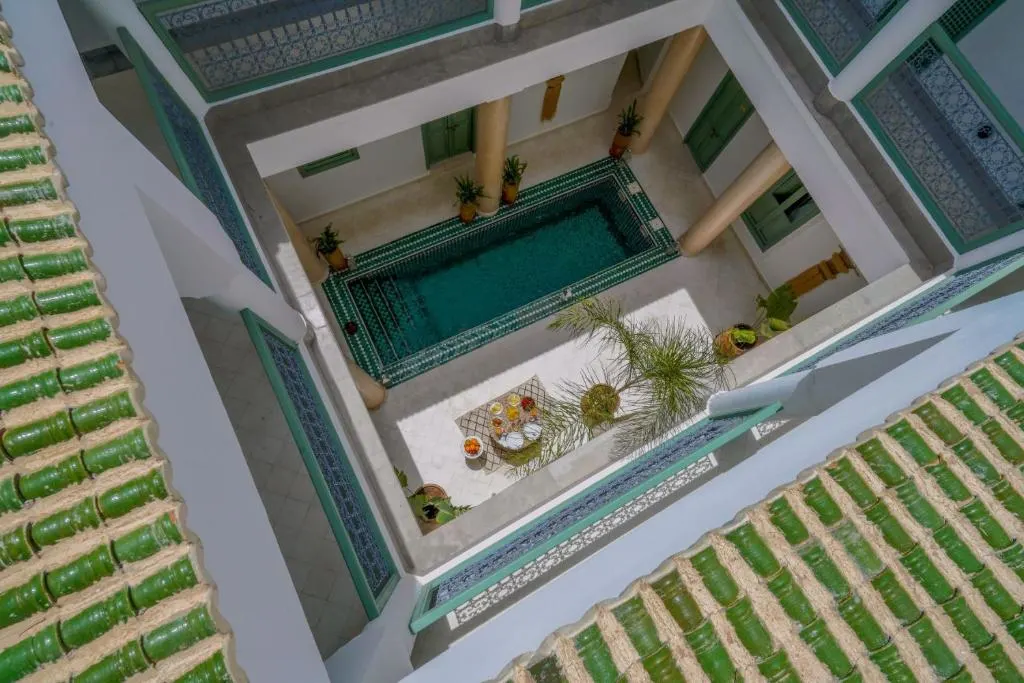 4. Riad Kniza
In an 18th-century traditional Moroccan building, Riad Kniza is one of the best riads in Marrakech with a pool.
The owner, a renowned antique dealer, completely restored the place to create an authentic Moroccan experience for the guests. The eleven suites are all decorated in Moorish style, with carved wooden furniture and a fireplace. The luxurious atmosphere will make you want to stay here permanently!
Riad Kniza has a large outdoor swimming pool, a sauna, and a steam bath where you can spend your day relaxing. The on-site restaurant is considered one of the best in Marrakech.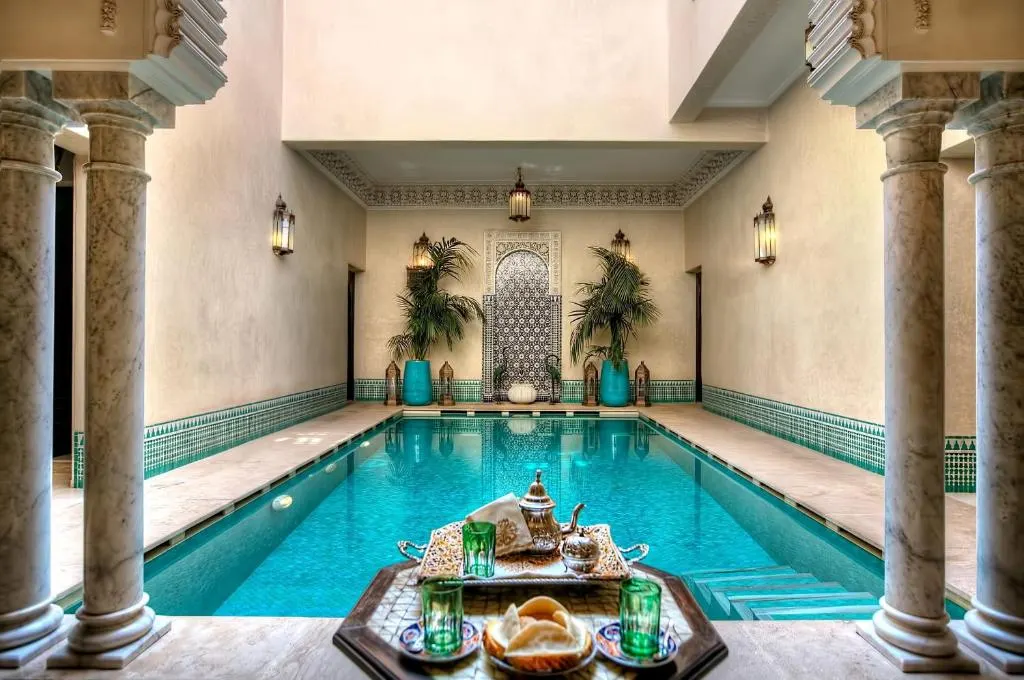 5. Riad & Spa Le Secret de Zoraida
This wonderful Marrakech riad with pool is an oasis of tranquility in the heart of the bustling Medina. The Riad Le Secret De Zoraida is a luxury hotel ideal for a romantic break. You will love the staff's special attention, serving mint tea on arrival.
The individually-decorated suites feature a private bathroom and a seating area.
On the ground floor of the riad, you'll find a heated swimming pool with fountains.
The Riad Le Secret De Zoraida also has a wonderful spa with a marble-clad hammam and a hot tub on the terrace.
Enjoy the view of the Atlas Mountains from the hot tub on the rooftop terrace and taste the delicious Moroccan food served at the on-site restaurant.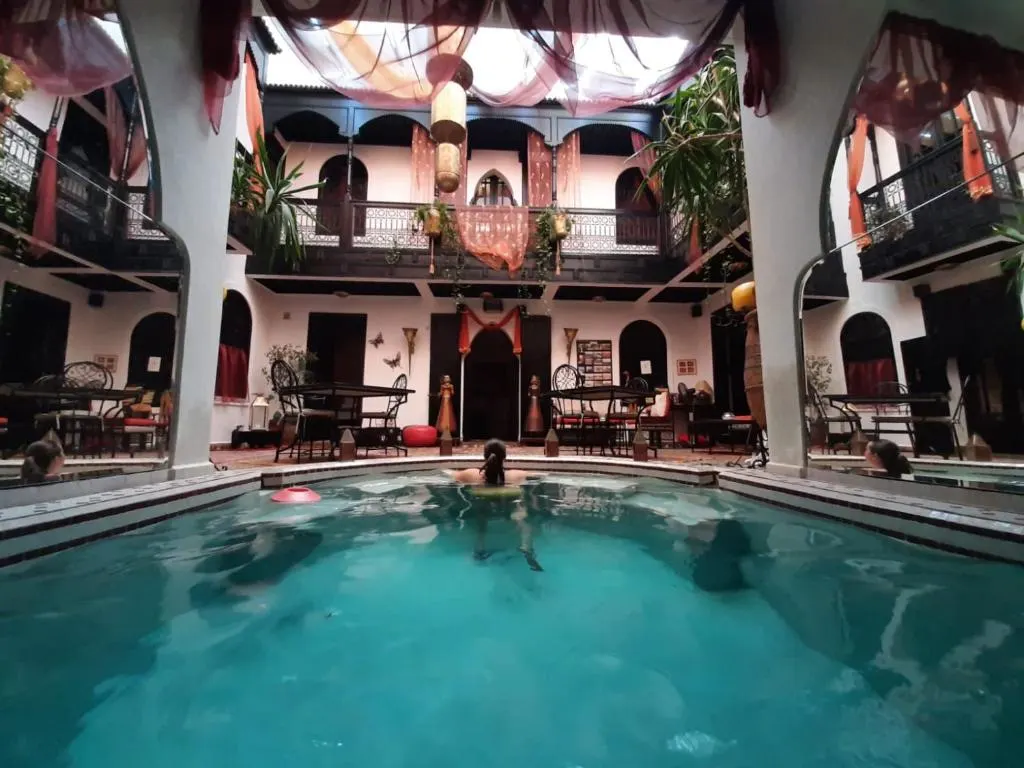 6. Demeures d'Orient Riad & Spa
If you want to stay in one of the best riads in Marrakech with a pool, then make sure to reserve a room at Demeures d'Orient Riad & Spa.
This riad in the heart of the Medina offers luxurious rooms and suites with elegant furniture inspired by the Middle East. The rooms are set around a vast and ornate courtyard, where you will find a large swimming pool.
After a day of sightseeing, enjoy a relaxing moment in the hammam and dine in the hotel's restaurant with refined local specialties.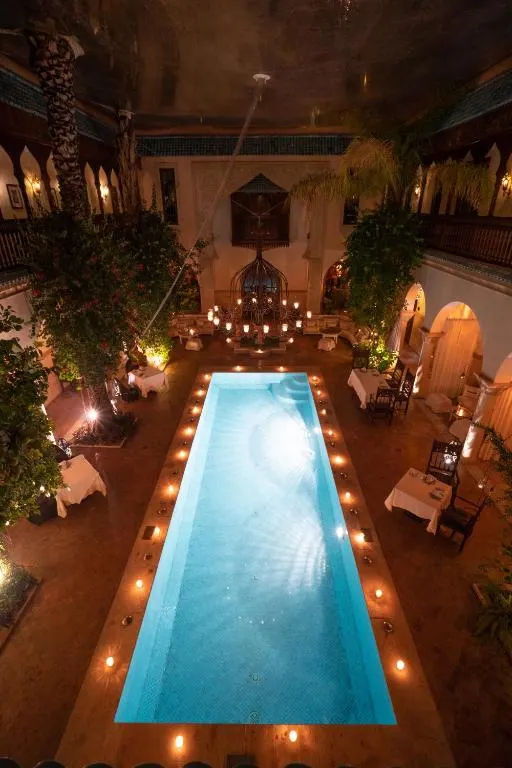 7. La Maison Arabe
This is a gorgeous Marrakech boutique hotel with a pool, open since 1946. La Maison Arabe has 26 rooms and suites, each with a unique layout and design. The rooms are dislocated around the patio or on the side of the garden, where you'll also find a heated swimming pool.
La Maison Arabe is a luxury accommodation thanks to its spa with two traditional hammams and five massage rooms. This riad also has three on-site restaurants and a cooking school that has the reputation of being one of the best in Marrakech.
Reserve a cooking workshop and then head to the Medina to buy local species to bring back home to delight your friends with what you have learned.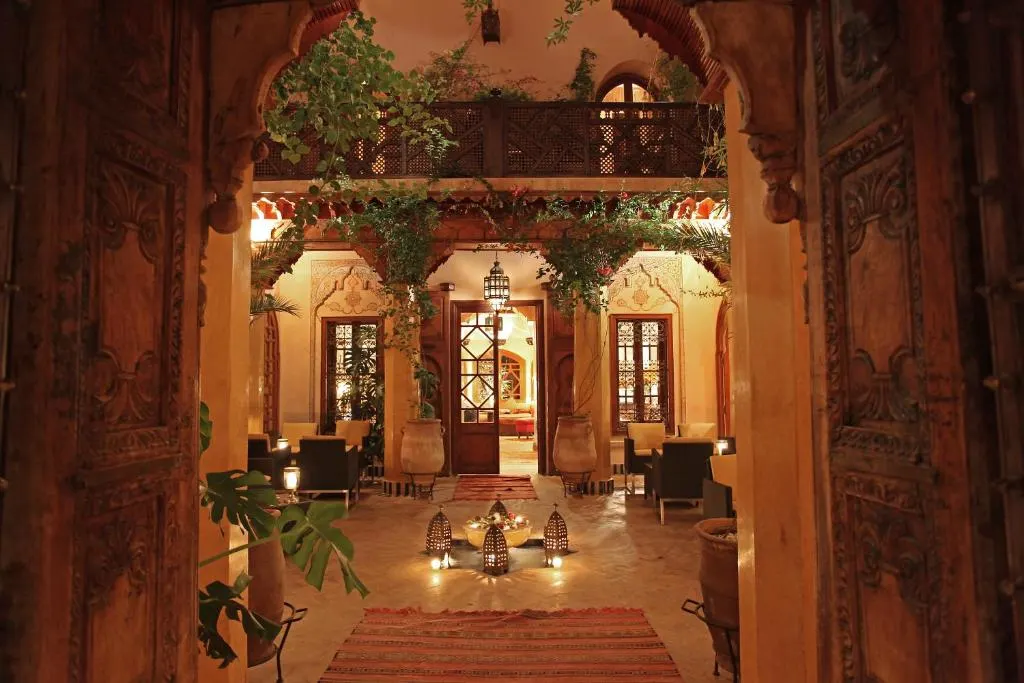 8. Palais Dar Donab
In the Old Medina, you'll find
, one of the best riads in Marrakech with a pool. This 18th-century riad is a real gem of Hispano-Moorish architecture that combines the charm of a place with all the comforts of a modern hotel.
The rooms and suites are finely furnished and present carved cedar roofs and other architectural elements made by local artisans.
The swimming pool, in the middle of the garden, is the perfect place to soothe the summer heat. To have a complete Moroccan experience at Palais Dar Donab, dine at the on-site restaurant to taste the finest flavors of Moroccan cuisine.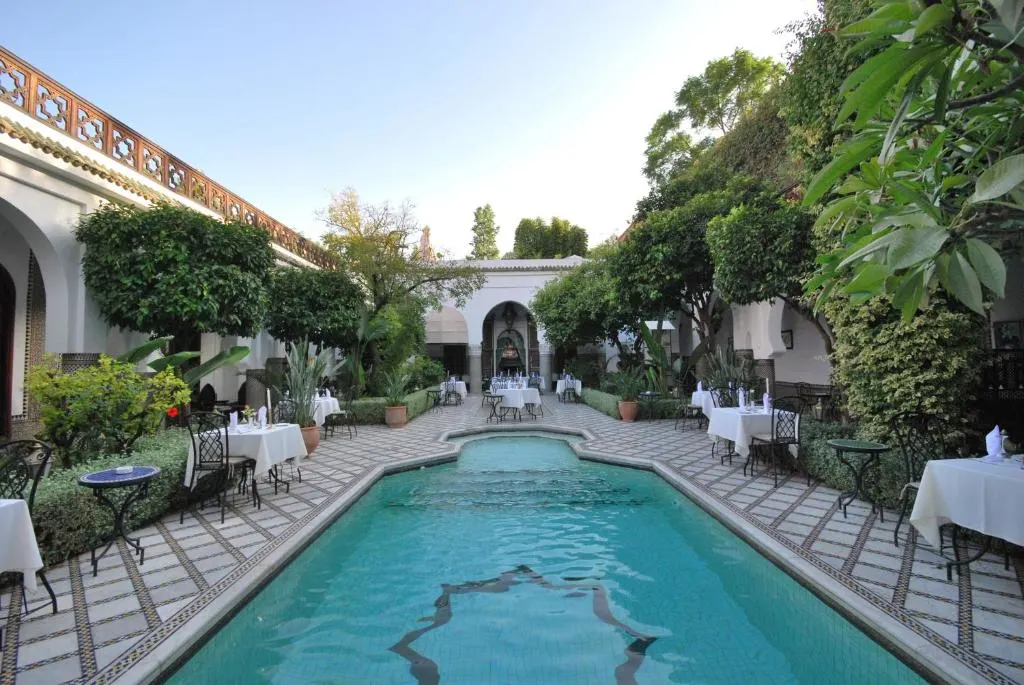 While some of these raids may border on small hotel, having a pool to dip into at the end of a hot day wandering the medina is truly worth it!