From antioxidants to anti-aging, rose water is a staple that can be found in every home in India. It's considered beauty's magic potion and is found to be extremely versatile. Dating back to one of the world's most beautiful Queens – talking about Cleopatra – rose water is great for skin and hair – it's also one of the top Moroccan beauty products thanks to local production.
What is Rose Water?
Rose water is the liquid left over from the distilling of rose petals during the making of rose oil. It was first used as a fragrance by the ancient Romans. Later, in the tenth century, it began to be made through steam distillation.
This is how it is made today. Moroccan rose water is made from the best damascene roses in the world. It is widely regarded as the best rose water that you can buy, especially in its 100 percent pure form.
Rose water has a very pleasant aroma, the scent of roses, but it also is an incredible moisturizer with antioxidant, antibacterial, anti-inflammatory, and anti-aging properties. Sounds good, right? Let's look at ways to use this in your beauty regimen.
Rose Water Benefits for Skin
You may be wondering is rose water good for skin? The answer is yes! Rose water helps with the moisturizing of the skin, which helps hydrate and revitalize the skin. This makes for a refreshed, healthier look. However, rose water's benefits for the face go further than skin deep. The antioxidant properties of rose water help with the regeneration of skin tissues and stronger skin cells. This is much different than the usual skin treatments that only treat the surface.
Skin care experts agree that rose water also has anti-inflammatory properties. It can get rid of acne, dermatitis, and eczema, as well as reduce the redness with irritated skin. Rose water is excellent at cleaning pores and removing the oil and dirt that can make our faces look older than they really are.
Rose water toner has many benefits. You can soak cotton balls with the rose water and apply it much like you would cosmetic toner. Rose water spray has many of the same benefits, except that it is a product you can use throughout the day to keep your skin hydrated. This is an especially useful spray to have in drier climates.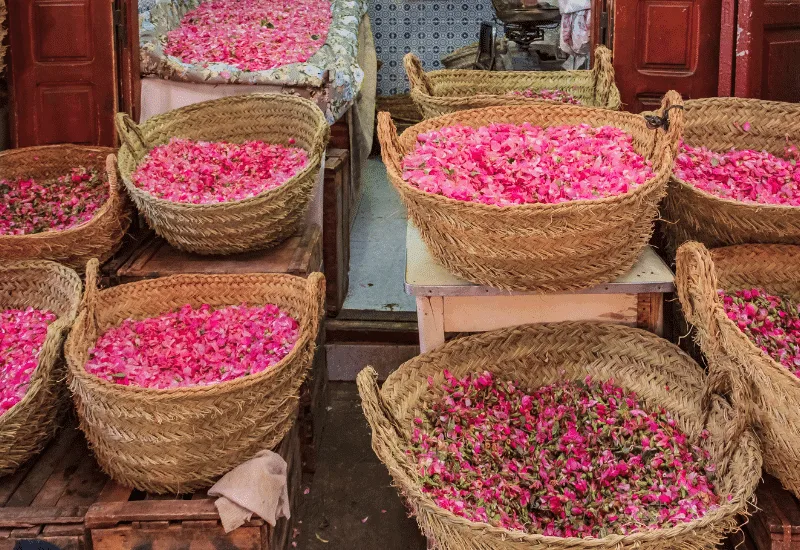 Rose Water Uses
Although it's used for many different purposes, rose water is especially good for your skin and face. It is also used for the hair and as a fragrance.
Rose Water for the Skin
Due to its pH balancing properties, one of the most sought after uses of rose water is for anti-aging beauty regimens. It is very true that rose water has many benefits for the skin and can be used as a treatment for acne and other skin disorders. It's also used for lightening scars and other blemishes.
Some other common uses for rose water include cleansing and toning skin and soothing sensitive skin (especially after shaving). It is also a great way to tone fading and mature skin. It can even eliminate the painful symptoms of sunburn.
Rose water is also ideal for healing blemishes, bug bites, and small scrapes. This is due to its rich antibacterial properties.
Quick tip for using rose water on your skin: mix rose water with almond oil and apply to your body as a moisturizer. Also consider a rose water bath to help destress while moisturizing your entire body.
Rose Water for Hair
What else is rose water good for?
You can actually use rose water for hair growth and repairing damaged hair, too! Use it as a rinse or conditioner in the shower to give your hair a fresh scent while adding moisturizing hydration. It's healing properties can also clear dandruff making it good for overall scalp health.
Quick tip for using rose water on your hair: mix equal parts rose water and glycerin to scalp and massage for 10-15 minutes. Let it sit for about 30 minutes, then rinse.
Rose Water for the Face
Many applications of rose water are for the face with the most common being a spray for the face. For example, a rose water face mask is easy to make, often mixed with muds or yogurt as a way to have more youthful looking skin.
Looking to rid the skin on your face from dirt and excess oil? Rose water to the rescue. It's a great cleanser that helps naturally unclog pores. Because of its astringent properties, while it's unclogging the pores, it will tone the skin, tighten capillaries, and reduce redness.
Use it as part of your nighttime beauty regimen to help wash away the day's impurities and give your face a fresh start over night.
Quick tip for using rose water on your face: fill an empty spray bottle with rose water and spritz on your face after your morning beauty routine. This will help your face stay hydrated throughout the day.
Other Uses for Rose Water
Another thing you do with rose water is to use it in a linen spray. By misting your bedsheets and pillows with a rose water-infused linen spray, you can ease anxiety and stress and get a better night's sleep. The scent of roses is a proven powerful mood enhancer and can be a major enhancement to your emotional well-being
Where Can I Buy Rose Water?
When it comes to buying rose water, it's important to find the most natural and organic options that are available. You want to find 100 percent pure rose water for any use that you might have for it.
Rose water face mist, which is also known as rose face spray, is a fairly common product to find in beauty supply stores. However, many times the rose water is only a part of the product. To enjoy the full benefits of rose water, you want to find the purest product, sometimes only available in some areas from online retailers.
If you are looking to buy rose water setting spray for your hair, it is not a product you can easily find. However, you can always make one yourself with other natural and organic ingredients. Here are some trusted sources and brands for purchasing rose water:
These are just a few to get you started on your journey of using rose water in your daily beauty regimen.