[vc_row][vc_column][vc_column_text]
"New Orleans food is as delicious as the less criminal forms of sin." – Mark Twain
I love surprises. When I had the chance this summer to surprise MarocBaba with a trip to New Orleans I could barely contain my excitement. Typically our summer vacation to the US also includes a small trip somewhere in the country. After considering where we could go in August I settled on New Orleans. Neither of us had ever been and truthfully I wondered how much we would enjoy it as neither of us drinks or are into the party scene and that's the reputation I best knew.
I managed to hide the trip from MarocBaba until we were parked at the airport. He was completely confused and angry for a while but by the time we made it through the security check he got over it. People thought we were crazy to go to southern Louisiana in August and while it was hot, we live in Marrakech so we're used to really hot weather.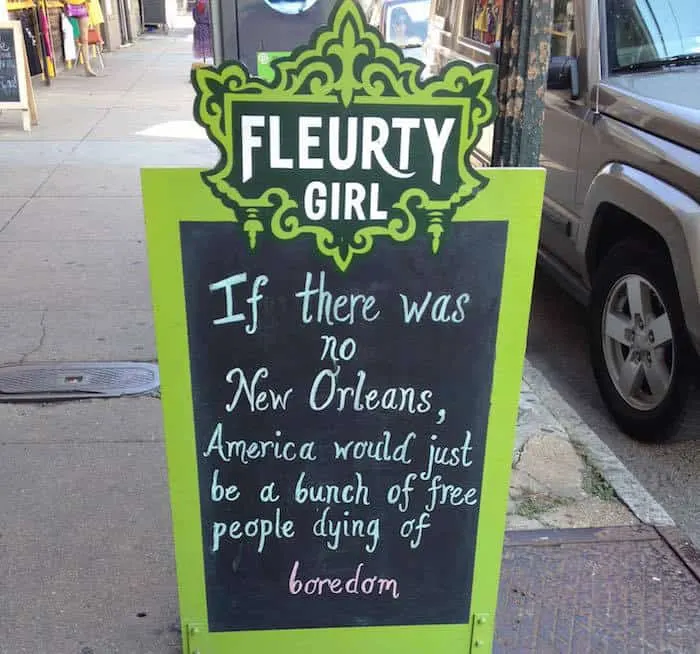 If I'm being completely honest, New Orleans is the strangest city I've ever visited – but in the best way. It is unlike any other American city and for that fact alone you really need to go to experience it. We only had a few days but hustled to get the most of it.
I was surprised to learn so much about the history of the city – much of which I never learned in school. Perhaps the biggest contributor to the food culture of New Orleans is that much like New York and San Francisco, New Orleans was/is a port city. Many immigrants from a variety of cultures called it home, brought their traditions, and made new traditions bringing everything together.
The result?
Amazing food!
Our first night we checked into the Hotel Modern and asked the very helpful concierge if there was anywhere she would recommend we eat for dinner. (Looking for more hotel ideas? Check out this post!) We specifically said we wanted to go somewhere she would go and that was within walking distance. She suggested seafood which we agreed was perfect. Her first choice was a restaurant called Deanie's and we saw right away that it was a mixture of tourists and locals. It was packed!
We had to wait about 20 minutes for a table and were quickly waited on and served. A half seafood platter came with a stuffed crab, fried shrimp, crawfish and catfish. If that wasn't enough we also ordered crab and corn soup as well as crab nachos which were the day's special. So. Much. Food. It was all exceptional and the bill just came to around $50. It ended up being our most expensive meal but we saw seafood was insanely affordable (and great quality) in New Orleans.
Hop on Hop Off Bus
Typically I avoid these buses as in many cities it's only a way to get sucked into seeing the touristy things a city wants you to see. However, because we were short on time and had very little idea of how New Orleans was laid out and where things were in relation to each other we hopped on (haha). At least in this case I was way off in my assessment. Not only did it prove to be an excellent way to get around, instead of trying to figure out the public transportation system, we got the background on a lot of the stops and history of the city.
We rode the bus several times, making many loops and every guide was a local who had their own unique take on their home city. The first trip we just stayed on the bus to see where it went and what there was to see. Then we made our decision on what to see. It's really worth purchasing a one or two day pass.
National World War II Museum
We stayed at the Hotel Modern on Lee Circle, and it was impossible to miss the signs for the National World War II Museum. I had no idea that such a museum existed and if I would have know I never would have guessed it was in New Orleans. MarocBaba was less than enthusiastic to visit a museum (he never is), so on our last morning, as he slept in, I went for a walk down the street. I am so glad I did. Even if you are not a history nerd like me, this really is a great museum. I think it would even be a great way to give kids an overview of this conflict.
Perhaps one of my favorite memories of this visit was the older gentlemen I befriended in the stairwell. I was specifically looking for information on Operation Torch, the allied invasion of North Africa (you can read more about it in my post on Morocco in the 1940's). He was somewhat surprised I knew and asked about this battle and like you might expect most older southern gentlemen, politely took my arm and walked me to the closest thing they had.
Regretfully there is no exhibit (yet) on this battle but there was information on allied operations in North Africa. It was there he took some more visitors on and led us through what it would have been like to be a German gunner in the turrets on the banks of France. I learned later he was a volunteer, who simply spent his time at the museum education guests. I loved his passion and that he went out of his way to assist me.
Magazine Street, New Orleans
Call it the hipster quarter if you want, Magazine Street is the "new" New Orleans. Shotgun and camelback houses (not sure what those are? You'll have to go to find out!) line the streets mixed with great little restaurants and boutique shops. There's a little of this and a little of that. If Bourbon Street really isn't your thing – go here instead. Be sure to eat at The Rum House, one of our favorite finds in New Orleans.
The menu was clearly marked with allergens and when we told our waiter our limitations he quickly pointed out what was good and would be safe to order. MarocBaba got 4 tacos, each one with a different filling; shredded duck breast, chicken, beef, and a vegetarian option with rice on the side. Every one was excellent but we liked the duck and chicken the best. I ordered the Trinidad Chicken Roti which was jerk chicken, with fries, and curry sauce wrapped up into a roti. If we were in the city longer we certainly would have gone back here to eat!
French Quarter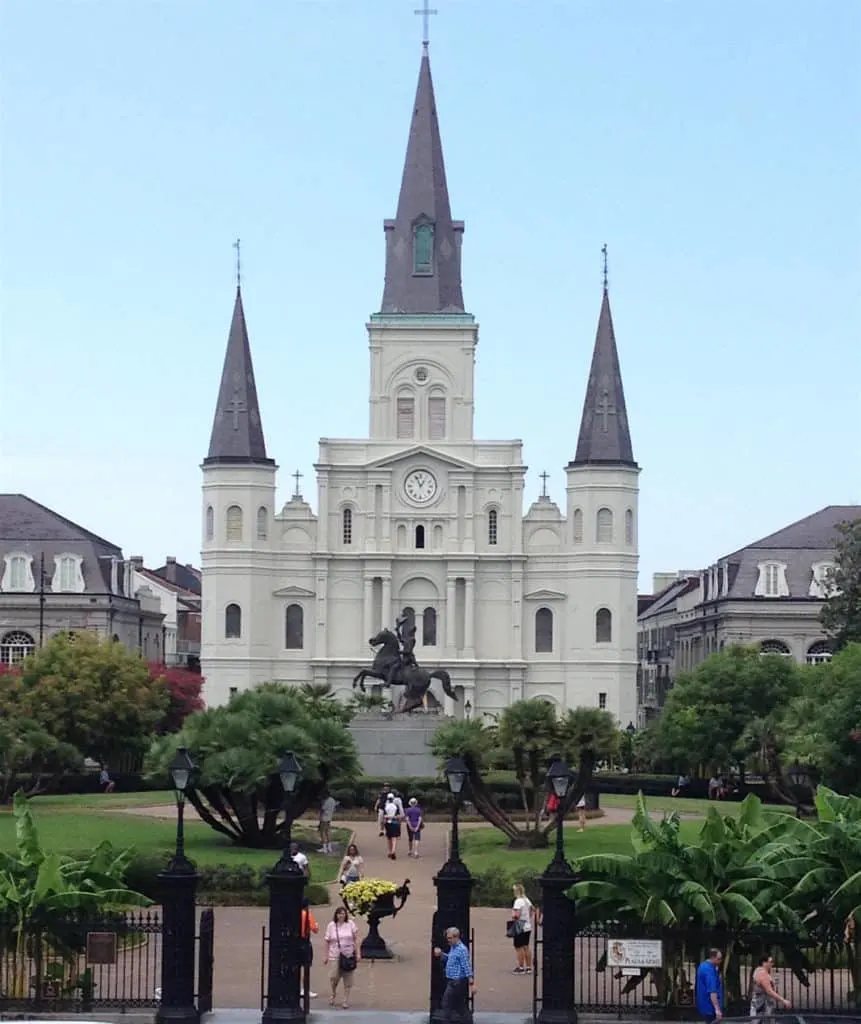 This is the most well known area of New Orleans. It's arguably the oldest inhabited part of the city and has quite the notorious history. To be honest I knew so little about New Orleans before we visited I felt ashamed. We barely learned about it in school, which shocked me even more.
Food Tour
We took a food tour with New Orleans Culinary History Tours through the French Quarter which is always one of our favorite things to do and proved to be an education in and of itself. This was a bit of a last minute call on my part and I wasn't sure if they would be able to accommodate us (no gluten, no pork, no alcohol). But they did with absolutely no problem. Whenever we do food tours we know there will likely be things we can't eat. We go in with this expectation and when we can eat more than anticipated we're over the moon.
I'm not going to give away what and where we ate but feel free to guess by the pictures. Our guide, Naif, was exactly the kind of guy I would hire. He was personable, had insider knowledge, grew up in New Orleans and it was clear enjoyed his join. The tour began at 2pm and continued for about 3 hours visiting 7-8 restaurants (food coma sorry can't remember how many!).
We were able to eat a little bit in all places, learn about them or some aspect of the dish and then move on. The walking wasn't hard but the temperatures didn't help. I loved learning about the history of the foods we ate but think too much time was spent talking about the history of each place we stopped.
The group was also a bit larger than I like (it was either 10 or 12). People didn't really seem to gel so we weren't able to get to know anyone on the tour, which is unfortunate. If you want to book this tour it is $48 per person and starts from the first restaurant in the French Quarter.
We really liked this tour and got to eat many foods that were on my "must try" list. It really was a tasting tour however and we ate quite small amounts in each place we went. While going from place to plane we emptied our stomachs but also energy. New Orleans in August is no joke. Overall? It was good and I would do it again. In fact, we did go back to one of the places to have dinner that night!
Cafe du Monde
We also ate beignets at Cafe du Monde and walked around St Louis Square. We did walk up Bourbon Street because, well it's New Orleans! MarocBaba and I both love jazz and hearing street bands playing at random was really wonderful. It's very much a carnival atmosphere and we were there in August! I can only imagine what it's like during Mardi Gras.
You can't go to New Orleans without a stop at Cafe du Monde – it was high on my list of things to do. Honestly, so many restaurants like this let me down. People hype them and then I try it and it's "meh." This was not meh. These beignets? They are really are worth the hype. They are absolutely delicious. I also had a frozen coffee with chicory that was equally tasty and perfect for this humid August day.
My advice? Go in the mid-afternoon, get your beignets and coffee and eat them right away. If it's not crowded sit down to order and enjoy. If it's too full get it to go and sit on the steps at nearby Jackson Square. But you must eat them hot! One order has 3 beignets and that's more than plenty for a single person.
Bayou/Swamp Tour
What's a visit to Louisiana without a trip to the bayou? We took a bayou tour with Gray Line Tours. After a 45 minute bus ride we made our way to the bayou. Instead of the hydro prop boats we took a regular covered boat which I think is a good choice in August when the sun was sweltering. Our guide was a very soft spoken man who lived nearby. While he was good, he really was almost too soft spoken.
We did see plenty of alligators in the water but it did feel just a bit too commercialized. I may have had my hopes up that it would be more like the twisted mangrove swamps. But, that likely was my own fault. If you're considering doing this half day tour in the summer do it as early in the morning as possible. We were done around 11:30 and the sun was getting to be really too much.
If you're looking for more ideas on how to spend your time in the city, check out this post that has 65 things you can do in New Orleans!
The Big Takeaway?
We spent a lot of time eating. It's just what we do! There is amazing seafood and plenty of other unique foods you won't have anywhere else in the US – or world for that fact!
If there is one lasting impression you'll have of New Orleans it's the people. I know I say this a lot but truly what makes a destination memorable for me is meeting the people who call it home. Their enthusiasm and simple kindness make the biggest difference as to what a tourist leaves feeling about a place. It makes you want to return again and again. There's something truly unique about this city. Something that makes it wholly American and yet stands out as a unique gem in the landscape of the country.
Whether you can go for a week or just a long weekend – go.
Thanks you to the New Orleans Tourism Board who helped me arrange this visit and provide our hotel stay, swamp tour, bus pass and access to museums.
[/vc_column_text][/vc_column][/vc_row]