Lanterns, also known as fanoos, are an important symbol of Ramadan.
Traditionally, they were used to light the way for people walking to and from mosques during the holy month.
Today, lanterns are still used in many Muslim countries to decorate homes and streets during Ramadan, providing a warm and welcoming atmosphere for the celebration.
I love decorating with lanterns during Ramadan and they are easy to make at home, without many supplies. This Ramadan paper lantern craft is a great way to spend time creating with your kids, getting your home festive for the season.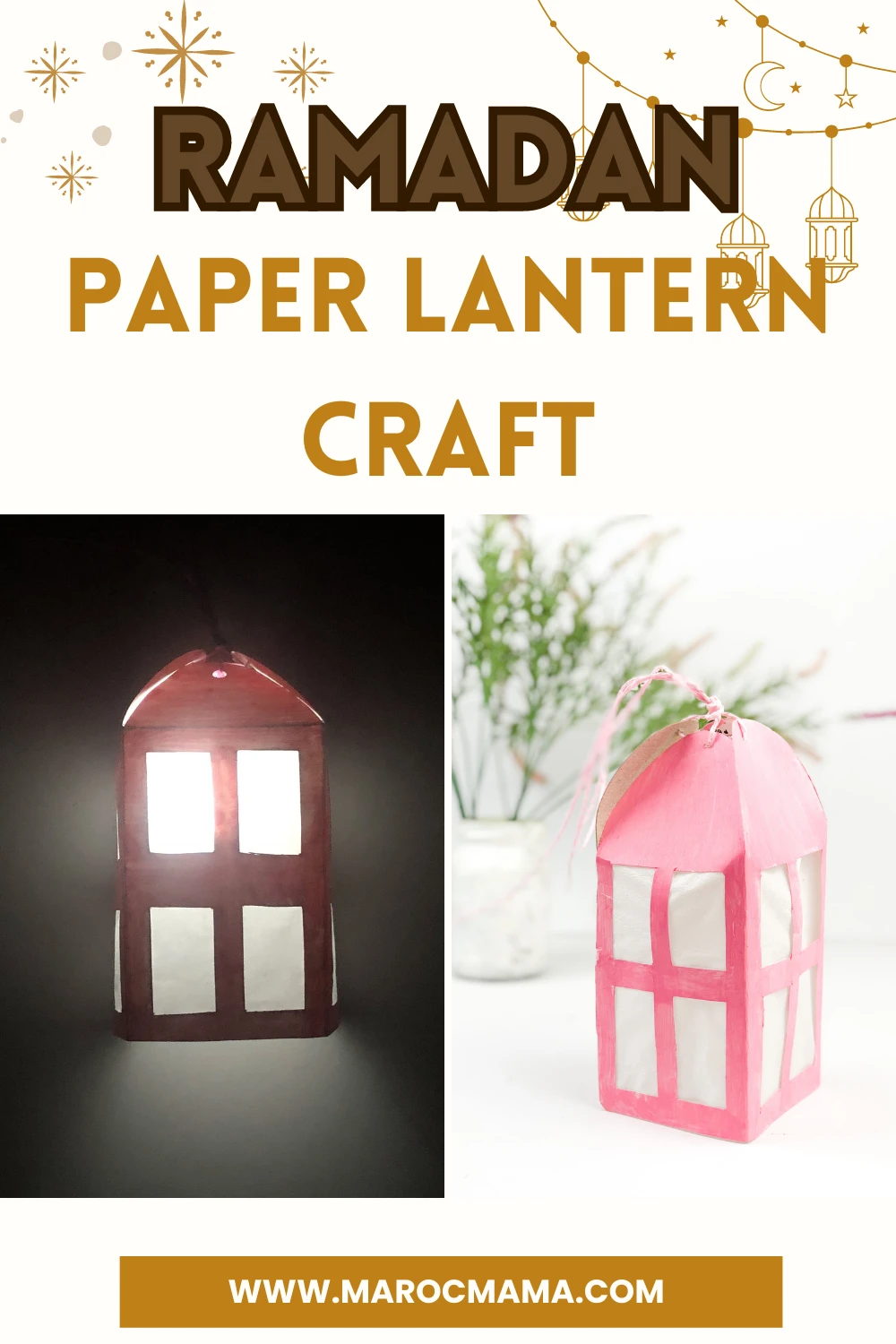 Are you ready to bring warmth and light into your home with this easy Ramadan activity for kids?
How To Make This Ramadan Paper Lantern Craft
Let's get started on this paper lantern idea for Ramadan.
Crepe paper, a candlelight bulb, and a folder are the basic crafting supplies needed to make this simple lantern creation. It's up to you whether you want to purchase new supplies or recycle the older ones you have on hand. These materials are readily available at your local craft store.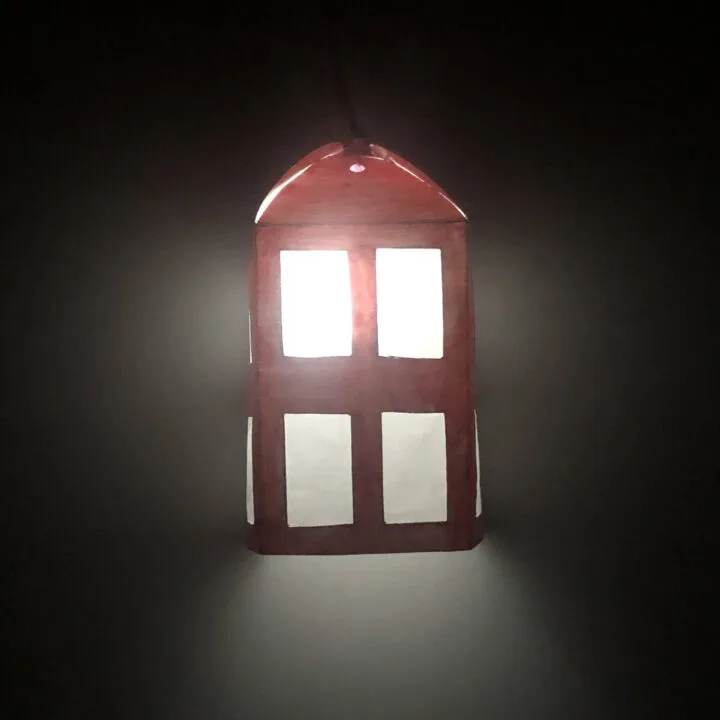 Ramadan Paper Lantern Craft
Create a vibrant Ramadan paper lantern by cutting out intricate patterns on colored paper and assembling them into a cylindrical shape. When illuminated, the lantern emanates a warm and inviting glow, adding a festive touch to Ramadan celebrations.
Materials
White Folder
White Crepe paper
Pink Twine (or another color of your preference)
Pink acrylic paint (or another color of your preference)
Paint brush
Pen
Double sided tape
Scissors
LED Tea Light
Hole Puncher
Instructions
Prepare your white folder. Draw the template on the folder, then cut out using scissors. Be sure to cut not only the borders, but also the rectangular windows (this is where the light will shine through your finished project)
Paint the cut out lantern paper using pink acrylic paint (or any other color you prefer).
Cover the inside of the lantern using white crepe paper, attaching it to the folder using double sided tape.
Fold the four edges of the paper lantern by following the patterned vertical lines. This will cause your lantern to stand upright, resembling a rectangular box. Tape the edges together so it can stand on its own. NOTE: The bottom of the lantern, that rests on the table, will be open.
Using scissors or a hole puncher, make four small holes at the center of the four top covers.
For the lantern handle, cut two small lengths of pink Abaca Twine. Insert one piece into the two of the top cover holes that are opposite each other. Do the same with the other two holes and twine. Then tie the twines all together.
To finish your lantern craft, place the lantern over a LED tea light candle.
Notes
This lantern activity will not only keep your kids occupied, but it's also a terrific chance to teach them what the lantern's symbolic meaning is. Such a delightful approach to helping children become acquainted with Ramadan traditions!
Where To Buy Lantern Materials
These lanterns use materials found at most craft stores, but you can also buy supplies online.
LED Tea Lights are a great artificial light source to put in your lantern. They are battery powered so you can use them over and over and they give off a warm glow. You can also buy them in large packs.
<img src="" style="height:auto;max-width:100%"

Heavy Duty Crafting Double Sided Tape is super handy to have on hand, not only for this craft but so many others.
Colorful Jute Twine works great for creating the handle on the lantern. If you buy a multi-pack, you can make lanterns of many colors!
Acrylic Paint can be found at all craft stores, but Amazon also has a nice selection. If you know the specific colors you want to use, you can buy paints separately to save money, or, if you prefer options, they also make great acrylic paint variety packs.
More Ramadan Crafts for Kids
If you're looking for inspiration or ideas for other Ramadan crafts ideas, look no further! Try some of these ideas!