If you're looking for a fun and exciting way to teach your children about Ramadan, I've got you covered! This DIY Ramadan lantern is super easy. With just a few materials and steps, it's perfect for your next Ramadan crafting day with the kids!
This DIY Ramadan lantern will add a personal touch to your home decoration this season and will allow your children a chance to contribute to this year's celebration of Ramadan.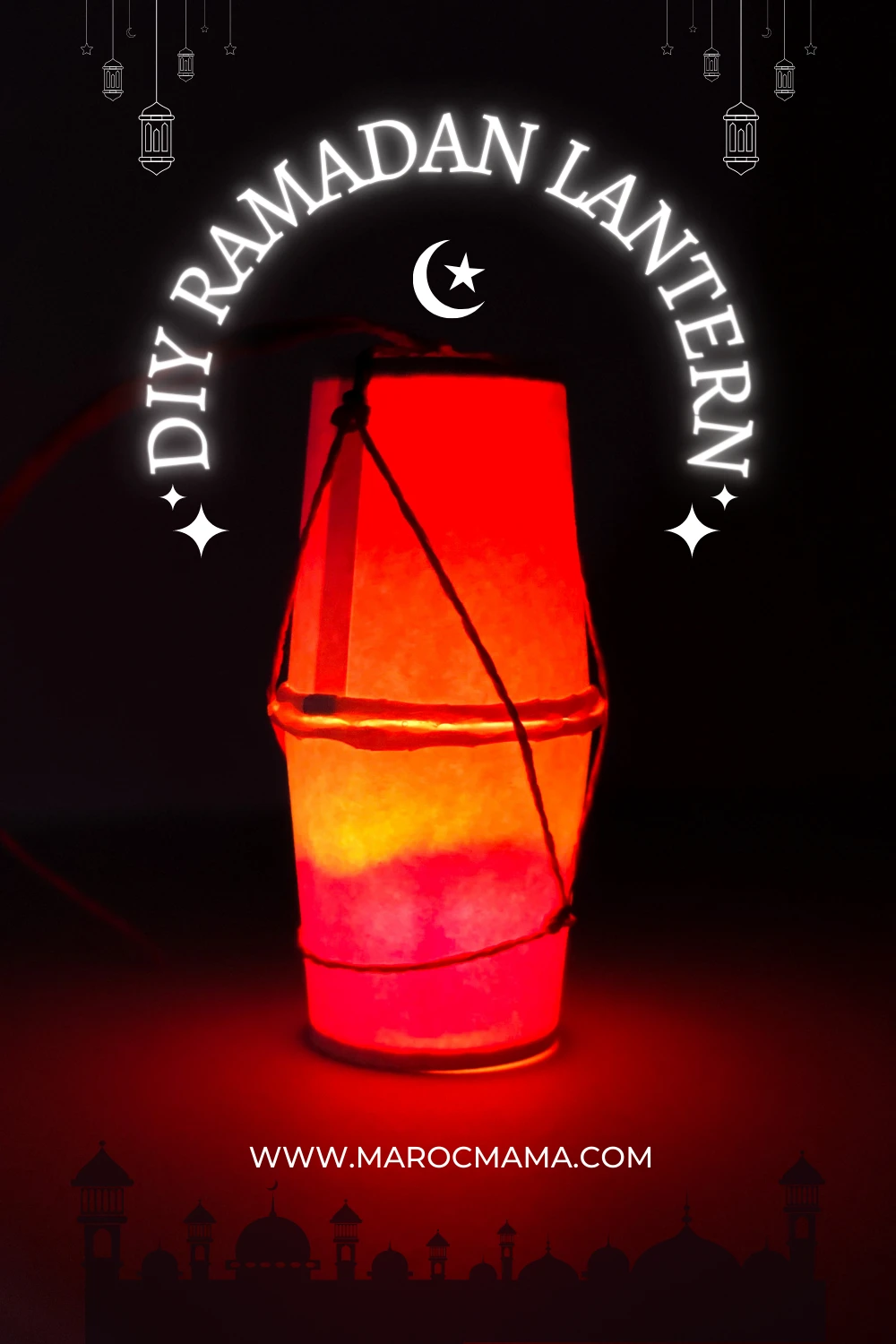 Challenging your kids to add their own style to the lanterns, using decorations such as pom pom balls, sequins, colorful paper yarn, stickers or even paint, adds an extra layer of fun as they create.
After an hour or so, you will have multiple DIY Ramadan lanterns, reflecting the unique creativity of each child, ready to hang outside or at your windows. You can display them individually or string them together to make an entire lantern garland. This is an easy and fun Ramadan activity for kids that any age can do.
How To Make This Ramadan Lamp Craft
Creating a paper cup lantern is a fun and easy craft project to celebrate Ramadan. Here are the steps to make your own:
This DIY Ramadan lantern will add a personal touch to your home decoration this season and will allow your children a chance to contribute to this year's celebration of Ramadan.
Materials
Paper cup
Scissors
Glue stick / hot glue
Artificial tea lights
Double sided tape
Twine (optional for the garland)
Instructions
Take 2 paper cups and cut them down to your desired lantern height. You may skip this step if you want a longer lantern.
Cut a square hole in the bottom of one paper cup using scissors. This will allow you to switch on and off the lights when the lantern is completed.
To make your lantern a mosaic, punch holes with a hole punch all over the cup for light to shine through. You may skip this step if you prefer your lantern to give off a solid glow.
Decorate the outside of your cups using paint, stickers, paper yarn, pom poms, sequins, and any other craft item you think might work.
Stick the artificial tea lights inside the paper cup with a square hole using strong, double sided tape. Make sure the on/off switch is accessible through the square hole previously cut in the bottom of the cup (See step 2).
Using a glue stick or hot glue, place a layer of adhesive along the rim of one cup and place the rim of the other cup on top. Allow time to dry.
Cut 2 long pieces of colored twine or paper yarn (each should be at least 2 times the length of your lantern).
Place the paper yarn pieces on a flat surface, parallel to one another, leaving about 3 inches of space between them.
Set the bottom of your lantern in between the two pieces of yarn (in the 3-inch space you created). Make sure the lantern is sitting about half-way along the length of the yarn.
Tie the two pieces of yarn together into a knot on each side of the lantern, creating something that looks like a swing for the bottom of the lantern to sit in.
Extend the yarn up each side of the lantern and tie the pieces into another knot at the top of the lantern.
Notes
Optional DIY Ramadan Lantern Decoration Materials
Tempera paint
Sequins
Stickers
Pom-poms
Hole punch
Colorful paper yarn/twine
Making The Lanterns Into A Garland (Optional)
With the excess twine/yarn from step 11, make a loop at the top of the lantern and tie it.
Cut another piece of twine into a long segment for your garland (a few feet in length).
String the twine through the loop made in step 1.
Repeat steps 1 & 3 for the rest of the cups until they are all strung on the twine.
Tie knots at the end of each side of the garland to use for hanging.
Tip: When making this Ramadan lantern with your kids, you can pre-cut things that need to be cut in order for the kids to focus on decorating their lanterns. It will prevent unnecessary accidents and it will be easier for them to focus.
Where To Buy Lantern Materials
These lanterns use materials found at most craft stores, but you can also buy supplies online.
LED Tea Lights are a great artificial light source to put in your lantern. They are battery powered so you can use them over and over and they give off a warm glow. You can also buy them in large packs.
Circle, Star & Heart Hole Punchers would be useful when making a mosaic lantern! This set includes all three shapes, making it a great deal.
A Moon & Star Hole Punch would also be fun for this project!
Heavy Duty Crafting Double Sided Tape is another item to pick up, especially if you plan to make a garland. You will want the lights to stay in place, even while hanging in the air.
Colorful Jute Twine can be used to decorate your lantern but is also a good material to use when making it into a garland.
More Ramadan Crafts for Kids
If you're looking for inspiration or ideas for other Ramadan crafts ideas, look no further! Try some of these ideas!