I've always been fascinated by what cities look like around the world. So, when Annabelle of The Piri Piri Lexicon shared her vision for a world neighborhood bloghop I was super happy to share ours. There are so many really cool places and I've added the links to the bottom. So, after you tour our Moroccan neighborhood you should visit a few others!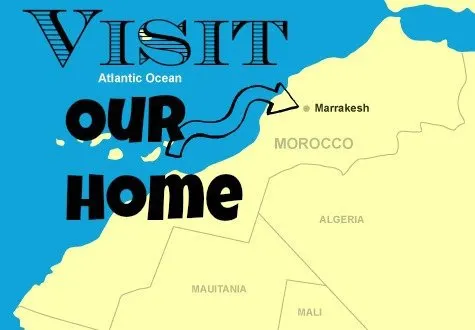 The "rules" for this blog hop are pretty simple. Each person shares at least 6 pictures of different, specified areas and than can share up to six more. If you follow me on Instagram (and you should!) you'll know I'm often taking pictures of the world around us but I also liked taking specific images to use for this post.
A playground / play area
There are very few playgrounds in Marrakech and none near where we live. Most kids play soccer, other ball games or made up games. We've also seen kids make really interesting toys, like a foosball table out of trash boxes and other thrown away items.
A local mode of transport


This cart was delivering sheeps at Eid. Marrakech is well known for motorscooters. Almost everyone has them. Marrakech is almost completely flat and year round temperatures are comfortable enough to use this mode of transport all the time. There are also hundreds and hundreds of small and large taxis that are quite affordable to get from place to place.
A typical house/building
From the outside most Marrakechi homes are tall, stucco and a redish color. 9 times out of 10 you wouldn't never imagine what the inside looks like from the outside. This picture is of my living room. Inside of homes, there are a lot of bright colors and patterns used. Traditionally homes in Marrakech have walls covered in tiles known as zelige. They also have very few exterior windows but can have an open air interior courtyard.
A street nearby
This is a street in the more commercial area of Marrakech. You can see all the taxis I was mentioning. Roads here are very crowded with cars, motorcycles, donkey carts, and pedestrians. Lines for traffic I've gauged to be guidelines. The first few times you drive here my guess is you will walk away with white knuckles.
A school, nursery or other education facility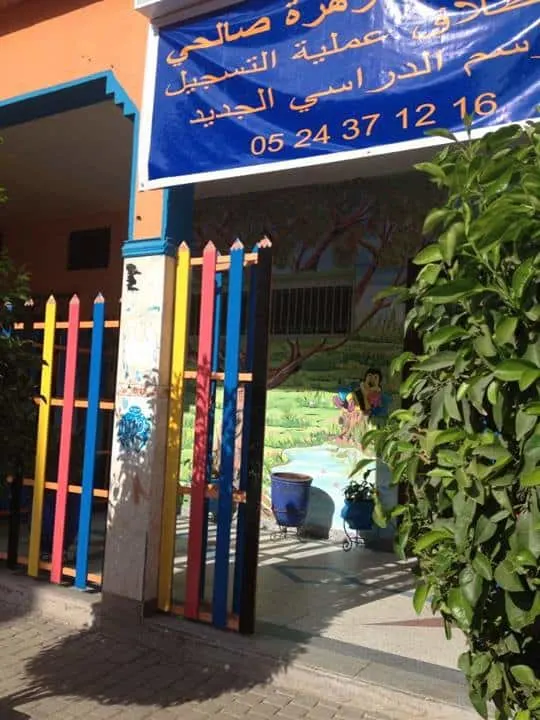 There are public and private schools in Marrakech. Primary schools are easily distinguishable because of the bright colors they are painted. I have written a few posts about what education is like in Morocco and how to keep kids learning English in a non-English speaking country.
A market, supermarket or other shopping outlet
Traditional shopping in Morocco is done at outdoor markets and in shops. There are carts for produce, shops that sell meat, bakeries for bread, spice shops, etc. More and more people are shopping in what we think of as a grocery store, but I think the shops offer better prices and better quality. Here, whole foods like fruit, vegetables, eggs, meats etc are cheaper than buying processed foods – the way it should be!
Entertainment
An almost daily ritual whether at home or out is "coffee/tea time". Everyday small snacks and coffee and tea are served around 5pm (between lunch and dinner). One of our favorite things to do is to go out and enjoy a cup of coffee and conversation.
Religion
Morocco is 98% Muslim and this is one of the most famous mosques in Marrakech (probably the whole country). It was built in 1184 and has been continually in use since that time. If you've ever seen the Morocco pavillion at Epcot it was built as a model of this-the Khotubia Mosque.
Djem al Fna
This is the Times Square of Marrakech. Every afternoon vendors come to set up their food and sales stalls. By nightfall, thousands of people take to the square to eat, watch street performers, and go for a stroll. It's amazing to watch the square transform.
Nature
In a city of nearly 1 million people there is a lot of concrete, dirt, and pollution. Sometimes on clear days, we can see the Atlas Mountains out the window.
I hope you've enjoyed a little tour of our new hometown!
Want to see more?
Our neighbourhoods:
Longny-au-Perche, France: THE PIRI-PIRI LEXICON
Zoetermeer, The Netherlands: EXPAT LIFE WITH A DOUBLE BUGGY
Las Arenas, Spain: LAS ARENAS LIVING
Curitiba, Brazil: HEAD OF THE HEARD
San Francisco, USA: KIDS YOGA STORIES
Karlsruhe, Germany: CONFUZZLEDOM
Nagoya, Japan: CRANES AND CLOVERS
Djibouti: DJIBOUTI JONES
Kansas City, USA: FOR THE LOVE OF SPANISH
Delft, The Netherlands: THE EUROPEAN MAMA
Sacramento, USA: ALL DONE MONKEY
Florida, Puerto Rico: DISCOVERING THE WORLD THROUGH MY SON'S EYES
Bordeaux, France: AMERICAN MUM IN BORDEAUX
Rural Zambia: MUD HUT MAMA
See the other neighborhoods that will be shared after mine;
Penang, Malaysia
Riyadh, Saudi Arabia
Merida, Mexico
Calgary, Canada
Astana, Kazakhstan
Berlin, Germany
Brussels, Belgium
Pansiot, France
Moscow, Russia
Zhuhai, China
Paris, Frence
Val Verde, California
Bristol, UK
Bangkok, Thailand
Munich, Germany
Singapore