There's a big chance the first dish that comes to mind when rice dishes from Valencia are mentioned is paella. This world-renowned saffron rice meal mixed with seafood, meat, and poultry is delicious, and of course, it deserves a special place on every foodie bucket list for anyone who wants to travel to Spain.
With that said, rice or arroz (pronounced uh·rowz) is huge in Valencia, and there is a plethora of other delicious dishes made out of this ingredient. Rice is also all about tradition and culture in this region, which means you'll find a huge array of dishes based on rice mixed with all kinds of ingredients.
The culinary possibilities of dishes made with rice are seemingly endless in Valencia. This diversity includes rice dishes filled with the simplest ingredients to world-class gourmet fare. Some are mixed with seafood, others with meat, poultry, and all kinds of vegetables and spices.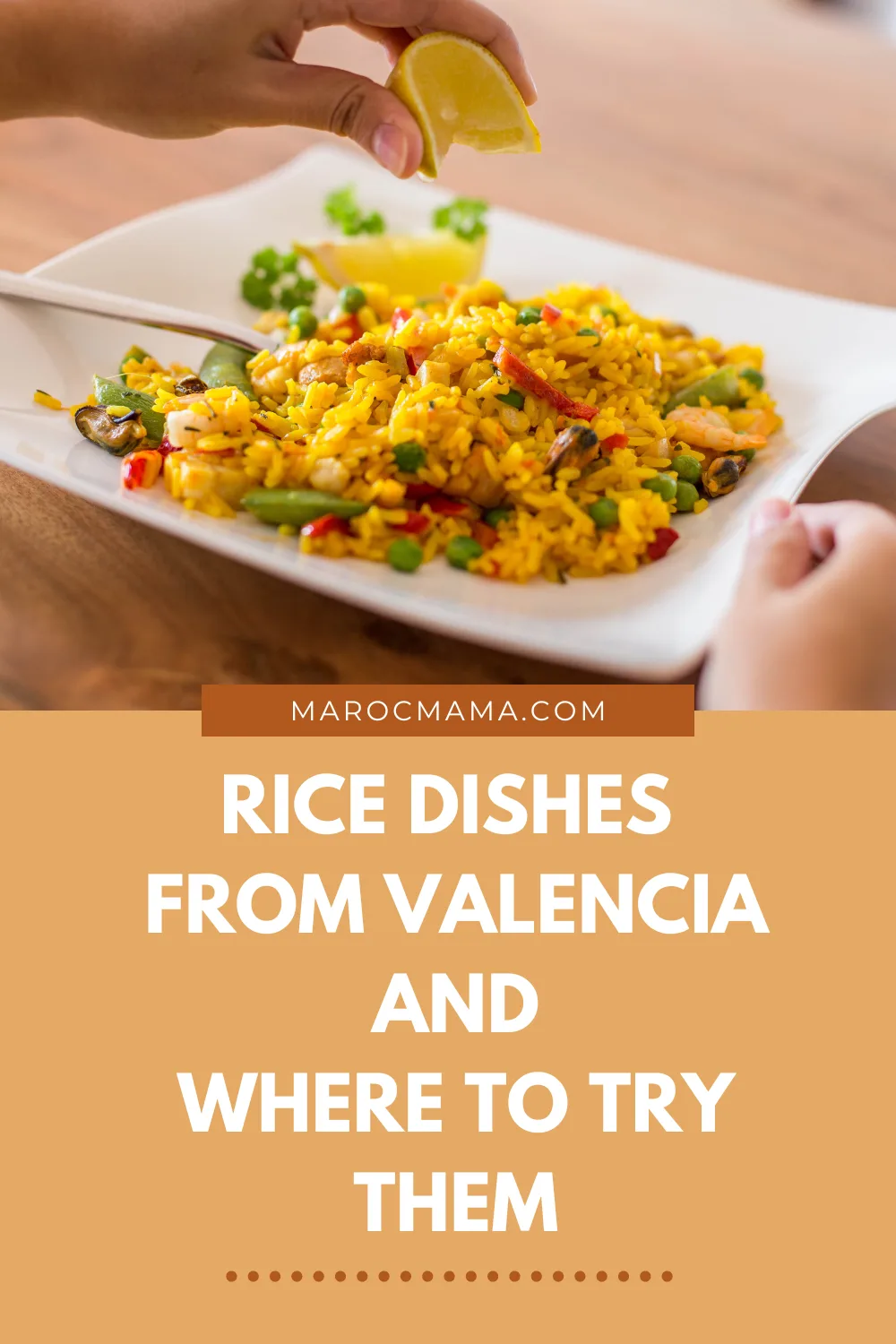 Keep reading to get an idea of the vast array of rice dishes you will find in Valencia, a rice-producing region where people are proud of their harvest and traditions. Some of the names might seem quirky but be assured they are all incredibly delicious!
Rice Dishes from Valencia
1. Paella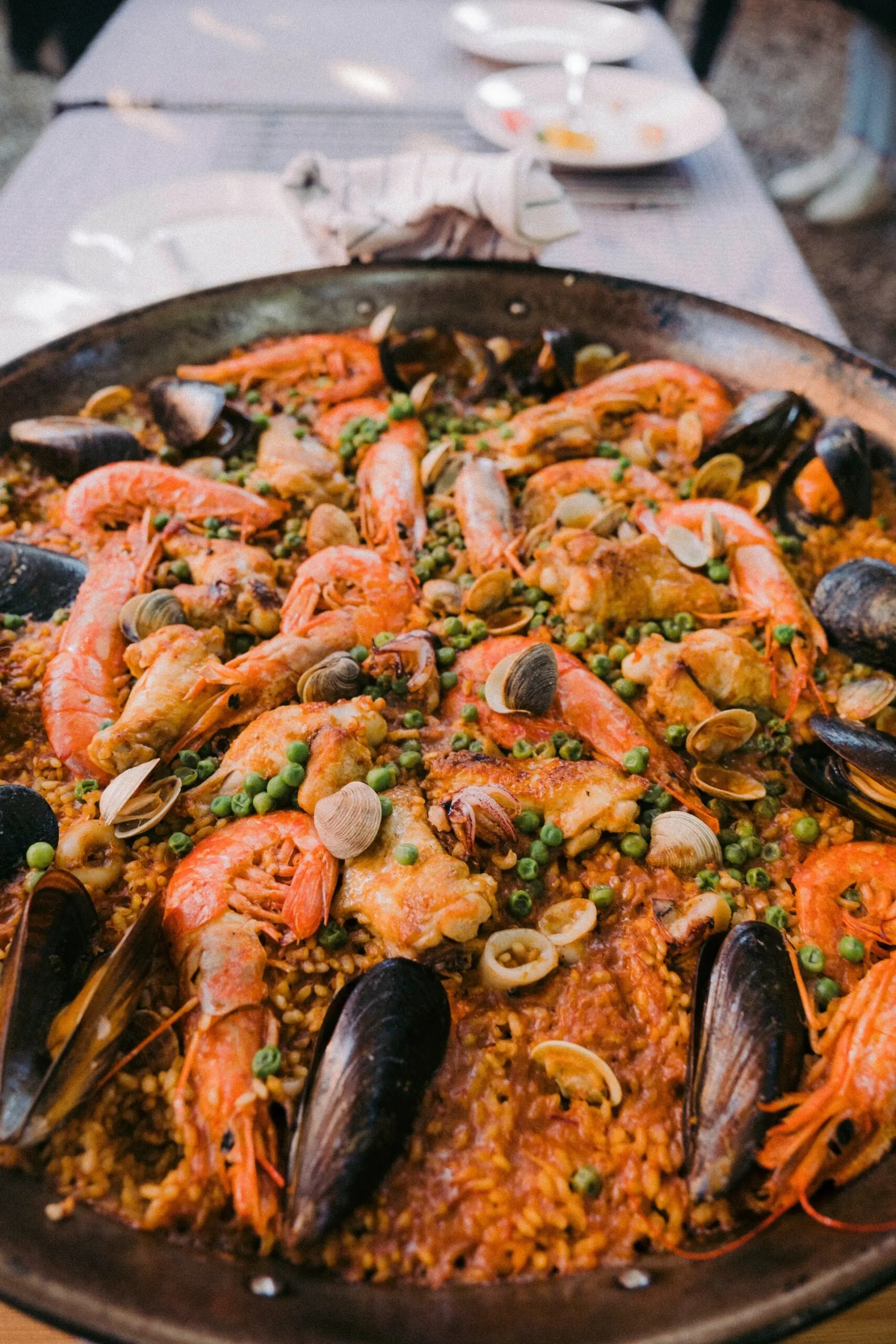 Valencia's most important culinary contribution to the world, Paella, is an exquisite dish that combines rice with different meats, poultry, seafood, and vegetables. Its special flavor and color come from the main spice added to it, saffron, which provides its characteristic yellow tone.
Paella originates in Spain's Mediterranean coastal region, where first-class rice is grown. This dish is part of Valencia's cultural identity as well as a favorite with locals and visitors. To put it simply, no trip to Valencia would be complete without eating paella at least once!
An iconic, shallow circular pan full of yellow rice mixed with clams, shrimp, chicken, meat, and peas is to Valencia what wine and crepes are to Paris or tacos to Mexico.
Our friends at Devour Tours in Spain have a great primer for what to look for and some of the best paella spots in Valencia to try.
2. Arroz con Costra
One of Spain's oldest rice dishes, documented by a recipe written in the 1200s, Arroz con Costra (Crusted Rice) is a traditional rice casserole cooked with different types of meat and sausages, chicken, and egg. Spiced with paprika and saffron, Arroz con Costra is different from other rice dishes in Valencia mainly because of the beaten egg added to the top, which is then baked in the oven until it forms a crust. As you can guess, that explains how it got named that way.
Although Arroz con Costra was originally served in the Alicante area, this scrumptious crusted rice dish was soon adopted in Valencia. After all, who could possibly resist a bowl of mouth-watering spiced rice with spare ribs, pork, chicken, and butifarra sausage fried in olive oil? Be assured you won't have any trouble finding it during your stay, as it is served in plenty of restaurants all over town.
3. Arroz a Banda
Arroz a Banda translates to "separate rice dish." It was given that name because, contrary to seafood paella, the fish and sea fare are served separately after being cooked in fish broth.
This makes sense when finding out that this rice dish served in Valencia was concocted as a meal for Alicante fishermen after separating their best catch for sale and keeping the leftovers for themselves.
4. Arroz Negro
Arroz Negro, or Black Rice, is a dish with a distinctive color obtained with squid ink. Also known as Black Paella, especially among visitors, Arroz Negro is usually cooked with rice and seafood, but it can also be made with chicken and vegetables. Saffron and vegetables are added either way.
Whichever way you decide to try this rice dish from Valencia, you'll find its rich flavor very tasty and the deep dark black rice worthy of a few insta pics!
5. Arroz Al Horno
Arroz al Horno, or Oven-Baked Rice, is a rich casserole featuring pork, morcilla sausage, potatoes, and chickpeas.
As the name suggests, it is baked in the oven in a ceramic pan. Word has it that before domestic ovens were available, it was common to see women coming to the public ovens to return home carrying their tasty meals.
Besides being delicious, Arroz al Horno is somewhat of a staple in many Valencian homes, especially during the winter, because it is commonly made with ingredients left after preparing a good old heartwarming stew.
6. Arroz Sucio
Arroz Sucio (Dirty Rice) is a popular hearty rice stew made of different vegetables and legumes.
This popular rice dish from Valencia originated in the Ribera Baixa area and promptly became a favorite during the cold months. Vegetarians and vegans love to eat this traditional meal, as it contains artichokes, spinach, beans, green peppers, and the like.
Oh, and don't be misled by the name, which comes from the color it acquires after the artichokes are added. Arroz Sucio is not only very clean, but it is also mouth-watering!
7. Arroz a la Piedra
Arroz a la Piedra, or Stoned Rice, is a truly special rice dish from Valencia. Originating in Aguilas, it is a beloved reminder and tribute to fishermen's hard work and sometimes difficult times. When the catch was meager, they would throw certain sea stones into their rice to give it an appetizing flavor.
These days, many Valencian homes and restaurants serve Arroz a la Piedra with one of those stones to give it that tantalizing flavor from the sea.
Have you tried one or more rice dishes from Valencia? Are you craving a specific one after reading this list? Please share your delicious experience in the comment section below, as well as which one you're most excited to try first!